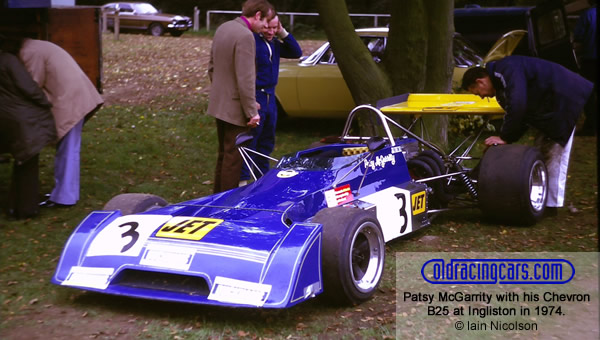 Irish Formula Atlantic 1974
After five seasons of competitive but unstructured libre racing, the Irish organisers, the Royal Irish Automobile Club (RIAC) in the south and the 500 Motor Racing Club of Ireland (500 MRCI) in the north, settled on a move to Formula Atlantic for 1974. Although there were no Formula Atlantic car cars on the island at the time of the announcement, conversion of the plentiful ex-F2 cars to BDA engines would be relatively straightforward.
Belfast racer Patsy McGarrity had always ensured he was amongst the best equipped drivers in Irish racing, with a F2 Lotus 69-FVA in 1972 and then the ex-Roger Williamson March 722 with BDE engine for 1973. Late in 1973 he had acquired the Chevron B25 that John Lepp had been racing in British Formula Atlantic, a car so up-to-date that the factory borrowed it back for John Watson to race in F2 spec at the Albi GP in September. With this car McGarrity dominated the 1974 Formula Atlantic season, winning eight races. Ken Fildes was also amongst the silverware, winning two Kirkistown races in his converted Lotus 69, but McGarrity's most consistent competition came from Des Donnelly who had acquired the highly competitive ex-Colin Vandervell March 73B.
We have yet not been able to ascertain exactly which races counted towards the championship, nor full championship tables. Please email Allen Brown (allen@oldracingcars.com) if you can help.
The races
17 Mar 1974 > Mondello Park
14 Apr 1974 > Mondello Park
28 Apr 1974 > Kirkistown
12 May 1974 > Mondello Park
03 Jun 1974 > Mondello Park
16 Jun 1974 > Mondello Park
07 Jul 1974 > Kirkistown
14 Jul 1974 > Texaco Leinster Trophy at Mondello Park
28 Jul 1974 > Dublin Grand Prix at Mondello Park
05 Aug 1974 > Mondello Park
10 Aug 1974 > Texaco Ulster Trophy at Kirkistown
24 Aug 1974 > Wills Trophy Race at Kirkistown
08 Sep 1974 > Players No 6 Grand Prix at Phoenix Park
15 Sep 1974 > Mondello Park
19 Oct 1974 > BP.IYI Bonus Race F/Atlantic at Kirkistown
27 Oct 1974 > Mondello Park
26 Dec 1974 > Mondello Park
1974 BP-IYI Formula Atlantic Championship of Ireland table
| | | | | |
| --- | --- | --- | --- | --- |
| 1 | Patsy McGarrity | Chevron B25 - Ford BDA | | |