ATS D3 car-by-car histories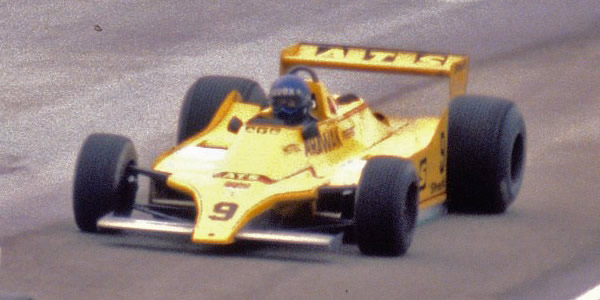 After a year struggling with the D1/D2 cars, ATS introduced the new ATS D3 at the 1979 Austrian GP. Designed by Nigel Stroud, it represented a significant step forward, but was replaced early in 1980.
Nigel Stroud's new design appeared in public for the first time at the 1979 Austrian GP. Although outwardly similar to the D2, it featured a new monocoque and new suspension, and a much smoother and neater body, although still following standard Lotus 79 lines. Hans Stuck crashed the car in practice, but it was repaired for the race and Stuck qualified 18th, well ahead of any qualifying dramas. He was up to 15th on the grid at the Dutch GP, ahead of one of the Tyrrell 009s, but had the usual poor race and early retirement. He matched his practice performance at Monza, one again qualifying slightly ahead of Jean-Pierre Jarier's Tyrrell 009, and this time finished the race, down in 11th. The team was now managed by Vic Elford, who had replaced Fred Opert at the German GP, and was making clear progress again. Stuck did the hat-trick over Jarier at the Canadian GP, this time right up in 12th on the grid, and for once had a decent race, running in tenth when he ran into the back of Rene Arnoux's Renault. He qualified 14th at Watkins Glen and went very well in the wet, running sixth before a stop for dry weather tyres. As others fell by the wayside, he brought the ATS home in fifth place, the best result of the team's short life.
A second D3 was built for 1980, and the two cars were renamed D4s, although the definitive ATS D4, a new design, appeared at the South African GP. Stroud left to design an Indianapolis car for BS Fabrications, and then left them in May 1980 to join Lotus.
Car
Total
Race
Starts
Grand
Prix
Starts
Grand
Prix
Wins
First Race
Present Location
5
5
Austrian Grand Prix
(12 Aug 1979)
United Arab Emirates 2021
2
2
Argentinian Grand Prix
(13 Jan 1980)
Germany 2021
One of the D3s was on display at the ATS factory at Bad Dürkheim for many years. It was sold in 2014, and has since raced in Masters F1 events in 2017 where it is described as D3/01. The other car has been with a German owner for over 40 years.
Please contact Allen Brown (allen@oldracingcars.com) if you can add anything to our understanding of these cars.
These histories last updated on .