Begg FM5 car-by-car histories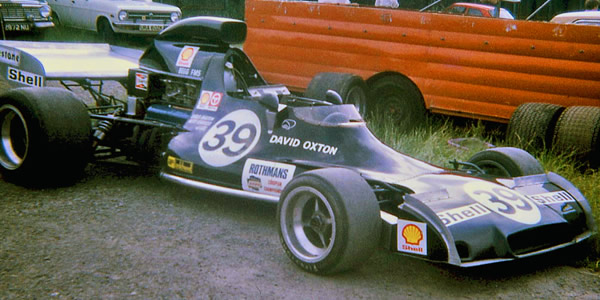 A completely new F5000 Begg design for 1973, the Begg FM5 was built by Fred McLean and followed the design of the McRae GM1. The FM5 was driven by David Oxton in New Zealand, Australia and Britain, and a second car to this design was later built by McLean for Allan McCully.
George Begg had signed David Oxton to drive for his team in the 1972/73 New Zealand season, and he and Fred McLean started work on a new design. Begg had a good relationship with Graham McRae, whose Leda LT27 design, now renamed McRae GM1, had won races in the Tasman, British and US championships during 1972, and Begg bought various parts from McRae after the 1973 Internationals, including a nearly-new Morand Chevrolet and a set of GM1 fuel tanks. The curved tanks of the McRae, inspired by the BRM P153 and McLaren M19 F1 designs, gave the McRae its "coke bottle" shape, and pretty much dictated that the FM5 would have the same shape. The rest of the car was orthodox in design, but required great ingenuity from McLean as he could not buy components off the shelf as English constructors could. Front wheels and some other components were supplied by another Kiwi, Phil Kerr, then working at McLaren.
After dominating the opening rounds of the New Zealand Gold Star, followed by some encouraging performances in the New Zealand Internationals, Begg decided to take his team to England to run Oxton and the FM5 in the British F5000 series. McLean did not go with Begg, choosing to leave the team and set up his own business. He took over the part-built second FM5 chassis and built that up as a separate car for Allan McCully, dropping the 'Begg' part of the name.
Both cars are still in running condition today and are still in New Zealand. The Begg FM5 is in the Southward Motor Museum at Paraparaumu, and the McLean FM5 is regularly raced by Lindsay O'Donnell of Christchurch.
If you can add to our understanding of these cars, or have photographs that we can use, please email Allen at allen@oldracingcars.com.
Chassis
History
Current owner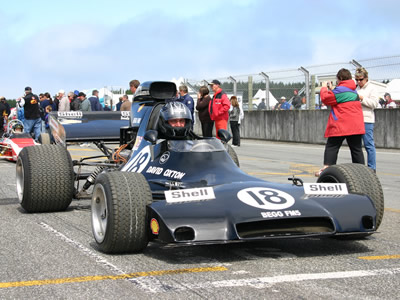 New for the 1972/73 New Zealand season, to be raced by David Oxton. First outing and first win in October 1972. Taken to England and raced in the 1973 British F5000 by Oxton. Then sold to Oxton and raced in New Zealand Gold Star late 1973, which Oxton won easily. To Frank Bray and raced in the 1974/75 Gold Star series. To Bill David. Placed on display in Len Southward's Southward Motor Museum (Paraparaumu, North Island, New Zealand) in 1976. On display at Hampton Downs in January 2015 but back on display in the museum in May 2015.
Driven by: David Oxton and Frank Bray. First race: Pukekohe (NZGS R2), 12 Nov 1972. Total of 35 recorded races.
Southward Motor Museum (New Zealand) 2015
Built new in 1973 by Fred McLean for Allan McCully. The monocoque was built alongside the Begg FM5 as a spare tub, but was still incomplete when Fred McLean left Begg in June 1973, taking it with him. Built up by McLean in his own workshop and completed by him at the workshops of PDL, McCully's sponsor. McLean and McCully regarded this car as a FM5, not a Begg FM5, and it was entered as such.
Raced by Alan McCully in the 1973/74 New Zealand Gold Star 1973/74. To Graham
Baker
1974 and raced in last two Tasman races 1974; in the 1974/75 Gold Star late 1974; the 1975/76 Gold Star; and the NZ Internationals in January 1976. As F5000 had stopped in New Zealand, it was sold to Charles
Talbot
(Australia) 1976. Raced by Talbot in the 1977 and 1978 Rothmans Australian Internationals. Presumably the car raced by Allan R.
Nitschke
in the Australian Gold Star in 1979 and 1980, and in the Arco Graphic series 1981/82. Then unknown until acquired by Bryan and Graham
Sala
about 1990. Bought at auction in Australia by Gavin
Hicks
(Auckland, NZ) about 1991 and sold by him to Lindsay
O'Donnell
(Christchurch, NZ) 2001. Raced by O'Donnell in the F5000 Tasman Cup Revival Series every season from 2003/04 to 2012/13. Returned two years later for the New Zealand Festival at Hampton Downs in January 2015. Raced by O'Donnell in the 2014/15 MSC New Zealand F5000 Tasman Cup Revival Series. Raced by O'Donnell at Silverstone in May 2016.
Driven by: Allan McCully, Graham Baker, Chas Talbot and Allan R. Nitschke. First race: Ruapana Park (NZGS R3), 18 Oct 1973. Total of 35 recorded races.
Lindsay O'Donnell (New Zealand) 2016
George Begg's book 'A Classic World', published in 1990, has been the principal source for this abbreviated story of the Begg FM5. I am grateful to the McCully and McLean families for information about the second car, which is not mentioned in Begg's book. Thanks also to Stuart Dent and Kevin Thomson for permission to use their photographs.
These histories last updated on .