Brabham BT14 car-by-car histories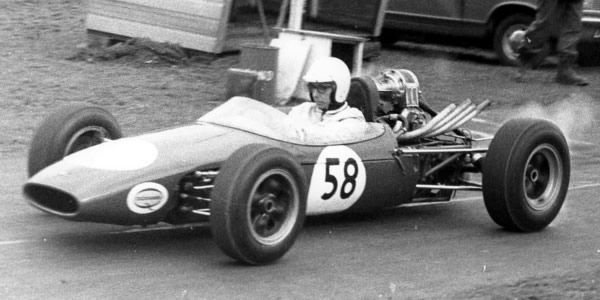 For 1965, Brabham introduced three new models, all derived from the successful 1964 Formula 2 BT10. The Brabham BT14 was supplied with a 1600cc Ford twin cam engine and was intended for Formule Libre racing.
In 1965, Formule Libre was still one of the most popular forms of motor racing in the UK and many race meetings ended with a free-for-all race for all forms of single-seater and sports racing cars. In 1965, there were at least 100 such races in Britain and that actually increased to around 120 in 1967, 130 in 1968 and 140 in 1969 before a rise in GT racing reduced the numbers slightly to 120 in 1970. The arrival of Formula Atlantic in 1971 displaced some Formula Libre and the number of libre races fell to about 90 in 1971 and 1972. In 1964, a number of drivers had tried putting the new Lotus-Ford twin cam engine into redundant former Formula Junior cars and this combination proved able to beat even the leftover 2.5-litre F1 cars from 1960. The fact that a 1500cc Ford twin cam was also eligible to run in Formula 1 made for an interesting market opportunity and Brabham laid down a run of a dozen BT14s with Ford twin cam engines of various capacities.
In Britain, the BT14 was highly successful in libre with Rodney Bloor, Jackie Epstein, Derek Bennett, brothers John and David Bridges, Malcolm Templeton in Ireland and 'Fast Freddie' Smith all winning races in 1965. The car remained successful through 1966 and 1967, with Welshman Davey Powell in particular racking up the wins. One car was also dispatched to Australia for Bib Stillwell to use in ANF1.5 races and another went to France to be used in Formula 3. Hillclimbs were also a home for BT14s, with Smith and John Butterworth being regular class winners and Bryan Eccles winning a round of the British Hill Climb Championship in a BT14 into which he had inserted a 4.5-litre Traco Oldsmobile V8. The car s were also ideal for SCCA Formula B in the US and one of the BT14s was running in west coast FB as late as 1974.
Note that previous versions of this page identified Rodney Bloor's car as 'FL-1-65' and John Bridges' as 'FL-6-65'. This was based on observations of the 'FL-1-65' chassis plate on Roy Lane's BT14 in hillclimbs several years later and the assertion in Autosport that Lane's car was "ex-Rodney Bloor". However, Duncan Rabagliati's period notes show the cars to be the other way round and a letter from Sport Motors to Duncan's Formula One Register colleague Paul Sheldon also identified Bloor's car as FL-1-65. It would therefore appear the Autosport report cannot have been right about Lane's car.
If you can add anything to these histories, please contact Allen Brown (allen@oldracingcars.com).
Chassis
History
Current owner
The 1966 mystery cars
Previous versions of this page showed a mystery BT14 raced in Formule Libre by John Bridges in 1966. Thanks to Duncan Rabagliati and Richard Page of the Formula One Register, that car is now known to have been a Brabham BT18, chassis F2-2-66.
The puzzle to solve for BT14s in 1966 is the fate of the two BT14s used by the Bridges brothers. John Davies bought a red Brabham BT14 from John Bridges, but Bryan Eccles had a BT14 with an Oldsmobile engine for hillclimbs which was also said to be "the car formerly raced by John Bridges". They cannot both be right. One of them must have been David Bridges' former car.
Chassis
History
Current owner
John Davies (Wales) bought a red Brabham BT14 from John Bridges in January 1966. He found the 1600cc twin cam engine was misfiring so called John Bridges' brother Charles Bridges at Red Rose Racing, who paid for it to be replaced with a 1500cc engine built by John Taylor of Leicester. Davies raced in this form in sprints and libre racing in 1966, mainly at Llandow. It was part-exchanged at the end of the year at Sports Motors (Manchester) for the ex-Gethin BT18. Subsequent history unknown.
Driven by: John Davies. First race: Llandow, 26 Mar 1966. Total of 10 recorded races.
Unknown
Bryan Eccles (Solihull, Warwickshire) raced a Brabham BT14 in British Hill Climb Championship events in 1966, fitted with a 4.5-litre Traco Oldsmobile V8. He won at Dyrham Park in September and finished second in two other events. Sold to Roy Lane (Warwick) and fitted with a supercharged 1600cc Ford twin cam for 1967 followed by a 3.5-litre Buick V8 for 1968 when it was also modified to BT21 specification. Sold to Jimmy Johnstone for 1969, and used in the British Hill Climb Championship. Johnstone then semi-retired, and the Brabham was sold to John Scott Walter for 1970, although Johnstone shared it at a couple of BARC Harewood events in early 1970. Retained by Scott Walter for 1971, when it was driven by Malcolm Dungworth before he acquired the F5000 Harris. Subsequent history unknown.
Driven by: Bryan Eccles, Roy Lane, Jimmy Johnstone, Peter Scott-Walter and Malcolm Dungworth. First race: Ragley Park, 2 Apr 1966. Total of 57 recorded races.
Unknown
The later mystery cars
Billy Reid raced a mystery Brabham with 1600cc Ford twin cam engine in Ireland in the late 1960s, but that car is now listed on the Brabham BT10 page. Also appearing during 1967 was another Brabham twin cam built for Jan Bussell by Howden Ganley which appears to have been based on a BT15 chassis.
Chassis
History
Current owner
Jan Bussell bought a twin-cam Brabham from Howden Ganley which was always described as a BT14. The car is said by John Blanden to be AM88, by Bryan Miller to be AM66 and is recorded by Ted Walker as F2-4-66. It is also said that Ganley had built up an unused F3 chassis, quite probably a BT15, while working at MRD and sold it to Bussell with a Ford twin-cam engine supplied by Red Rose Motors. As a BT15 with a twin-cam was virtually identical to a BT14, the description would make sense. According to Ted Walker again, it later went to P Chan (i.e. Percy Chan) in 1972 and then to Bruce Winder in New Zealand in 1973. It was not raced in NZ and is unknown until (according to John Blanden) it was bought by John Dymond in NZ in 1999. It was restored in NZ and raced in historics in 2000 before moving to Dymond's native Australia. Owned by Dymond until his death in 2006, then with his family as part of Team Penrite. Raced by Keith Simpson for the team in 2010 and 2011. Raced by Keith Simpson at Sandown November 2013 when it was described as a BT16.
Driven by: Jan Bussell and Percy Chan. First race: Macau, 19 Nov 1967. Total of 15 recorded races.
Toby and Nigel Dymond (Australia) 2013
Unresolved cars existing today
In addition to the above, Dave Sweeney (Portland, OR) has had a green-and-gold BT14 since the 1990s and races it in local events but it has not yet been possible to make contact with him to find out more. Two other BT14s are known to exist. One is said to have spent the 1970s in Bulawayo, Rhodesia, before coming to the UK in the 1990s, and its claimed history is shown below. The other has French, Dutch and Belgian history but is not shown here as we know so little about it. We are keen to learn more about this car if its owner can get in touch (Allen Brown, allen@oldracingcars.com). In both cases, it has not been possible to verify the claimed histories.
Also, a "BT14" was offered at auction in 2006 with a claimed New Zealand history, but this has since been identified as a BT18 which came from Belgium. By 2016, it had been restored to its correct BT18 specification.
Chassis
History
Current owner
A Brabham BT14 was raced in HSCC events by Mike Freeman (Staunton, Gloucestershire) from 1986 to 1988. Its HSCC papers claimed the chassis number FL-8-65 and stated that it was used in Monoposto in 1973 by Kevin Price and Mike Shelly, but detailed records of Monoposto collated by the Formula One Register do not show either Price or Shelly as competitors. The car was then said to have gone to Bill Ness in Scotland for hillclimbing in 1981, fitted with a Rover V8 engine, but again no records have been found to support this. The Brabham was said to have had its twin cam refitted for HSCC races in 1985. After Freeman, this is understood to be the car raced by Bob Hollander (Atlanta, GA) in US vintage events in the 1990s. Sold about 2000 by Hollander to Robert Hibdon (Hanahan, SC) who raced it briefly but it was then unused for about ten years until bought by Trevor Simpson (Sydney, NSW, Australia) in 2010. He took it to Australia and rebuilt it to F1 specification with a 1500cc Ford twin cam engine. It was advertised by Simpson as "F1-8-65" in November 2017 and returned to Europe, where it was raced in HGPCA events by Tom de Gres (Belgium) from 2019 to 2021. Raced by De Gres in HGPCA events again in 2022.
Tom de Gres (Belgium) 2022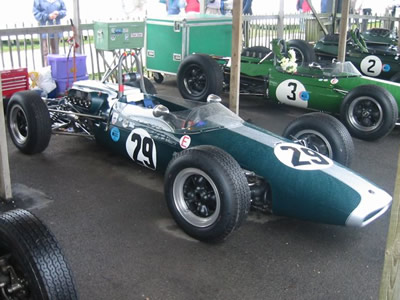 Rodger Newman (Moreton Pinkney, Northamptonshire) raced a Brabham BT14 in the HSCC Classic Racing Cars Championship. Its FIA papers identified it as FL-6-55 and showed that after Rodney Bloor it went to David Bridges and then to John Davies, who Rodger believes was mistaken in his belief that he had acquired the ex-John Bridges car. The FIA papers then showed Davie Powell as the next owner, but Powell's car has been confidently identified as the ex-Derek Bennett/Jim Charnock car. Subsequent owners were then shown as James Hunt (a club racer from Preston), Keith Carus (Scorton, Lancashire) in 1970, Peter Williams (1979) and Alan Baillie (Henley-on-Thames, Oxfordshire) 1989, before it was acquired by Newman in 2000. Raced by Rodger Newman in HGPCA events, at the Monaco Historique, and in the Goodwood Glover Trophy. Sold to Alan Baillie for 2019, and entered by him for Michael O'Brien at Goodwood in October 2020.
Alan Baillie (UK) 2020
According to its Historic Vehicle Identity Form issued in January 1992, this was the car raced by John Mitchell in 1965 and 1966. The HVIF then says it was owned by Frank Williams 1966-1967, Peter Ripley in Rhodesia 1967-1971, Len Newson-Smith (Bluawayo) 1971-1980, and Michael McLean (Bulawayo) 1980-1990 before being imported to England by Peter Williams (Chesterton, Oxfordshire) in 1990. It was restored in 1991. Subsequent owners are Michael Scott (Topsham, Exeter) May 1995, Edwin Taylor (Stoke By Clare, Suffolk) April 2000 and Michael Pullen (Haywards Heath, Sussex) March 2005. Pullen raced the car in HSCC events but had a severe accident and the car was extensively damaged. It has since been back to Arch Motors for repairs.
Michael Pullen (UK) 2015
Acknowledgements
First and foremost, thanks to Brabham registrar Ted Walker for his efforts over many years to keep track of all the Brabhams, from the F1 cars down to the libre cars. Also to David McKinney for information from his archives, and to Bryan Miller for information on the cars in Australia. After this initial groundwork by the four of us, I am grateful for the contributions of Denis Lupton, John Gale (owner of FL-3-65), Rodger Newman (owner of the car believed to be FL-6-65), John Davies (next owner of the John Bridges car), Marcus Mussa, James Murray, Steve Wilkinson, Peter Morley, Andrew Fellowes, Philippe Demeyer, Chris Townsend, Jeremy Hall, Malcolm Smith, Brad Moore, Jerry Strickfaden and others. Thanks also to Duncan Rabagliati and Richard Page of the Formula One Register for instigating a fresh look at these histories in 2021 and for providing information from race programmes and further information from Duncan's contemporary notes.
If you can add anything to these histories, please contact Allen Brown (allen@oldracingcars.com).
These histories last updated on .