Brabham BT14 car-by-car histories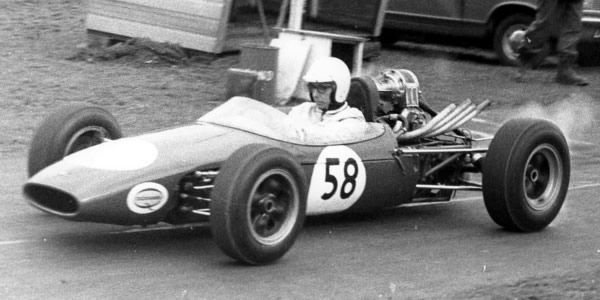 For 1965, Brabham introduced three new models, all derived from the successful 1964 Formula 2 BT10. The Brabham BT14 was supplied with a 1600cc Ford twin cam engine and was intended for Formule Libre racing.
In 1965, Formule Libre was still one of the most popular forms of motor racing in the UK and many race meetings ended with a free-for-all race for all forms of single-seater and sports racing cars. In 1965, there were at least 100 such races in Britain and that actually increased to around 120 in 1967, 130 in 1968 and 140 in 1969 before a rise in GT racing reduced the numbers slightly to 120 in 1970. The arrival of Formula Atlantic in 1971 displaced some Formula Libre and the number of libre races fell to about 90 in 1971 and 1972. In 1964, a number of drivers had tried putting the new Lotus-Ford twin cam engine into redundant former Formula Junior cars and this combination proved able to beat even the leftover 2.5-litre F1 cars from 1960. The fact that a 1500cc Ford twin cam was also eligible to run in Formula 1 made for an interesting market opportunity and Brabham laid down a run of a dozen BT14s with Ford twin cam engines of various capacities.
In Britain, the BT14 was highly successful in libre with Rodney Bloor, Jackie Epstein, Derek Bennett, brothers John and David Bridges, Malcolm Templeton in Ireland and 'Fast Freddie' Smith all winning races in 1965. The car remained successful through 1966 and 1967, with Welshman Davey Powell in particular racking up the wins. One car was also dispatched to Australia for Bib Stillwell to use in ANF1.5 races and another went to France to be used in Formula 3. Hillclimbs were also a home for BT14s, with Smith and John Butterworth being regular class winners and Bryan Eccles winning a round of the British Hill Climb Championship in a BT14 into which he had inserted a 4.5-litre Traco Oldsmobile V8. The car s were also ideal for SCCA Formula B in the US and one of the BT14s was running in west coast FB as late as 1974.
If you can add anything to these histories, please contact Allen Brown (allen@oldracingcars.com).
Chassis
History
Current owner
Brabham BT14
FL-1-65(I)
One of two cars that bore the chassis number FL-1-65 in period, this car was bought new by Bib Stillwell (Melbourne, Australia) to be used in the Australian national 1500cc category. It first appeared in support races during the 1965 Tasman series so was the first BT14 to race. Sold later that year to RC Phillips and entered by him for John Harvey to race in ANF1.5 events but also in Australian Gold Star events, winning outright at Mallala in October 1966. Fitted with an enlarged 1650cc engine in late 1966, then with a 1860cc engine for the 1967 Tasman.
After the Tasman series, the car was rebuilt by Bob Britton with a 2.5-litre Repco engine for the 1967 Gold Star season. In November, Harvey moved from RC Phillips team to Bob Jane Racing, to take over Jane's BT11A. The BT14-Repco also moved to Jane's team and its Repco was transferred into the BT11A. The BT14 was fitted with a 2.5-litre Repco V8 and sold to Ray Deighton (Glenroy, Victoria, Australia), who debuted it at Winton in May 1969. Deighton later crashed heavily at Sandown and spent time in hospital with back injuries. He decided not to race again and sold the BT14 to Terry Southall, who sold the Climax to Sid Hoole, and sold the rolling chassis via auction to Pete Briggs' York Motor Museum (York, Western Australia).
Acquired from the museum by George Goodare (Sydney Australia) and restored for historic racing. Sold at an Amaroo Park historic meeting to original owner Bib Stillwell, who used it in US vintage racing in the 1980s. Bought from Stillwell's estate by Peter Johnson (Sydney, Australia) and then via Rob Hands (Melbourne, Australia) to Peter Harburg (Brisbane, Queensland) 2005. Retained by Harburg to at least 2006 when it was driven in Tasman Revival races by Dean Tighe but not reported since.
Driven by: Bib Stillwell, John Harvey and Ray Deighton. First race: Warwick Farm, 14 Feb 1965. Total of 19 recorded races.
Peter Harburg (Australia) 2006
Brabham BT14
FL-1-65(II)
One of the two cars believed to have worn FL-1-65 in period was bought new by Rodney Bloor, boss of Sports Motors (Manchester) and fitted with a 1500cc Ford twin cam engine for use in libre racing and non-championship F1 races in 1965. Bloor retired mid-season and car was sold to David Bridges and used in a few local sprints and libre races later in 1965. Then bought by Bryan Eccles (Solihull) and fitted with a 4.5-litre Traco Oldsmobile V8 for British Hill Climb Championship events, winning at Dyrham Park in September 1966.
Then to Roy Lane (Warwick) and fitted with a supercharged 1600cc Ford twin cam for 1967 followed by a 3.5-litre Buick V8 for 1968 when it was also modified to BT21 specification. Sold to Jimmy Johnstone for 1969, and used in the British Hill Climb Championship. Johnstone then semi-retired, and the Brabham was sold to John Scott Walter for 1970, although Johnstone shared it at a couple of BARC Harewood events in early 1970. Retained by Scott Walter for 1971, when it was driven by Malcolm Dungworth before he acquired the F5000 Harris. Subsequent history unknown.
Driven by: Rodney Bloor, David Bridges, Bryan Eccles, Roy Lane, Jimmy Johnstone, Peter Scott-Walter and Malcolm Dungworth. First race: Brands Hatch, 13 Mar 1965. Total of 69 recorded races.
Unknown
Brabham BT14
FL-2-65
New to John Butterworth (Haslingden, Lancashire) and raced in sprints and hillclimbs in northern England with a supercharged Ford twin cam engine. By 1968, Butterworth was using a Westune 1500cc supercharged Ford engine and as superchargers were allowed, Butterworth did very well in the 1600cc class. To Dennis Chorley (Burghill, Hereford) in 1969 and damaged at Shelsley Walsh but returned for 1970, now described as a BT14/21 and with a 173 bhp 1500cc Allard Dragon engine. To Geoff Inglis (Yatton, Somerset) for 1971 and then used by Inglis in the British Sprint Championship in 1972. Almost certainly the 1500cc BT14/21 run at Wiscombe by Dick James (Lyme Regis) in 1973, by Ian James in 1974 and by Arthur Curnow in 1975 and 1976. A "D. Lea" raced a supercharged 1500cc Brabham BT14 in late 1976 and in 1977. Advertised from Brixham, Devon in 1978. Bought from John Lee in Devon by Australian Terry Southall, and shipped to Australia in 1979 where it was bought the following year by former racer John Ampt (Rainbow, Victoria) and used very successfully in historic racing. Sold to Tony Armstrong in 1987, then Noel Robson (Melbourne, Australia) in 1988. Raced by Noel's son Andrew for several seasons and then replaced by a F5000 Lola and retired. Still with the Robsons in 2014.
Driven by: John Butterworth, Dennis Chorley, Bob Breeze, Geoff Inglis, Dick James, Ian James, Arthur Curnow and Dave Lea. First race: Barbon Manor (R4), 22 May 1965. Total of 49 recorded races.
Noel Robson (Australia) 2014
Brabham BT14
FL-3-65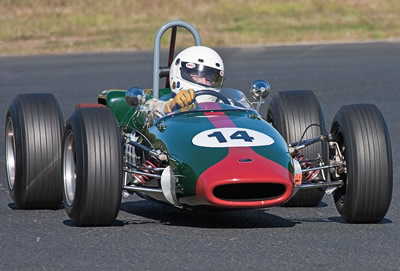 This BT14 was bought new by John Mitchell and raced in northern English libre racing in 1965 and 1966. It was sold late 1967 to Steve Pfeiffer (San Francisco, CA) and equipped with a BRM Phase 4 twin-cam for 1968 Formula B racing, now described as a BT21. It was sold to Bruce Redding (Monterey, CA) for 1969 but crashed early in the season and extensively rebuilt. Redding thereafter entered it in 1969 and 1970 as a Ford Special, Gravelle Special or even as a Honda Special. It was later sold to Steve Jizmagian (San Francisco, CA) in early 1971 and crashed again, then to Tom Gouldstone (Santa Rosa, CA/Napa, CA) in November 1972 and crashed again - each time at Laguna Seca - and then to Dick McGovern in 1978. It was retained by McGovern until 1994 when sold to George Goodare (Sydney, NSW, Australia) and restored. Later to Brian Wilson in September 2000 then to John Gale in November 2001. Sold to Richard Longes late 2008 and raced in 2009 Tasman Revival races. The car was reported to have been sold in 2020, but the new owner's name is not yet known.
Driven by: John Mitchell, Steve Pfeifer, Bruce Redding, Steve Jizmagian and Tom Gouldstone. First race: Rufforth, 17 Apr 1965. Total of 37 recorded races.
Unknown owner (Australia) 2020
Brabham BT14
FL-4-65
New to Freddie Smith (Forton, near Garstang, Lancashire) and used in libre racing, sprints and hillclimbs, fitted with a 1600cc Ford twin cam engine. When Formula 2 changed to a 1600cc limit in 1967, Smith was entered for several F2 races in the car by David Bridges Motor Sports, finishing seventh at Hockenheim. Used in hillclimbs again in 1968 then sold to fellow hillclimber Peter Kaye for 1969 but sold on mid-season to Willie Green. Next seen a few months later with dealer Bobby Howlings (Congleton, Cheshire) for libre racing at Croft, then on to Bill Creasey (Dunstable, Bedfordshire) for libre in 1970. Then via Howlings again to Geoff Lambert (Burnley, Lancashire) to replace a Brabham BT18 written off at Ingliston, and raced in libre events in 1971. Geoff's son John reckons the car went back to Howlings yet again in part-exchange for a Chevron B17. Subsequent history unknown.
Driven by: Freddie Smith, Peter Kaye, Bobby Howlings, Bill Creasey and Geoff Lambert. First race: Oulton Park, 10 Apr 1965. Total of 36 recorded races.
Unknown
Brabham BT14
FL-5-65
New to Malcolm Templeton (Ballymena, County Antrim, Northern Ireland) for Irish libre racing, winning 14 libre races over the next three seasons, more than any other Irish driver. Crashed heavily at Dunboyne in July 1966 and rebuilt on a new frame, thought to have been a BT16 frame. Templeton retired after 1967 and the BT14/BT16 was taken over by John Smith, also from Ballymena, and raced for a further two seasons. Sold to Ed Irvine (Conlig, County Down), the father of the future GP driver of the same name, in early 1971 and raced in Formula 4 with a 997cc engine. Then to Gerry Gaw (Bangor, County Down) who raced it in 1972 in the 1600cc class of the Clubmans Specials category with 997cc then 1089cc engines. Then sold to someone in nearby Newtownards who never raced it and later emigrated to Australia, possibly taking the car with him. Subsequent history unknown.
Driven by: Malcolm Templeton, John Smith and Eddie Irvine. First race: Kirkistown (R1), 3 Apr 1965. Total of 56 recorded races.
Unknown
Brabham BT14
FL-6-65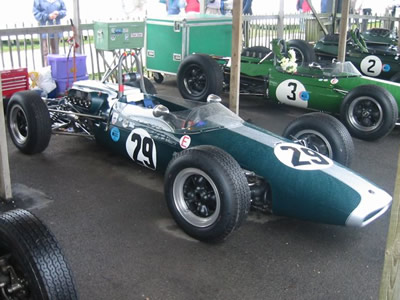 Believed to be the red 1600cc twin cam Brabham raced by John Bridges at Rufforth in June 1965 and at least four other races that season. Bought from John Bridges by John Davies (Wales) in January 1966, but he found the 1600cc twin cam was misfiring. Bridges paid for it to be repaced with a 1500cc engine built by John Taylor of Leicester. Raced in this form in sprints and libre racing in 1966, mainly at Llandow. Part-exchanged at the end of the year at Sports Motors (Manchester) for the ex-Gethin BT18. Subsequent history unknown but a car was later given FIA papers showing subsequent owners including James Hunt (a club racer from Preston), "Keith Corus" (1970), Peter Williams (1979) and Alan Baillie (Henley-on-Thames, Oxfordshire) 1989. Later to Rodger Newman (Moreton Pinkney, Northamptonshire) in 2000 and raced in the HSCC Classic Racing Cars Championship. Raced by Rodger Newman in HGPCA events for 20 years, including six appearances at the Monaco Historique, and ten in the Goodwood Glover Trophy. Advertised by Newman in September 2018.
Driven by: John Bridges and John Davies. First race: Rufforth, 5 Jun 1965. Total of 21 recorded races.
Rodger Newman (UK) 2018
Brabham BT14
FL-7-65
Bought new by Jackie Epstein for 1965 and used in both Formule Libre (with a Ford twin cam) and Formula 2 (with a Cosworth SCA). Sold at the end of the season to Ian Raby (Brighton, Sussex) who raced it in November 1965 and then in F2 through 1966. Converted back to its Ford twin cam engine for 1967 and continued in F2 up to Zandvoort in July when Raby suffered the injuries from which he later died. The BT14 was rebuilt and Tony Barchou of Ian Raby Racing in 1968 and then, as a BT14/18, in rounds of the European F5000 series in 1969. Engine and transmission sold to Alan Jones and rolling chassis to Rob 'Tiny' Littler but he did not use it and eventually sold it to a collector in California. Nothing further known until a car with this claimed history owned by Don Orosco (Monterey, CA) c1995. Subsequently via John Zuppan (Portland, OR) and Jim Schnell (Seattle, WA) to Jonathan Burke (San Francisco, CA) early 2005. Retained May 2014.
Driven by: Jackie Epstein, Ian Raby and Tony Barchou. First race: Silverstone, 19 Apr 1965. Total of 34 recorded races.
Jonathan Burke (USA) 2014
Brabham BT14
FL-8-65
New to Robert Ashcroft Racing and fitted with a 1500cc Ford twin cam engine so that it could be entered as a F1 car for John Cardwell at the Sunday Mirror Trophy at Goodwood in April 1965. Thereafter raced for Ashcroft by Derek Bennett in Formule Libre events, winning at least eight races that season. Sold to Jim Charnock (Liverpool) and raced in libre until he sold it to Davey Powell (Wales) in August 1966. Powell raced the car virtually every weekend in 1967, appearing in at least 30 different meetings during the course of the season. Sold to Colin Holohan (Shankill, County Dublin, Ireland) in September 1968 for Irish 1600cc racing in 1968 and 1969. Subsequent history unknown.
Driven by: John Cardwell, George Pitt, Derek Bennett, Jim Charnock, Davey Powell and Colin Holohan. First race: Goodwood, 19 Apr 1965. Total of 72 recorded races.
Unknown
Brabham BT14
FL-9-65
New to Pierre Bardinon (Aubusson, France) for Formula 3 in France but not raced in 1965. Entered by Bardinon's Mas du Clos Racing for Philippe Vidal in 1966 and won at La Châtre in June and at Dax in August. To Max Bonnin for 1967 but not often seen. To René-Pierre Alié for 1968 when it was typically described as a BT15. He returned with this car again in 1969, its fourth season of racing, but raced it only rarely. Then, somewhat curiously, FL-9-65 popped up in Oregon in the Pacific northwest USA in 1970 or 1971. If Alié traded this car for the new Kitchiner he bought in England for 1970, it is perfectly plausible that the Brabham was then sold via Fred Opert and his partner Pierre Phillips to the Pacific northwest. Fred Sutliffe (Seattle, OR) bought the car from Pierre Philips, and recalls that it had previously been raced by Allen Karlberg. Sutliffe raced the car around 1975 in SCCA Formula A and ICSCC events using a turbocharged Mazda rotary engine. It was sold to Scott Raney (Springfield, OR) in the late 1970s, then to Louis Bentsen (Eugene, OR) in the 1980's and advertised in 1989 as "FL-9-65". To Paul Winters (Mountain View, CA) August 1989 until sold to Patrick Moran (Palo Alto CA) January 2001. Sold to Brad Moore (Martinez, CA) in November 2016.
Driven by: Philippe Vidal, Max Bonnin, René-Pierre Alié and Fred Sutliffe. First race: Pau, 17 Apr 1966. Total of 28 recorded races.
Brad Moore (USA) 2016
The 1966 mystery cars
Chassis
History
Current owner
Brabham BT14
'the John Bridges car'
John Bridges' 1966 Formule Libre car is a bit of a puzzle. It was raced by Bridges and on occasions by Brian Redman, but almost always in Oulton Park libre races. It was usually described simply as a Brabham twin cam but on the rare occasions a type number was given in Autosport, it was called a BT14 or a BT16. As he had only bought his 1965 Brabham BT14 in June 1965, it could be expected that this was the same car but that theory is spoilt by John Davies having an "ex-Bridges" Brabham in libre in 1966. So at the moment this car is listed as a mystery. It may be that this was a new BT18, especially as he raced a BT18 in 1967. Another possibility is that John Davies' "ex-Bridges" Brabham was actually the ex-John Romanes/ex-David Bridges BT6-twin cam. A picture of John Davies' car would resolve that.
Driven by: John Bridges and Brian Redman. First race: Snetterton, 1 May 1966. Total of 19 recorded races.
Unknown
The later mystery cars
Billy Reid raced a mystery Brabham with 1600cc Ford twin cam engine in Ireland in the late 1960s, but that car is now listed on the Brabham BT10 page. Also appearing during 1967 was another Brabham twin cam built for Jan Bussell by Howden Ganley which appears to have been based on a BT15 chassis.
Chassis
History
Current owner
Brabham BT14
'the Jan Bussell car'
Jan Bussell bought a twin-cam Brabham from Howden Ganley which was always described as a BT14. The car is said by John Blanden to be AM88, by Bryan Miller to be AM66 and is recorded by Ted Walker as F2-4-66. It is also said that Ganley had built up an unused F3 chassis, quite probably a BT15, while working at MRD and sold it to Bussell with a Ford twin-cam engine supplied by Red Rose Motors. As a BT15 with a twin-cam was virtually identical to a BT14, the description would make sense. According to Ted Walker again, it later went to P Chan (i.e. Percy Chan) in 1972 and then to Bruce Winder in New Zealand in 1973. It was not raced in NZ and is unknown until (according to John Blanden) it was bought by John Dymond in NZ in 1999. It was restored in NZ and raced in historics in 2000 before moving to Dymond's native Australia. Owned by Dymond until his death in 2006, then with his family as part of Team Penrite. Raced by Keith Simpson for the team in 2010 and 2011. Raced by Keith Simpson at Sandown November 2013 when it was described as a BT16.
Driven by: Jan Bussell and Percy Chan. First race: Macau, 19 Nov 1967. Total of 14 recorded races.
Toby and Nigel Dymond (Australia) 2013
Unresolved cars existing today
In addition to the above, Dave Sweeney (Portland, OR) has had a green-and-gold BT14 since the 1990s and races it in local events but it has not yet been possible to make contact with him to find out more. Two other BT14s are known to exist. One is said to have spent the 1970s in Bulawayo, Rhodesia, before coming to the UK in the 1990s, and its claimed history is shown below. The other has French, Dutch and Belgian history but is not shown here as we know so little about it. We are keen to learn more about this car if its owner can get in touch (Allen Brown, allen@oldracingcars.com). In both cases, it has not been possible to verify the claimed histories.
Also, a "BT14" was offered at auction in 2006 with a claimed New Zealand history, but this has since been identified as a BT18 which came from Belgium. By 2016, it had been restored to its correct BT18 specification.
Chassis
History
Current owner
Brabham BT14
'the Mike Freeman car'
A Brabham BT14 was raced in HSCC events by Mike Freeman (Staunton, Gloucestershire) from 1986 to 1988. Its HSCC papers claimed the chassis number FL-8-65 and stated that it was used in Monoposto in 1973 by Kevin Price and Mike Shelly, but detailed records of Monoposto collated by the Formula One Register do not show either Price or Shelly as competitors. The car was then said to have gone to Bill Ness in Scotland for hillclimbing in 1981, fitted with a Rover V8 engine, but again no records have been found to support this. The Brabham was said to have had its twin cam refitted for HSCC races in 1985. After Freeman, this is understood to be the car raced by Bob Hollander (Atlanta, GA) in US vintage events in the 1990s. Sold about 2000 by Hollander to Robert Hibdon (Hanahan, SC) who raced it briefly but it was then unused for about ten years until bought by Trevor Simpson (Sydney, NSW, Australia) in 2010. Still owned by Simpson in 2015.
Trevor Simpson (Australia) 2015
Brabham BT14
'the Peter Williams car'
According to its Historic Vehicle Identity Form issued in January 1992, this was the car raced by John Mitchell in 1965 and 1966. The HVIF then says it was owned by Frank Williams 1966-1967, Peter Ripley in Rhodesia 1967-1971, Len Newson-Smith (Bluawayo) 1971-1980, and Michael McLean (Bulawayo) 1980-1990 before being imported to England by Peter Williams (Chesterton, Oxfordshire) in 1990. It was restored in 1991. Subsequent owners are Michael Scott (Topsham, Exeter) May 1995, Edwin Taylor (Stoke By Clare, Suffolk) April 2000 and Michael Pullen (Haywards Heath, Sussex) March 2005. Pullen raced the car in HSCC events but had a severe accident and the car was extensively damaged. It has since been back to Arch Motors for repairs.
Michael Pullen (UK) 2015
Acknowledgements
First and foremost, thanks to Brabham registrar Ted Walker for his efforts over many years to keep track of all the Brabhams, from the F1 cars down to the libre cars. Also to David McKinney for information from his archives, and to Bryan Miller for information on the cars in Australia. After this initial groundwork by the four of us, I am grateful to for the contributions of Denis Lupton, John Gale, owner of FL-3-65, Marcus Mussa, James Murray, Steve Wilkinson, Peter Morley, Andrew Fellowes, Philippe Demeyer, Chris Townsend, Jeremy Hall, Malcolm Smith, Brad Moore, Jerry Strickfaden and others.
If you can add anything to these histories, please contact Allen Brown (allen@oldracingcars.com).
These histories last updated on .