Brabham BT2 car-by-car histories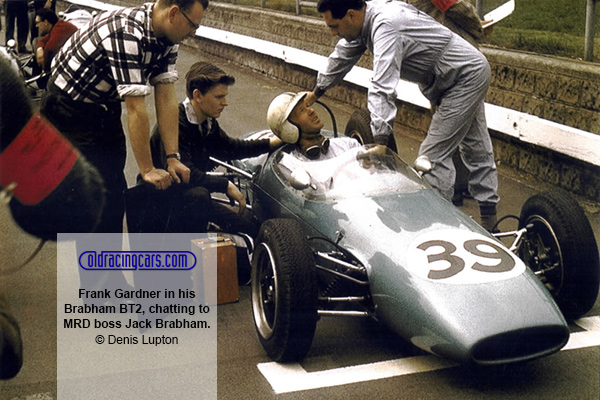 Following the successes of the MRD prototype Formula Junior in 1961, Motor Racing Developments went into production in 1962 with a car to be known as the Brabham Junior, retrospectively called the BT2. Eleven were built and sold around the world.
The Brabham Junior, the simple name by which it was originally known, was launched in March 1962. It was derived from the MRD Formula Junior car built by the same company the previous year, and was a conventional Formula Junior car for its time. It had a space frame chassis with rear-mounted engine, independent suspension all round with top and bottom wishbones and outboard springs - or co-axial coil spring/damper units as they were known in 1962 - and Girling disc brakes all round. This was a relatively new design philosophy, as 1962 is only a few years after front engines, leaf springs and drum brakes, but it would prove to be one of the two dominant themes of the 1960s, the other being the monocoque chassis with rocker arm-actuated inboard springs developed by Lotus. The Brabham was low by the standard of the time, with height to the top of the windscreen just 2 ft 3¼ (68 cm), and it was right down to the formula's 400 kg (882 lb) weight limit. The engine was a 1100 cc Holbay modified Ford engine, and transmission was via a modified Volkswagen gearbox/final drive unit. This was the unit that Mike Hewland in Maidenhead was modifying for use in Formula Junior and then in F1, becoming the dominant supplier of transmission systems in motor sport throughout the 1960s and 1970s.
There has been some doubt over who fabricated the spaceframe chassis for the BT2. There is no doubt that Derek Buckler and Peter Hilton of Buckler Cars built the chassis for the MRD (BT1) at Crowthorne, Berkshire, but David Montgomery of The Buckler Car Register advises that Ron Tauranac told Brian Malin, the author of the definitive book about Bucklers, that the next 11 chassis were built by Frank Coltman's Progress Chassis Company in north London, as Progress were more geared up for series production than Bucklers. As Progress did a lot of work for Lotus, notably on Lotus's own Formula Junior Lotus 20 and 22 designs, there may have been a desire to keep Progress's involvement with MRD a secret. However, Frank Gardner told Wayne Mitchell in 2004 that the first few chassis were built by him and Peter Wilkins and were nickel bronze welded (brazed), and that the later chassis were electric iron (gas fusion) welded. It is worth noting that the original frame of Gardner's FJ-8-62 was nickel bronze welded despite its high chassis number.
The first BT2 was sold to Briggs Cunningham in the US and was followed by a pair of factory-assisted cars run for Frank Gardner and Gavin Youl, and then another pair for French drivers Jean Moench and Jo Schlesser. Schlesser proved immediately successful and his and Gardner's successes led to five more sales before the end of the year. The two factory cars were sold to Australia for 1963 and another UK-based car to the Far East so only one BT2 remained racing in the UK. The locations of most of the cars are known today but two US-based cars are still missing.
All and any help would be gratefully received. Please e-mail Allen at allen@oldracingcars.com if you can add anything.
Chassis
History
Current owner
Brabham BT2 mysteries in 1962
There is some confusion over the three works cars, FJ-2-62, FJ-3-62 and FJ-8-62. It is broadly accepted that FJ-2-62 was Frank Gardner's car and that FJ-3-62 was Gavin Youl's, but when Gardner took 'his' car out to Australia in October, it was identified as FJ-8-62. So where did the third car enter the picture? The key to this may be the car Jack Brabham drove in practice for the Danish Grand Prix at Roskilde in late August, a Brabham Formula Junior chassis fitted with a 1500cc Holbay engine. As Gardner and Youl were also both present with their cars for a Formula Junior race, there were clearly three works BT2s in existence by this time.
Chassis
History
Current owner
According to Jack Brabham's column in Motor Racing magazine in October 1962 (pp360-362), he took one of his Formula Junior cars out to Roskilde for its non-championship Grand Prix in late August 1962, fitted with a 120 bhp 1500cc Holbay-Ford engine to try out on the short Danish circuit. Although describing it as "a toy", Brabham said it was only slightly slower than the V8-powered Lotus 24 which he raced and won the GP. Nothing more known.
Driven by: Jack Brabham. First appearance: Roskilde, 26 Aug 1962.
Unknown
The last 1962 BT2 and the first 1963 BT6
The interim car numbered FJ-1-63 that was raced by Denny Hulme at the Boxing Day Brands Hatch race at the end of 1962 is covered on OldRacingCars.com with the Brabham BT6s. It should be remembered that Brabham did not use the terms BT2 and BT6 for their cars in 1962 and 1963; those names were applied retrospectively.
A mystery Brabham in the Far East
In 1965, British Army officer Mike Heathcote bought a Formula Junior Brabham in west London, and fitted it with a Ford twin cam engine for use in racing in Singapore. David Irwin has worked through adverts that appeared in Autosport from west London addresses or phone numbers in 1965, and the most likely contender is one advertised from Pinner Road, Harrow, the infamous flat shared by, amongst others, Frank Williams. See FJ-4-62 above.
Chassis
History
Current owner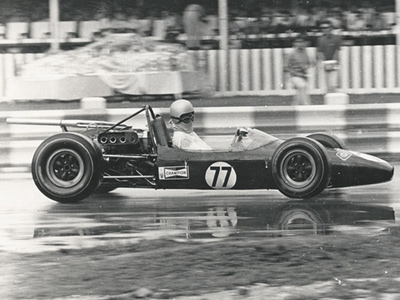 Mike Heathcote raced an ex-Formula Junior Brabham in events in Singapore and Malaysia from 1967 to 1970. Heathcote was a Captain in the Royal Marines stationed in Singapore. When contacted by later owner Simon Ham, he recalled that he bought the car in west London in July 1966 and that it was then red with a Hewland Mk IV gearbox. Heathcote shipped the car to Singapore, fitted a Ford twin cam engine, and competed in Singapore and at Batu Tiga until he crashed heavily at the Singapore GP in 1970 and was lucky to survive. The car was damaged beyond economic repair, and after the engine and gearbox had been sold, the wreck was left in a helicopter hangar at RAF Changi, the main RAF airbase on the eastern tip of the island, where Heathcote expected it to be parted out and then the remains scrapped.
However, the RAF left Changi the following year as part of Britain's withdrawal of armed forces "east of Suez" and the frame somehow survived. It was located and purchased in the mid-1980s by John Harper and sold to David Ham (Blunham, Bedfordshire) in 1992. David and his son Simon Ham traced Heathcote and were able to confirm it was his car, a curved tube over the footbox being one of the key identifying features. The car was restored with a twin cam engine, and ran it for the first time in December 2014.
Sold to David Irwin (Evergreen, CO) in April 2018, who has continued Simon Ham's efforts to identify the car's origins. Still with David in January 2021.
Driven by: Mike Heathcote. First race: Singapore, 27 Mar 1967. Total of 5 recorded races.
David Irwin (USA) 2021
Brabham BT2 mysteries
Recently discovered information about FJ-4-62 means that the car found in Australia and later owned by Simon Ham requires further research.
Chassis
History
Current owner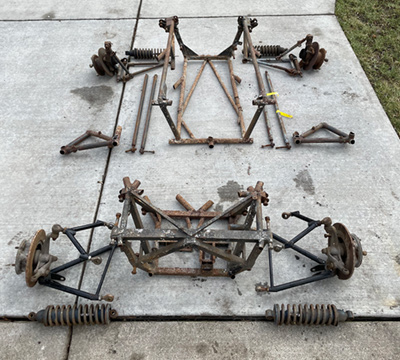 Some time around 1986, Jim Hohensee (Buffalo, NY) bought a sports car from Bill Lane in the Houston, Texas area that appeared to have been built using a very early Brabham chassis frame, with the centre section cut out and replaced. Hohensee recalled to later owner Benjamin Golembiewski that Lane had been planning to create an autocross car from it, and it is unclear whether it ever raced as a sports car. If it did, the most likely usage would have been C Sports Racing or D Sports Racing before single seaters were allowed into those categories in 1978. Hohensee sold the car to Alan Jordan (East Aurora, NY) in December 1991, and he sold it, still unrestored, to Benjamin Golembiewski (Buffalo, NY) in October 2021.
Benjamin Golembiewski (USA) 2021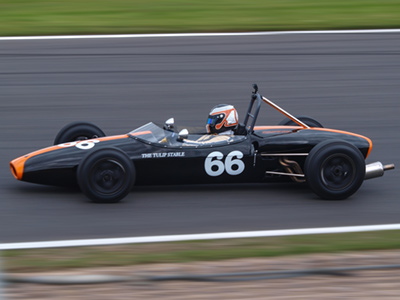 Simon Ham (UK) has raced a Brabham BT2 in historic racing which he understands to be FJ-4-62. Simon advises that it was found in Australia by John Harper in the late 1980s and brought back to the UK around 1990. Harper sold it to Sid Hoole for his customer Peter Hannen. It was restored by Peter Denty (Thetford, Norfolk), was with David Ham (Blunham, Bedfordshire) by 1997, and was raced in Historic FJ by David's son Simon. The car includes a number of original features, including "the correct original magnesium steering rack, mag front caliper carriers, mag rear uprights, two mag front wheels, all four corners and gear linkage", but a history file that would have explained its movements between 1965 and 1985 had been lost before Ham acquired it. This car is listed in Formula One Register publications as "FJ-4-62(II)". Sold to Cameron Jackson (Lincoln) late 2015, and raced by him in the Historic Formula Junior Championship from October 2015 to 2019. Raced by Cameron Jackson at the Silverstone Classic in July 2021.
Cameron Jackson (UK) 2021
These histories last updated on .