Brabham BT2 car-by-car histories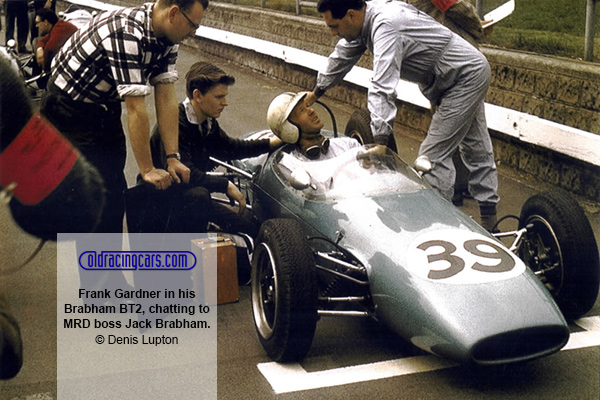 Following the successes of the MRD prototype Formula Junior in 1961, Motor Racing Developments went into production in 1962 with a car to be known as the Brabham Junior, retrospectively called the BT2. Eleven were built and sold around the world.
The Brabham Junior, the simple name by which it was originally known, was launched in March 1962. It was derived from the MRD Formula Junior car built by the same company the previous year, and was a conventional Formula Junior car for its time. It had a space frame chassis with rear-mounted engine, independent suspension all round with top and bottom wishbones and outboard springs - or co-axial coil spring/damper units as they were known in 1962 - and Girling disc brakes all round. This was a relatively new design philosophy, as 1962 is only a few years after front engines, leaf springs and drum brakes, but it would prove to be one of the two dominant themes of the 1960s, the other being the monocoque chassis with rocker arm-actuated inboard springs developed by Lotus. The Brabham was low by the standard of the time, with height to the top of the windscreen just 2 ft 3¼ (68 cm), and it was right down to the formula's 400 kg (882 lb) weight limit. The engine was a 1100 cc Holbay modified Ford engine, and transmission was via a modified Volkswagen gearbox/final drive unit. This was the unit that Mike Hewland in Maidenhead was modifying for use in Formula Junior and then in F1, becoming the dominant supplier of transmission systems in motor sport throughout the 1960s and 1970s.
There has been some doubt over who fabricated the spaceframe chassis for the BT2. There is no doubt that Derek Buckler and Peter Hilton of Buckler Cars built the chassis for the MRD (BT1) at Crowthorne, Berkshire, but David Montgomery of The Buckler Car Register advises that Ron Tauranac told Brian Malin, the author of the definitive book about Bucklers, that the next 11 chassis were built by Frank Coltman's Progress Chassis Company in north London, as Progress were more geared up for series production than Bucklers. As Progress did a lot of work for Lotus, notably on Lotus's own Formula Junior Lotus 20 and 22 designs, there may have been a desire to keep Progress's involvement with MRD a secret. However, Frank Gardner told Wayne Mitchell in 2004 that the first few chassis were built by him and Peter Wilkins and were nickel bronze welded (brazed), and that the later chassis were electric iron (gas fusion) welded. It is worth noting that the original frame of Gardner's FJ-8-62 was nickel bronze welded despite its high chassis number.
The first BT2 was sold to Briggs Cunningham in the US and was followed by a pair of factory-assisted cars run for Frank Gardner and Gavin Youl, and then another pair for French drivers Jean Moench and Jo Schlesser. Schlesser proved immediately successful and his and Gardner's successes led to five more sales before the end of the year. The two factory cars were sold to Australia for 1963 and another UK-based car to the Far East so only one BT2 remained racing in the UK. The locations of most of the cars are known today but two US-based cars are still missing.
All and any help would be gratefully received. Please e-mail Allen at allen@oldracingcars.com if you can add anything.
Chassis
History
Current owner
Brabham BT2
FJ-1-62
Sold to Briggs Cunningham (Bridgeport, CT) and raced by his team of drivers in 1962, but most often by Briggs himself. Sold to team driver Augie Pabst (Milwaukee, WI) for 1963 and raced by him in the last seasons of Formula Junior and in the first season of the SCCA's new Formula C. Then to Tom Gelb (Hartford, WI) for 1966 who was enormously successful in Central Division FC over the next three seasons, winning the Divisional title in 1968 with a maximum 54 points. The car was then sold to Dennis Lokmer (De Pere, WI) who continued its success, qualifying for the Run-Offs in 1969 and 1970. He then sold it to Bill Anspach (Palm Beach Gardens, FL) who won the Florida Region FC title in 1971. It went to Bud Bakels (also Palm Beach Gardens, FL) in 1972 and is then missing until 1985 when it was found, still in Anspach's livery, and bought from Randy Morvant (Vidor, TX) by David Roland (Alexandria,  LA). Sold to Wayne Mitchell (Cardiff, CA) in 2006 and bought from him by Robs Lamplough (Hungerford, Berkshire) and returned to the UK in 2011. Fully restored by Jeremy Bennett of Nemesis Racing (Tetbury, Gloucestershire) and run for the first time at Castle Combe in April 2016. Raced by Lamplough at the Donington Historic Festival in April 2017.
Driven by: Richard Thompson, Briggs Cunningham, Augie Pabst, Thomas Gelb and Dennis F. Lokmer. First race: Sebring International Raceway, 23 Mar 1962. Total of 35 recorded races.
Robs Lamplough (UK) 2017
Brabham BT2
FJ-2-62
Information from Duncan Rabagliati of the Formula 1 Register lists this car as "1962 J.Reid for John Youl" but no results for John Youl in a BT2 have been found and John Youl's former mechanic says he never drove a BT2. Logically, this must have been Frank Gardner's early season car, which was presumably either wrecked or given a new identity FJ-8-62 before being sold at the end of the season. No sign has been found of FJ-2-62 in 1963.
Driven by: Frank Gardner. First race: Oulton Park, 7 Apr 1962. Total of 16 recorded races.
Unknown
Brabham BT2
FJ-3-62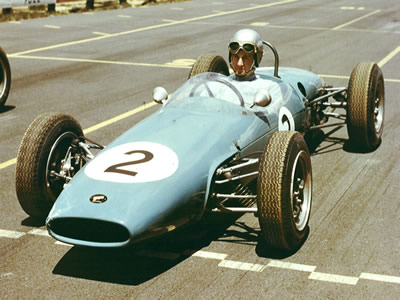 Built at MRD by Frank Gardner and raced by Gavin Youl as a factory entry in European FJ in 1962. Taken to Australia at the end of the European season, and raced by Youl in the Australian Formula Junior Championship race at Catalina Park in late October. Sold to Geoff McClelland (NSW, Australia) 1963 and raced in Australia as a FJ and later with a 1.5-litre engine in ANF1.5. To Phil West (NSW, Australia) 1966 December and raced in ANF2 - Mike Barker (Ringwood, Victoria, Australia) March 1968 - Peter Roach (Victoria, Australia) 1970 - Doug Hicks (Victoria, Australia) 1972 and fitted with 1300cc Toyota Corolla engine for ANF3; also driven by Peter Jones. Later to Alan Smith (Tasmania, Australia) 1974 and driven by Geoff Bantick in 1978 and 1979. In November 1993, Denis Lupton purchased the car for Jim Russell (Victoria, Australia) and started a full restoration to its original FJ spec. To Nick MacDonald (Australia) 1995 who completed the restoration and raced the car in historic events between 2001 and 2003. To Graham Brown (Queensland, Australia) in 2003 and raced consistently in Australian until 2013 when he sold it to Grant Craft, who raced it in 2013, 2014 and 2016, and at the Phillip Island Classic in March 2017. Last seen at Wakefield in September 2018.
Driven by: Gavin Youl, Denis Hulme, Geoff McClelland, Phil West, Peter Roach and Doug Hicks. First race: Silverstone, 12 May 1962. Total of 25 recorded races.
Grant Craft (Australia) 2018
Brabham BT2
FJ-4-62
Sold to French FJ team Inter Auto-Course 1962 for Jean Moench to race in French FJ events. To The Tulip Stable for Klaas 'Jimmy' Twisk 1963 and raced across Europe. To Ray Moore for F3 1964 but Moore crashed at Oulton Park 21 Mar 1964, hitting a large tree and was killed.
In February 1967, Ian Titchmarsh commented that "Jimmy reacquired the wreck, rebuilt it and sold it to Frank Williams who raced it mainly on the Continent for the rest of '64". Williams, the future F1 team boss, was trying to scratch out a racing career in the mid-1960s in the company of 'Bubbles' Horsley, the future F1 team manager of Hesketh. In 1964, Frank drove Bubbles' Brabham in F3, a car which Bubbles in 2013 recalled as being "an ex FJ chassis", and Doug Nye's book about Frank Williams described as "a crashed Brabham". This is all entirely consistent with Titchmarsh's revelation that it was the BT2 FJ-4-62 in which Ray Moore was killed in March 1964.
The car was thought to have ended its life when Williams crashed it into a tree at the Nürburgring in September 1964. Horsley recalled that it was "destroyed" and Williams in Nye's book said that it was "beyond economic repair". However, in April and May 1965, Horsley appeared in a few European F3 events in a Brabham entered by Anglo-Swiss Racing Team. Presumably, this would then be the "FJ Brabham" advertised from Horsley's Chiswick telephone number in June 1965, so it looks very likely that the old BT2 had again been repaired. (Horsley was then renting garage space on Goldhawk Road, Chiswick, London W12, right next to Tom Hawkes' Ausper company, where Roy Thomas, known as "Tom the Weld" then worked. Thomas had previously widened an Ausper for Horsley to drive, so could well have worked on the Brabham for him.)
This car is believed to have gone to Australia some time after this (see the Simon Ham car), but it could also have been the car bought by Capt Mike Heathcote and raced in Singapore and Malaysia (see the Mike Heathcote car).
Driven by: Jean Moench, Klaas Twisk, Ray Moore, Frank Williams and Tony Horsley. First race: Montlhéry, 29 Apr 1962. Total of 31 recorded races.
Unknown
Brabham BT2
FJ-5-62
Sold to French FJ team Inter Auto-Course 1962 for Jo Schlesser to race in European FJ events. Retained for 1963 and used by Schlesser in non-championship F1 events using a 1.5-litre Holbay Ford engine. To Michel Finquel (Lechelles, CH) for 1964 and raced in the new 1000cc Formula 3, mainly in France. To Michel Pont (France) 1965 - Hugues Hazard (Metz, France) 1966 - Roger Anzemberg (Bainville aux Miroirs, France) 1967 - Gérard Privé (Metz, France) 1970 - René Nau (Izon, France) 1971 - Bertrand de Passemar (Pomport, France) 1989 - Michel Réchéde (Pau, France) 2007. Réchéde has researched the car in detail and has a complete file on its life. In March 2013, Michel reported that the restoration was complete and that FJ-5-62 would race again in 2013.
Driven by: Jo Schlesser, Michel Finquel, Roger Anzemberg and Gérard Privé. First race: Montlhéry, 29 Apr 1962. Total of 29 recorded races.
Michel Réchéde (France) 2013
Brabham BT2
FJ-6-62
Sold to South African Bob Olthoff and used in mainly British Formula Junior events fitted with a BMC engine. Sold at the end of the season by Frank Williams to Ted Carter, an American then living in Okinawa, Japan, and raced by him at the Macau GP that November. According to a CAMS CoD (Certificate of Description) in 1993, the next owners, all in Hong Kong, were L.C. Kwan 1964-66, S.Y. Tam 1966, Fung Tak Ming 1967-71, Keith Payne 1971-72, Colin Tully 1972-74 and Gerry Richardson 1974-81. It was then acquired by Anthony Wood (Nowra, NSW, Australia) and shipped to Australia. In 1990, it moved via Murray Richards and Bryan Miller to Kelvin Prior (Berwick, Victoria) and was restored between 1990 and 1993. It was advertised by Prior in late 2000, then went to Len Selby in the UK, and then in July 2005 to Marcus Mussa (Monte Carlo), who raced it in Historic FJ in Europe. To Tommaso Gelmini (Italy) for the 2011 season. Sold in 2012 to Rudolf Ernst (Germany) who raced it at Silverstone Oct 2012 and through the 2013 season. Retained by Rudolf January 2014. By December 2018, Ernst had sold the Brabham to Harindra De Silva, but the car remained in the UK to be driven by Harindra and his son Tim. Raced by Harindra De Silva at the Silverstone Classic in July 2021.
Driven by: Bob Olthoff and Ted Carter. First race: Silverstone, 16 Jun 1962. Total of 11 recorded races.
Harindra De Silva (USA) 2021
Brabham BT2
FJ-7-62
Believed to be the car sold to Hap Sharp (Midland, TX), and entered for the Road America June Sprints. Sharp's car was also driven by Jim Hall (Abilene, TX) at Continental Divide in September 1962. Likely to be the car of Howard S Cole (Houston, TX) although this identity remains unproven. Cole's first known race in the car was in November 1962. Cole's home town of Houston is just 500 miles from Sharp's base in Midland, a mere stone's throw by the standards of a Texan road racer. Cole raced the car through 1963, then sold it to Ken Leith (Houston, TX), who raced it in an event at Stuttgart Airport late in November 1963. During 1964, the only mentions of Leith's Brabham were in The Shreveport (Louisiana) Times previews of SCCA Divisional races at Mansfield's De Soto Airport in June and at Hilltop Raceway in September, when it was said that Leith would run his Brabham. Leith moved to a Lotus 23B for 1965. An "ex-Hap Sharp" Brabham was then raced by Earl Jones (Los Angeles, CA) in Formula B in 1965. In August 1967, the disassembled "ex-Earl Jones" Brabham was advertised by Richard Timan (San Francisco, CA). It was acquired by David Jaques (Claremont, CA) and was rebuilt as the Mattel Special for Formula B. After racing it as the Mattel in 1970, Jaques updated the car with BT15, BT18 and BT21 bits by the time he advertised it in 1972, it was a "BT18/21". Believed to have gone to a SCCA racer in 1973 who raced it until 1978, and retained it to 1985. He sold the car in November 1985 to the son of a local engine builder. Subsequent history unknown.
Driven by: Hap Sharp, Jim Hall, Howard Cole, Ken Leith, Earl Jones and David Jaques. First race: Road America, 16 Jun 1962. Total of 17 recorded races.
Unknown
Brabham BT2
FJ-8-62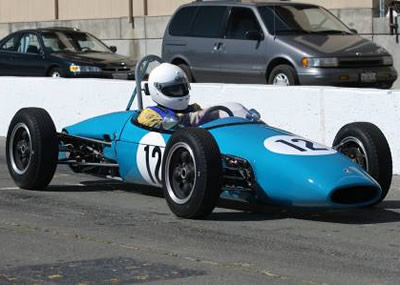 Either a replacement for Frank Gardner's FJ-2-62 at some unknown point during the 1962 season or a new identity given to the car when it was shipped to Australia at the end of the European season. Sold to Alec Mildren, who entered it for Gardner to race in Australian national racing in early 1963. Then to Len Deaton later in 1963. To Barry Collerson for 1964 and 1965, then Kevin Pinkstone 1966. Then to further Australian owners John Mellen 1969, Peter Taylor and Brian Morrow 1972, John Hilliar 1973, Spencer Bates 1977, Tony Galletly 1980, Bryan Miller 1982, Tony Moodie 1991 and Ken Hastings 1992. While with Hastings it was damaged and rebuilt with a new frame. Then sold to John Streets in the US 2001 then to Dave Zurlinden (Carmel Valley, CA) in 2003 and raced to the end of 2008. To John Dowson (Tunbridge Wells, Kent) September 2009. Sold to Chris Chilcott (Aberdeen, Scotland) in February 2015, together with the damaged original frame. Still owned by Chilcott in December 2020.
Driven by: Frank Gardner, Len Deaton, Barry Collerson, Kevin Pinkstone and John Mellen. First race: Warwick Farm, 10 Feb 1963. Total of 13 recorded races.
Chris Chilcott (UK) 2020
Brabham BT2
FJ-9-62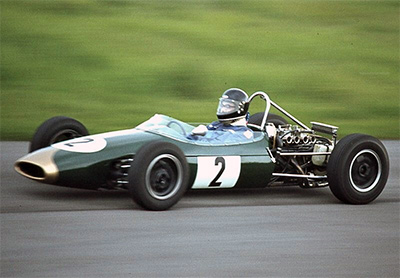 To Cliff Ward (Berkswell, Warwickshire) in September 1962 and raced occasionally in British Formula Junior using a Holbay 1100cc engine. The first entries for this car were in September 1962, but the first certain appearance was not until early 1963. Advertised by Ward in November 1963, and sold to Roger Mac late 1963, who raced it in the new 1-litre Formula 3 in 1964 with a Holbay engine, winning a number of club races. To Tony Dean (Leeds, Yorkshire) early 1965 but quickly replaced with a new BT15 and sold on to John Mansfield who raced it to the end of 1965. To Geddes Yeates for 1966 then raced by John Aspinwall (Shefford, Bedfordshire) in Monoposto in 1968 and 1969, and then to Paul and Andrew Hull for Monoposto in 1970. Raced by the Hulls to 1974 at least and with Mike Harrison (Ledbury, Herefordshire) by 1976. Said to have been bought by Harrison from Jeremy Bouckley. Raced by Harrison in the 1978 Chandler Hargeaves Formula Junior championship. Then unknown until sold by Peter Denty (Wretham, Norfolk) to Jerome Morici (Clifton, NJ) in either 1992 or 1999. Sold on to Bob Goeldner (Longmeadow, MA) in either 1997 or 2001. Raced by Goeldner at VSCCA Lime Rock in September 2013. Sold in September 2017 to VSCC racer Ed Bradley and son Richard (Greenwich, London). Returned to the UK in 2018, and raced at Goodwood 2018. Raced by Richard Bradley at the Silverstone Classic in July 2021.
Driven by: Cliff Ward, Roger Mac, Tony Dean, John Mansfield, Geddes Yeates, John Aspinwall and Paul Hull. First race: Silverstone, 15 Sep 1962. Total of 51 recorded races.
Ed Bradley (UK) 2021
Brabham BT2
FJ-10-62
New in late 1962 to 22-year-old Ernie de Vos (Dorval, Quebec) - sometimes given as "Ernest DeVos" - who had driven a Formula Junior Lola in 1962. After the Riverside race in late 1962, he did a deal with a spectating Jack Brabham to buy a Brabham Junior in instalments. His first race in the Brabham was at the Nassau Speed Week in December 1962, where he retired when running second. He also retired from second place at Sebring in March 1963. De Vos later won two races at Conner Airport, St Eugene, in late June; the Mohawk Cup at Watkins Glen the next weekend; and then two more races at St Eugene in early July. He was second behind Mark Donohue's curious rear-engined midget at Lime Rock later in July, won at Meadowdale in early August, and was third at Mid-Ohio in September. The De Vos Brabham is then unknown in 1964, but is presumably the "Brabham Junior" advertised by Ted Regan (Montreal) in January and March 1964. Subsequent history unknown.
Driven by: Ernie de Vos. First race: Oakes Field Course, Nassau, 12 Dec 1962. Total of 7 recorded races.
Unknown
Brabham BT2
FJ-12-62
Sold via Brabham's Australian agent Alec Mildren Pty Ltd to David Walker, and raced by Walker in 1963, 1964 and early 1965. Raced by Ralph Sach in 1965 then a Mildren entry with a 1500cc Ford twin cam for Frank Gardner and Kevin Bartlett during the 1965/66 season. To Competition Cars (Aust) for Mike Champion in the 1966 and 1967 Gold Star seasons, then to Brian Page for 1968. Entered by Graham Collier for Jack Bono in 1969. Through Australian owners Chris Farrell 1971, James Crawford 1973, Greg Kinlin 1977 and Graham Healey 1984 to Bryan Miller 1984 who restored it to Alec Mildren late 1965 spec with Ford twin-cam and raced extensively. To Colin Haste (Port Macquarie, NSW, Australia) 1998 and raced extensively in Australian Formula Junior Association events. Entered by Haste at Wakefield Park 23/24 February 2013. Still owned by Haste in February 2021.
Driven by: Dave Walker, Ralph Sach, Frank Gardner, Kevin Bartlett, Mike Champion, Phil West, Brian Page, Jack Bono and Chris Farrell. First race: Sandown Park (R4), 15 Sep 1963. Total of 45 recorded races.
Colin Haste (Australia) 2021
Brabham BT2 mysteries in 1962
There is some confusion over the three works cars, FJ-2-62, FJ-3-62 and FJ-8-62. It is broadly accepted that FJ-2-62 was Frank Gardner's car and that FJ-3-62 was Gavin Youl's, but when Gardner took 'his' car out to Australia in October, it was identified as FJ-8-62. So where did the third car enter the picture? The key to this may be the car Jack Brabham drove in practice for the Danish Grand Prix at Roskilde in late August, a Brabham Formula Junior chassis fitted with a 1500cc Holbay engine. As Gardner and Youl were also both present with their cars for a Formula Junior race, there were clearly three works BT2s in existence by this time.
Chassis
History
Current owner
Brabham BT2
'the Jack Brabham car'
According to Jack Brabham's column in Motor Racing magazine in October 1962 (pp360-362), he took one of his Formula Junior cars out to Roskilde for its non-championship Grand Prix in late August 1962, fitted with a 120 bhp 1500cc Holbay-Ford engine to try out on the short Danish circuit. Although describing it as "a toy", Brabham said it was only slightly slower than the V8-powered Lotus 24 which he raced and won the GP. Nothing more known.
Driven by: Jack Brabham. First appearance: Roskilde, 26 Aug 1962.
Unknown
The last 1962 BT2 and the first 1963 BT6
The interim car numbered FJ-1-63 that was raced by Denny Hulme at the Boxing Day Brands Hatch race at the end of 1962 is covered on OldRacingCars.com with the Brabham BT6s. It should be remembered that Brabham did not use the terms BT2 and BT6 for their cars in 1962 and 1963; those names were applied retrospectively.
A mystery Brabham in the Far East
In 1965, British Army officer Mike Heathcote bought a Formula Junior Brabham in west London, and fitted it with a Ford twin cam engine for use in racing in Singapore. David Irwin has worked through adverts that appeared in Autosport from west London addresses or phone numbers in 1965, and the most likely contender is one advertised from Pinner Road, Harrow, the infamous flat shared by, amongst others, Frank Williams. See FJ-4-62 above.
Chassis
History
Current owner
Brabham "FJ"
'the Mike Heathcote car'
(1967-1970)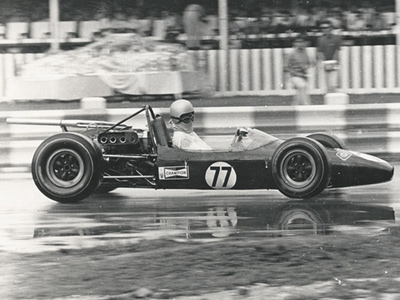 Mike Heathcote raced an ex-Formula Junior Brabham in events in Singapore and Malaysia from 1967 to 1970. Heathcote was a Captain in the Royal Marines stationed in Singapore. When contacted by later owner Simon Ham, he recalled that he bought the car in west London in July 1966 and that it was then red with a Hewland Mk IV gearbox. Heathcote shipped the car to Singapore, fitted a Ford twin cam engine, and competed in Singapore and at Batu Tiga until he crashed heavily at the Singapore GP in 1970 and was lucky to survive. The car was damaged beyond economic repair, and after the engine and gearbox had been sold, the wreck was left in a helicopter hangar at RAF Changi, the main RAF airbase on the eastern tip of the island, where Heathcote expected it to be parted out and then the remains scrapped.
However, the RAF left Changi the following year as part of Britain's withdrawal of armed forces "east of Suez" and the frame somehow survived. It was located and purchased in the mid-1980s by John Harper and sold to David Ham (Blunham, Bedfordshire) in 1992. David and his son Simon Ham traced Heathcote and were able to confirm it was his car, a curved tube over the footbox being one of the key identifying features. The car was restored with a twin cam engine, and ran it for the first time in December 2014.
Sold to David Irwin (Evergreen, CO) in April 2018, who has continued Simon Ham's efforts to identify the car's origins. Still with David in January 2021.
Driven by: Mike Heathcote. First race: Singapore, 27 Mar 1967. Total of 5 recorded races.
David Irwin (USA) 2021
Brabham BT2 mysteries
Recently discovered information about FJ-4-62 means that the car found in Australia and later owned by Simon Ham requires further research.
Chassis
History
Current owner
Brabham BT2
'the Simon Ham car'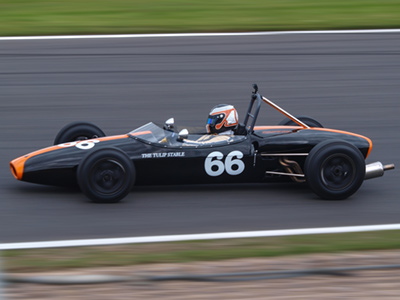 Simon Ham (UK) has raced a Brabham BT2 in historic racing which he understands to be FJ-4-62. Simon advises that it was found in Australia by John Harper in the late 1980s and brought back to the UK around 1990. Harper sold it to Sid Hoole for his customer Peter Hannen. It was restored by Peter Denty (Thetford, Norfolk), was with David Ham (Blunham, Bedfordshire) by 1997, and was raced in Historic FJ by David's son Simon. The car includes a number of original features, including "the correct original magnesium steering rack, mag front caliper carriers, mag rear uprights, two mag front wheels, all four corners and gear linkage", but a history file that would have explained its movements between 1965 and 1985 had been lost before Ham acquired it. This car is listed in Formula One Register publications as "FJ-4-62(II)". Sold to Cameron Jackson (Lincoln) late 2015, and raced by him in the Historic Formula Junior Championship from October 2015 to 2019. Raced by Cameron Jackson at the Silverstone Classic in July 2021.
Cameron Jackson (UK) 2021
These histories last updated on .