Brabham BT6 car-by-car histories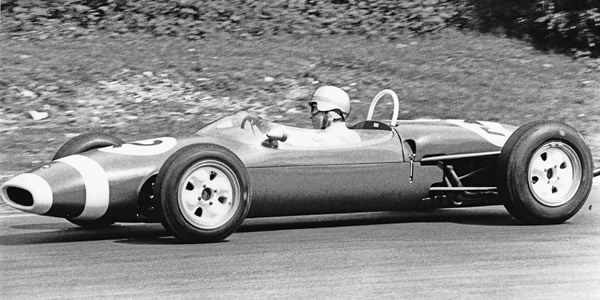 MRD released a updated version of Ron Tauranac's Formula Junior design for 1963. The car was retrospectively called the BT6, but at the time was simply known as the 1963 Brabham Junior.
Denny Hulme drove a Holbay-powered Brabham for the Brabham Racing Organisation (BRO) and was very successful, winning the Boxing Day Brands Hatch race in the prototype 1963 car and then winning six more races during the 1963 season. Other drivers to win races in 1963 Brabhams that year include Frank Gardner, who won four in the Ian Walker Racing car, Jo Schlesser with the Ecurie Ford France car, Mike Hailwood, Rodney Banting, Curt Lincoln, David Prophet, and Roy James. The latter achieved lasting fame by interrupting his season to drive the getaway car for the Great Train Robbery, but return to win a race at Cadwell Park just ten days later.
Despite the end of Formula Junior after that 1963 season, the 1963 Brabham remained a very popular car, competing in Formula 3, as well as racing in national categories in Australian, New Zealand and the US. Silvio Moser and Curt Lincoln were amongst the most successful Brabham F3 in 1964 in their BT6s, while Jo Schlesser fitted his car with a Cosworth SCA and had a solid season of F2. By 1965, four of the BT6s were racing against each other in the New Zealand national series, and quite a few more continued in F3, although by this time they were being upgraded with newer suspension and bodywork and became hard to tell apart from BT9s and BT15s. From 1966 onwards, it becomes very hard to track BT6s but it is likely that they continued to run in Europe and North America, but towards the back of the grids.
Please note: This page focuses on the early history of each BT6 and tries to bring that history as far up to date as possible. We do not look at the cars currently running in historic racing and attempt to trace them backwards. Any car with a significant gap in its history will therefore have its recent history and current ownership omitted. We are not attempting to duplicate any of the excellent work done by FJHRA Chairman Duncan Rabagliati and his team to authenticate cars for the FIA Lurani Trophy.
If you can add anything to our understanding of these cars, please contact Allen Brown (allen@oldracingcars.com).
Chassis
History
Current owner
The additional 1964 cars
Thanks to the ground-breaking research of the F1 Register, notably that of Formula Junior guru Duncan Rabagliati, we know where all of the BT6s went in 1964 with the single exception of the Reg Parnell Racing car raced by Mike Hailwood. Two cars appeared in 1964 that are to a BT6 pattern: Eddie Fletcher's Gerard Racing-built car; and Frank Williams' bitza.
Chassis
History
Current owner
Eddie Fletcher (London) ran a Brabham-Ford in European F3 in 1964, sponsored by Overland Executives London. When the car first appeared, at Montlhéry 24 May 1964, Motoring News described it as "his 1963 Brabham-BMC, this being the car's first race". According to Duncan Rabagliati of the Formula 1 Register, this car was built up at Bob Gerard's by John Taylor so this BT6 is additional to official production. Fletcher raced the car until the end of 1964 when, according to Duncan again, it was sold to Fordwall Ltd for Barrie Ford. Ford drove this Brabham, now green and with a 1650cc Ford engine, in libre events in 1965. He won one such race at Castle Combe in August 1965 but was not seen again after October 1965.
Driven by: Eddie Fletcher and Barrie Ford. First race: Aintree, 16 May 1964. Total of 12 recorded races.
Unknown
Brabham BT6s in the US
By 1966, at least four BT6s had reached the US. Grand Prix International of Los Angeles, CA had bought FJ-19-63 new at the end of 1963 and it raced very successfully on the west coast, winning the Formula C class at the SCCA's Run-Offs in 1966. Also in evidence by 1966 were three other cars, the Formula C car bought from Ian Raby by Charlie Adams of Hermosa Beach, CA; one Formula B car entered by Fred Opert for Mike Goth in some early-season races, and later raced by his brother; and a third bought from Opert by Malcolm Starr. The two Opert cars are most likely to have come from England, like Adams', and the possible contenders are FJ-3-63, last seen with Nick Gold at the end of 1965; FJ-6-63, which had been run by David Bridges with a 1650cc pushrod Ford in 1965 in libre racing; the puzzling ex-Hailwood FJ-10-63; John Peterson's well-used F3 car FJ-13-63; FJ-16-63 which is known to have been sold to Opert for 1966; and the ex-Eddie Fletcher car which had been raced by Barrie Ford in libre in 1965.
The date of Adams' purchase can be pinpointed to August 1965, and the car was said to have been rebuilt with a new chassis, so that eliminates Gold's FJ-3-63, Ewer's FJ-16-63 and Barrie Ford's ex-Fletcher car, and almost certainly eliminates John Peterson's FJ-13-63. That really leaves very few options, Hailwood's FJ-10-63 being the main one, but Raby's comment that it had been rebuilt on a new chassis means we also have to consider John Dunn's FJ-7-63 crashed in 1963, and 'the Frank Williams car', which was crashed at the Nürburgring in September 1964 but appears to have been rebuilt and advertised by Williams in June 1965. The timing and rebuild are a close match to Raby's description.
Peterson's car is an intriguing possibility as he was American and planned to race a LeGrand in F3 for 1966, so his BT6 could have ended up at LeGrand's factory at Sylmar, California as a result of a trade. However, Goth and Starr were both from the US northeast, and both within an hour's drive of Fred Opert's base in Paramus, NJ, so Opert is the most likely source of their cars.
Chassis
History
Current owner
Previous versions of this page listed the Mike Heathcote car, now thought more likely to be a Brabham BT2.
In addition to the above, unknown Brabham BT6s were driven by Andrea Tosi, Roger Laurent and Richard Smith.
These histories last updated on .