Brabham BT6 car-by-car histories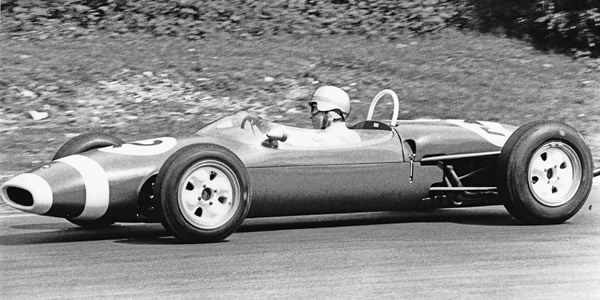 MRD released a updated version of Ron Tauranac's Formula Junior design for 1963. The car was retrospectively called the BT6, but at the time was simply known as the 1963 Brabham Junior.
Denny Hulme drove a Holbay-powered Brabham for the Brabham Racing Organisation (BRO) and was very successful, winning the Boxing Day Brands Hatch race in the prototype 1963 car and then winning six more races during the 1963 season. Other drivers to win races in 1963 Brabhams that year include Frank Gardner, who won four in the Ian Walker Racing car, Jo Schlesser with the Ecurie Ford France car, Mike Hailwood, Rodney Banting, Curt Lincoln, David Prophet, and Roy James. The latter achieved lasting fame by interrupting his season to drive the getaway car for the Great Train Robbery, but return to win a race at Cadwell Park just ten days later.
Despite the end of Formula Junior after that 1963 season, the 1963 Brabham remained a very popular car, competing in Formula 3, as well as racing in national categories in Australian, New Zealand and the US. Silvio Moser and Curt Lincoln were amongst the most successful Brabham F3 in 1964 in their BT6s, while Jo Schlesser fitted his car with a Cosworth SCA and had a solid season of F2. By 1965, four of the BT6s were racing against each other in the New Zealand national series, and quite a few more continued in F3, although by this time they were being upgraded with newer suspension and bodywork and became hard to tell apart from BT9s and BT15s. From 1966 onwards, it becomes very hard to track BT6s but it is likely that they continued to run in Europe and North America, but towards the back of the grids.
Please note: This page focuses on the early history of each BT6 and tries to bring that history as far up to date as possible. We do not look at the cars currently running in historic racing and attempt to trace them backwards. Any car with a significant gap in its history will therefore have its recent history and current ownership omitted. We are not attempting to duplicate any of the excellent work done by FJHRA Chairman Duncan Rabagliati and his team to authenticate cars for the FIA Lurani Trophy.
If you can add anything to our understanding of these cars, please contact Allen Brown (allen@oldracingcars.com).
Chassis
History
Current owner
Brabham BT6
FJ-1-63
Believed to be the "interim" car raced by Denis Hulme at the Boxing Day Brands Hatch 1962. Probably FJ-1-63 but given by recent owners as 'FJ-13-62'. Raced by Roy James in Formula Junior 1963 then to Mike Lawlor 1964 and entered for John Miles in Formula 3. Entered by Speedwell Engineering for Miles in a couple of early 1965 races. To Ray Thackwell (New Zealand) and fitted with a 1500cc Ford twin cam for New Zealand racing in the 1965/66 season. To John Weston for 1966/67 and then to Graham McRae for 1967/68. McRae used the engine and gearbox in his late-1968 McRae twin cam, and may also have used the suspension and uprights. According to David McKinney, the BT2 was rebuilt by Jack Oakley, who fitted with a Ford pushrod engine and VW gearbox. Whether this car was raced by Oakley in 1969 remains unclear, as Oakley also acquired the McRae. The car was acquired by the Southward Museum around 1979 and was restored by John Rapley (Paraparumu) in 1987. The restored car used a new frame built by Peter Bruin, and the original frame remained with Rapley. Used by Rapley in historic events, starting at Manfeild in November 1987 where it was fitted with a 1500cc Ford pushrod engine. Remained in Rapley's hands until 2017, when the car was stolen. It was recovered in September 2018, but in the meantime the original frame had been passed back to the Southward Museum, who were building another car from it. How these two cars will coexist remains uncertain.
Driven by: Denis Hulme, Roy James, John Miles, Mike Lawlor, Ray Thackwell, John Weston, Graham McRae and Jack Oakley. First race: Brands Hatch, 26 Dec 1962. Total of 38 recorded races.
John Rapley (New Zealand) 2018
Brabham BT6
FJ-2-63
Said to have been a works car in early 1963 but first seen when raced by Philippe Martel at Nürburgring 28 Apr 1963, suggesting he was the first owner. Sold to Automobiles Alpine for 1964 and used as the basis for their early F3 cars. To Hubert Discomps in 1965. Later raced by Raymond Rispal for many seasons in French hillclimbs. Rispal was already a veteran and was not expecting to be competitive, one finishing 53rd in class at Poitiers. The engine was not often mentioned but he is said to have used a 1300cc Renault Gordini engine for much of the 1970s. He appeared at Cagnotte as late as 1980. Subsequent history unknown.
Driven by: Philippe Martel, Hubert Discomps and Raymond Rispal. First race: Nürburgring, 28 Apr 1963. Total of 71 recorded races.
Unknown
Brabham BT6
FJ-3-63
Ian Walker (Racing) for Paul Hawkins in Formula Junior in 1963, winning at Rouen-les-Essarts in June. According to Duncan Rabagliati of the F1 Register, the car was sold to Graham Coaker for 1964. Coaker raced in F3 but was rarely amongst the leaders and his best result was sixth place at Brands Hatch in late-August. The car reappeared at the end of the 1965 season when it was raced by Nick Gold in several races at Brands Hatch, the last of which was the Boxing Day meeting. Subsequent history unknown.
Driven by: Paul Hawkins, Graham Coaker and Nick Gold. First race: Oulton Park, 6 Apr 1963. Total of 24 recorded races.
Unknown
Brabham BT6
FJ-4-63
Rodney Banting Formula Junior 1963. Then observed by Formula 1 Register member John Thompson to be the car entered by Janspeed Engineering for Clive Baker (Torquay) in Formula 3 in 1964. Sold to Graeme Lawrence and fitted with a 1500cc Ford twin cam for New Zealand racing in 1965 and 1966. To Laurence Brownlie for 1967, then Tony Batchelor for 1968, then hillclimber Roy Lyme for the 1968/69 season. Lyme raced it for the first time in a National Formula race at Pukekohe on 9 November 1968, but hit the fence at Champion Curve on lap 2, and the car was badly damaged. According to Graham Vercoe, it was rebuilt by Warner Collins. It then went to William Smith and was raced as a BT15 in 1970, then Eric Anderson in 1971, then Bernard Milray as a Formula Ford in 1976; and was bought by Wayne Rogers in 1982. Rogers restored it to Formula Junior specification and ran it at Pukekohe in December 1983. It was bought by Paul Higgins in 1988 who retained it until March 2001, when he sold it to Rob Hands in Australia. Bought by Peter Strauss (Armadale, Australia) in June 2002 and driven for the first time in a FJ race at Philip Island in in February 2004. Strauss has raced the car in Australian Formula Junior Association events since then. Strauss scored points in the 2014 AJFA series in this car but has more recently focused his attention on his Brabham BT31. Raced by Strauss at Watkins Glen Sep 2017.
Driven by: Rodney Banting, Clive Baker, Graeme Lawrence, Laurence Brownlie, Tony Batchelor and Roy Lyme. First race: Snetterton, 17 Mar 1963. Total of 60 recorded races.
Peter Strauss (Australia) 2017
Brabham BT6
FJ-5-63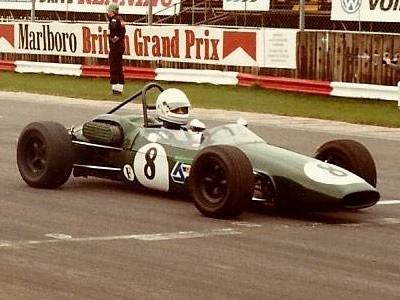 David Prophet (West Bromwich) in Formula Junior 1963. Also appeared at Karlskoga in August and in South Africa in December in F1 specification with a 1500cc Ford engine. To Graham Eden (Coventry, Warwickshire) for Formula 3 in 1964. Eden first raced the car at Snetterton in mid-March 1964 but at Mallory Park two weeks later he crashed the car heavily in practice. When asked in 2013, Eden recalled that the car was "virtually brand new" and that it was "written off" in what he described as "the worst crash I ever had". He was in hospital for several days and did not race seriously again for two years. Duncan Rabagliati has a note that the car went back David Prophet but if it did go back to Prophet, it is likely that it needed to be completely rebuilt. History then unclear until April 1966 when raced by Peter Blankstone in hillclimbs. Raced again early 1967 before Blankstone acquired a Brabham BT18. Subsequent history unknown but believed to be the 1500cc Brabham "BT3/18" driven by Mrs Terry Dunn in sprints and hillclimbs from 1968 to 1974. A car with this chassis number later run in historic racing by John Narcisi (Bromley, Kent) in the 1980s. That car later to Barrie Gillies and wrecked at Phoenix Park in September 1997. Repaired and later owned by David Brown (Ashford, Kent) until sold to Graham Adelman (Free Union, VA) in 2013. Raced by Sharon Adelman at Silverstone in May 2012 and at Montery in August 2012. Also raced by Sharon Adelman at Lime Rock August 2014, when the car was dark blue with a white band on the nose. Raced at the Goodwood Festival of Speed in 2018.
Driven by: David Prophet, Graham Eden, Peter Blankstone, Terry Dunn and John Narcisi. First race: Oulton Park, 16 Mar 1963. Total of 35 recorded races.
Graham Adelman (USA) 2018
Brabham BT6
FJ-6-63
Ian Walker (Racing) for Frank Gardner in Formula Junior in 1963. To John Romanes and raced in libre with a 1500cc Ford engine in 1964. To David Bridges April 1965 and fitted with a 1650cc Ford engine for libre racing. Bridges started the season with a Cooper T71 with Keith Jones driving the Brabham, but Bridges also drove the Brabham before buying himself a Brabham BT14 to replace the Cooper. History then unclear as several "ex-Bridges" cars appear to have become confused.
Driven by: Frank Gardner, John Romanes, Keith Jones and David Bridges. First race: Oulton Park, 6 Apr 1963. Total of 30 recorded races.
Unknown
Brabham BT6
FJ-7-63
John Dunn in Formula Junior in 1963. Crashed at Silverstone 6 Jul 1963 in Dunn's fatal accident. Presumably destroyed.
Driven by: John Dunn. First race: Oulton Park, 16 Mar 1963. Total of 11 recorded races.
Wrecked 1963
Brabham BT6
FJ-8-63
Curt Lincoln in Formula Junior in 1963. Retained for a couple of Formula 3 races at the start of 1964 and then believed to be the Team Vagabond entry for Picko Troberg (Stockholm, Sweden) for the remained of 1964. To Lars Lindberg for 1965, when Motoring News identified his car as ex-Troberg. Identified by Duncan Rabagliati as the car raced by Jean Johansson in 1966. Last seen at Karlskoga 16 Oct 1966 after which Johansson acquired a newer BT16. Then unknown until the late-1970s when it was bought by another Swede in Formula Ford specification. After another two Swedish owners, it was sold to Germany where later owner Pierre Tonetti says it was bought by Lotus specialist Horst Auer in 1983. From him it went to Giorgio Valantini (Italy) in 1984, then Anacleto Girolo in 1997. Tonetti bought it from Girolo in December 2006. Still with Tonetti in May 2013.
Driven by: Curt Lincoln, Picko Troberg, Lars Lindberg and Jean Johansson. First race: Skarpnäcks Flygfält, 5 May 1963. Total of 35 recorded races.
Pierre Tonetti (Italy) 2013
Brabham BT6
FJ-9-63
Brabham Racing Organisation for Denny Hulme in Formula Junior in 1963. To Alec Mildren Racing, fitted with a 1500cc Ford twin cam engine and raced in Australian national racing by Frank Gardner in 1964. To Roly Levis in November 1964 for New Zealand racing in 1965 and 1966. Entered by Levis for Bill Stone in 1966/67 then sold to Stone who raced it again in 1967/68. Sold to Gerald 'Jiggs' Alexander in September 1968 and raced in the 1968/69 and 1969/70 seasons, after which Alexander stripped the car with the intention of restoring it. However, it remained in this state until 1999 when it was sold to Ian McDonald (Australia) who restored the car and ran it in Australian historic racing from 2001 onwards. Sold to Ed Holly (Sydney, NSW) in July 2006 and raced in the Tasman Revival series from 2006/07 to 2012/13. Sold to Mark Shaw (Edinburgh, Scotland) early 2017, and raced by him at Monterey and Watkins Glen later that year.
Driven by: Denis Hulme, Frank Gardner, Roly Levis, Bill Stone and Jiggs Alexander. First race: Oulton Park, 6 Apr 1963. Total of 52 recorded races.
Mark Shaw (UK) 2017
Brabham BT6
FJ-10-63
Reg Parnell Racing for Mike Hailwood in Formula Junior in 1963. Won several races but not seen again after a win at Mallory Park 23 Jun 1963. This is presumably the Brabham that Hailwood raced with a 1650cc Ford engine in a libre race at Mallory Park on 8 March 1964. Subsequent history unknown.
Driven by: Mike Hailwood. First race: Aintree, 25 May 1963. Total of 4 recorded races.
Unknown
Brabham BT6
FJ-11-63
Sold to Giannini A & D and fitted with one of their 1000cc Fiat engines for Formula 2. First appeared at Pau April 1964, driven by Mario Pandolfo. Seen rarely that season. Appeared once more for Pandolfo in May 1965 entered by Scuderia Montegrappa. Nothing more known.
Driven by: Mario Pandolfo. First race: Pau, 5 Apr 1964. Total of 6 recorded races.
Unknown
Brabham BT6
FJ-12-63
Denis O'Sullivan in Formula Junior in 1963. Retained for Formula 3 in 1964, now entered by Baldyne Engineering. Appears to have moved to Motor Racing Stables after O'Sullivan acquired at F2 Brabham BT10 around August 1964 and was raced by John Tomlinson at Brands Hatch 13 Sep 1964. Sold to Ken Sager and fitted with a 1500cc Ford engine for New Zealand racing in 1965 and 1966. During its time in New Zealand, it was often referred to as a 1964 car, implying a BT9. Sold to Grahame Harvey mid-1966 and retained for 1967. Then to Tim Bailey and fitted with a 1500cc Fiat engine for 1968. To Brian Pellow for 1969, still with the Fiat. Retained by Pellow for 1970, but now with a 1600cc Ford. This car was sold to Frank Gilbert (Auckland) and raced as a Formula Ford for two seasons. Graham Vercoe's book 'Historic Racing cars of New Zealand' claims that the car was a BT9, and that a replica frame was built by Pellow and that it was the replica frame that became the Formula Ford. Writing in 1991, he said that the original 'BT9' frame was owned by John Wigston. In 2015, Wigston's restoration was nearing completion.
Driven by: Dennis O'Sullivan, John Tomlinson, Niel Malloy, Ken Sager, Grahame Harvey, Tim Bailey and Brian Pellow. First race: Oulton Park, 15 Jun 1963. Total of 39 recorded races.
John Wigston (New Zealand) 2015
Brabham BT6
FJ-13-63
John Peterson for Formula Junior in 1963, first appearing in early June. Retained by Peterson for Formula 3 in 1964 and 1965. Continued to race in 1965, now described as a BT10. Last seen in October 1965.
Driven by: John Peterson and Tony Horsley. First race: Aspern, 13 Jun 1963. Total of 18 recorded races.
Unknown
Brabham BT6
FJ-14-63
Ecurie Ford France for Jo Schlesser in Formula Junior in 1963. Retained for 1964 and rebuilt to Formula 2 spec, initially for Schlesser and from July onwards as a second car for Guy Ligier. Retained for Ligier again in F2 in 1965. Last seen at Siracusa 24 October 1965.
Driven by: Jo Schlesser and Guy Ligier. First race: Lake Garda, 12 May 1963. Total of 35 recorded races.
Unknown
Brabham BT6
FJ-15-63
Sold to Greg Cusack for Australian Formula Junior in 1963, probably via Brabham's new Australian agent Alec Mildren Pty Ltd. Fitted with a 1500cc Ford engine for Australian national racing in 1964 then sold to Kurt Keller near the end of the year. Next seen early 1966,raced by Paul Bolton. Reappeared again in mid-1967 now back in 1100cc form for ANF2 and raced by Henk Woelders. Sold to Jon Davison, son of the late Lex Davison, for 1969 and raced by him for two more seasons. According to John Blanden's 'Historic Racing Cars in Australia, it was sold in 1970 to Harry and Val Forde and retained by them until 1999 when it was sold to Peter Johnson (Sydney, NSW). Raced by Johnson in historic FJ racing in Australia. Sold in 2010 to Tony Simmons (Sydney, NSW) and taken to the UK in 2011 for HSCC events and the Goodwood Revival.
Driven by: Greg Cusack, Kurt Keller, Paul Bolton, Henk Woelders and Jon Davison. First race: Sandown Park (R4), 15 Sep 1963. Total of 10 recorded races.
Tony Simmons (Australia) 2014
Brabham BT6
FJ-16-63
Although the BT6 was a Formula Junior design, FJ-16-63 was built with redesigned engine bay to take a Ford twin cam engine. The car was delivered to Betty Haig but according to Duncan Rabagliati's research, it did not race in 1963 and only appeared twice, in the hands of Peter Richardson, in 1964. For 1965, it was sold to John Ewer who raced it in libre events, winning at Snetterton on 13 Jun 1965 and finishing second to at Brands Hatch on 4 Apr 1965. For 1966, the car was sold to Fred Opert and it would have been perfect for Formula B in 1966. Its career in the US is currently unknown.
Driven by: Alan Stubbs and John Ewer. First race: Silverstone, 3 Oct 1964. Total of 8 recorded races.
Unknown
Brabham BT6
FJ-17-63
A late-1963 delivery to Charles Vögele and raced for him by Silvio Moser at Mitholz-Kandersteg 22 Sep 1963. Converted to F3 specification over the winter and raced by Moser in 1964 and early 1965. The car's history through the latter half of 1965 and in 1966 is currently unknown but it was sold at the end of 1966 by Jo Siffert, a part-time car dealer, to Fritz Heini who fitted a 800cc Honda engine and raced it in Swiss national and regional events over the next five seasons. In October 1971, he sold it to Heinz Schulthess who raced it just once at Hockenheim before selling it to Michel Salvi (Malbuisson, France) who raced it in raced in French hillclimbs. It was later owned by Marcel Schaub (Lausen, CH) and in 2006 was reported to be with Chris Drake in England. By 2012, the car had passed to Jonathon Hughes and he raced the car in the 2013 FIA Lurani Trophy. Raced at The Masters Historic Festival at Brands Hatch in May 2013 but did not appear later in the season.
Driven by: Silvio Moser, Fritz Heini and Michel Salvi. First race: Mitholz-Kandersteg (R8), 22 Sep 1963. Total of 25 recorded races.
Jonathon Hughes (UK) 2013
Brabham BT6
FJ-18-63
A very late-1963 car for Andy Buchanen to race in Australian 1500cc racing with a Ford twin cam engine. Retained for 1965 then to Bill Caldwell for 1966 then to Peter Yock for 1967. Yock is known to have returned the car to England for repairs but its history after is still being researched.
Driven by: Andy Buchanen, Bill Caldwell, Roly Levis and Peter Yock. First race: Renwick (R1), 16 Nov 1963. Total of 17 recorded races.
Unknown
Brabham BT6
FJ-19-63
To Grand Prix International (Los Angeles, CA) and first seen when raced by Kurt Neumann in a SCCA race in the car park of Dodger Stadium in December 1963. Raced by Bruce Kessler (Beverly Hills, CA) in SCCA Nationals in early 1964 but crashed at Del Mar in March. Then raced by Lothar Motschenbacher (also Beverley Hills, CA) in May and then by Neumann again in June. Sold to Nick Dioguardi (Glendale, CA) and run in the new Formula C in 1965 and 1966. Despite competition from SCA-engined cars, Dioguardi won the 1966 Run-Offs in this car. Last seen when advertised by Alan Bouverat (Saratoga, FL) in December 1967 so this would be the FC Brabham that Bouverat raced in the War Bonnett SCCA Nationals in October 1967. Subsequent history unknown.
Driven by: Kurt Neumann, Bruce Kessler, Lothar Motschenbacher, Nick Dioguardi and Alan Bouverat. First race: Dodger Stadium, 8 Dec 1963. Total of 18 recorded races.
Unknown
Brabham BT6
FJ-20-63
To A. J. 'Tony' Huggett but too late for the 1963 season. Raced in Formula Junior classes of libre races in 1964. To Langley Garage (Cheam) and converted to Formula 3 spec for Graham L White to race in 1965. Retained for 1966 and for 1967.
Driven by: Tony Huggett and Graham L White. First race: Brands Hatch, 30 Mar 1964. Total of 33 recorded races.
Unknown
The additional 1964 cars
Thanks to the ground-breaking research of the F1 Register, notably that of Formula Junior guru Duncan Rabagliati, we know where all of the BT6s went in 1964 with the single exception of the Reg Parnell Racing car raced by Mike Hailwood. Two cars appeared in 1964 that are to a BT6 pattern: Eddie Fletcher's Gerard Racing-built car; and Frank Williams' bitza.
Chassis
History
Current owner
Brabham BT6
'the Eddie Fletcher car'
Eddie Fletcher (London) ran a Brabham-Ford in European F3 in 1964, sponsored by Overland Executives London. When the car first appeared, at Montlhéry 24 May 1964, Motoring News described it as "his 1963 Brabham-BMC, this being the car's first race". According to Duncan Rabagliati of the Formula 1 Register, this car was built up at Bob Gerard's by John Taylor so this BT6 is additional to official production. Fletcher raced the car until the end of 1964 when, according to Duncan again, it was sold to Fordwall Ltd for Barrie Ford. Ford drove this Brabham, now green and with a 1650cc Ford engine, in libre events in 1965. He won one such race at Castle Combe in August 1965 but was not seen again after October 1965.
Driven by: Eddie Fletcher and Barrie Ford. First race: Aintree, 16 May 1964. Total of 12 recorded races.
Unknown
Brabham BT6
'the Frank Williams car'
Frank Williams, the future F1 team boss, was trying to scratch out a racing career in the mid-1960s in the company of 'Bubbles' Horsley, the future F1 team manager of Hesketh. In 1964, Frank drove Bubbles' Brabham in F3, a car which Bubbles in 2013 recalled as being "an ex FJ chassis", and Doug Nye's book about Frank Williams described as "a crashed Brabham". This could have been the BT2 FJ-4-62 in which Ray Moore was killed in March 1964, or the BT6 FJ-7-63 in which John Dunn was killed in July 1963, but could also have been built up on a repaired frame that was was replaced after an accident. The car was thought to have ended its life when Williams crashed it into a tree at the Nürburgring in September 1964. Horsley recalled that it was "destroyed" and Williams in Nye's book said that it was "beyond economic repair". However, in June 1965, a "FJ Brabham" was advertised from the Harrow flat shared by Williams and Horsley, so it may have been repaired. This may be the car then bought by Mike Heathcote.
Driven by: Frank Williams. First race: Caserta, 21 Jun 1964. Total of 6 recorded races.
Destroyed 1964
Brabham BT6s in the US
By 1966, at least four BT6s had reached the US. Grand Prix International of Los Angeles, CA had bought FJ-19-63 new at the end of 1963 and it raced very successfully on the west coast, winning the Formula C class at the SCCA's Run-Offs in 1966. Also in evidence by 1966 were three other cars, one Formula C car in the hands of Charlie Adams of Hermosa Beach, CA; one Formula B car entered by Fred Opert for Mike Goth in some early-season races, and later raced by his brother; and a third bought from Opert by Malcolm Starr. These three cars are most likely to have come from England, and the possible contenders are FJ-3-63, last seen with Nick Gold at the end of 1965; FJ-6-63, which had been run by David Bridges with a 1650cc pushrod Ford in 1965 in libre racing; the puzzling ex-Hailwood FJ-10-63; John Peterson's well-used F3 car FJ-13-63; FJ-16-63 which is known to have been sold to Opert for 1966; and the ex-Eddie Fletcher car which had been raced by Barrie Ford in libre in 1965. Peterson's car is an intriguing possibility as he was American and planned to race a LeGrand in F3 for 1966, so the BT6 could have ended up at LeGrand's factory at Sylmar, California as a result of a trade. Both Sylmar and Charlie Adams' home town of Hermosa Beach are in the Los Angeles area. Goth and Starr were both from the US northeast, and both within an hour's drive of Fred Opert's base in Paramus, NJ, so Opert is the most likely source of their cars.
Chassis
History
Current owner
Brabham BT6
'the Charlie Adams car'
Charlie Adams (Manhattan Beach, CA) campaigned a Brabham Formula B car from late 1965 through to early 1968 when he replaced it with a new BT21C and it is assumed that he ran the same car throughout that period. A report on the May 1968 CDR Pro race in Finish Line identified it as a Brabham BT6 and Adams described it as a 1963 Brabham when he advertised it in CP&A in April 1968.
Driven by: Charlie Adams. First race: Juárez, 7 Nov 1965. Total of 12 recorded races.
Unknown
Brabham BT6
'the Goth brothers car'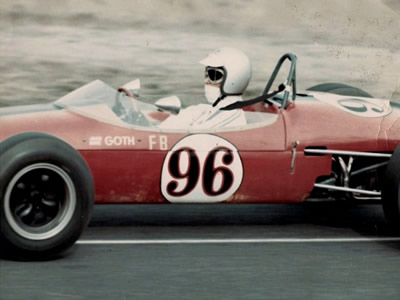 Brothers Jack and Mike Goth shared a Formula B Brabham in SCCA racing in 1966. In February 1966, Group 7 McLaren racer Mike Goth (Pound Ridge, NY) retired the car at the SCCA National at Palm Beach International Raceway. The car was entered by Fred Opert Racing. Goth retired again at Marlboro Motor Speedway on 4 April but won a SCCA Regional at Vineland two weeks later. Some time between 10 July and 9 August 1966, i.e. either at the Connellsville Airport or Bryar Nationals, Jack Goth, Michael's younger brother, scored four points in the North East Division Formula B rankings driving a Brabham. A photograph of Jack driving the car shows a red Brabham BT6 wearing No 96, the number Mike Goth was using on his McLaren for 1966. Leslie Goth recalls that Jack sold the car for 1967. Subsequent history unknown.
Driven by: Mike Goth and Jack Goth. First race: Palm Beach International Raceway (R1), 26 Feb 1966. Total of 4 recorded races.
Unknown
Brabham BT6
'the Malcolm Starr car'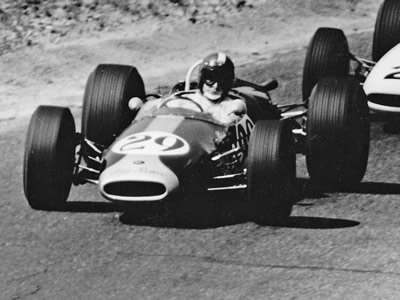 A mystery Brabham bought from Fred Opert by Malcolm Starr (Union City, NJ) and fitted with a 1.6-litre Alfa Romeo engine for local Formula B racing. Photographs supplied by Malcolm show either a BT2 or a BT6, but mechanic Jim Carter recalls that it had outboard brakes, implying a BT6. Jimmy also recalls that Opert had got the car from "the guy who built Alexises around Birmingham", i.e. Alex Francis, which supports Duncan Rabagliati's idea that the car was actually an Alexis. Starr sold the Brabham-Alfa to Samuel Brown (Louisville, KY), who raced it in SCCA Nationals in 1967. Subsequent history unknown.
Driven by: Malcolm Starr and Samuel Brown. First race: Lime Rock, 25 Jun 1966. Total of 5 recorded races.
Unknown
A mystery Brabham in the Far East
In 1965, British Army officer Mike Heathcote bought a Formula Junior Brabham in west London, and fitted it with a Ford twin cam engine for use in racing in Singapore. David Irwin has worked through adverts that appeared in Autosport from west London addresses or phone numbers in 1965, and the most likely contender is one advertised from Pinner Road, Harrow, the infamous flat shared by, amongst others, Frank Williams.
Chassis
History
Current owner
Brabham "FJ"
'the Mike Heathcote car'
(1967-1970)
A Formula Junior car bought in west London in 1965 by Captain Mike Heathcote of the Royal Marines, and shipped out to Singapore in early 1966. Heathcote fitted a Ford twin cam engine, and competed in the Singapore Grand Prix from 1967 to 1970, and at other races such as the Internationals held at Batu Tiga. Heathcote crashed heavily at the Singapore GP in 1970 and was lucky to survive. The car was damaged beyond economic repair, and the wreck was left at RAF Changi where Heathcote expected it to be scrapped. Somehow, it survived, and was purchased by Simon Ham in 1992, when it was sold to settle a bad debt. Ham traced Heathcote and was able to confirm it was his car. He restored it with a twin cam engine, and ran it for the first time in December 2014.
Sold to David Irwin (Evergreen, CO) in April 2018.
Driven by: Mike Heathcote. First race: Singapore, 27 Mar 1967. Total of 5 recorded races.
David Irwin (USA) 2018
In addition to the above, unknown Brabham BT6s were driven by Andrea Tosi, Roger Laurent and Richard Smith.
These histories last updated on .