Brabham BT21C car-by-car histories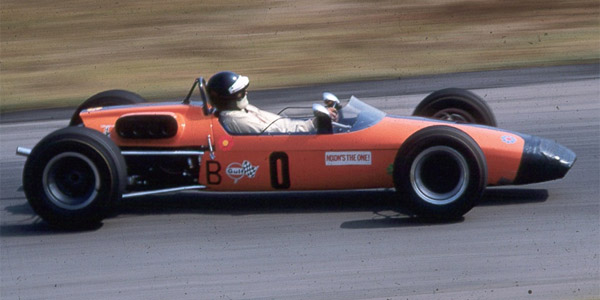 SCCA Formula B was booming in 1968 and Brabham's US dealer Fred Opert imported up to 16 of the latest Brabham BT21C model. The BT21C was an update to the 1967 BT21A and visually almost identical.
The Brabham BT21C illustrates how difficult it can be to research individual racing car histories. Of the 18 that Brabham records say were built, we know that one car stayed in the UK for Sir Nicholas Williamson to use in hillclimbs and another appeared in the UK two years later for Malcolm Eaves, so the other 16 presumably went to the US via Fred Opert. If Brabham records could be located, it is likely that they would just give Opert's name as agent so they probably would not allow us to identify individual owners. SCCA records from that period paid no attention to chassis numbers and as the BT21C appeared four years before the SCCA introduced log books, many BT21Cs will never have been logbooked. We are therefore left with many cars that raced in the US but very few clues to their identities. However, this page will act as a resource to owners and we will, over time, make some progress.
Of the US cars, so far just five have been identified: Peter Nichols Goetz' BT21C/1, Don Delamore's BT21C/8, Charlie Adams' BT21C/12, Noel McGlothlin's BT21C/14 and Gari Andreini's BT21C/16. That leaves up to 11 cars for which the first owner is not yet known, which compares rather neatly with 11 unidentified cars in 1968 (see next section).
If you can add any further information, please email Allen.
Chassis
History
Current owner
Unidentified Formula B cars in 1968
SCCA race records reveal 12 Brabhams racing in 1968 that we can be reasonably confident were BT21Cs. No record has been found of Don Delamore's BT21C/8 or Gari Andreini's BT21C/16 racing in 1968. In reading these histories, and trying to understand the movements of these cars, it is essential to also consider the mystery Brabham BT21As.
Chassis
History
Current owner
Unidentified Formula B cars in 1969
Of the known cars, Delamore had only just received BT21C/8, Adams retained BT21C/12, McGlothlin retained BT21C/14 and Andreini still had BT21C/16. Of the unidentified cars, Nick Reynolds sold his to Bill Monson, but Howard Brown, Nick Craw, Mike Hayman, Jay Jamison, Peter Roberts and Ted Thomas all retained their cars.
The cars that cannot be traced after 1968 are the BT21C/1 of Peter Goetz (Mohrsville, PA) and the unidentified cars of Edmund Hessert (Haddonfield, NJ), Jerry Nelson (Minneapolis, MN), Malcolm Starr (Union City, NJ) and Bob Welch (Alexandria, VA). Those five untraced cars should be explained by new BT21C drivers appearing in 1969: Bill Bowman (Palm Beach, FL), Karl Kohnke (Chicago, IL), Bill Baldwin (Bound Brook, NJ) and Gerald Crow (Denver, CO). All these four made their first appearance by June so must be explained by cars that are untraced after the 1968 season. The fifth BT21C might be the car raced on one or two occasions by Dale Lang. At the Runoffs in November 1969, a sixth BT21C appeared in the hands of Howard Jackson (Cedar Rapids, Iowa) but this was after the first BT29s had been delivered so Jackson's car could have been any of the BT21Cs that were traded in during the latter part of the 1969 season.
Chassis
History
Current owner
Unidentified Formula B cars from late 1969 onwards
From late 1969 onwards, it gets much more difficult to determine whether cars described as BT21Cs are real BT21Cs or updated BT21As. The cars shown below could be third hand by this time.
It is worth attempting a review of what we know by the spring of 1970. Of the five known cars, Delamore still had BT21C/8, Adams still had BT21C/12 and Andreini still had BT21C/16, but Goetz was last seen with BT21C/1 at the end of 1968, and McGlothlin was not seen with BT21C/14 after the end of 1969. Of the unidentified cars from 1968, Nick Reynolds' was with Gary Gove, Peter Roberts' was with Wayne Spears, and Ted Thomas retained his car; but Howard Brown's was not seen after 1969, Nick Craw's was unknown after mid-1969, Mike Hayman was advertised in August 1969, and Jay Jamison's was advertised in March 1970. So the cars of McGlothlin, Brown, Craw, Hayman and Jamison are added to the cars of Peter Goetz, Edmund Hessert, Jerry Nelson, Malcolm Starr and Bob Welch, all of which went missing after 1968. So ten BT21Cs are missing going into the 1970 season, one of which, perhaps Malcolm Starr's, is accounted for by Bill Baldwin's second-hand car.
Five new drivers move into BT21Cs for 1970, including Bruce Jensen, John Marshall, Bill Bovenizer, Quin Calhoun and John Babchek. It is quite possible that the other four BT21Cs continued to race at Regional level and have not yet appeared in the race results we have.
Chassis
History
Current owner
Unidentified Brabham BT21Cs from 1971 onwards
From 1971, the problems tracking the BT21C are compounded by two further issues: firstly the reporting of all BT21 derivatives simply as BT21s, so BT21As can not be distinguished from BT21Cs, and secondly the ever-increasing number of BT21s in Formula C, some of which are likely to be converted Formula B cars but others will be ex-F3 BT21s or even BT21Bs.
By the start of 1971, Charlie Adams was still using BT21C/12; Gari Andreini was still racing BT21C/16; Quin Calhoun still raced his car; Gary Gove was racing the ex-Nick Reynolds car; Ted Thomas still had his car; and Reg Forth was racing the ex-Bill Bovenizer car. Bill Middleton had a BT21C in California; Jack Kane had a FB BT21 of some type in Connecticut; and Don Flores from New York used a FB BT21 at the Runoffs.
From 1972 to 1974, Warren "Bud" Pauge raced a black BT21 in Californian Formula B; this car is currently covered on the Brabham BT21A page but could have been a BT21C. Various models of BT21 were also used in Formula Ford and in autocross events.
Chassis
History
Current owner
Current BT21Cs that have not been identified
Chassis
History
Current owner
This Brabham BT21C has lost its chassis plate but has been recorded as having Arch Motors number AM288. The exhaustive research done on the car by Ed Holly traces it back to an owner in Milwaukee who sold it to Kevin Culver (Portland, Oregon) in 1979. It was bought from Culver in pieces in 1981 by Don Smethers (Portland, Oregon) and converted to a sports car with a red and yellow body and 2-litre Ford engine. He raced this in SCCA CSR, as did the next few owners until the car was crashed in 1986. Then sold to Philippe de Lespinay (Newport Beach, CA), still with the sports car body but it also came with its original pale blue Brabham bodywork, which de Lespinay kept when throwing away the sports car body. De Lespinay only wanted the gearbox and sold the rest of the car on to Russ Baldwin. A restoration was then started by Bill Schlossnagel but was not completed. Sold by Russell to John Delane in 2001, then via a "Mortimer" and "Gould" in 2004, during which time it was taken to Australia where it was bought by Ed Holly (Sydney, NSW) in 2005. The frame was straightened by former Brabham fabricator Elwyn Bickley and the car was rebuilt, debuting at HSRCA Eastern Creek in May 2010. Offered for sale in 2014 and sold to Wayne Wilson (Sydney, NSW) later that year. Taken to Europe for a 'summer foray' and raced by Wilson at Brands Hatch in July 2015. It remained in Europe for four seasons, racing with numerous organisations. Wayne advises that it returning to Sydney in January 2020.
Driven by: Don Smethers. First race: Portland International Raceways, 4 Apr 1982. Total of 5 recorded races.
Wayne Wilson (Australia) 2020
In addition to the above, unknown Brabham BT21Cs were driven by Dale Lang, Collin Barrow, Lee Mueller, Bob Saunders and Olly Ross.
Acknowledgements
As it is difficult to separate Brabham BT21Cs from Brabham BT21As, I hope some degree of repetition is excusable here. My thanks to Ted Walker of the Brabham Register, the late David McKinney, Chris Townsend, Bryan Miller, and Denis Lupton for the original work on this subject which started back in 2002, to former owners Charlie Adams and Malcolm Starr, and for the valuable contributions of Steve Wilkinson, Michael Oliver, Alan Brown, Simon Hadfield, Andrew Fellowes, Ian Hebblethwaite, Philippe Demeyer, John Lo Bosco and DeVillo "Mac" McCann.
My thanks to the many other people who have helped with this research over the years. Unfortunately, my carefully maintained list was accidentally overwritten, so while I reconstruct it, please be assured I am grateful to each and every one of you. I have over 350 emails in my inbox relating to these cars, so this may take some time!
If you can add anything to these histories, please contact Allen Brown (allen@oldracingcars.com).
These histories last updated on .