Brabham BT21A car-by-car histories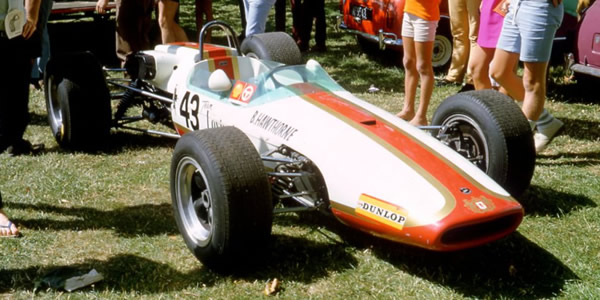 MRD's burgeoning relationship with Fred Opert in the US led to a run of Formula B Brabham BT21As being built for 1967. This consisted of the new Formula 3 BT21 chassis fitted with a Ford twin cam engine.
The Brabham BT21 on which the BT21A was based was an evolution of the 1966 BT18. Visually, it can be distinguished from a more angular line to the cockpit surround, and a Naca duct on the nose replacing the raised duct used on the BT18. The later BT23-type cars can be distinguished by a radius rod going back from the top of the front suspension.
Like the Brabham BT14 in 1965, the BT21A was intended for libre racing and hillclimbs in the UK market as well s Formula B in the US. The first car was almost certainly sold to Fred Opert, but the second went to hill-climber Sir Nick Williamson for the 1600cc class of the British championship. Later on in the year, Robs Lamplough bought a BT21A and used it in Formula 2, and also Tony Griffiths bought one for hillclimbing. The other seven cars went to the US, but only one first owner is known: Lou Sell's chassis number BT21A/3. The other six would be the cars raced by Joe Grimaldi, Fred Ashplant, George Wintersteen, Dave Webster, Mike Hiss and Terry Petmecky. However, additional uncertainty is created by a pair of BT21-type Brabhams with Ford twin came engines which went to Albert Poon in Southeast Asia and Graeme Harvey in New Zealand. We cannot yet be sure which of these were BT21As, which were F3 BT21s converted to Ford twin cam engines, and which were older cars fitted with BT21 bodywork. At least one, the car of Bert Hawthorne, was built from parts so probably did not form part of MRD's official production numbers.
As so little information is available to identify the chassis numbers of the cars sold to the US in 1967, these histories are designed as a basis for further research.
If you can add or correct anything, please contact Allen Brown (allen@oldracingcars.com).
Chassis
History
Current owner
First owner unknown but according to the order of first appearance in the US, it seems likely that this was the Opert Racing Team car driven by Joe Grimaldi and first seen at Marlboro Motor Speedway on 8 Apr 1967. Unknown until sold by Rick Cole (Novi, Michigan) around 1987 or 1988 to Chuck Maranto (Zionsville, IN) together with BT21A-10. Maranto had BT21A-1 restored by Baurle Autosport and raced it for several years. Sold to Bernie Nevoral (Burr Ridge, IL) 1992 but unknown since then.
Unknown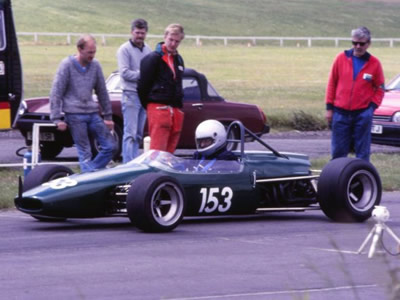 New to Sir Nick Williamson and fitted with a 1600cc Cosworth Ford twin cam for the 1967 British Hill Climb Championship. To Stockbridge Racing early 1968 and driven by John Fenning in libre and by Howard Bennett in hillclimbs. To Robin Darlington (Overton-on-Dee, Wales) August 1968 and raced in libre (also driven by Tony Lanfranchi). To Jim Charnock (Liverpool) for 1969 - John Wingfield November 1971 - Steve Malins 1973 - Harvey Hodgson (Blackpool) 1975 - Roger Murray (Barrow-in-Furness, Cumbria) June 1987 - Graham North 1990 or 1991 - Stephan Foster - Roger Bevan (High Wycombe, Buckinghamshire) 2005 or 2006 - Barry Goodyear late spring 2009. Raced by Goodyear (Bishops Itchington, Warwickshire) at Shelsley Walsh August 2009 and July 2011.
Driven by: Sir Nicholas Williamson, John Fenning, Howard Bennett, Robin Darlington, Tony Lanfranchi, Jim Charnock, John Wingfield, Steve Malins and N Hodgson. First race: Wiscombe Park (R3), 14 May 1967. Total of 46 recorded races.
Barry Goodyear (UK) 2011
First owner unknown but according to the order of first appearance in the US, this could be the Fred Ashplant car first seen at Lime Rock on 4 July 1967.
Unknown
Sold new to Lou Sell (Fullerton, CA) and first seen in the Pro Formula B race at War Bonnet in late June where Sell qualified on pole and finished second. Then raced in SCCA Regionals and occasional Nationals in California, and in the pro races at Mont-Tremblant and Lake Tahoe at the end of the season. Sold to Sell's backer Dick Smothers (Woodland Hills, CA) for 1968, although Sell also raced it in one SoPac National early that year. To Fred Opert late 1968 in part-exchange for a new Chevron and from him on to Ken Duclos (Boxboro, MA) for 1969. Duclos believes he returned it to Opert at the end of 1969 when he acquired his new BT29 and it next turns up in 1971 with John Sorbello (Lafayette, MA) who widened the cockpit section into a two-seater and added a Chevron B16 body. However, it is possible that the dates of this are wrong and that Bob Isnor (Newton, MA) raced it as a FB before it went to Sorbello. Later to John Kauffman who thought he had bought a Chevron and then to Joe Maria (White Plains, NY) in the early 1990s. It was restored by David Irwin to BT21A spec and was still with Maria in 2007. To Bob Lima (Meadowbrook, PA) by October 2009 and later repainted in Sell's colours. Raced by Lima at SVRA Lime Rock Sep 2013. Appeared at the SVRA Invitational at Indianapolis in June 2014.
Driven by: Lou Sell, Dick Smothers, Fred Opert, Ken Duclos, Bob Isnor and John Sorbello. First race: War Bonnet (R3), 25 Jun 1967. Total of 44 recorded races.
Bob Lima (USA) 2014
First owner unknown but according to the order of first appearance in the US, this could be the George Wintersteen car first seen at Nelson Ledges on 5 Aug 1967. In 2010, a car with this chassis number was advertised by Fantasy Junction (Emeryville, CA) which had been raced as Formula Ford by Jerry Haight (Sacramento, CA) before being bought by the current owner and restored to original FB specification. It had been traced back to a Gary Smith in southern California and its SCCA rollhoop stamp showed that it had been in the Cal Club Region in 1972. It was restored in 2008 by owner Mike Blackie (Prescott, AZ). Advertised by Fantasy Junction in 2010 and sold to Peter Williams (Melbourne, Australia). Repainted by Barry Dickson Paint and Panel (Cobram, Victoria, Australia) to Brabham green and gold livery in October 2014. At Mallala in April 2016.
Peter Williams (Australia) 2016
First owner unknown but the order of first appearance in the US and the later appearance on both BT21A-5 and BT21A-7 in California suggest that this was the Mike Hiss car first seen at Mont-Tremblant in mid-September 1967.
Unknown
First owner unknown but the order of first appearance in the US and the later appearance on both BT21A-5 and BT21A-7 in California suggest this could be the Dave Webster car first seen at West Jordan (Midvale Airport) on 27 Aug 1967. This car was advertised on race-cars.com in July 2005 with a rollhoop stamping that indicated it had been in Cal Club Region in southern California in 1972. The car was then said to have last raced in vintage racing in 1990 and was located in Palos Verdes, CA. The Cal Club stamping is entirely consistent with it having been Dave Webster's car in 1967 and having then remaining in Cal Club until it was stamped in 1972. The car was pictured wearing John Dixon's name on the side. Sold to Tim Kuchel (Adelaide, Australia) in 2007. Still with Kuchel but unrestored.
Tim Kuchel (Australia) 2015
Sold to Robert Lamplough (London) 1967, with Lotus Ford t/c and used by him and Mike Walker in Formula 2. First appeared at the Brands Hatch F2 in August 1967 but Walker did not quaify. Raced by Lamplough at Vallellunga. After efforts to sell it to the US as a Formula B car were unsuccessful, it went to Bill Dryden and was entered for him by Ecurie Ecosse in libre and hillclimbs in 1968. Unknown in 1969 but reappeared in 1970 with Phil Guerola (Bickley, Kent) for libre racing and then used by him in the new Formula Atlantic in 1971 and 1972. Not seen since finishing a libre race at Silverstone in October 1972.
Driven by: Mike Walker, Robs Lamplough, Bill Dryden and Philip Guerola. First race: Vallelunga (R10), 8 Oct 1967. Total of 26 recorded races.
Unknown
Bought new by Tony Griffiths (Sutton Coldfield, Warwickshire) and used in British hillclimbs in 1967. Retained for 1968, running a Vegantune twin-cam in the 1600cc class of the British Hill Climb Championship. Used again at the start of 1969 then sold to Chris Court, who continued to hillclimb it through the rest of 1969. Advertised by John Brown (Padiham, Lancashire) in April 1970, and again in September, still with its Vegantune engine, and then to John Ravenscroft for Sprints in 1971 and 1972, winning two rounds of the British Sprint Championship in 1972. To Richard Hartley for 1973, again being used in sprints. To Geoffrey Jackson April 1974 and then via Peter Bloore c1981-82 and Chris Crawford 1982 to Max Lane (Sydney, Australia) 1984. Retained until 1991 and then via Mike Broso (Junee, Australia) to Ron Coath (Yarralumla, Canberra, Australia) 1999. Raced regularly by Coath in historic racing until sold to Graeme Noonan (Phillip Island, Australia) August 2014. Noonan first outing was to be the Sandown Historics in November 2014,
Driven by: Tony Griffiths, Gray Mickel, Agnes Mickel, Chris Court, John Brown, Arthur Ravenscroft, John Ravenscroft, Richard Hartley and Geoff Jackson. First race: Great Auclum (R8), 4 Aug 1967. Total of 90 recorded races.
Graeme Noonan (Australia) 2014
First owner unknown but according to the order of first appearance in the US, this could be the Terry Petmecky car first seen at Selma on 17 September 1967, which went to Ray France in 1968. Unknown until sold by Rick Cole (Novi, Michigan) around 1987 or 1988 to Chuck Maranto (Zionsville, IN) together with BT21A-1. Maranto sold BT21A-10 to Baurle Autosport in part payment for their restoration of BT21A-1. It passed to David Irwin (Evergreen, CO) who restored it. Then to John Coughlin in the late 1990s and sold to David Jacobs (Boulder, CO) by 2004. Sold to Dean Meiling (Tahoe, CA, later Incline Village, NV) late 2008 or early 2009. Raced by Meiling at HMSA Thunderhill Park March 2009 and CSRG Sears Point in April 2009. Later seen at CSRG Sears Point Oct 2012 and CSRG Thunderhill Raceway Park May 2013.
Dean Meiling (USA) 2013
The mystery Formula B cars
Of the ten cars built in 1967, first owners are known for only four: the two English hillclimb cars of Sir Nicholas Williamson and Tony Griffiths, the car used in F2 by Robert Lamplough and just one of the FB cars, that of Lou Sell. This leaves six unexplained: BT21A/1, BT21A/3, BT21A/5, BT21A/6, BT21A/7 and BT21A/10. Corresponding to these six unknown cars are nine known entities: the six SCCA cars of Joe Grimaldi, Fred Ashplant, George Wintersteen, Dave Webster, Mike Hiss and Terry Petmecky that all raced in 1967; the Southeast Asian car of Albert Poon; the New Zealand car of Graeme Harvey; and the car brought to California from England by Bill Simpson at the start of 1968.
The order of appearance of these cars would imply Opert and Grimaldi had BT21A/1, which, as the prototype, makes most sense; Ashplant had BT21A/3; and then after Sell's BT21A/4, Wintersteen had BT21A/5. The next two to appear were those of Hiss and Webster but given the later appearance of BT21A/7 in California, the implication is that Hiss had BT21A/6 and Webster had BT21A/7. Finally, after the two English cars, Petmecky would have had a late-season BT21A/10. That leaves the cars of Albert Poon, Graeme Harvey and Bill Simpson unexplained of course, but it works as a starting point.
Some cars have re-emerged in recent years, including BT21A/1 and BT21A/10 both in the eastern US and what may be BT21A/5 and BT21A/7 in California. The first of these is believed to be the Wintersteen car, and the other is consistent with Webster having had BT21A/7. At least two BT21s remained racing in this part of California for some years: John Coolick (Wilmington, CA) raced a BT21 from 1970 to 1974 and Warren Pauge (Hacienda Heights, CA) raced one from 1972 to 1974.
Chassis
History
Current owner
Brabham BT21A
'the Opert Racing Team car'
Fred Opert was the main dealer for Brabham on the east coast of the US and imported around seven Formula B BT21As for 1967. Opert himself raced a 'BT21' at War Bonnet in June 1967 but it is not clear whether that was a FB car or a FC. For now, it is assumed to be the first appearance of the Opert team's in-house Formula B BT21A. Joe Grimaldi (Midland Park, NJ) worked for Opert at this time and raced a Brabham BT21A in Formula B events in 1967, scoring 18 pts in NEDiv. In January 1968, Fred Opert advertised the blue-and-yellow "ex-Joe Grimaldi" Brabham BT21A noting that it had only raced eight times and was the car that Peter Gethin drove at the St Jovite Pro FB race where he took pole position. Grimaldi also appeared in Pro Formula events in 1967 but in a Formula C Brabham BT21. It is assumed that Grimaldi was driving Opert's in-house car. Subsequent history unknown.
Driven by: Joe Grimaldi, Fred Opert and Peter Gethin. First race: Marlboro Motor Speedway, 8 Apr 1967. Total of 5 recorded races.
Unknown
Brabham BT21A
'the Fred Ashplant car'
Raced by Fred Ashplant (Franklin Lakes, NJ) and first seen at Lime Rock in early July where Racing Magazine called it "his new Brabham FB". Won the SCCA National at Bridgehampton two weeks later and the Pro race at Mont-Tremblant in September. Finished third in the NEDiv FB title. Retained for 1968 but used much less that season. In 1969, Ashplant ordered a Brabham BT29 and sold the BT21A to Pete LoBianco (York, PA). However, the BT21A was in Fred Opert's stock during the summer of 1969 and as the car had last been raced as #47, it seems likely that this was the #47 FB Brabham that Opert raced a couple of times before his BT29 arrived.
Driven by: Fred Ashplant and Fred Opert. First race: Lime Rock, 4 Jul 1967. Total of 13 recorded races.
Unknown
Brabham BT21A
'the George Wintersteen car'
Raced by George Wintersteen in NEDiv Formula B in 1967, first appearing at the Steel Cities SCCA National on 5 August, where he finished second to Chuck Dietrich's McLaren M4A after an epic battle. Also finished second at Watkins Glen in August and at Mid-Ohio in September before winning the last two Nationals at Marlboro and Bryar to clinch the NEDiv title. One of the favourites for the Run-Offs but finished down in eighth. Wintersteen sold the car for 1968 and its next owner has not been identified.
Driven by: George Wintersteen. First race: Nelson Ledges, 5 Aug 1967. Total of 6 recorded races.
Unknown
Brabham BT21A
'the Dave Webster car'
Dave Webster (Newport Beach, CA) started the 1967 season with a Formula C Lotus 31 but in mid-August took delivery of a new Brabham BT21A. From then on he reeled off a series of race victories, including outright wins in the SCCA Nationals at West Jordan (Midvale Airport) and War Bonnet and a class win in the National at Newport. As the Midvale race was the only National remaining on his home SPDiv schedule when he took delivery and only two Nationals outside his SPDiv could be counted, he could not get more than those 27 points and ended second in the division behind Karl Knapp. Webster sold the car for 1968, acquiring a works-supported LeGrand Mk 6, and the next owner of the BT21A is not known. It is likely to have been the BT21A raced by Joe Alves in 1968.
Driven by: David Webster. First race: Midvale Airport, 27 Aug 1967. Total of 12 recorded races.
Unknown
Brabham BT21A
'the Mike Hiss car'
To Mike Hiss (Laurel, MD) to replace the earlier Brabham that he "demolished" in practice for the Bridgehampton National in July 1967. He raced the BT21A for the last two Pro races, finished third at Lake Tahoe. Retained for 1968, finishing third at Palm Beach in February and then winning at Marlboro in March. Second in Bridgehampton National and won a Regional at Marlboro but less successful in the Pro series. Last seen when crashed at Lime Rock in September 1968 following a suspension failure. Hiss had by that time moved up to Formula A with a Lola T140 and it is not known whether the Brabham was rebuilt.
Driven by: Mike Hiss. First race: Mont-Tremblant (R4), 17 Sep 1967. Total of 13 recorded races.
Unknown
Brabham BT21A
'the Terry Petmecky car'
Terry Petmecky (Austin, TX) raced a Lotus 22 in SWDiv Formula B in 1967 but met with little success against the dominant Gus Hutchison team of Lotus 41Cs. Right at the end of the year he took delivery of a Brabham BT21A and finished second in the National at Selma in this car. In 1968 he took the Brabham to Bob Winkelmann but was forced to give up racing due to eyesight problems. F1 driver Alan Rees was holidaying in the Las Vegas area in early 1968 when he raced the car for Winkelmann in the SCCA National at Stardust Raceway. Winkelmann also entered it for Tony Settember at the Tuscon National in April 1968 and it is likely to be the car in which Settember scored 6 points in SoPac FB in 1968. Winkelmann advertised the car in CP&A 23 Mar 1968 as a "Winkelmann-Brabham BT21" with Winkspeed engine. To Ray France (Redondo Beach, CA), and raced during 1968 and 1969, entered as #2 by Centaur Racing Associates. This may have become the basis of the blue-and-gold #29 "Centaur Brabham" raced by France in 1970.
Driven by: Terence K. Petmecky, Alan Rees, Tony Settember and Ray France. First race: Selma, 17 Sep 1967. Total of 19 recorded races.
Unknown
The late-season BT21-twin cams
At the end of 1967, three more cars appeared that were evidently BT21 chassis with engines equivalent to US Formula B. One of these was built by Bert Hawthorne while working at MRD in 1967 but the other two cannot currently be identified. Albert Poon had his car in time for the Macau Grand Prix in late November and Grahame Harvey had his in time for the opening round of the New Zealand Gold Star at Pukekohe in November. Poon's has always been considered a BT21A but the production information available on BT21As does not appear to allow for this, whereas Harvey's has been considered an early ex-F3 BT21 but its Arch Motors frame number implies it was built much later in 1967.
Chassis
History
Current owner
Brabham BT21A
'the Albert Poon car'
Albert Poon of Hong Kong acquired a Brabham BT21A (or possibly a BT21) towards the end of 1967 for racing in South East Asia. The car may have been equipped with a standard Ford twin-cam when it raced at Macau in November 1967 but it was more normally used with an Alfa Romeo engine over the next two years, before Poon replaced it with a Formula 2 BT30. Poon is believed to have used it again at the Singapore GP in April 1971 which was held to the 1600cc 2-valve formula for which his BT30-FVA wouldn't have been eligible. The later history of the BT21A is not yet known.
Driven by: Albert Poon. First race: Macau, 19 Nov 1967. Total of 8 recorded races.
Unknown
Brabham BT21A
'the Graeme Harvey car'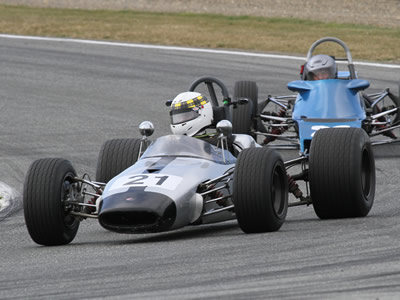 First seen when raced by Graham Harvey (NZ) at Pukekohe in December 1967. To Les Jones March 1968 then Graham Baker April 1969, Allan Rhodes 1970, Russell Noble 1971 or 1972 and used to construct a sports car. Other parts to Neil Whittaker 1973 to construct a Formula Ford. Eventually to Robert Hands (Melbourne, Australia) 2001 and sold to Peter Harburg (Brisbane, Queensland) some time later for about 2 years. To Peter Barclay (Canberra, Australia) by 2009 and run in Australian vintage events. Raced by Barclay in the Teretonga - Classic Speedfest in February 2013.
Driven by: Grahame Harvey, Les Jones, Graham Baker and Allan Rhodes. First race: Pukekohe (R2), 9 Dec 1967. Total of 9 recorded races.
Peter Barclay (New Zealand) 2013
Brabham BT21A
'the Bert Hawthorne car'
Bert Hawthorne worked at MRD during 1967 and in his spare time built up his own car using BT21 components. He fitted this with a twin-cam engine and took it to his native New Zealand for the 1967/68 Gold Star series. The car did not arrive in time for the Internationals and Hawthorne made his debut in the car at Timaru in February 1968. He drove it again the following season, from October 1968 to February 1969. Cary Taylor (Amberley, NZ) bought it for the 1969/70 season and he also drove it in the Singapore GP in April 1971. It 1973, it was bought by Frank Bray and used by him to create the Bray SMP2 sports car. Other components of the car were used to build a Formula Ford.
Driven by: Bert Hawthorne and Cary Taylor. First race: Timaru (Levels) (R6), 10 Feb 1968. Total of 10 recorded races.
Unknown
The 1968 Formula B cars
Of the identified cars that raced in 1967, three of the seven SCCA cars cannot be traced into 1968: the east coast cars of Joe Grimaldi and George Wintersteen and the southern California car of Dave Webster. The mystery cars in 1968 include those of Joe Alves in southern California, and John Tremblay in Florida. Webster's southern California car is likely to be Alves' car in 1968, so that leaves the Opert/Grimaldi car or the Wintersteen car to have been sold to Tremblay.
Chassis
History
Current owner
Brabham BT21A
'the Joe Alves car'
Joe Alves (Sherman Oaks, CA) raced a #66 Brabham from the start of 1968 to mid-1969, finishing fourth in SoPac FB in 1968 and fifth in 1969 and it is assumed that he had the same car throughout. It was identified as a BT21A by Bob Schilling in his report on the Riverside Regionals in early 1968 (Post Grid Vol 6 No 2). This is likely to be the car previously driven in the same SCCA Region by Dave Webster.
Driven by: Joe Alves. First race: Stardust International, 24 Feb 1968. Total of 13 recorded races.
Unknown
Brabham BT21A
'the Bill Simpson car'
During a trip England over the 1967-68 close season, Bill Simpson (Los Angeles, CA) bought a new Brabham to replace his FB-spec Lotus 51. It was described as a Brabham BT21A but if it was new in January/February 1968 then it is more likely to have been a BT21C. He raced the car in west coast SCCA and FRA events during 1968, usually as #58. After the Riverside SCCA Regional at the start of August, Simpson was charged with unsafe driving and unsportsman-like behavior, and his licence was suspended for 90 days. When he returned to racing, it was with USAC, and the fate of the Brabham is unknown.
Driven by: Bill Simpson. First race: Tucson Airfield, 31 Mar 1968. Total of 6 recorded races.
Unknown
Brabham BT21A
'the John Tremblay car'
Having started the 1968 season in a Cooper, with which he won the Courtland National in May, 24-year-old John Tremblay (Orlando, FL) moved up to a Brabham BT21A in time for the National at Huntsville Airfield two weeks later, which he again won. He was also second at Savannah International Raceway in July to John Gunn's Lola T140, winning the FB class. He ended the season on 27 points and took second place in the Division behind Hugh Kleinpeter's Beach. He was tenth at the Run-Offs. John recalls that he borrowed this car from Dr John Hood for 1968 but does not know what Hood did with it after he returned it to him.
Driven by: John Tremblay. First race: Huntsville Airfield, 9 Jun 1968. Total of 3 recorded races.
Unknown
Brabham BT21s from 1969 onwards
Chassis
History
Current owner
Brabham BT21A
'the Warren Pauge car'
Warren Pauge (Hacienda Heights, CA) appeared in southern Californian SCCA Formula B from the start of 1972 in a Brabham "BT21", taken to mean a BT21A. He raced the car up to mid-1975, when he replaced it with a newer BT38. As the SCCA introduced logbooks in 1972, this car would have been stamped with a Cal Club number. Both BT21A/5 and BT21A/7 have such numbers. Subsequent history unknown.
Driven by: Warren "Bud" Pauge. First race: Holtville Aerodrome, 12 Mar 1972. Total of 12 recorded races.
Unknown
Current BT21As that have not been identified
Chassis
History
Current owner
Brabham BT21A
'the Keith Norman car'
This FB-spec car was brought back from the US to the UK by Bob Howlings some time around 1980 and converted to F3 specification to be raced by Mike Vickery. It was later converted back to twin cam form for Scott Coleman, before being sold as a rolling chassis to France to run as a F3 again for driver Banakela. It came back to the UK via dealer Len Selby who sold it to Mallet. In 2006 it was acquired by Keith Norman (Windsor, Berkshire) and restored as a FB car again with a 1600cc Racing Fabrications Ford twin cam. Having raced it three times, Norman advertised it on f3historic.com in January 2011 and was next seen when raced by Sean McClurg (Greenfield, Bedfordshire) at the HSCC Brands Hatch meeting in September that year. Then to Ian Ritchie (Ramsbury, Kent) and raced in hillclimbs. Raced by Ritchie at the Loton Park Hill Climb, 9 August 2014.
Ian Ritchie (UK) 2014
In addition to the above, unknown Brabham BT21As were driven by William Monson, John Schwengerer, William Marsh, Don Flores, Bob Brown, Rocky Moran, John R Coolick, Pierre Phillips, Jack Kane and John Stowe.
These histories last updated on .