Brabham BT38 car-by-car histories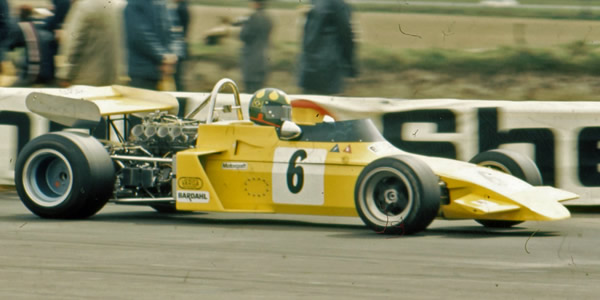 The 1972 F2 Brabham BT38 was based on the 1971 BT36, but was a monocoque instead of a spaceframe. MRD records state 16 were built, but there is evidence of 19 or 20 cars being raced.
Please note: for the Formula B variant, see Brabham BT38B; for the Formula 3 variant, see Brabham BT38C.
The Brabham BT38 was MRD's first production monocoque, but despite suggestions that a monocoque was Bernie Ecclestone's suggestion, work started on the BT38 in February 1971, six months before Ecclestone acquired MRD. The car was designed by Geoff Ferris, who had worked on the Lotus 72 and the March 711, with Ron Tauranac in overall control. It used a simple square section bathtub monocoque which finished just behind the driver, with the engine and gearbox mounted in a tubular sub assembly. Suspension followed traditional Brabham lines, with outboard springs and double wishbones at the front; single reversed A-bracket, top link and radius arms at the rear. Radiators were either side of the driver, with a flat nose and side wings. Brabham's design team at the time also included F1 designer Ralph Bellamy, aerodynamicist Ray Jessop and a young South African lad called Gordon Murray.
The three models were BT38 for Formula 2, BT38B for Formula B, and BT38C for Formula 3. The square section aluminium bathtub monocoque was common to the three models, but the F2 BT38 and F3 BT38C had 16 gauge outer skins, while the FB BT38B used 18 gauge. The F2 BT38 was equipped with a Hewland FT200 gearbox (like the BT38B but different to the Hewland Mk 8 in the BT38C) and had two side radiators (also like the BT38B, and unlike the BT38C that had only one). The F2 had two 10½-gallon tanks (the BT38B had two 8-gallon tanks, and the BT38C had two 5½-gallon tanks).
In a cunning ploy to give the impression MRD had sold more cars than they had, BT38, BT38B and BT38C chassis numbers all started from 11. However, for reasons that are not at all clear, the car built for Graham Hill was given the chassis number BT38/1.
Chassis
History
Current owner
Brabham BT38s from 1973 to 1975
The histories above cover 20 distinct and identifiable BT38s. Of these, two (BT38/11 and BT38/20) were wrecked during the 1972 season. Two more cannot be traced after the end of 1972: Claudio Francisci's BT38/13, which was last seen at the final F2 race of the European season, and Wilson Fittipaldi's BT38/25 which was wrecked during the Brazilian series but rebuilt on a spare tub.
That leaves 16 that can be traced into 1973 and thereafter, including eight (BT38/1, BT38/14, BT38/15, BT38/16, BT38/19, BT38/22, BT38/26 and BT38/'33') were sold to North America for Formula B and Formula Atlantic, and two (BT38/17 and BT38/28) that stayed in England for a life in sprints and hillclimbs. Of the remaining six, five had definable careers overseas: BT38/12 went to South Africa, BT38/21 to Switzerland, and BT38/27 to Ireland; and the two ASCA cars (BT38/18 and BT38/24) went to Spain and France.
That leaves just one, BT38/23, which remained, unused, in England during 1973 but then disappeared at the end of 1973. It may also have gone to the US for Formula B/Atlantic.
Chassis
History
Current owner
Eugenio Baturone raced an "ex-Jaussaud" Brabham BT38 in Spanish hill climbs in 1973. The car continued in Spanish hillclimbs with José Teixidó in 1974, first appearing at Sant Feliu de Codinas in September 1974, and he retained the car for the 1975, 1976 and 1977 seasons. Subsequent history unknown.
Driven by: Eugenio Baturone and José Teixidó. First race: Montserrat, 1 Apr 1973. Total of 11 recorded races.
Unknown
Michel Lateste bought an "ex-Potocki" Brabham BT38 in pieces, and fitted an 1800cc Ford engine of unknown derivation for the French hill climb championship. He first appeared in May 1974, mainly running in lesser events. He started 1975 with the Brabham, scoring several good second places, and in June bought the ex-Philippe Hesnault March 742-BMW. The Brabham was raced by Patrick Chalot a couple of times, and then sold to Alain Saïdi, who fitted a 1600cc Ford BDA. Saïdi appeared once in the Brabham in 1976, but had returned to his much older Lotus 69-FVA in 1978. The subsequent history of the Brabham is unknown.
Driven by: Michel Lateste, Patrick Chalot and Alain Saïdi. First race: Bournezeau-Vendée, 19 May 1974. Total of 29 recorded races.
Unknown
Brabham BT38s from 1976 onwards
By the beginning of 1976, the BT38s were well scattered. A remarkable total of eight (BT38/1, BT38/14, BT38/15, BT38/16, BT38/19, BT38/22, BT38/26 and BT38/'33') had been sold to the US for what was now Formula Atlantic, and their locations in 1976 are covered on the Brabham BT38B page. The two cars that went into British sprints and hillclimbs (BT38/17 and BT38/28) were still competing regularly, BT38/12 was still in use in South Africa, and the two ex-ASCA cars (BT38/18 and BT38/24) that went to Spain and France were still hillclimbing. Of the cars that we can no longer see competing by 1976, BT38/21 appears to have remained in Switzerland until recently, and BT38/27 similarly appears to have remained in Northern Ireland. That takes us up to 15. Of the original 20, two (BT38/11 and BT38/20) were wrecked during the 1972 season, two more (Claudio Francisci's BT38/13 and Wilson Fittipaldi's BT38/25) have not been seen since the end of the 1972 season, and the final car, Peter Westbury's BT38/23, has not been seen since December 1973.
Previous versions of this page listed two mystery BT38s that appeared in Britain in 1977, both of which had been fitted with Falconer bodywork. Recent research by Marcus Pye has established that they were both ex-Formula 3 BT38Cs.
Chassis
History
Current owner
David Miller, a member of the SCCA's Chicago Region, raced a Brabham BT38 in Midwest Council and SCCA Regional events in 1978. Nothing more known.
Driven by: David Miller. First race: Blackhawk Farms, 9 Jul 1978. Total of 2 recorded races.
Unknown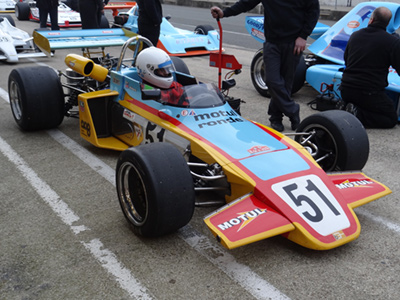 Michael Hibberd (Langley, Berkshire) has raced a Brabham BT38 in Rondel livery in Historic F2 in Europe since 2008. Hibberd acquired the car via Chris Alford from Switzerland and it has AM number AM72/32, which implies a car built a little over half way through Brabham's 1972 production. The car also has a chassis plate BT38/32, but it seems likely that this was mistakenly created from the AM number at some time in the car's past.
Michael Hibberd (UK) 2021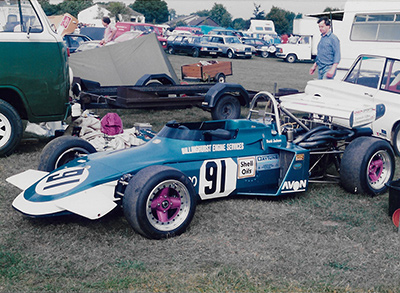 David Jackson (West Chiltington, West Sussex) raced a Brabham BT38 in 1600cc Classic F3 races from 1987 to 1991. The car was given a HVIF in the UK as "BT38/23" in March 1992, and was next seen near Orleans in France in 2000 when it was owned by Pierre Regnault. In 2014, this car was advertised from Kaenerkinden in Switzerland, at which time it had been completely dismantled and the black tub shown on the HVIF was now accompanied by a blue tub, one of which was said to have minor damage. This car - or 1½ cars - was advertised by Lutziger Classic Cars around this time, and was sold to Maurice Khawam (Lakewood, CA) in early 2017. Khawam commented that one monocoque had chassis plate "BT38-23" and the other had no plate.
Maurice Khawam (USA) 2022
In addition to the above, unknown Brabham BT38s were driven by Terry Hedrick and J.-E. Fornage.
A detailed description of the BT38 can be found in Autosport 10 Feb 1972 pp28-29.
Please contact Allen Brown (allen@oldracingcars.com) if you can add anything to our understanding of these cars.
These histories last updated on .