Brabham BT38C car-by-car histories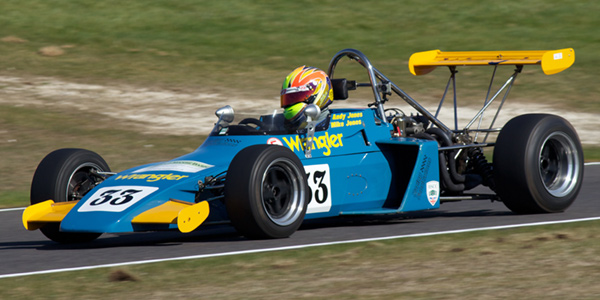 The Formula 3 variant of MRD's BT38 series was the Brabham BT38C, and 13 were sold for British and European F3. Tony Brise was the most successful pilot, winning two rounds of the British series.
Please note: for the Formula 2 variant, see Brabham BT38; for the Formula B variant, see Brabham BT38B.
The Brabham BT38C was MRD's first production monocoque, designed by Geoff Ferris with Ron Tauranac in overall control. The simple square-section bathtub monocoque finished just behind the driver, with the Formula 3 Ford twin-cam engine and Hewland Mk 8 gearbox mounted in a tubular sub-assembly. Suspension followed traditional Brabham lines, with outboard springs and double wishbones at the front; single reversed A-bracket, top link and radius arms at the rear. The BT38C had a single side-radiator, unlike the double radiators on the Formula 2 BT38 and Formula B BT38B, with a flat nose and side wings. Other differences were that the BT38C and F2 BT38 had 16-gauge outer skins, while the FB BT38B used 18-gauge skins, and the BT38C had two 5½-gallon tanks instead of the two 8-gallon tanks in the BT38B and two 10½-gallon tanks in the F2 BT38. The BT38C was the only model to use Hewland's Mk 8 gearbox, the others using the larger FT200.
Customers for the BT38C included Tony Brise, Peter Hull, Alan Jones, Chris O'Brien, Brian McGuire, Allan McCully, Randy Lewis and Ed Patrick in British Formula 3, Ulf Svensson and Conny Andersson in European F3, and Vittorio Brambilla and two others in Italian F3.
If you can add to our understanding of these cars, or have photographs that we can use, please email Allen at allen@oldracingcars.com.
Chassis
History
Current owner
Unidentified Brabham BT38Cs in 1972
Of the 13 BT38Cs built, first owners are known for all except BT38C/13, BT38C/15 and BT38C/16. Two of these will be the cars of Tony Brise and Brian McGuire, but the third is less clear. Carlo Giorgio's car was described as brand new when he first raced it at Misano on 6 August, and also on the grid for that race were Alberto Colombo in his ex-Brambilla BT38C/22 and Vittorio Venturi in his new BT38C/23, the only other BT38Cs known to have gone to Italian customers. Giorgio raced the car again two weeks later, but then disappears. At the next race after that, Alessandro Guidetti appears in a BT38C, and the likelihood is that he was taking over Giorgio's car.
Chassis
History
Current owner
Brabham BT38Cs in 1973
After the 1972 season, Peter Hull's BT38C/11 went to Jimmy Fuller, but Fuller somehow raced a different car; the AIRO/Alan Jones BT38C/12 disappeared; Ulf Svensson's BT38C/14 went to Lasse Karlsson; Randy Lewis apparently kept his BT38C/17; the ex-Allan McCully/Damien Magee BT38C/18 went to Leif Spalding; Chris O'Brien's BT38C/19 was raced went to Jimmy Fuller (but see BT38C/11); Ed Patrick's BT38C/20 disappeared for a couple of seasons but apparently remained in England; Conny Andersson's BT38C/21 went to Mats Byström; Alberto Colombo's ex-Vittorio Brambilla BT38C/22 disappeared; and Vittorio Venturi's BT38C/23 was rebuilt to BT38 specification for hillclimbs. Of the two British mystery cars, which are likely to be BT38C/13 and BT38C/15, the Tony Brise car was sold to Edgar Richoz in Switzerland and the Brian McGuire car went to Geoff Lambert. The Italian mystery car, which may be BT38C/16, remained with Alessandro Guidetti for the first part of 1973. Of those three Italian cars (BT38C/22, BT38C/23 and Guidetti's), Alberto Viale and Renzo Zorzi both raced BT38Cs in the opening round of the 1973 Italian series. Later in the year, Luigi Colzani and Marcello Rosei also both appeared in BT38Cs but the total number of appearances across all four drivers is very low.
So during 1973, the 13 cars were located as follows: three in England (Jimmy Fuller's ex-O'Brien BT38C/19, Ed Patrick's temporarily missing BT38C/20 and Geoff Lambert's ex-McGuire car); three in Sweden (Lasse Karlsson's ex-Svensson BT38C/14, Mats Byström's ex-Andersson BT38C/21, and Leif Spalding's ex-McCully/Magee BT38C/18); three probably still in Italy, one in Switzerland (Edgar Richoz's ex-Tony Brise car) one in America (Randy Lewis's BT38C/17); and two had disappeared (Peter Hull's BT38C/11 and the AIRO/Alan Jones BT38C/12).
Nick Overall entered a 1850cc Brabham BT38C for a libre race in August 1973 but did not arrive.
Brabham BT38Cs in 1974
From 1974 onwards, it is probably best to trace these cars by country, as they are increasingly unlikely to move far at this stage of their lives.
Of the three in England, David Taylor bought Jimmy Fuller's ex-O'Brien BT38C/19 for Kim Mather to drive, Ed Patrick's BT38C/20 was missing for a second season but would turn up with Eddie Heasell in 1975, and Geoff Lambert retained his ex-McGuire car for at least one event early in the season. Of the three in Sweden, Lasse Karlsson retained his ex-Svensson BT38C/14, Mats Byström's ex-Andersson BT38C/21 went to Rolf Johansson, and the ex-McCully/Magee BT38C/18 was on its way to Thorbjörn Carlsson. We know much less about the three BT38Cs in Italy, but it is unlikely they had moved far. In Switzerland, Edgar Richoz still had the ex-Tony Brise car, and in America, Randy Lewis still had BT38C/17. The two that had disappeared were Peter Hull's BT38C/11 and the AIRO/Alan Jones BT38C/12.
Three mystery cars appeared in 1974, two of them with the same person: Ted Payne's first Vegantune-powered car in the north of England, Donald Wirth's Formula C car in the USA, and Payne's second BDA-powered car in November. These two could be the missing cars, Hull's BT38C/11 and the ex-Alan Jones BT38C/12, but Lambert's ex-McGuire car was not seen after April 1974, so it is distinctly possible that it went from Lambert in Lancashire to Payne in the northeast in April/May 1974. Payne then advertised this Vegantune-powered car in September, and was back out in November in a BDA-powered car, unlikely though it may seem that he would have two BT38s in the same season. The second car is very likely to have been the ex-Kim Mather BT38C/19, as that car was advertised with a Richardson BDA just weeks after Payne was selling his first car.
Chassis
History
Current owner
Ted Payne (Middleton-in-Teesdale, County Durham) raced a Brabham BT38C in 1974, appearing mainly in libre races at Croft. It was fitted with a 1600cc Vegantune twin cam, presumably its former F3 engine, and entry lists show that the car was orange. In September 1974, Payne advertised the car as a BT38 with its "demon" 1600cc Vegantune twin cam engine for £1,750. Payne bought David Taylor's BDA-engined BT38C in September, and it would appear that the black BT38 that Payne raced at Croft in November 1974 with a Richardson BDA in it was the ex-Taylor car. In June 1976 a BT38-40 was advertised from a Shildon, County Durham address with Vegantune twin cam engine, a five-speed Hewland gearbox, and 9-inch and 10-inch wheels.
Driven by: Ted Payne. First race: Croft, 27 May 1974. Total of 6 recorded races.
Unknown
For 1974, Donald Wirth (Laurel, NY) bought a Brabham BT38 from Fred Opert Racing in 1974 fitted with a new 1100cc Hart BDA engine for Northeast Division Formula C. The car had previously been used in F3 in Europe, so would have been a BT38C. It was sold to Wally Binger (W. Hempstead, NY) for 1975, and raced again in NEDiv FC but after Binger's first daughter was born in September 1977 he sold the car back to Wirth. Wirth crashed the car at Bridgehampton in 1978 or 1979, and the engine bay was badly damaged. The car was sold to someone in the New England area, but was still unrepaired when last seen.
Driven by: Donald Wirth and Walter Binger. First race: Thompson Speedway, 30 Jun 1974. Total of 14 recorded races.
Unknown
Brabham BT38Cs in 1975
In the UK in 1975, David Taylor's BT38C/19, which Kim Mather had been running in libre, had moved to Ted Payne and was his second, black, BDA-engined car; the ex-Ed Patrick BT38C/20 returned to view as Edwin 'Eddie' Heasell started racing it in Formula 4, and Geoff Lambert's orange ex-McGuire car had already been sold on by this time, also apparently to Payne as his first, orange, Vegantune car.
In November 1975 Payne advertised his BDA-engined car in Autosport, describing it as a BT38/40 with a BDA engine, new wheels, Goodyear Atlantic tyres, and a spare monocoque. This was almost certainly the car that Andrew Wareing bought, as his car had a BDA and a spare tub, and was also black. Wareing's recollection is that he bought it from Joe Applegarth, but Joe is quite sure he never owned a BT38, so it is hard to escape the conclusion that Wareing bought Payne's car.
Brabham BT38Cs in 1976
Again we will focus just on the UK in 1976, as the three Italian BT38Cs have now faded from view and the three Swedish BT38Cs are an entirely separate conundrum. As England's three extant BT38Cs were by now being called BT38s (or BT38/40s), it is also necessary to consider any ex-Formula 2 BT38s or ex-Formula B BT38Bs that could be confusing the picture. Of the BT38s, the only cars that were last seen in the UK were Peter Westbury's BT38/23, not seen since 1972, Tommy Reid's BT38/27 which is believed to have remained in Northern Ireland, and two BT38s that went into British sprints and hillclimbs (BT38/17 and BT38/28), both of which can be confidently traced through 1976 and 1977. All of the BT38Bs went to the US and there is no evidence that any returned, so any BT38-series car that appeared in England in 1976 is likely to be one of the three BT38Cs that remained active in England after 1972: BT38C/19, last seen with David Taylor and Kim Mather in August 1974, and apparently then to Ted Payne as his second, BDA-powered car; BT38C/20 which had disappeared for a couple of seasons but was being raced by Eddie Heasell in Formula 4 in 1976; and the ex-Brian McGuire car which Geoff Lambert raced in 1973 and very early 1974, before becoming Ted Payne's first, Vegantune-powered car.
In June 1976, an advert appeared in Autosport for a Brabham BT38-40 with Vegantune twin cam engine on Weber 45s, 5-speed Hewland gearbox and 9"/10" wheels, all available for £1,650. The address given was 29-31 Elm Road, Shildon, County Durham, with a Bishop Auckland 832999 phone number. Shildon is a village a couple of miles from Bishop Auckland. The specification sounds very much like Ted Payne's first BT38C, likely to be the orange ex-McGuire/ex-Lambert Vegantune-powered car, which Payne had raced in mid-1974 before acquiring the black BDA-engined car. The car in this advert is likely to be the one that John Simpson (Darlington, County Durham) then bought, as his first actions were to replace the Vegantune engine with a 1600cc Swindon BDA and fit Falconer bodywork before racing it for the first time in October 1976.
Chassis
History
Current owner
Bonde Hallenmark raced a Brabham BT38C in Swedish Formula 3 in 1976, 1977 and 1978. As Ulf Svensson's BT38C/14 and Thorbjörn Carlsson's "ex Magee" BT38C/18 can be traced into 1976 or 1977, this is likely to have been the ex-Conny Andersson BT38C/21. Subsequent history unknown.
Driven by: Bonde Hallenmark. First race: Mantorp Park (R1), 18 Apr 1976. Total of 23 recorded races.
Unknown
In November 1975, a Brabham BT38/40 with Cosworth BDA engine and a spare monocoque was advertised from Middleton-in-Teesdale, County Durham. It was bought by Andrew Wareing (Kirkham, Fylde, Lancashire), whose recollection is that it came from Joe Applegarth, but Applegarth says he never owned a BT38. Wareing used it in sprints and libre in 1976. He advertised it in September 1976 as a BT38/40 with BDA engine, 10" and 14" wheels and a spare tub, and recalls that it went to a family of hillclimbers, father and sons. This must be John Hart (East Dulwich, London), who after hillclimbing a Brabham BT18 in 1976, transferred its Cosworth FVA engine into a Brabham BT38 for 1977. Hart recalls buying the BT38 in the Isle of Man, but it is quite plausible that the car had acquired an Isle of Man event sticker if Wareing had competed in one of the Longton & DCC events on the island. Hart raced this car in hillclimbs and sprints through 1977, being joined by his son Greg later that season. The pair retained the BT38 for 1978 but Greg wrecked it in a major accident at Shelsley Walsh in August, which he was lucky to escape. The car was briskly rebuilt using a BT40 monocoque acquired from MRD and raced again at Gurston Down just two weeks later. The car was renamed 'Hart JG79' for 1979, fitted with a 1600cc Richardson FVA and raced by Greg and John in 1979 and 1980. Subsequent history unknown.
Driven by: Andrew Wareing, John Hart and Greg Hart. First race: Croft, 13 Jun 1976. Total of 24 recorded races.
Unknown
John Simpson (Darlington, County Durham) bought a Brabham BT38 with Vegantune engine, and and spent some time replacing the engine with a 1600cc Swindon BDA and fitting a set of Falconer bodywork acquired from dealer Bobby Howlings. Simpson recalls that the car still had the smaller Hewland Mk8/9 gearbox, not the more typical F/Atlantic FT200. He first raced the car in this form at Croft in October 1976, but due to business commitments, only raced the car a few times and advertised it in November 1976 as a BT38C "updated to Atlantic spec with Falconer bodywork and Swindon engine" with its original bodywork and side radiator included. He recalls selling it to somebody "south of him", but from Darlington that is pretty much the whole of England.
Driven by: John Simpson. First race: Croft, 30 Aug 1976. Total of 3 recorded races.
Unknown
Brabham BT38Cs from 1977 onwards
In 1977, again just tracking the British BT38Cs, we encounter one further discontinuity in the histories. John Simpson in Darlington had sold his white Falconer-bodied BT38C to someone "to the south" at the end of 1976. In March 1977, Peter Oxley from South Humberside raced a Brabham in a couple of libre races at Oulton Park. Although we know next to nothing of Oxley, this car was sold to Stewart Robb in Scotland and photographs show that his car was predominately white and had Falconer bodywork and a Swindon engine. It must be considered very likely that Oxley had purchased John Simpson's BT38C.
Chassis
History
Current owner
Pete Oxley (South Humberside) raced a 1600cc Brabham in a libre race at Oulton Park in March 1977 which he entered as a Brabham BT40. Two weeks later, he was entered at Oulton for another libre, and now the car was described as a Brabham BT38L with 1600cc Swindon engine. This car was bought from him by Stewart Robb (Alloa, Scotland), who remembers it as a BT38, not a BT40. Like John Hart's car that appeared about the same time, photographs show that the car had Falconer bodywork when Robb bought it from Oxley. He raced it as a BT38/40 in Formule Libre at Ingliston in 1978, and when he advertised it at the end of that year, again as a BT38/40, mentioned a 1600cc Swindon BDA engine and Hewland Mk 9 gearbox. Robb sold the car to Noel le Tissier and it was run by his mechanic, Tom Coughlan (Guernsey, Channel Islands) in Guernsey sprints and hillclimbs in 1979 and 1980. Coughlan appeared again with the car at Le Val des Terres in 1981, and then appeared in events at Gurston Down in 1982 and 1983. He was entered in at least one event at Le Val des Terres in 1984. The car was then sold to Andy Sauvarin who raced it in Guernsey using a 1600cc Cosworth BDA engine from 1984 to 1986. Some time around 1987, it was acquired by Kevin Timms (Trowbridge, Wiltshire) and retained by him until February 2012 when it was advertised. It was sold to Nigel Edwards (Cheshire) and rebuilt by Nick Edginton during 2013, emerging in April 2014 in Jagermeister orange. Raced by Edwards at the Oulton Park Gold Cup in August 2014. Bought from Edwards via Damon Milnes at Adam Sykes & Co by John Albiston (Elgin, Scotland) in November 2022. By April 2023 it had been rebuilt with an alloy BDG engine and raced for the first time at Doune.
Driven by: Peter Oxley, Stewart Robb, Tom Coughlan and Andy Sauvarin. First race: Oulton Park, 12 Mar 1977. Total of 14 recorded races.
John Albiston (UK) 2023
Unexplained Brabham BT38Cs today
Chassis
History
Current owner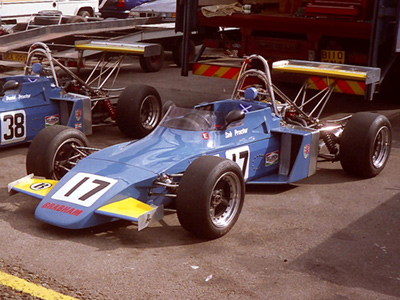 A car raced by Seb Proctor in Classic F3 entered as #37. David Proctor advises that "This car was originally built around a new tub by Tony Broster for Arian Ramirez but it was sold to Alistair Morrison for 1600F3". Morrison "also had a March 733 which he competed in 1600 F3 and didn't use the BT38" so the Brabham was sold to Proctor who rebuilt it for son Seb Proctor to race in the 1992, 1993 and 1994 seasons. In 1994, Seb finished second in the series to David who was driving BT38C/20. Both cars were sold in 1998 via Peter Denty, but Proctor does not know who actually purchased them. By August 2003, both cars were owned by David Wenman when Mark Barton (Haslemere, Surrey) was due to drive "chassis 38", the other car being referred to as "chassis 37". Barton raced a BT38C at Brands Hatch in June 2008.
David Wenman (UK) 2008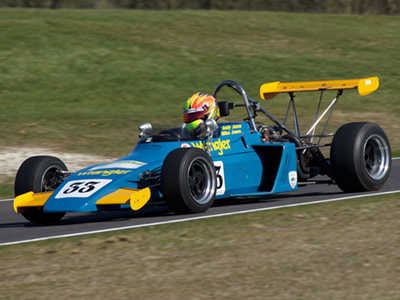 A Brabham BT38C has been raced in historic events that is said to be the ex-Randy Lewis F3 car. It has been suggested that Andrew Wareing sold this car to Phil Kidsley for 1980 but this attribution appears to be a confusion with the BT28 that Kidsley co-drove with Paul Squires between 1977 and 1987. It is then suggested that this car went from Kidsley to a Mike Brookes, who did not use it, and then to Peter Denty (Thetford, Norfolk) some time between 1987 and 1993. Denty restored the car and it was offered by H&H auctions in February 2004 who described it as the ex-Randy Lewis BT38C. However, any link between Wareing and the H&H car remains nebulous, and the basis for the Randy Lewis claim remains unknown. Sometime later, this car was owned by Mike and Andy Jones (Bury St. Edmunds, Suffolk) and registered for the Classic F3 series in 2011. Raced by Andy and brother Mike Jones in 2011, 2012 and 2013. Sold some time after this to Graham Wilson (Luxembourg), and prepared by Andy Wolfe's Wolfe Motorsport (Alconbury, Huntingdon, Cambridgeshire).
Unknown
In addition to the above, unknown Brabham BT38Cs were driven by Alberto Viale, Renzo Zorzi, Luigi Colzani and Marcello Rosei.
Among many puzzles still to be solved, a "Brabham BT38C Atlantic" was advertised from a Fleet, Hampshire telephone number in Autosport (25 October 1979 p57). Included with it was a 2-litre Cosworth FVC engine, described in a separate advert as unused.
Acknowledgements and sources
My thanks to Chris Townsend for doing much of the heavy lifting on the history of these cars in Formula 3, and to Marcus Pye who tracked down the complex histories of the BT38Cs in their later lives in British Formule Libre. Thanks also to Philippe Demeyer, former owner David Taylor and modern owners John Albiston, Marcel Biehl and David Proctor.
A detailed description of the BT38 can be found in Autosport 10 Feb 1972 pp28-29.
These histories last updated on .