Brabham BT9 car-by-car histories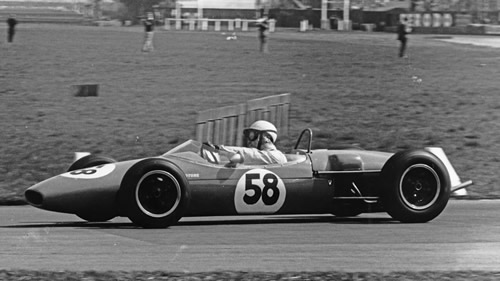 Brabham's model for the new 1000cc Formula 3, the Brabham BT9, was based closely on the Formula Junior BT6 from 1963. Although not hugely successful, the BT9 paved the way for Brabham domination of F3 through the rest of the 1960s.
Formula Junior ended after 1963 and two new formulae replaced it: Formula 2 for unrestricted 1-litre engines and Formula 3 for production 1-litre engines. F3 was expected to be a low-cost formula for club racing so Brabham produced an evolution of the 1963 BT6 Formula Junior while building a new short-chassis design for F2. The BT9 could not compete with Jackie Stewart's Cooper T72 but Derek Bennett, Rodney Bloor, John Cardwell and Hans-Dieter Dechent all won races. Most of Brabham's wins across Europe came from the older BT6s of Silvio Moser, Curt Lincoln and Picko Troberg, while Roger Mac won a host of British club races in his even older BT2.
With a huge influx of BT15s and BT16s as well as second-hand ex-F2 BT10s in 1965, the BT9s were quickly pushed to one side. At least two went to the US and were successful in Formula C while another was converted to Formula Ford.
Few BT9s are known to exist today, the belief among Brabham experts being that several have been converted to BT6 specification to run in historic Formula Junior events.
If you can add anything to our understanding of these cars, please contact Allen Brown (allen@oldracingcars.com).
Chassis
History
Current owner
The mystery cars
The identities of five BT9s are currently unknown, but they will be F3-7-64, F3-10-64, F3-11-64, F3-12-64 and F3-13-64.
Chassis
History
Current owner
The 1965 cars
Most of the BT9s can be accounted for in 1965, F3-1-64 going to Mike Gill, F3-2-64 probably to Howard Heerey, F3-3-64 already with 'Dodjie' Laurel, F3-4-64 staying with the Giannini team in Italy, F3-5-64 already with Mike Barnett, F3-6-64 on its way back to England via Stephen Conlan and F3-8-64 going to Fred Goeske. Of the unidentified cars, Adrian Chambers kept his for another season, the Radio Caroline car appeared on entry lists early in 1965, and Manfred Mohr's car went to Willy Franz. That only leaves David Prophet's little-used car, last seen when advertised in October 1964; Hans-Dieter Dechent's car, which may have gone to Wolf-Dieter Mantzel; and the largely unknown Jean Blanc car.
Several unexplained BT9s appear in 1965 but none are very well understood at present. As well as Mantzel's DKW-powered car, Ray Hills had a car that we only know from a photograph and Leif Persson had a car that he may have been hiring from Jim Russell Racing Driver School. Later in the season, Karl Foitek appeared with a "Gregor Special" which photographs show was a BT9.
Previous versions of this page listed a completely unexplained Brabham raced by Tony 'Bubbles' Horsley in early 1965. This is now thought far more likely to be Brabham BT2 FJ-4-62.
Chassis
History
Current owner
The later cars
Two further mystery BT9s appeared in 1966, one in England driven by Norman Foulds and another with Jan Heggov in Denmark.
Chassis
History
Current owner
Brabham BT9s in the US
We know F3-6-64 went to the US in late 1966 or early 1967, and that F3-8-64 had gone there a year earlier, but there is evidence that at least one and probably two other BT9s had reached the US by mid-1968. Fred Opert sent out regular stock lists and surviving copies often mentions 1964 Formula 3 Brabhams. On 7 December 1966, he had a 1964 F3 in stock with 8"/6" wheels and a Cosworth MAE, which he called the best pushrod car in the US. This might have been Eiteljorg's F3-8-64 but Eiteljorg advertised the car himself three months later and as we know it stayed in Colorado, it makes it unlikely Opert had it in New Jersey. It is also too early to be F3-6-64.
A later stock list, dated 26 June 1968, mentions two BT9s: one black car set up for a 1600cc Formula B Ford twin cam, and one maroon car set up for a Cosworth MAE. The black car had brand new Dunlop tyres and may have been a new import but the maroon car had Firestone Indys and may have already raced in the US. Both cars had 8 and 7-inch mags. Again, these do not fit what we know of the movements of F3-6-64 and F3-8-64, so this suggest a total of four BT9s were in the US by mid-1968, possibly more.
Tom Ellis (Boulder, CO) has a Brabham BT9 in 2018, which came from Robert Hoemke in Texas. Hoemke bought it from "someone in the Midwest in '99 or 2000", but that's all that is known at present.
In addition to the above, an unknown Brabham BT9 was driven by Leif Persson.
These histories last updated on .