BRM P201 car-by-car histories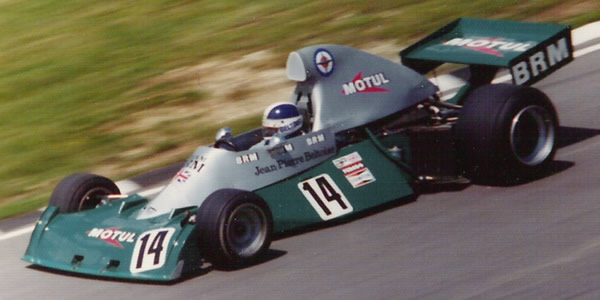 Mike Pilbeam designed a neat new BRM P201 for 1974, but the BRM V12 no longer produced enough power and BRM's final season under Owen Organisation ownership petered out. They would become the mainstay of Louis Stanley's shambolic Stanley-BRM operation.
After Tony Southgate's departure, Mike Pilbeam, who had worked in the design teams at Ford, Lotus and Surtees, was appointed as head of BRM's design office. The team focused on updates to the BRM P160 design for 1973, but Pilbeam designed a new car, the P201, for 1974. The car had a triangular monocoque, similar to the successful Brabham BT42 and new BT44 but with hip level radiators, and had a short wheelbase. It had outboard front springs, but inboard brakes. Handling was excellent, but the new car was handicapped by the weight of the BRM V12 engine, which could no longer produce the same power it had managed in 1971 and 1972.
Jean-Pierre Beltoise, now in his third season at BRM, drove the first P201 on its debut, and was immediately impressive, qualifying 11th despite a four-year-old engine. The car handled so well, and was so "easy on its rubber", that Beltoise could use qualifying tyres for the race, and finished in a sensational second place. He qualified 11th again at the next race and then sixth in Belgium, where the sole P201 finished a solid fifth. A new engine, the P192, also appeared in Belgium and it looked like BRM were finally back in business. However, the new engine was a flop, and Beltoise slowly slipped back down the grid. The South African performance would never be repeated and BRM ended the season without scoring another point. At the Italian GP the team suffered the ignominy of two cars retiring on the first lap, and the third car only completing three laps. Louis Stanley decided the fault lay with BRM's loyal staff, and laid many of them off; others leaving in disgust. Rubery Owen pulled the plug, but Stanley carried on, running a one-car "Stanley-BRM" operation for Mike Wilds and then Bob Evans in 1975, but it was a complete shambles. The P201 was brought back for one-off appearances in 1976 and 1977 before Stanley-BRM, now something of a joke, created a new P207 design later in 1977.
Car
Total
Race
Starts
Grand
Prix
Starts
Grand
Prix
Wins
First Race
Present Location
8
8
South African Grand Prix
(30 Mar 1974)
Written off, British GP 1974
12
11
Swedish Grand Prix
(9 Jun 1974)
Peter Burson (New Zealand) 2015
3
3
German Grand Prix
(4 Aug 1974)
Written off, US GP (P) 1974
7
7
Italian Grand Prix
(8 Sep 1974)
Australia 2017
6
4
International Trophy
(13 Apr 1975)
John Fenning (UK) 2013
BRM P201/01-R
(no races recorded)
United Kingdom 2019
Five P201s were built and three of these survived, becoming Stanley-BRMs and then being sold to private owners. One of the written off cars was later reconstructed with new parts, to bring the total back to four. Three of them have appeared in historic racing.
Please contact Allen Brown (allen@oldracingcars.com) if you can add anything to our understanding of these cars.
These histories last updated on .