Cecil 1969 Indy history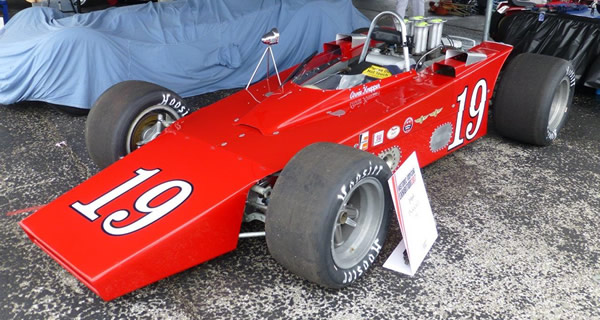 Dick Cecil's 1969 Indy car was developed from the car built for 1969 by George Morris, which was a Brabham-style chassis with wedge-shaped bodywork. The Cecil had a more accentuated wedge body but despite racing for six or seven seasons, it never finished a single race.
Dick Cecil was chief mechanic for MVS, a team made up of Stan Malless, Bob Voigt and Dick Sommers, from 1965 until 1973. For 1969, the team acquired the Morris 69, a car built by George Morris, which was a Brabham-style chassis to which Morris had added a wedge body based loosely on the Lotus 56. The team ran the Morris in 1969 as the #29 entry for driver Arnie Knepper, who had a pretty terrible time in the car at the 1969 Indy 500, as the front was prone to lifting, but the team kept lowering the nose and jacking up the rear until it behaved. Knepper qualified, but crashed out of the race with broken suspension. He did quite well on the road course at IRP in July, but then lost the drive to Sammy Sessions, who managed fourth place at Trenton in September. Cecil then started building a copy of the Morris, but exactly when this was built is unclear. Although described as a 1969 car in the Hungness yearbook for 1970, it may not have been built until the start of the 1970 season. However, it is also possible that the team actually employed this car during 1969.
Cecil's copy was run as the #19 in 1970, and the assumption being made at present is that the #19 was always the Cecil and the #29 was always the Morris. Photographs may establish that it was not that simple. The Cecil was raced by Ronnie Bucknum with a stock block Ford engine on road courses at Sears Point and IRP, and with a turbo Ford at the Indy 500. Bucknum was at one stage tenth quickest during practice at the Speedway, but qualified 27 and was an early retirement. In 1971, a number of drivers tried both the #29 and the #19, but again without notable success. Neither car qualified for the 1971 Indy 500, although Knepper was looking good in the #19 Cecil before he bounced it off the wall during qualifying. Photographs show that the #19 Cecil had a more exagerated wedge shape in 1971 than the #29 Morris.
The MVS team continued through 1972 and 1973 with Coyote and Eagle cars, before Sommers, Malless, and Voigt finally closed down their team in September 1973. At the time, they were said to be selling "two Coyotes, an Eagle, and a Jack Brabhamn-built chassis", the latter probably being a reference to the #29 Morris, as the #19 Cecil had been sold shortly before this to Lloyd Gifford, who entered it for driver Benny Rapp from September 1973 to 1975.
Chassis
History
Current owner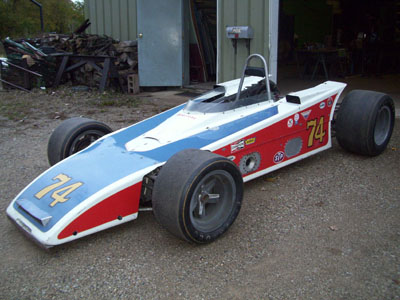 Probably built late in 1969, but not known to have raced until 1970. Raced by Ronnie Bucknum in 1970 as the #19 MVS Special with stock block Ford or turbo Ford engines. Retained for 1971, again as the #19, when it was used by Arnie Knepper at the Indy 500, but he did not make a qualifying attempt. Bud Tingelstad failed to qualify it at Milwaukee in June, then Bon Harkey drove in practice at Pocono before being asked to step aside for Bob Harkey, who qualified, but retired early in the race. The car was not seen in 1972 but was then sold to Lloyd Gifford (Ft Wayne, IN) to replace an ancient Gerhardt and entered for Benny Rapp from Michigan 1973 to 1975 or 1976. At least one entry list in 1975 described it as a "Brabham". About 1985, it was bought from Gifford by Jim Mann who sold it directly to collector Bill Wiswedel (Holland, Michigan). It was retained in Bill's collection still in its red-and-blue Gifford livery until he sold it to Mark Klingerman (Bourbon, IN) in August 2014. Restored in early 2015 and present at the historic event at Indy in May, but not quite ready to run. On display at the Historic Indycar Exhibitions in 2016, 2017 and 2019. Still with Klingerman in April 2023.
Driven by: Ronnie Bucknum, Arnie Knepper, Bud Tingelstad, Bob Harkey and Benny Rapp. First race: Sears Point (R2), 5 Apr 1970. Total of 6 recorded races.
Mark Klingerman (USA) 2023
Acknowledgements
Much of the information on this car has been gleaned from period newspaper reports, and a little from Dick Sommers' book 'Eddie Called Me Boss'. Thanks also to current owner Mark Klingerman and former owner Bill Wiswedel for their help, to Simmo Iskül and to 'gbl' for additional information, and to Mark and to Ian Blackwell for their photographs.
Please contact Allen Brown (allen@oldracingcars.com) if you can add anything to our understanding of the Cecil.
These histories last updated on .