Morris 1969 Indy history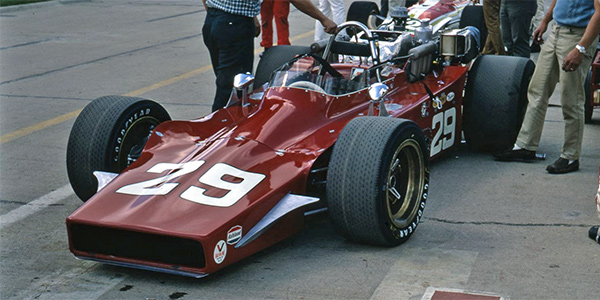 The 1969 Morris was built by the now freelance George Morris for the MVS team. It used a chassis based on his experience with the Mongoose copy that he had built for Vel's Parnelli in 1968, but with new wedge bodywork fabricated by Junior Dreyer.
George Morris had been chief mechanic on Vel Miletich's new team for 1967, and then on the team that Miletich formed with Parnelli Jones' in 1968, when Morris built the 1968 Morris, but for 1969 Parnelli and Miletich bought up the former Al Retzloff team, consisting of a pair of Lola T150s, lead driver Al Unser, and chief mechanic George Bignotti. Morris was out in the cold, and he set to work over the winter building a new spaceframe car, along the same lines as Laycock's 1967 Mongoose, but using a new wedge body that was based in principle on the groundbreaking 1968 Lotus 56. Junior Dreyer, also based in Indianapolis, created the bodywork and had some advice from an aerodynamicist at Ford about whether a aerofoil could be used at the rear. Rear wings were not allowed by USAC at that point, but some imaginatively-shaped engine covers would appear over the next couple of years. Although Morris said he was working on two cars, only one appeared and that was sold to MVS, the long-standing Indy team owned by Stan Malless, Bob Voigt and Dick Sommers, which in 1968 had run a car built by their chief crew Dick Cecil. Cecil took on Morris's car, which was run as the MVS #29 entry, but also built a copy of it, which served as the team's backup #19. The histories here assume the Morris was always the #29 and the Cecil always the #19, the impression given by MVS team owner Dick Sommers' book 'Eddie Called Me Boss'. The two cars were run through 1969, 1970 and 1971, before MVS acquired a pair of Coyotes for the 1972 season.
After delivering his new creation to MVS, George Morris went to work alongside Jack Beckley at Lindsey Hopkins' team at the Indy 500 in 1969. He soon found a new job with the George Walther team, and built new Morris "Marauders" for them for 1970 and 1971, and was still with the team in 1972 when they bought a Bignotti Colt instead. He went to work with Jim Hurtubise in 1973, when he modified Herk's Lola T150 extensively without actually making it any quicker, and was then chief mechanic for Eldon Rasmussen in 1974 and 1975 when Rasmussen was trying to turn the 1972 Atlanta into a competitive car.
Chassis
History
Current owner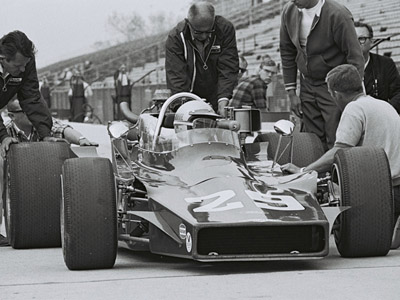 New to the MVS team, fitted with a Ford turbo engine and entered at the 1969 Indy 500 for Arnie Knepper to drive as the #29 MVS Special. The new car went very well during the practice month and Knepper qualified comfortably, but crashed out of the race. After four more races in the Morris-Ford, Knepper was replaced by Sam Sessions, who finished fourth at Trenton in September. The Morris was largely a backup in 1970, but was raced regularly during 1971, by Jim Malloy early in the season and by Bill Puterbaugh later on. Subsequent history unknown.
Driven by: Arnie Knepper, Sammy Sessions, Ronnie Bucknum, Jim Malloy and Bill Puterbaugh. First race: Indianapolis Motor Speedway (R3), 30 May 1969. Total of 13 recorded races.
Unknown
Acknowledgements
Much of the information on this car has been gleaned from period newspaper reports, and a little from Dick Sommers' book 'Eddie Called Me Boss'. Information on the Morris cars is remarkably sketchy, and many thanks to Gerry Measures for background information.
These histories last updated on .