Cooper T60 car-by-car histories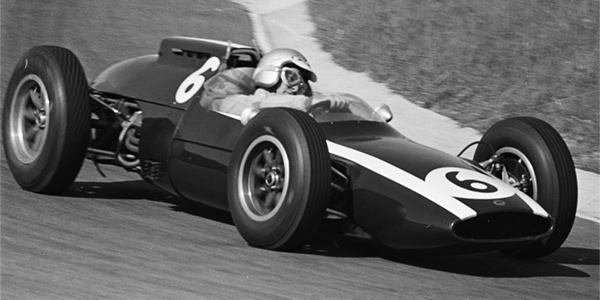 Following on from the prototype Climax V8 Cooper in 1961, two new Cooper T60s were built for the 1962 season. Bruce McLaren won the Monaco GP in his T60.
Designed collaboratively by Owen Maddock, Bruce McLaren and John Cooper, the Cooper T60 was a further evolution of the T53/T55/T58 theme and comprised a spaceframe chassis constructed from 1½-inch tubes, heavily triangulated to improve stiffness. Suspension was through double wishbones front and rear, with coaxial coil-spring damper units that were effectively outboard, but positioned so tight in at the front that they were largely covered by the bodywork. Girling disk brakes were outboard, an original intention to fit them inboard at the rear having to be abandoned when it was discovered insufficient space had been left between gearbox and frame. Roll centres were higher than on previous works cars, a lesson learnt by McLaren from CT Atkins' Cooper T53 in 1961. The aluminium bodywork, crafted by father and son metalworkers Fred and Pete Bedding, was very similar to the T58, but neater along the sides, with the pannier tanks blended into the sides of the body. The Coventry Climax V8 engine was mated to a Cooper-Knight C6S six-speed gearbox. With Jack Brabham having left to form his own team, McLaren took over as team leader and was joined by Tony Maggs.
The new car made its debut at the Dutch GP, where the Lotus 25 was also seen for the first time, and McLaren was running second when a quill-shaft failed in the transmission. The Kiwi then qualified third at Monaco, and after Jim Clark's Lotus 25 and Graham Hill's BRM P578 both retired, held on to take only his third World Championship victory, and his first for over two years. He won again at Reims, a non-championship race, and later took three third-place finishes and a second place in South Africa to finish third in the world championship.
New Cooper T66s were built for 1963, so both Cooper T60s were sold. Bruce's F1-17-61 passed to Portuguese driver Mário Cabral, then to Bob Gerard who ran it for John Taylor, and then to Tom Wheatcroft who restored and preserved it for over 40 years. Meanwhile, Maggs' F1-18-61 went to Rob Walker for Jo Bonnier, and then on to Swiss privateer Jean-Claude Rudaz, who crashed the car at the Montagne de Lure hillclimb in south-eastern France in 1965. The car's throttle stuck open and Rudaz hit a stone wall, ripping open the fuel tank and starting a major fire. Rudaz was lucky to escape with minor injuries but the Cooper was a total loss.
According to the records of Formula One Register founder Duncan Rabagliati, Cooper also built a car with chassis number "F1-3-63" and sold it to Harry Zweifel, who fitted it with a Maserati engine for Swiss hillclimbs. Although this car appears in Cooper records in between two Cooper T66s, photographs show that it closely resembled a T60, so it is listed on this page.
These histories last updated on .