Cooper T81B history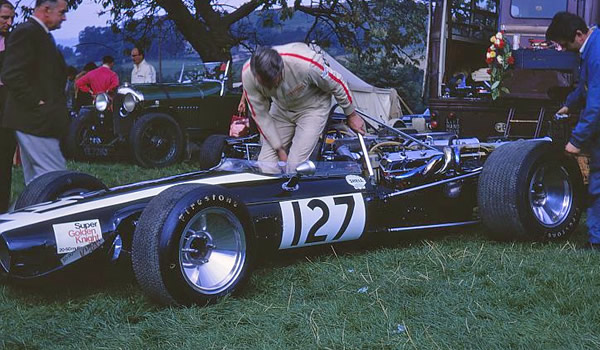 The Cooper T81B was an interim car that appeared at the start of 1967, and was raced by Jochen Rindt and others. It was more successful later as a hillclimb car.
The T81B was billed as a lightweight, its quoted weight being 1,275 lb, compared with the 1,325 lb of the Cooper T81, which made it lighter than the new Eagle-Weslake, and much lighter than the Honda RA273 and BRM P83 H16. Some weight had been saved by skinning the monocoque in aluminium instead of the duralumin of the T81, but the basic layout of the monocoque with its mammoth fuel tanks was largely unchanged, and the 1966 Tipo 9 Maserati engine was carried over. After the car first appeared, further savings were found by replacing the ZF transaxle with a Hewland DG300, and by using magnesium disc wheels. The planned new Maserati engine was also due to save 30 lbs. Jochen Rindt stayed on for his third season at Cooper, and was joined by Pedro Rodriguez, who the Austrian came to actively dislike. That antipathy can only have been fuelled by Rodriguez winning his very first GP in a Cooper, something Rindt was unable to do in his 33 F1 races with the team. Rindt's relationship with the team broke down badly during the course of the season.
Rindt raced the T81B four times before the new T86 design was ready, with a best result of fourth in Belgium. It was then raced by Richard Attwood and Jacky Ickx, who stood in for Rodriguez while he recovered from injuries sustained when he crashed the F2 Protos at Enna. Giulio Alfieri at Maserati continued to strive to improve the old V12 engine, and produced a new cylinder head with two inlet valves and one exhaust valve, the Tipo 10, and later produced a further variant with 36 spark plugs. The T81B used the 36-valve engine at Monza where Ickx raced it, but he and Rindt swapped cars for Watkins Glen, where Rindt drove the T81B and boasted afterwards that he had deliberately tried to blow up its engine. That was enough to get him dropped by team manager Roy Salvadori, and the Austrian signed for Brabham just days later. A recovered Rodriguez drove the T81B with the 36-plug engine at the Mexican GP, the last of the season.
Car
Total
Race
Starts
Grand
Prix
Starts
Grand
Prix
Wins
First Race
Present Location
58
9
Monaco Grand Prix
(7 May 1967)
Private Collection 2020
Brian Redman used the T81B at the South African GP in 1968, as the new 1968 cars were not yet ready, after which the rolling chassis was sold to British hillclimber Martin Brain. It was converted at the factory by Frank Boyles and fitted with a 7.2-litre Chrysler V8, the completed car weighing even more than with the Maserati! In this guise it was very successful, Brain finishing second in the 1968 British Hill Climb championship and winning three rounds of the series in 1968 and 1969. The car was damaged when dropped off its trailer in early 1970 and had not been repaired when Brain was killed in a libre race a few weeks later. It was acquired by Johnty Williamson for 1971, then sold to Ian Swift and Terry Smith for 1972. It was then acquired by an historic racer and appeared in a parade of Cooper cars at the 1981 British GP. A Maserati expert then snapped it up, and it appeared in partly-restored form at Donington Park in 1991. For the last 20 years, it has been in storage with a well-known restorer, but in January 2019 it was in his workshop, and its 36-valve engine was in the engine shop.
Please contact Allen Brown (allen@oldracingcars.com) if you can add anything to our understanding of these cars.
These histories last updated on .