Eagle 1966 Indy car-by-car histories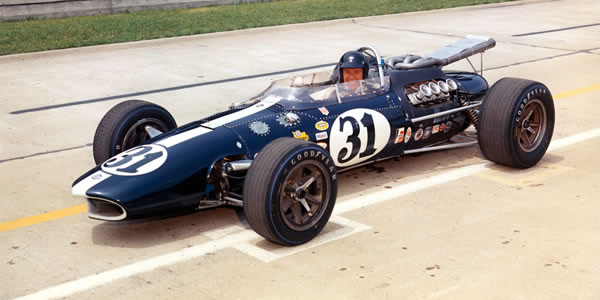 Designed for Dan Gurney's AAR by Len Terry, the 1966 Indianapolis Eagle was based on Terry's Lotus 38 design. Six were built, three for AAR and three for customers John Klug, Lindsey Hopkins and Frank Wilseck/Sidney Weinberger.
After running a four-car All American Racers Indy team in 1965, with Dan Gurney in a Lotus 38 and Joe Leonard, Lloyd Ruby, Roger McCluskey and Johnny Rutherford in Halibrands, AAR recruited Lotus designer Len Terry for 1966 with a brief to design the team's own cars for F1 and the Indy 500. Six Indy Eagles were built, with Gurney, Leonard and Ruby in three AAR-entered cars, Jerry Grant driving a customer car for John Klug, McCluskey driving a customer car for Lindsey Hopkins, and Gordon Johncock driving the sixth for the partnership of Frank Wilseck and Sidney Weinberger. Five of the six qualified for the Indy 500 but only Grant's finished, down in tenth place. As AAR then focused on Formula 1 and Can-Am, the only 1966 Eagles to appear regularly in USAC races later that season were Leonard's Yamaha-sponsored car and McCluskey in Hopkins' car. McCluskey won at Langhorne and finished second at Milwaukee, while Bobby Unser made a guest appearance in the Weinberger Eagle at the Fuji race and also finished second.
Of the three AAR cars, one was retained in 1967 as a test car for the Gurney-Weslake Ford stock block engine, one went to AJ Foyt's team before moving again to Jerry Grant's new Friedkin Enterprises Racing Division at the end of the year, and the fourth followed its sister car to the Weinberger team. The 1966 cars did have two further wins in later seasons, Dan Gurney using the stock block Eagle to win at Riverside in November 1967, and Ronnie Bucknum winning the inaugural Michigan race in 1968 in Weinberger's ex-Ruby Eagle. Such was the cars' enduring competitiveness that Rutherford was third at Michigan in the Michner Petroleum Eagle as late as July 1970.
The chassis numbers used here are based on information from AAR's records, kindly provided by John Zimmerman, and on USAC entry forms from 1966 provided by Ellen Bireley that show the chassis numbers of the AAR/Leonard and Klug/Grant car. The only cars with solid ownership chains to the present day are the ex-Dan Gurney car (201) owned by Bruce Canepa and the ex-Lloyd Ruby car owned by Peter Dyson, but another three, the ex-Hopkins car owned by Chris MacAllister, the ex-Jerry Grant car (203) owned by Bobby Rahal and the Weinberger car now owned by the IMS Museum, can be confidently identified by unique features on the car. That leaves the AAR/Leonard car (202) last seen at Indianapolis in 1969 still to be traced.
If you can add anything to our understanding of these cars, please contact Allen Brown (allen@oldracingcars.com).
Chassis
History
Current owner
Cars for which chassis numbers have not yet been established
Connecting chassis numbers to identified cars has not been entirely straightforward, even with the information from AAR records provided by John Zimmerman. An entry list issued by USAC in April 1966 identified Dan Gurney's car as chassis 201, Joe Leonard's as 202 and Lloyd Ruby's as 204, and John Klug's USAC entry form identified Jerry Grant's car as 203. The entry forms completed by Lindsey Hopkins and by Frank Wilseck did not include the chassis numbers of their cars.
John Zimmerman's notes show Weinberger Homes as the owner of both 204 and of 206, indicating that 204 was the ex-Ruby car bought second hand for Rutherford to drive in 1967 and that 206 was the car bought new for Johncock to drive in 1966. John's notes show chassis 205 going to "McCluskey/Beckley/Hopkins", which appears definitive, but confirmation is being sought. The process of identification is complicated by contradictory information on some entry forms, such as AAR's 1966 entry form identifying Ruby's car as 203 and Tom Friedkin's entry form in November 1966 identifying the car he had acquired from Klug as 205.
Chassis
History
Current owner
The #14 AAR entry for Lloyd Ruby at the 1966 Indy 500 with Bardahl backing and fitted with a 255ci Ford V8. Ruby preferred to drive AAR's Lotus 38 for most other races in 1967, and the only other races for the Bardahl Eagle in 1966 were for Jim McElreath at Fuji that October and for Ruby at Phoenix in November. Sold to Weinberger Homes, fitted with a turbo Offy engine and used as the team's #47 entry for Norm Brown at the 1967 Indy 500 but crashed in practice. Raced by Johnny Rutherford on other occasions and thought to be the team's Offy car alongside their original Ford-engined Eagle and their Gerhardt, raced by Rutherford in 1967 and Ronnie Bucknum in 1968. Weinberger bought a new Eagle for 1968, relegating this car further down the order. It appears that this car was used in the Universal Pictures film 'Winning', filmed during the summer of 1968, where it appeared as the #3 car of Paul Newman's character Frank Capua. Photographs indicate that it rejoined the Weinberger team in October, and was the car Ronnie Bucknum used when he won the Michigan Inaugural 250. It remained in the Weinberger stable, and was seen a few times in 1969 and 1970, lastly as Weinberger Homes' unused #49 entry for Charlie Glotzbach at the Indy 500 in 1970. It was then sold to Ludwig Heimrath (Scarborough, Ontario, Canada), and fitted with a Chevrolet V8 engine for Formula 5000 in 1972. He retained it until 1975, when he sold to Don Ludewig (Clarkston, MI), and it remained with Don until it was sold to Peter Dyson (Winnetka, IL) in 2014. At the vintage Indycar event at Indianapolis in May 2015. Peter Dyson died in December 2016, but the car returned to Indianapolis for the vintage event in 2018, when it was driven by Peter's son, John Henry Dyson. Also at the June 2019 Indianapolis Historic Racing Exhibition.
Driven by: Lloyd Ruby, Jim McElreath, Norm Brown, Johnny Rutherford, Bobby Unser, Ronnie Bucknum, Todd Gibson, Larry Dickson, Charlie Glotzbach and Ludwig Heimrath. First race: Indianapolis Motor Speedway (R3), 30 May 1966. Total of 16 recorded races.
John Henry Dyson (USA) 2019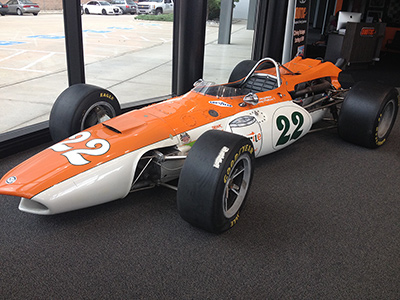 A customer car sold to Lindsey Hopkins and entered for the 1966 Indy 500 for Roger McCluskey to drive as the #8 G. C. Murphy car. Also raced by McCluskey for the rest of 1966 then McCluskey's backup #72 entry in 1967. Hopkins bought a new 1967 Eagle for McCluskey in 1967 and he used the newer car at the Indy 500, but used the 1966 car at Milwaukee in June, at Mosport Park in July, and at Riverside in November. The 1966 car was also raced Hanford and Phoenix early in 1968 but it was badly damaged at the latter race, and was not seen again until Phoenix in November and Riverside two weeks later, where AJ Foyt relieved McCluskey for part of the race. Wally Dallenbach took over as Hopkins' driver in 1969 and Hopkins' stable of four Eagles was reorganised. The 1966 car was raced by Dallenbach at Phoenix and Hanford at the start of 1969, was his backup at the Indy 500, and was then fitted with a Chevrolet engine for road races at Continental Divide and Indianapolis Raceway Park. After Dallenbach's usual primary car was heavily damaged at Dover Downs, the 1966 car, now nicknamed "Old Clyde", was his usual car in late 1969 and early 1970. He continued with "Old Clyde" during the 1970 season after the team's new Kuzma chassis proved too slow, and was last seen at Phoenix in November 1970. It was then retired but may have remained in Dallenbach's part of the Hopkins operation when Duane Glasgow (Hasting, MI) became his chief mechanic for the 1971 season. Glasgow remained with Hopkins until he retired from the sport in 1974, and he sold the 1966 Eagle and the two newer 1972 Eagles he'd been running to Fred Fuhr (Hastings, MI). Fuhr sold the 1966 car in 1979 to Bob Ames (Portland, OR), who sold it in about 1986 to Wally Dallenbach. Paul Dallenbach drove the car to Indianapolis in 1987 to be restored by Wayne Leary, and an article on the restoration in Open Wheel (December 1989 p66) referred to it as the 1966 McCluskey car. It later spent many years on display in the lobby of Unser Karting (Denver, CO). In late 2018 or early 2019, it was reported that the car had been sold to Chris MacAllister (Indianapolis, IN). Entered by MacAllister at the June 2019 Indianapolis Historic Racing Exhibition. Still with MacAllister in December 2021, when it was being restored by Phil Reilly.
Driven by: Roger McCluskey, AJ Foyt and Wally Dallenbach. First race: Indianapolis Motor Speedway (R3), 30 May 1966. Total of 36 recorded races.
Chris MacAllister (USA) 2021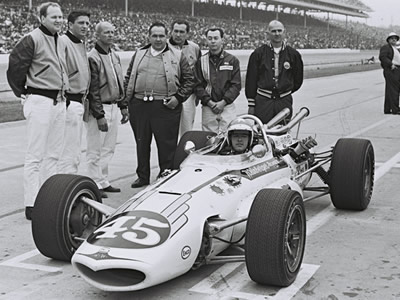 Sold new to W & W Enterprises, which was Sidney Weinberger, a wealthy sportsman and building contractor from Ulica, Michigan, and his partner Frank Wilseck. Fitted with a Ford quad cam engine and entered by Weinberger Homes for Gordy Johncock at the 1966 Indy 500 as the #5 car. Johncock preferred his 1966 #72 Gerhardt at Indy and elsewhere, and the #5 Eagle only raced at Fuji, where Bobby Unser took it to second place. After Johncock and chief crew Duane Glasgow left, the Eagle was entered by Weinberger at the 1967 500 for Johnny Rutherford to drive, now with Wally Meskowski as chief crew. Raced later in the year by Rutherford, still with its Ford V8, as the team also now had another 1966 Eagle with an Offy turbo. The car remained in the Weinberger stable for 1968, when Ronnie Bucknum drove for the team with Dick Oeffinger, formerly with Gordon Johncock, as chief mechanic. This car was the Ford-powered car raced by Bucknum in 1968, and was later identified as the #45 Weinberger entry for Charlie Glotzbach in 1970. In October 1974, Wilseck sold the car to the Indianapolis Motor Speedway Museum as "car number 49" but as different W&W Eagles wore #49 at different times, this may have caused it to be misidentified. In May 1975 it was on loan by the Museum to an Indianapolis bank, restored in the livery of Lloyd Ruby's #14 AAR Bardahl Eagle but otherwise described correctly as having been driven by Rutherford at the 1967 Indy 500 and Bucknum in the 1968 Indy 500. It continued to be used as part of the museum's backup collection for many years. Still in the Hall of Fame museum May 2005 but later withdrawn from display. Exhibited at the Grand Prix of Long Beach in 2011 and at Indiana International Airport from January to March 2014. Back at the IMS Museum in May 2015.
Driven by: Gordon Johncock, Bobby Unser, Johnny Rutherford, Ronnie Bucknum and Charlie Glotzbach. First race: Fuji (R15), 9 Oct 1966. Total of 17 recorded races.
Indianapolis Motor Speedway Museum (USA) 2015
Some notes on changes made to this page
The chassis numbers used here until October 2021 were based on information compiled by a research group between 2005 and 2007, and kindly provided to OldRacingCars.com in March 2009. As ORC's own research into the cars progressed, it became increasingly clear that these histories were not entirely correct, and we eventually reached the point where the best thing to do was start again using photographic and documentary evidence only. All the histories shown here were therefore dismantled and are in the process of being reconstructed. The chassis numbers now used here are based on numbers made available from AAR records by John Zimmerman, the former Racecar, On Track, Autoweek, Sports Car and Racer journalist whose book 'Dan Gurney's Eagle Racing Cars' was published in 2007, and on information provided from USAC records by Ellen Bireley, the former Director of the Indianapolis Motor Speedway Museum.
Earlier versions of this page included 'the Don Smith Collection car' as a mystery car. That is now understood to be a show car built by Mike Devin from the 1967 Eagle that Lou Sell wrecked. Also, earlier versions of this page showed the car now owned by the IMS Museum to be a mystery. Detailed examination of photographs of that car has found myriad small features which convincingly match it to the car driven by Ronnie Bucknum for the Weinberger Homes team in 1968. Even earlier versions of this page had the ex-Lloyd Ruby car as the one in the IMS Museum and the ex-Weinberger car as the car owned by Don Ludewig. Don's research into these two cars made a compelling case that his car was the ex-Ruby car. Also, earlier versions of this page identified the car owned in modern times by Wally Dallenbach and on display at Unser Karting in Denver, Colorado as 'the AAR/Leonard car'. The car at Unser Karting has a number of distinctive features that demonstrate that it is the same Eagle raced by Dallenbach at Indy in 1970, so the ex-Lindsey Hopkins 1966 Eagle, not the ex-AAR/Joe Leonard car.
Tribute cars
Chassis
History
Current owner
Acknowledgements
My thanks to Michael Ferner, Simmo Iskül, Aaron Lewis and others for sharing the results of their research into the 1966 and 1967 cars, and to John Zimmerman, author of 'Dan Gurney's Eagle Racing Cars' (David Bull Publishing, 2007), the definitive history of the team. Thanks also to former Indianapolis Motor Speedway Museum director Ellen Bireley, Chuck Haines, Jerry Entin, Jeremy Hall and Tom Schultz for their help on this subject.
There is still much to understand about these cars, especially the cars that were in the Friedkin Enterprises stable and Marvin Webster's team. If you have any information that would help or have photographs of the cars that could add to our knowledge, please email Allen at allen@oldracingcars.com.
These histories last updated on .