Eagle 1970 Indy car-by-car histories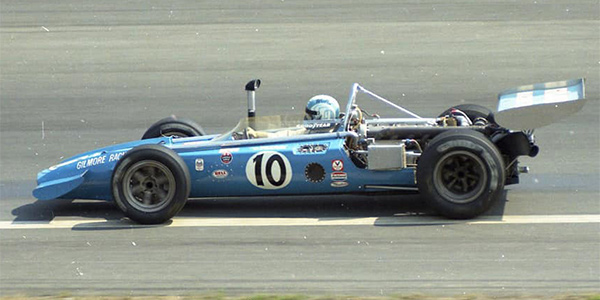 After the disappointment of the 1969 Eagle 'Santa Ana', Dan Gurney recruited Len Terry to design a new car for 1970. This returned to the rocker-arm front suspension and full-length monocoque of his 1966/67 Eagles, with fuel held in triangular tanks in the sides of the dart-shaped monocoque.
The 1969 Eagle had left the team baffled, and as the one man who understood it, Tony Southgate, left AAR almost as soon as the car appeared to take up his new position with the BRM team, Gurney turned back to Len Terry, the designer of the 1966/67 cars, to design new Eagle Indycars for 1970. Terry worked on the project in England, sending drawings to AAR in California as he went along. Because the drawings did not arrive until February, AAR had manufactured parts for ten cars and were assembling seven before the prototype even turned a wheel. Customers included Leader Card Racers for driver Bobby Unser, Michner-Patrick for Johnny Rutherford, Jim Robbins for Lee Roy Yarbrough, and Gordon Johncock for his own Gilmore-backed team. In testing at the Speedway for the Indy 500, the cars were immediately problematic, with insufficient suspension movement at the rear and a high centre of gravity, and while AAR struggled to get Gurney's car working, Unser, Johncock and Yarbrough quickly abandoned their cars. Rutherford's did not even arrive at the track. Gurney qualified 11th and with the car now largely sorted, finished very well in third place. Sammy Sessions qualified the car Yarbrough had abandoned but his was the only other '70 car to start the race.
The 1970 cars did not race again over the summer but AAR extensively tested their pair of cars and arrived at Ontario for the 500-mile race in September having made radical changes to the aerodynamics. Gurney qualified second but retired while Swede Savage drove a second car with the Gurney Weslake Ford stock block engine. Gurney then retired from driving and ex-Leader Card driver Bobby Unser took over Gurney's car for Phoenix in November. Savage was still assigned to the stock block car and won at Phoenix to boost the team's morale. In early 1971, Unser and Savage continued to race the two 1970 cars until new 1971 cars were ready, but Savage was injured in a F5000 race at Ontario in March and his place in the Indy team was taken by Lee Roy Yarbrough.
If you can add to our understanding of these cars, or have photographs that we can use, please email Allen at allen@oldracingcars.com.
Chassis
History
Current owner
Unresolved 1970 Eagles
According to Eurosport CART commentator Luis Mateus, the six 1970 Eagles were chassis numbers 801 (AAR), 802 (Rutherford), 803 (Leader Card Racers), 804 (Jim Robbins), 805 (AAR) and 806 (Gilmore). Although Luis cannot recall his original source for this list, it has proved reliable so far, so is used to identify the cars in these histories. The main question mark is over the way AAR's two cars were used. The French magazine L'Automobile reported on the 1970 Indy 500 and reported chassis numbers for the two 1970 Eagles that started the race, 801 for Gurney and 804 for Sessions. However, an entry form submitted by team sponsor Oscar Olson for the 1970 Indy 500 gave the number 805 for Gurney's car. Subsequent owners of the ex-AAR cars have regarded 805 as Gurney's car and 801 as the second team car used later in the year by Savage. This issue remains unresolved.
Chassis
History
Current owner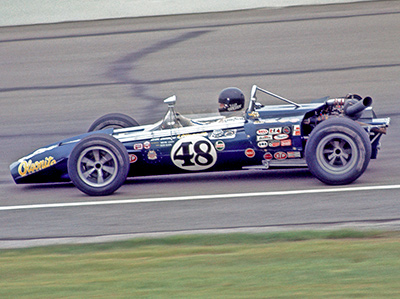 New for Dan Gurney as the #48 AAR entry at Indianapolis in 1970. Raced again by Gurney at Ontario as the #48, but wrecked. Gurney then retired, and Bobby Unser joined AAR from Leader Card Racers to take his place. Unser raced this car at Phoenix again as the #48, and it is presumably the car he raced as the #2 Olsonite Eagle entry at the opening few races of 1971. Subsequent history unresolved.
Driven by: Dan Gurney and Bobby Unser. First race: Indianapolis Motor Speedway (R4), 30 May 1970. Total of 7 recorded races.
Unknown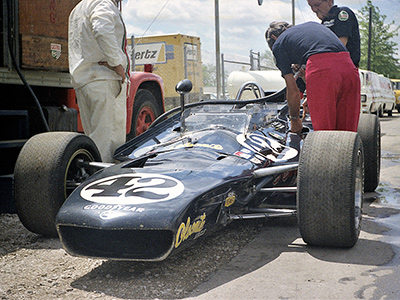 A new car built later in 1970 to use the Gurney Weslake Ford 318 ci stock block engine. It was entered as #42 as a backup car for Dan Gurney at the California 500, but after he qualified his regular #48 Offy car, the stock block was handed over to Swede Savage, who qualified it but retired. Savage then raced it again at Phoenix in November, winning the race. This car was then fitted with an Offy turbo engine for 1971, when it was the team's backup car at the Indy 500, so it is presumably the #42 car that Savage and Lee Roy Yarbrough had used in the Rafaela, Phoenix and Trenton races held prior to the Indy 500. It was entered as the #48 backup car at the Indy 500, but was raced by Jim Malloy as the #42 entry after Yarbrough wrecked his original #42 1971 Eagle and then withdrew. As both 1971 Eagles were damaged at the 500, it was then raced by Bobby Unser (as #2) at Milwaukee in June. Subsequent history unresolved.
Driven by: Swede Savage, Lee Roy Yarbrough, Jim Malloy and Bobby Unser. First race: Ontario Motor Speedway (R12), 6 Sep 1970. Total of 8 recorded races.
Unknown
1970 Eagles in 1971
In 1971, AAR continued to run 801 and 805 at the start of the season, but none of the other 1970 Eagles were seen on track that season. The Michner-Patrick chassis 802 evidently stayed with the team, because they used it in 1972; Leader Card Racers must have retained 803, again because it was pressed into service in 1972; Jim Robbins retained 804 for many years, albeit unraced; but Gordon Johncock's unraced chassis 806 was not seen again. Later in 1971, one of AAR's cars was rebuilt to the latest specification with McLaren-style rear wing and front wings, and was used by Unser to win at Milwaukee in August, and then raced by Swede Savage in the remaining three races of the year. This car appears to have been one of AAR's two 1970 cars, 801 and 805, but it has not yet been possible to determine with confidence which one it was.
Chassis
History
Current owner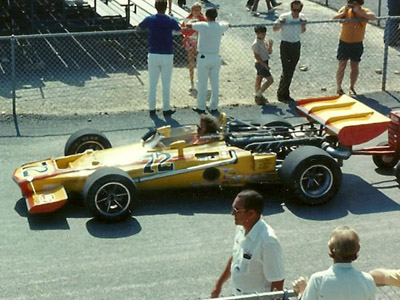 At the Tony Bettenhausen 200 at Milwaukee in August 1971, Bobby Unser drove an updated 1970 Eagle for the AAR team, in place of his usual 1971 car. This car had a new single fuel filler on the side, the same style as the twin fuel fillers used on the 1971 Eagle. The car had the same McLaren-style rear wing and front wings used on Unser's 1971 Eagle at Michigan. The mirrors on the car were the same as Unser's early season car, hinting that it was the same car, updated. However, a press report in 1972 suggested that Savage's late-season car was the car Jim Malloy had raced at the 1971 Indy 500, which would make it AAR's other 1970 Eagle. Its identity is not yet resolved. Unser took pole at Milwaukee and won in this revised car, and it was then assigned to Swede Savage for his return to the AAR team at the California 500 at Ontario. Savage used this car in three races, but did not finish any of them. This car was then sold to Mary & Tom Page, and entered by their Page Racing for Mike Hiss through the 1972 season. It became the #60 entry at the Indy 500 when STP bought a share in the car. In early 1973, Bob Criss was killed while testing the Page Racing Eagle prior to Phoenix. Reports suggest that the car was comprehensively destroyed in the accident.
Driven by: Bobby Unser, Swede Savage, Mike Hiss and Bob Criss. First race: Milwaukee Mile (R9), 15 Aug 1971. Total of 11 recorded races.
Destroyed 1973
1970 Eagles in 1972
In 1972, AAR's updated 1970 Eagle went to Page Racing, but AAR's other 1970 car cannot be tracked. Of the four customer cars, Michner-Patrick entered chassis 802 for former AAR driver Swede Savage during 1972; Leader Card Racers pulled out chassis 803 for at least one race; Jim Robbins still retained 804 as a showpiece; and the ex-Johncock chassis 806 was still missing. However, Lindsey Hopkins fielded a 1970 Eagle in 1972 for Wally Dallenbach and later for Lee Kunzman. This car was sponsored by Gilmore, so it may have come from Johncock via Gilmore, who had been Johncock's sponsor in 1970 before transferring his sponsorship to Clint Brawner in 1971 and then to Hopkins in 1972. Gilmore may have owned this Eagle throughout. Alternatively, the car may have remained with Duane Glasgow, Johncock's 1970 chief mechanic, who moved to the Hopkins operation for 1971 to become Dallenbach's chief mechanic.
Page Racing was a tightly-funded operation owned by Tom and Mary Page of Santa Ana, California, but what they lacked in funding was more than made up for by the talented team: Mike Hiss as driver with chief mechanic Dave Klym assisted by George Huening. Hiss surprised a few people by finishing tenth and seventh at his first two races, and Klym, who had been Hiss's mechanic at Charlie Hayes Racing in Formula B, was nominated for rookie chief mechanic of the year thanks to the immaculate preparation of the Eagle. After Hiss moved to the Gerhardt team for 1973, Klym moved to AAR to run Wally Dallenbach's car at the 1973 Indy 500, then was Jerry Grant's mechanic in 1975 on Fred Carrillo's Spirit of Orange County entry, and won the mechanics' award with Carillo in 1977. He left Carillo to found FABCAR in 1977, first building Wheeler Formula Super Vee cars, designed by Gary Wheeler, and moved on to build new Lightning Indycars for Lindsey Hopkins in 1980, designed by Dave Bruns, and later a series of very successful GTP cars. Huening moved to Patrick Racing and was George Bignotti's assistant in 1975, then became chief mechanic at Longhorn in 1978, before returning to Patrick Racing as Gordon Johncock's crew chief.
Curiously, on 23 December 1972, Bill Simpson advertised a 1970 Eagle that he described as "new never raced" for $8,000, alongside his well-known 1967 Indy Eagle which was available for $5,000. As all the known 1970 Eagles had raced by this time, this car is a puzzle.
There were few appearances of the 1970 Eagles from 1973 onwards. The Page Racing car was destroyed in testing in Bob Criss's accident at the start of the year; the Hopkins car may have made one final appearance in 1973 before going to Patrick Santello for 1974; the Leader Card Racers 803 went to Gus Hoffman for Larry Cannon to race; and the late Jim Robbins' car continued to be entered at the Indy 500 but never went on track. There were no more sightings of the second AAR car or of Michner-Patrick's 802 in 1973.
Chassis
History
Current owner
For 1972, Lindsey Hopkins added a 1970 Eagle to his already crowded stable for Wally Dallenbach to drive as the #10 entry. The origins of the Eagle are presently unknown but it could be the redundant ex-Gurney AAR car or the unwanted Gordy Johncock car. Dallenbach drove it in the opening races of the season but was bumped at the Indy 500. He then joined the STP team to replace the injured Art Pollard and Hopkins recruited Lee Kunzman to take over the #10 Eagle. A 1972 Eagle replaced the 1970 car at some point, but a photograph shows Kunzman drove the older car at Texas World Speedway in April 1973, so exactly where Kunzman raced this car instead of the new '72 Eagle is not clear, and photographs are needed to completely resolve this. Photographs indicate that this was the 1970 Eagle acquired by Patrick Santello (Syracuse, NY) for 1975. His mechanic Willie Davis fitted it with one of Richard Moser's DOHC Chevrolet V8 engines, but the car did not race until near the end of the season, when Larry Dickson raced the #65 City of Syracuse Spl at Phoenix in November 1975. Retained by Santello for the 1976 season as a backup to a newer 1972 Eagle, and raced by Dickson, Lee Kunzman and Jerry Karl. Subsequent history unknown but very likely to be the 1970 Eagle owned by Tom Hollfelder, which is reported to be chassis 806. He ran the Eagle in a VARA historic event Willow Springs in October 1995, where it wore number #48 and its nose and water pipes were in 1970 works form, but it had 1972-style front and rear wings. Hollfelder also ran the car at Road America in 2009. Steve Zautke and Jacques Dresang have examined the car and observed Santello era paintwork showing through the more recent dark blue. It also has a Chevrolet small block engine, as it did when Santello owned it. Still in Tom Hollfelder's collection in February 2021.
Driven by: Wally Dallenbach, Lee Kunzman, Larry Dickson and Jerry Karl. First race: Phoenix International Raceway (R1), 18 Mar 1972. Total of 14 recorded races.
Tom Hollfelder (USA) 2021
Chuck Bartlebaugh's "1970 Eagle"
Previous versions of this page listed Chuck Bartlebaugh's Formula 5000 Eagle in 1976 as a mystery 1970 Indy Eagle. Photographs have now shown that it was a 1969 Indy Eagle.
The 1970 Eagles today
Of the two AAR cars, one appears to have been destroyed in 1973, and of the four customer cars, the Michner-Patrick's 802 was in the Bob McConnell collection in 2014; the Leader Cars 803 was for sale with Can-Am Cars Ltd in 2020; and the ex-Jim Robbins 804 was owned by David Morrison in 2011. The ex-Johncock 806 is likely to be the ex-Hopkins/Santello car owned by Tom Hollfelder in 2021.
That leaves only the second ex-AAR car to be resolved.
Apart from Hollfelder's car, the only other 1970 Eagle remaining to be identified is Chuck Jones' car, acquired from Can-Am Cars Ltd in 2020.
Chassis
History
Current owner
In 2020, Chuck Jones owned a 1970 Eagle that he had bought from Chuck Haines' Can-Am Cars Ltd. According to Jones, that car was acquired from AAR by Lilo Beuzieron (North Hollywood, CA) in the mid-1980s, then sold to Doug Schreier (Topanga, CA) in 1998, then to Haines in 2014. Jones also advises that Justin Gurney has verified that it is one of AAR's two 1970 cars.
Chuck Jones (USA) 2020
Acknowledgements
Simmo Iskül and 'gbl' have been a huge amount of help figuring out the 1970 and 1971 Eagles, and I am also grateful to Simon Hadfield for his assistance, to Jacques Dresang for his information on Tom Hollfelder's car, and to Chuck Jones for sharing the results of his research into these cars and for helping make sense of the sometimes contradictory evidence. Thanks also to Rich Bunning, Paul Castagnoli, Richard Deming, Kenneth Lawrence, Tom Schultz, Jim Stephens, Bill Wiswedel, Steve Zautke and Mike Thomsen of www.racingpictorial.com for the use of their photographs.
As AAR's 1970 cars were modified with different bodywork through 1970 and then the team's 1970 and 1971 cars were further modified through 1971, it appears that the most reliable way to tell the 1971 cars from their older siblings is that the 1971 cars had two fuel fillers on the side, while the older cars had only one.
Many contemporary newspaper reports were used in the construction of these histories, as well as Autoweek reports. Special mention must go to Ray Marquette's columns in the Indianapolis Star, as he covered the teams' activities in much greater detail than most reporters.
These histories last updated on .