Eagle 1971 Indy car-by-car histories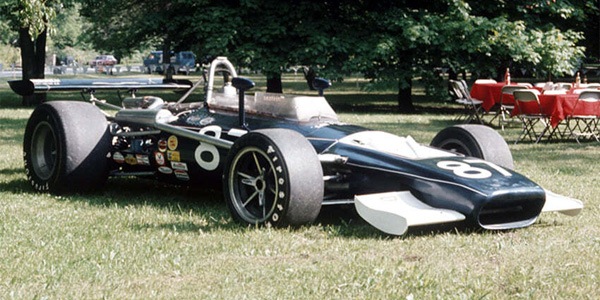 The 1971 Indy Eagle was an evolution of the 1970 car, following a very successful development programme through 1970 and early 1971. Bobby Unser's 1971 Eagle was the closest challenger to the McLaren M16s during 1971.
AAR started the 1971 season with the pair of 1970 Eagles that had been so successfully developed towards the end of the previous season. They continued to race with the long ramps on either side of the cockpit, together with more subtle aerodynamic devices such as small wings behind the front wheels. Using leftover unused components from the 1970 cars, AAR built two new cars for the 1971 Indy 500, to be driven by new team leader Bobby Unser and by top NASCAR driver Lee Roy Yarbrough, who had replaced Swede Savage in the second car after Savage had been badly injured in a F5000 race in March 1971. The wings behind the front wheels were retained from the 1970 car, but the ungainly ramps were replaced with a larger full-width wing mounted on top of the engine, satisfying USAC's weakly-written rule that any aerodynamic devices had to be part of the bodywork. McLaren's new M16 had been designed with a full-width rear wing, surprisingly held to be legal by USAC inspectors, and other teams gradually moved towards the McLaren model, but only the new Eagle came close to the times set by the McLarens at Indianapolis. Yarbrough crashed his car during the first week of practice, and was too dazed to operate the extinguisher. He was pulled clear with only minor burns, but the car was described by Gurney as "a washout", adding "there is no percentage in repairing it". Yarbrough would try the 1970 backup car but decided not to attempt to qualify, handing it over to Jim Malloy.
Unser qualified third in the other 1971 Eagle, behind the McLarens of Peter Revson and Mark Donohue, and after Donohue's leading McLaren broke, Bobby battled with the Parnelli/Bignotti Colts of brother Al Unser and Joe Leonard for the lead. He led twice, and was running third when he spun to avoid Mike Mosley's Eagle which had lost a wheel and hit the wall. Damage was sufficient that it could not be repaired in time for Milwaukee, so Unser took over the 1970 backup car for that race, the one in which Malloy had finished fourth at the Speedway. Unser took pole position at the Milwaukee Mile but retired with engine trouble. The 1971 car returned for the next race, the Pocono 500 four weeks later, and now had a full-size rear wing, in the McLaren style, and had acquired half-width canard wings on the nose. Unser was the only driver who could get close to Donohue's McLaren in qualifying, but couldn't stay with him in the race, finishing ninth. At Michigan's 2-mile track on 16 July, the Eagle now had the same full-width front wings as the McLaren, and Unser took the car round in a world record speed of 193.444 mph to seize pole position from Donohue, with nobody else within 7 mph of the Eagle. Again Unser led, and again an engine failure put him out.
At Milwaukee in August, Unser used a different car, and the identity of this car remains unresolved. Both the 1971 Eagles at the Indy 500 had two fuel inlets on the side, while Malloy's 1970 car had only one, and this Milwaukee car also had one. It had the same full rear wing and full-size canard wings as the 1971 car had at Michigan, and proved every bit as good, Unser again taking pole and this time finally taking victory. Unser then returned to his regular 1971 car for the California 500 at Ontario Motor Speedway in September, and Savage returned to the team to drive Unser's Milwaukee car. Unser and Savage qualified second and fourth, but both crashed during the race. Unser finished the season strongly, with pole position and a first win for his 1971 Eagle at Trenton in October, and then another pole position and retirement at Phoenix. Savage drove his Ontario car in those last two races but did not finish either.
If you can add to our understanding of these cars, or have photographs that we can use, please email Allen at allen@oldracingcars.com.
Chassis
History
Current owner
New for Bobby Unser to drive at the 1971 Indy 500 as AAR's #2 Olsonite entry. As the sister car was wrecked by Lee Roy Yarbrough at the Speedway, this is likely to be the 1971 Eagle raced by Unser at Pocono, Michigan, Ontario, Trenton and Phoenix. For 1972, the car was sold to a consortium led by James C Rogers that entered it as "The Minnesota Invader" for Larry Dickson (Marietta, Ohio) to drive, with sprint car builder Paul Leffler (St Paul, Indiana) as chief mechanic. It did not qualify after Leffler claimed that the money needed for a new engine did not turn up from "the Minnesota people" and the car was not seen again that season. Leffler and Dickson focused instead on their successful USAC Sprint campaigns. In April 1973, Rogers and his associates sued Leffler who they claimed had retained the Eagle. The car then found its way into the ownership of Greg Hodges (San Francisco, CA). Photographs of the car in 1974 or 1975, show it in virtually identical configuration to when Dickson drove it at Indianapolis. This is presumably rhe 'Eagle' that Hodges raced at Mosport Park in 1976, but photographs of that car remain elusive. Subsequent history unknown but at some point acquired by Gary Schroeder (Burbank, CA) and restored by Phil Reilly & Co. to its original Unser #2 livery. It won Best in Class at the Amelia Island Concours in 2004 and was part of the Victory Lane Historic Champ/Indy Car Showcase at California Speedway in January 2005. By 2010 the car was on display in the NHRA Motorsports Museum. In March 2012, the car was on display in the Riverside International Automotive Museum. By March 2017, it had moved again, and was on display at the Petersen Automotive Museum in Los Angeles. By 2017, it had moved to the Petersen Automotive Museum in Los Angeles. Still owned by Schroder in January 2022.
Driven by: Bobby Unser and Larry Dickson. First race: Indianapolis Motor Speedway (R5), 29 May 1971. Total of 6 recorded races.
Gary Schroeder (USA) 2022
New for Lee Roy Yarbrough to drive at the 1971 Indy 500 as the #42 Olsonite factory entry, but wrecked on Sunday 9 May in a practice accident. The car was described as "severely damaged", and a later interview with Dan Gurney implies that it was not rebuilt. It has been suggested that this 1971 car may have survived, as the 1972 Hungness Yearbook said that Jerry O'Connell had a spare 1971 Eagle for Billy Vukovich. This was a rare error in Hungness, as O'Connell had two 1972 Eagles, not a '72 and a '71. It has also been suggested that the Page Racing team had a '71 Eagle as well as a '70 Eagle, but no evidence has been found to support that. This 1971 Eagle is therefore believed to have been destroyed in Yarbrough's accident.
Driven by: Lee Roy Yarbrough. First appearance: Indianapolis Motor Speedway (R5), 29 May 1971.
Wrecked 1971
AAR finished the season with two cars, both to the latest specification: Unser's 1971 Eagle and Savage's car, which can be traced back to when Unser used it at Milwaukee in August, but its origins are unresolved. This late-season Savage car went to Thomas W. Page (Santa Ana, CA) whose Page Racing would enter the car for Mike Hiss to drive from the beginning of the 1972 season. Hiss was immediately impressive in the opening races of the season and started practice at Indy by setting the fastest time ever by a first-year driver. His small team ran out of funds halfway through May, but STP's Andy Granatelli stepped in to buy a half-share of the car, and Hiss returned the favour by qualifying the car and finishing in a fine seventh place. Meanwhile, Unser's 1971 car had been acquired by Minnesota Invaders Inc, an organisation run by James C. Rogers, Dale Maloney, and Ronald C. Larson. They recruited Larry Dickson to drive the car, and brought in Paul Leffler (St Paul, Indiana) as chief mechanic, but when the team made its appearance at the Indy 500, Dickson could not get any speed out of the car and did not even make a qualifying attempt.
Hiss's strong season continued and he was poached by the McLaren team to race for them at Ontario, before joining Don Gerhardt's team for 1973. Page Racing recruited Bob Criss to replace him, but Criss was sadly killed in a testing accident in early 1973, and the car was burnt out. The Minnesota Invaders story did not end happily either. After the 1972 Indy 500, Dickson and Leffler both returned to short track racing, where they were big stars as driver and builder respectively, and in April 1973 the various businessmen sued Leffler for return of the Eagle, which he had kept as he claimed he had not been paid for his time at the Speedway. A lawsuit was also started between the State of Minnesota and Minnesota Invaders, Inc, and in 1974 the company was liquidated. In 1974 or 1975, the Eagle was owned by Greg Hodges in San Francisco. Many years later, in February 1981, "Indianapolis 500 racing car The Minnesota Invader" was on display at a motorcycle show in St Paul, Minnesota (not St Paul, Indiana, it should be emphasised), but whether that means the Eagle had returned to its Minnesota stockholders is unclear.
Acknowledgements
Simmo Iskül and 'gbl' have been a huge amount of help figuring out the 1970 and 1971 Eagles, and I am also grateful to Simon Hadfield for his assistance, and to Chuck Jones for sharing the results of his research into these cars and for helping me make sense of the sometimes contradictory evidence. As AAR's 1970 cars were modified with different bodywork through 1970 and then the team's 1970 and 1971 cars were further modified through 1971, it appears that the most reliable way to tell the 1971 cars from their older siblings is that the 1971 cars had two fuel fillers on the side, while the older cars had only one.
Many contemporary newspaper reports were used in the construction of these histories, as well as Autoweek reports. Special mention must go to Ray Marquette's columns in the Indianapolis Star, as he covered the teams' activities in much greater detail than most reporters.
These histories last updated on .