Eagle 74A Formula 5000 car-by-car histories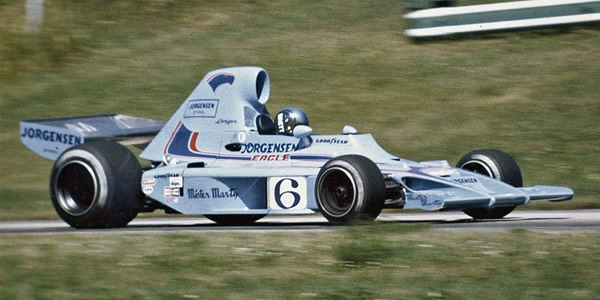 The Eagle 74A was built for Formula 5000 in 1974 and the two AAR team cars were driven by Brett Lunger and Elliot Forbes-Robinson. A further car was entered by Francisco Mir. Four cars were built, including a 1973 prototype.
Despite the success of the 1968-1969 Formula A Eagle, AAR did not return to the formula for another five years. The intervening period had seen Gurney's team go from the success of the classic 1968 Indy Eagle and their F1 operation through withdrawal from F1, considerable struggles with their 1969 and 1970 Indy designs and then the huge success of the 1972 Indy Eagle, one of the most successful Indy car designs of all time.
With sponsorship from Indycar partner Jorgensen Steel, AAR entered a team of two cars in 1974 for the powerful pairing of Brett Lunger and Elliot Forbes-Robinson. The design had a long gestation period, initially built as a dual-purpose F1/F5000 design in 1973. A total of four cars were built, three for the AAR team and one for customer Francisco Mir. The 1973 prototype was not raced and was eventually sold as a show car. The three cars that did race were sold to amateurs and saw very little racing after that 1974 season. One car was crashed and its remaining parts consumed in the construction of a sports racing special, and one had an interesting second life as a DFV-powered Can-Am car. The whereabouts of all four cars are known.
Particular thanks to Tony Nicholson and Dick Renard for their help with these histories. Please email Allen at allen@oldracingcars.com if you can add anything.
Chassis
History
Current owner
A note on chassis number identification
| First driver | Chassis plate | Source |
| --- | --- | --- |
| n/a | 74A001 | The chassis plate on the car in 2005 'reads 8-15-73 on the top line and 74A001 on the bottom line' (Tony Nicholson). |
| Lunger | 74A002 | The SCCA log book (number 74-9) for Eagle 74A002 has race entries beginning 2 June 1974 and a comment 1 Sep 1974 noting that the front of the chassis is tweaked' (Tony Nicholson). This fits with Lunger's accident at Ontario on that date. Autosport reports that he took over EFR's car (presumably 74A003) for the remaining races of 1974. The next race noted in the log book is at Sears Point 1 Jun 1975 with Bob Allen and the last is at Portland in Sep 1976. |
| EFR | 74A003 | Given that the numbers of Lunger's and Mir's car have now been established, it is reasonable to assume that EFR's car was 74A003. Paperwork with VJ Mallya's 74A001 states that 74A002 and 74A003 were the AAR team cars and as 74A002 is almost certainly the Lunger Ontario car, 74A003 must have been EFR's car. Dick Renard recalled that the car he had was the ex-EFR car. |
| Mir | 74A004 | Paperwork with VJ Mallya's 74A001 shows 004 sold to Mir and also shows the car being owned later by Bill Wonder. Koslowski told Tony Nicholson that he bought the car from Mir and sold it to Ratcliffe and Smith. This car now races in historic racing in the UK and the chassis number is reported on Legends Racing's website as 74A004. |
A previous version of this page showed an "Eagle 73A" owned by Dan Davis. Dick Renard's clear recollection is that Davis bought the ex-EFR 74A, not a 73A which is now seen to be entirely mythical.
These histories last updated on .