Eagle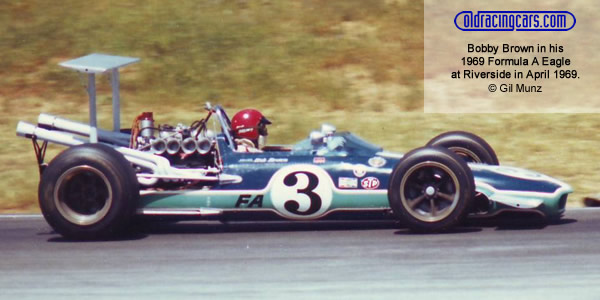 All American Racers was founded by Dan Gurney and Carroll Shelby in California in 1964, with substantial support from Goodyear. The aim was victory at Indy but F1 was also on the plan. The first entries, at Indy in 1965, comprised a Lotus and two Halibrands, but work started on the first 'Eagles' later that year. Gurney poached Lotus chief designer Len Terry and the 1966 F1 (Type 1) and Indy (Type 2) Eagles were developments of his Lotus 38 Indy design.
The early Eagles achieved success, but not at quite the level Gurney and Goodyear must have wanted. Success came in USAC races in 1966 and Gurney himself won a famous Grand Prix victory in Belgium in 1967 and a USAC win at Riverside later that year. Tony Southgate joined the design team for 1968 and it was the 1968 Eagle that gave AAR their first Indy 500 victory in the hands of Leader Card driver Bobby Unser. Southgate also designed a Formula A variant of the Indy design and 14 of these cars would be produced over the next two years, powering Lou Sell and Tony Adamowicz to the 1968 and 1969 championships.
AAR withdrew from F1 after 1968 and from Formula A after 1969, focusing their efforts on the Indy 500. The Formula A Eagles continued in service for many seasons, still putting in occasional appearances as late as 1976. AAR would finally return in 1974.
This research has progressed well but there are still many loose ends. All and any help would be gratefully received. Please email Allen at allen@oldracingcars.com if you can add anything.
| Type | Years | Number built | Notes |
| --- | --- | --- | --- |
| Mk 5 | 1968 - 1969 | 14 (6 in 1968, 8 in 1969) | The highly-successful first Formula A design, based on the 1968 Indy car designed by Tony Southgate. Wheelbase 8' 0.3", maximum track 4' 8"; length 12' 6"; weight 1470 lbs. Full history now available. |
| 73A and 74A | 1973-1974 | 5 | First built as the 73A, a F1/F5000 multi-purpose car. Of the 1974-spec cars, only two works cars and one private car raced. Wheelbase 8' 6.4", maximum track 5' 3"; length 14' 10"; weight 1575 lbs Full history now available. |
| 755 | 1975 | 1 | One car built and first raced at the end of the 1974 season by James Hunt. Bobby Unser took it over for 1975 but was quickly replaced by Theodore's Vern Schuppan. The car was later sold off and driven in SCCA Nationals by Frank Schultz . Wheelbase 8' 9", maximum track 5' 3"; length 14' 7"; weight 1500 lbs. Full history now available. |
| 1976 | 1976 | 1 | One car built but disassembled before its press debut due to the cancellation of the F5000 series. The car was sold to David Eshleman, mayor of Fontana CA until 2002, who assembled it and installed an engine, but has never raced it. |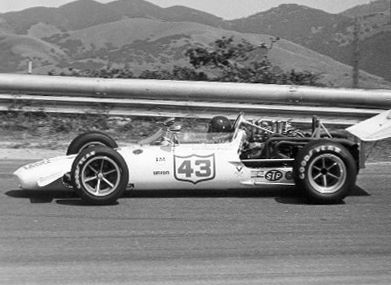 As well as the custom-built cars, three Indy Eagle-Offys appeared in 1974: the works Eagle 74 of Bobby Unser and the older 72 models of Lloyd Ruby and Billy Scott.
As Eagle hardly ever used model numbers, most of their cars are simply entered as Eagle-Chevs, making it very difficult to figure out what was what. The 14 1968/69 Eagles account for the majority of the "mystery" entries in F5000 but there may also have been other converted Indy cars that we don't yet know about. Two outstanding puzzles are the 1971/72 Ludwig Heimrath entry, thought to be a ex-Weinberger Homes 1966 Indy Eagle, and the 1972 Chuck Parsons car. Parsons' car appears on the 1972 Elkhart Lake entry list as the #42 Uecker Racing Eagle (Monroe, Michigan). It races only once, at Road Atlanta, where it was described in Autoweek as a Eagle-Chev, and was advertised later that year as a "Gurney Eagle 1968".
Sources include Gurney's Eagles (Karl Ludvigsen) and Gary Wheeler, the chief designer at AAR during the mid-1970s. Thanks also to 1969 champion Tony Adamowicz for his help and his recollections. Tony's web site is at www.a2zracer.com.
Total number built: 21.