Eagle 1968/69 Formula A 'Mk 5' car-by-car histories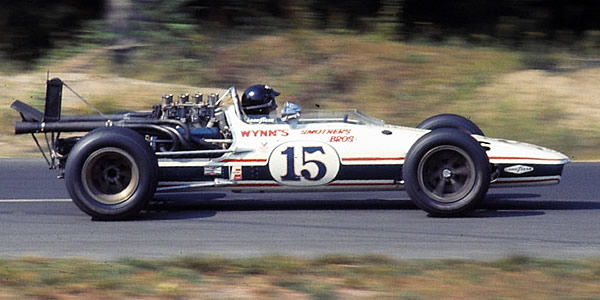 Based on AAR's 1968 Indy car, the Formula 5000 Eagle won the first two US 5-litre Formula A championships, with Lou Sell in 1968 and Tony Adamowicz in 1969.
After the red herring of the 3-litre Formula A, the real Formula A started in 1968. The first manufacturers included Lola, McKee and LeGrand but the firm taking the most high-tech approach was Dan Gurney's AAR. The 1968 Indy Eagle was the obvious basis for a Formula A car and Gurney had designer Tony Southgate make the few necessary changes. The monocoque was slightly slimmer and made from mild steel, instead of the chrome-moly required by USAC. The Indy car was already equipped with new all outboard front suspension, ideal for road courses, and the wheelbase was retained at the USAC's mandatory ninety-six inch minimum. According to a Doug Nye interview with Tony Southgate which appeared in Autosport (28 Jan 1971 pp18-20), this car is said to have been denoted the Eagle Mk 5. John Zimmerman has seen Southgate's drawings and these are also denoted Mk 5.
Only two cars appeared in 1968, for Lou Sell and George Wintersteen, but these two dominated that first season, Sell winning five races, and Wintersteen two, with only Jerry Hansen's Lola T140 breaking the stranglehold with an inherited win at Road America. In 1969, five more cars would appear and, although production ceased after 1969, several more cars appeared in 1970 and 1971. However, 1969 was a much more competitive season; the Eagle won five of the first six races but then the McLaren M10A and Surtees TS5 started to take over. With no further development coming from AAR, the Eagle faded into history.
Tracing the 14 1968/69 Formula A Eagles has proved exceptionally difficult and only nine cars have been traced, one of which is a complete resurrection. One or two more were wrecked but that leaves up to four still missing. Please email Allen at allen@oldracingcars.com if you can add anything.
The material that provided the original basis for this research has been provided by Wolfgang Klopfer and his efforts are very gratefully acknowledged. I'm also very grateful to Kathy Weida at AAR, to Eagle historian John Zimmermann, who kindly provided details from AAR files identifying the first owner of each chassis, and to 1969 Formula A Champion Tony Adamowicz for his recollections. Further information has come from Chris Townsend and ex-Eagle owners/racers Dave Jordan, Phil Henny, Jim Mapson, Steve Davis, Doug Magnon, Jim Larkin, Neil Ohrdorf, Trina Schoellhamer and John Hughes.
Chassis
History
Current owner
Other cars advertised late 1969 or early 1970.
Chassis
History
Current owner
Roy Campbell Racing (Santa Ana, CA) advertised a "1969 FA Eagle chassis. Needs some suspension parts. Complete otherwise. Will sell cheap." in Autoweek 22 Nov 1969. Note that Campbell had advertised the Sell 501 at the beginning of 1969 but, according to Chris Beebe, Campbell sold Gerard Raney a damaged ex-Brown Eagle. It seems likely that this is the ex-Brown car implying that it had been repaired but was still not complete.
Unknown
The 1970 mystery cars
All of the Eagles can be accounted for at the beginning of 1970. The Raney car(s), the only other Eagle to appear from the start of 1970, is now known to be a car built from the remains of Brown's testing wreck and Posey's cars.
Chassis
History
Current owner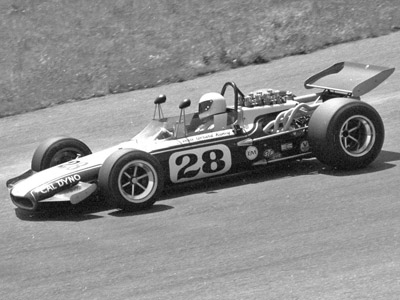 Gerard Raney (#90, Redwood City, CA) bought one damaged car from Bobby Brown (via Roy Campbell) and another two damaged cars from Sam Posey ("01" and "03" according to his former mechanic), and used these to construct a single car and campaigned this for four seasons: US 1970 (7 races); SCCA 1971 (at least two Nationals + Runoffs); US 1971 (7 races); Seafair "200" 1971; US 1972 (6 races); SCCA 1972 (at least one National); US 1973 (5 races); and US 1974 (4 races). At some point the "01" car was loaned to an SCCA Region for marshall training and not returned. The other car, "03", spent many years on Raney's garage wall.
In 2007, the car was taken down and was on display at the 2007 Quail Lodge concours (Carmel, CA). Tony Adamowicz reports that Raney still had the car in early 2009.
Driven by: Gerard Raney. First race: Riverside (US R1), 19 Apr 1970. Total of 32 recorded races.
Gerard Raney (USA) 2009
Full list of Eagles racing in 1970: #21 Dave Jordan (511), #22 Rex Ramsey (509), #47 Jim Busby (514), #90 Gerard Raney (501/506/507), #95 Bob Williams (504), #97 Hiroshi Fushida (503), Lou Sell (508), #10 Dick Smothers (508 at R6) and #3 Jeff Stevens (503) at Sebring. Also Phil Henny (502) in Nationals. George Boscoff's 510 remained unraced in 1970.
Other cars advertised late 1970 or early 1971.
Chassis
History
Current owner
Carl Haas Automobiles (Highland Park, IL). Adv 27 Mar to 29 May 1971 "1968 Formula 5000 Eagle complete ... immaculate". Possibly a car taken in part-exchange for a new Lola. Smothers Brothers ran a Lola T192 in 1971, the only 1970 Eagle runner to move to a new Lola in 1971. If this was the Brown/Smothers "508", it was with Charlie Hayes by July. But this can't be right as Haas says it was a 68 car. The only missing 68 cars are 503 and 504 but Ray Lore had one of these, maybe both, before these advert. Another person to have a Lola T192 in 1971, if only for the Questor GP, was Tony Adamowicz in American Racing Associates' car. Could Haas have taken the original 1968 Wintersteen/Adamowicz wreck in part exchange for ARA's new T192. If so, could it have returned to ARA after Woods wrecked the T192?
Unknown
The 1971 mystery cars
The following Eagles can be accounted for at the start of 1971: Raney had his combination of 501, 506 and 507, Woods had 502, Ray Lore had 503, Monte Shelton had the ex-Fred Corbett 505, Hayes had the ex-Brown/Smothers 508; 509 was on its way from Rex Ramsey to Michael Brayton; the ex-Adamowicz 510 was in storage, 511 was just about to be wrecked by Savage, Jordan still had 512 and 513, and Floyd Sable had 514. That accounts for 13, so the only missing car at this point was 504, last seen with Ray Lore in 1970, and with Sonny Uecker by 1972.
Full list of Eagles racing in 1971: #28 Gerard Raney (501/506/507); #69 Roy Woods (502 SCCA races only); #39 John Gunn (503/504); #57 Monte Shelton (505); #87 Mike Brockman (508); #32 Swede Savage (511); and #21 Dave Jordan (512).
Also relevant to this story are two Eagles raced at the Seattle USAC road racing event in 1971. Jerry Grant raced the #78 Farrell's Ice Cream Special, a 1968 Indy Eagle in which Posey had been bumped from the 1971 Indy 500, and Ronnie Bucknum raced a 1969 Indy Eagle owned by Charley Hamill.
The 1972 mystery cars
A few cars moved after the 1971 season. Raney presumably still had 501, 506 and 507; 502 was sold by Roy Woods to Bob Allen; 503 was with Ray Lore until May 1972, 504 was acquired by Sonny Uecker during 1972, 505 went to Bill Gregg, 508 passed to Mike Koslosky, 509 reappeared for Michael Brayton, 510 was still in storage, 511 had been destroyed at Questor, 512 and 513 were still being advertised by Dave Jordan, and 514 was probably still with Floyd Sable.
As well as these F5000 cars, Ludwig Heimrath brought out a 1966 ex-Indy Eagle at Round 2.
Chassis
History
Current owner
Erich Schiehlen (Kettering, OH) advertised a "F/A Eagle" in Autoweek 24 Jun-19 Aug 1972: ""one of the cleanest and finest in the country"". It had a fresh Chevrolet V8 engine, and a Hewland LG600 gearbox.
This is one of very few Formula A Eagles to have been owned east of the Rockies. One ex-Savage car, 503, was last seen when advertised in Florida in May 1972.
Unknown
One curiosity in this period is an article in the Xenia Daily Gazette on Friday 30 June 1972 which stated that John Higgins, the executive vice president of the Xenia Area Chamber of Commerce, was the current SCCA Central Division "Regional Formula 5000 champion", and that he had won that title in "the Tom Wood owned Eagle". Tom Wood of Xenia had owned and raced a Vulcan Formula A car in 1970 and 1971, and may have acquired an Eagle at some point. The title related to 1971, so it is not obvious which Formula A Eagle he could have used. Allen Costner of Kettering and sponsor Ken Cole Ford of Xenia were also mentioned in connection to Higgins' drive. The 24-year-old John E. Higgins was a local car salesman.
Full list of Eagles racing in Formula 5000 in 1972: #21 Dave Jordan (512); #26 Gerard Raney (501/506/507); #28 Michael Brayton (509); #42 Chuck Parsons (504), #43 Skeeter McKitterick (508); #49 Bob Allen (502); and #74 Ludwig Heimrath (1966 ex-Indy Eagle).
The 1973-1975 mystery cars
Between 1973 and the beginning of 1976, the mystery cars are all in the neighbouring states of Kentucky and Tennessee, all were described as 1968 Eagles, and could all feasibly be the same car. If these are the same car, then this could well be chassis 503, last seen in Florida in early 1972, being used as a show car for several years before being refurbished for Pikes Peak.
Chassis
History
Current owner
Walter Brown (Louisville, KY) advertised an "Ex-Savage Eagle 69 formula A" in Autoweek 14 Jul 1973. It was said to be "super clean" with "$8,500 invested". Could he have been a relation of Garvin Brown (also from Louisville)?
The only Formula A Eagles driven by Savage were 503, a 1968 car last seen in Florida in early 1972, and 511, which was wrecked at Ontario in 1971. It seems most likely that it was chassis 503, but it could be an ex-Savage 1969 Indianapolis Eagle converted to FA. Specifically, the ex-Bud Morley chassis 704 is a possibility.
Unknown
Advertised by Phil Kaelin (Louisville, KY) 11 Oct 1975 "Eagle "A" Car. Never wrecked … 1968 model". Given the location, and the rarity of Eagles east of the Rockies, it is highly likely that this is the car previously advertised by Walter Brown. Of the four 1968 cars, we can now account for the whereabouts of three of them, making it very likely that this is the fourth, chassis 503, despite the "never wrecked" comment in the advert. All four 1968 cars had been crashed, sometimes more than once, by the end of 1973.
Unknown
A 1968 Eagle acquired by Larry Ohrdorf some time before 1976. According to Neil Ohrdorf, it was bought from Tennessee, and "had been used by Ashland Chemical as a promotional car for photoshoots, trade shows, state fairs, etc". It came with a dummy engine, and the nose was missing. It was prepared by Larry Ohrdorf with a 350 ci Chevrolet engine for use on the Pikes Peak Hill Climb, which then mandated a full roll cage structure, as Ohrdorf already used on his own 1969 Eagle, chassis 514. The ex-Tennessee car was driven by Bud Hoffpauir (Colorado Springs, CO) at Pikes Peak in 1976, but he went off the track during practice and rolled down the hillside, only coming to rest when the car hit a substantial boulder, It was described as "completely demolished", but there was an intention to rebuild it. According to Matthew Carpenter, writing on racingpastdevilsplayground.com in 2017, the car was rebuilt and is still owned in the Colorado area.
Driven by: Bud Hoffpauir. First appearance: Pikes Peak, 4 Jul 1976.
Private Collection (USA) 2019
Later mystery cars
In 1974, the new 74A-series Eagles appeared but a couple of the older cars were brought out by Raney and Brayton. Also Bob Allen had a 1969 Indy Eagle in west coast Formula A racing.
In 1975, Raney finally parked his car but Brayton returned in what was described as a 74A but is more likely to have been his older car. Jim Law maked a one-off appearance in 1974 with ex-McKitterick 508. Bob Allen moved up to ex-works Eagle 74A, and a second 74A was acquired by Mike Koslowski.
In 1976, Ross Hansel appeared in his ex-Bob Allen 1969 Indy Eagle, Frank Schultz raced his Eagle 755 in the June Sprints, and Chuck Bartlebaugh had a 1969 Indy Eagle at Riverside. Peter Papke had his Eagle 74A at Watkins Glen in June, and then Don Breidenbach and Ron Dykes both drove Eagle 74As at Riverside in October, Breidenbach in Papke's car and Dykes in Koslowski's. Previous versions of this page referred to Greg Hodges having an Eagle at Mosport Park in June, but a photograph has shown that he was racing his ex-Indy Lola T150.
Billy Scott ran a 1972 Indy Eagle owned by Marvin Webster (car #76) in one F5000 race. Another 1972 Indy Eagle was - probably - the 1974 Ruby entry.
Sources include an excellent FA preview in Autoweek 10 May 1969. Details were also provided by John Zimmerman from AAR records showing the first owner of each car.
These histories last updated on .