Eagle 755 Formula 5000 history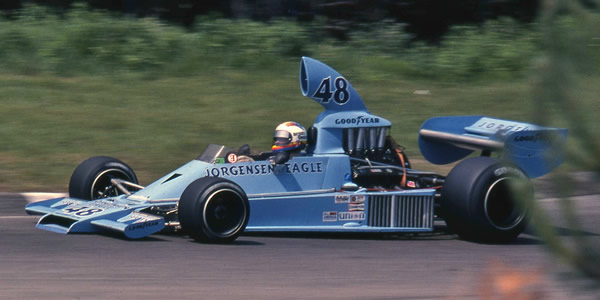 AAR's last attempt at Formula 5000 was the one-off Eagle 755, built late 1974 and driven with some success by F1 star James Hunt in the last races of that season.
Before the 74A had even made its debut, work had started on its successor. Intended as the 1975 model, the Eagle 755 was ready for the two big California races that rounded off the 1974 season. Up-and-coming F1 star James Hunt was hired to race the 755 alongside Brett Lunger's regular 74A and the Englishman put the new car third on the grid at Laguna Seca, behind only the dueling Andretti and Redman in the quickest of the Lola T332s. Hunt did even better in the race, getting the better of Andretti to finish second behind compatriot Redman. Despite the promising start, Hunt was then off the pace at Riverside and retired in the final.
In 1975, Eagle's USAC star Bobby Unser took over the 755 but, apart from an encouraging run in the heat at Mosport, was unable to trouble the leaders. After two races, Vern Schuppan took over the drive, bringing much-needed Theodore sponsorship, but was unable to find any qualifying speed in the 755. He managed a distant fifth at Mid-Ohio and was quick at Long Beach, inheriting second place as faster runners dropped out. For 1976, veteran chief mechanic Jerry Eisert left and was replaced by Denis McCormack, formerly with Talon. He could make no more sense of the 755s rising rate suspension and after a couple of races, the overweight 755 was dropped in favour of a second-hand Lola T332.
Please email Allen if you can add anything. My thanks to Tony Nicholson, Tom Schultz, Jerry Entin, Ron Kellogg, Jeanne Caliva at Tom Malloy's Office and others for their help with the progress so far.
Chassis
History
Current owner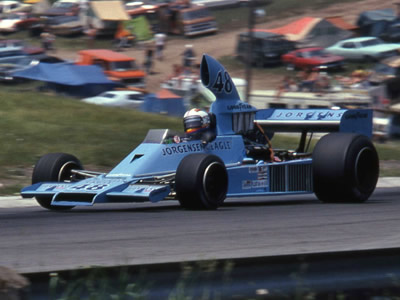 Jorgensen AAR for James Hunt US series late 1974 (Laguna Seca and Riverside only). Jorgensen AAR for Bobby Unser US series 1975 (Pocono and Mosport Park only); then for Vern Schuppan (6 races). For Schuppan again in 1976 (3 races only). To Frank Schultz (Chicago, IL) for SCCA Formula A, appearing in a Brainerd National in July 1977, and a Blackhawk Farms National in August 1977. Schultz appeared again in 1978, qualifying for the Runoffs, but the car then vanished from sight. In 1983, or thereabouts, Ron Kellogg (Whittier, CA) bought the 755 from Dave Robertson (Downey, CA) and, in 1993, sold it to Vern Schuppan for his race car collection. At some point Schuppan sold it to Tom Malloy (Corona, CA) who was winning concours events with the car in 2003. Schuppan raced Malloy's 755 at the Long Beach reunion in 2004. Retained in Malloy's collection in southern California in May 2010. Raced by Malloy at Road America July 2013. On display in the Malloy Collection (Corona, CA) in April 2016.
Driven by: James Hunt, Bobby Unser, Vern Schuppan and Frank Schultz. First race: Laguna Seca (US R6), 13 Oct 1974. Total of 19 recorded races.
Tom Malloy (USA) 2016
These histories last updated on .