Eisert 1965-1967 "Harrison Special"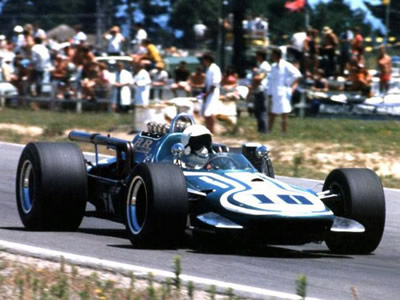 J Frank Harrison was an early convert to the benefits of the little European "funny cars" and, with mechanic Jerry Eisert, had first shaken the USAC tree when Lloyd Ruby took pole at the April 1963 Trenton race in his 2.7-litre Lotus 18-Climax FPF. For the 1965 season, Harrison commissioned a brand new design from Eisert to be fitted with a stock-block Chevy V8.
Prior to the monocoque cars, Jerry Eisert built two open wheel spaceframe cars, the first of which did not appear on the USAC trail but did win a race at Riverside in 1964 driven by Rick Muther and won Pikes Peak in 1965, driven by Al Unser. The second spaceframe car was the first USAC car and is covered below.
The 1964 car
The first Eisert to appear on the USAC trail was a space frame chassis based largely on Lotus thinking. It was raced as the #96 Harrison Special in the opening events of the 1965 season by Canadian Billy Foster. At Indy, the new monocoque car appeared and the 1964 car became the #93. It appeared just once more on 'the Trail', as Johnny Rutherford's mount at Milwaukee. This was later the #69 Arciero entry at the 1966 Indy 500. In recent years it has been fully restored and was listed on Chuck Haines' website and on Colin Comer's "Colin's Classic Automobiles" website at one time. It appeared at the Goodwood Festival of Speed in July 2009 when owned by Haines but his website now lists it as sold. Colin Comer's website added that this car "returned to Indy with Otto Becker in 1968 as the #46 'Lotus Chevrolet Special'" and that it had more recently appeared "at 'the HAWK with Brian Redman' at Road America in 2012, the invitational "Stars of Indy" at the 2013 Barrington Concours, and various other events". Comer offered the car at auction in 2017.
The 1965 car
The 1965 car was Eisert's first monocoque, to be driven by young Al Unser at Indy. While driving the Eisert, Al Unser became the first man to try a wing on an Indy car and also one of the first to try a rear-engined car on a dirt track (at the Hoosier 100). A 65 Eisert may also have raced at Pikes Peak.
A new "sleeker" car was built for 1966 and took over the #96 number for the 1966 Indy 500. It is reasonable to assume that the second car that appeared at Fuji in 1966, the #93 Jerry Grant car, was the 1965 car.
1965 season
Date
1964 car
1965 car
Notes
(R1) Phoenix 150
28 Mar 1965
Billy Foster 11
Chev
(R2) Trenton 100
25 Apr 1965
Billy Foster 7
Chev
(R3) Indianapolis 500
31 May 1965
Skip Hudson DNS
Al Unser DNQ
Hudson failed rookie test
Chev
(R4) Milwaukee 100
6 Jun 1965
Johnny Rutherford 15
Al Unser 13
Rutherford in #93; retired with car on fire
(R5) Langhorne 100
20 Jun 1965
Al Unser 12
(R7) Trenton 150
18 Jul 1965
Al Unser 22
Retired - head gasket
(R8) Hoosier Grand Prix (Road)
25 Jul 1965
Al Unser 12
Pictured in Wallen p313.
(R9) Atlanta 250
1 Aug 1965
Al Unser 26
Retired - mechanical
(R10) Langhorne 125
8 Aug 1965
Al Unser 16
(R11) Milwaukee 150
14 Aug 1965
Al Unser 11
(R13) Milwaukee 200
22 Aug 1965
Al Unser 7
(R15) Hoosier 100 (Dirt)
18 Sep 1965
Al Unser DNQ
Offy engine. Too slow
(R16) Trenton 200
26 Sep 1965
Al Unser 20
Lost wheel, crashed

(R18) Phoenix 200

21 Nov 1965
Al Unser 17
Retired - mechanical
The 1965 car continued in use as a spare through 1966, being presumably the second car used at Fuji. The car was used by Don Wilcox at Pikes Peak in 1967, entered by Ted Trevor's Crown Mfg (Costa Mesa, CA), and was presumably the Crown entry that Wilcox was unable to qualify at IRP in July. It was then reported to be the car rebuilt by Eisert for Formula A, and sold to Stew McMillen. He raced the car through the 1968 FA season but it was thought unlikely that it was the car that then went with him to New Zealand. An Autoweek report early in 1969 says that McMillen retained his 1968 car as a spare, meaning the New Zealand car had to be a different machine. However, photographs of the Marwood car shows that it was the same 1965 "Fat One" so Autoweek must have been wrong about the spare car. The 1965 car remained in New Zealand until 1970 and was then shipped back to the US where it was sold, possibly via Pierre Phillips, to Bill Tempero (Ft Collins, CO) and fitted with wedge-style bodywork. He raced it in F5000 in 1971 and 1972 after which it was converted for street use by brothers Wayne and Steve Huntley in Nebraska. It was also used as a show car by Fred Bosselman in the late 1970s or early 1980s, probably at his Bosselman Truck Plaza in Grand Island, Nebraska. In the early 1990s it was acquired by Bill Wiswedel (Holland, MI) who has restored it to 1965 colours but still with the later, squarer bodywork. Still with Wiswedel in November 2020.
The 1966 car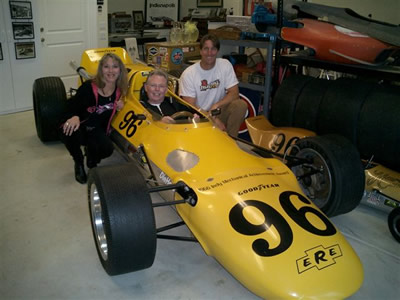 The 1966 car was originally designed for the Ford 255 but delivery problems means that it started with a Traco-Chevy like its predecessors. It changed to Ford 255 at Indy and made the field qualifying 33rd, only to crash at the start. The Ford stayed in for a few races but was later changed back to Chevy.
In 1966, Ronnie Duman and later Greg Weld drove the #96 car and a second car appeared at Fuji, the #93 Jerry Grant car (presumably the older 1965 car).
1966 season
Date
1965 car
1966 car
Notes
(R1) Phoenix 150
20 Mar 1966
Al Unser 20
(pic p338)
Chev engine. Retired - blown head gasket. Picture on p338 of Dick Wallen's Roar From The Sixties matches earlier picture of 1965 car.
(R2) Trenton 150

24 Apr 1966
Billy Foster 22
Chev engine. Retired - broken suspension

(R3) Indianapolis 500
30 May 1966
T
Ronnie Duman DNS
Bob Mathouser DNQ
Duman crashed. Ford engine in #96. Ronnie Bucknam also in #69 Arciero Eisert-Chev!? Picture on p342 of Dick Wallen's Roar From The Sixties clearly shows Unser Phoenix car is now #93 and new 'duck tail' car is #96.

(R4) Milwaukee 100
5 Jun 1966
Ronnie Duman DNQ

Ford engine. Too slow. If the #96 car was wrecked at Indy, could this have been the 1965 car again?

(R5) Langhorne 100
12 Jun 1966
Ronnie Duman 13
Chev engine
(R6) Atlanta 300
26 Jun 1966
Ronnie Duman 17
Ford engine. Retired - engine
(R8) Hoosier Grand Prix (Road)
24 Jul 1966
Ronnie Duman 7
Chev engine
(R9) Langhorne 150
7 Aug 1966
Ronnie Duman 16
Chev engine
(R10) Springfield 100 (Dirt)
20 Aug 1966
Ronnie Duman 17
Chev engine. Picture on p360 of Dick Wallen's Roar From The Sixties. Looks identical to Unser's Phoenix car.
(R11) Milwaukee 200
27 Aug 1966
Ronnie Duman DNS
Offy engine (?)
(R14) Trenton 200
25 Sep 1966
Greg Weld 8
Chev engine
(NC) Fuji (Road)
9 Oct 1966
Jerry Grant 10
Greg Weld 16
Ford in #96 - retired. Grant in #93 Eisert-Chev.
(R16) Phoenix 200
20 Nov 1966
Greg Weld 14
Chev engine. Retired - crash
Early 1967 races
Date
1965 car
1966 car
Notes
(R1) Phoenix 150
9 Apr 1967
Greg Weld 6
Chev engine.
(R2) Trenton 150

23 Apr 1967
Greg Weld 13
Chev engine. Retired - broken suspension

The #96 car driven by Greg Weld at Phoenix and Trenton in 1967 prior to Indy qualifying is presumably the 1966 car as Al Murray was told that his (1967) car was finished in time for Indy. It is not known what happened to the 1966 car after its time as a backup car in 1967 but by 1992 it was sitting in Jerry Eisert's garage in Fallbrook, CA. It remained with Eisert and then with his family after his death. Sold by the family to Toney Edwards some time around 2011 and restored for him by Peter Jamie. Tested at the Indianapolis Motor Speedway in May 2014. Sold by Edwards to Tony O'Neill (Piltdown, East Sussex) in February 2021. Sold by Edwards to Tony O'Neill (Piltdown, East Sussex) in February 2021.
The 1967 car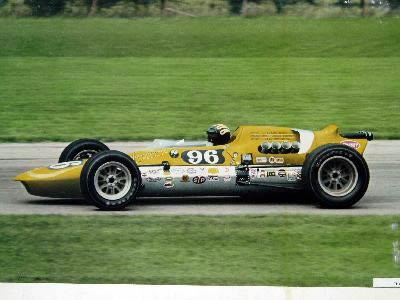 At the 1967 Indy 500, two Harrison Specials were entered, the #96 car for Gred Weld and the #93 car with no nominated driver, and both cars were on site early. Al Murray believes the #96 car was his car, new for 1967, and that the #93 car was the older 1966 car.
Weld took his rookie reaquaintence test on 3 May in the #93 car but struggled for speed in the opening days in the #96 car. On Saturday 13 May, the first day of qualifying, Weld brushed the wall and broke a wheel on his warm-up lap and didn't attempt a qualifying run. With 25 car qualifying that first weekend with a slowest time of 161.261 mph, Weld didn't break the 160 mph mark until 18 May, the last Thursday of practice before the final qualifying weekend. On the Friday, Weld lost the #96 car at turn 1 and was lucky not to hit the wall. Gary Congton also tried out the #96 car that Friday, despite being nominated for the #? car; in which he was later bumped by Jochen Rindt. On Sunday 21 May, the last day of quaifying, Weld spun the #96 car a third time, brushing the wall again and damaging the car. Although 63 qualifying attempts were made, nobody attempted in an Eisert. Ronnie Duman is recorded somewhere as having driven the #93 car at the 1967 Indy 500.
Gary Congton then took over the #96 car for the rest of the year, driving at Milwaukee and Langhorne in June, Mosport, IRP and Langhorne in July and St Jovite in August. At most of these races, the Eisert was run with a Ford engine, Mosport being the only race with a Chev after an engine failure in practice two weeks earlier at Langhorne. At IRP, Ronnie Duman ran alongside Congton in the #93 [1966?] car with a Chev engine but DNQ.
After Congton's death, in a dirt track race at Vigo County, Indiana, on 24 Sep, the team pulled out of USAC. The returned at Riverside on 26 Nov for the Rex Mays Tribute, where Lothar Motschenbacher raced the #96 car, now with a Chev again.
1967 season
Date
1966 car
1967 car
Notes
(R3) Indianapolis 500
Greg Weld T
Greg Weld DNS
Gary Congton DNS
Neither driver attempted qualifying run
(R4) Milwaukee 100
4 Jun 1967
Gary Congdon DNQ
Engine unknown
(R5) Langhorne 100
18 Jun 1967
Gary Congdon DNS
Ford engine. Blew engine in practice
(R7) Mosport Park Indianapolis 200 (1) (Road)
1 Jul 1967
Gary Congdon 20
Chev engine. Retired - spun out. Probably the '66 car given the engine.
(R9) Hoosier Grand Prix (Road)
23 Jul 1967
Ronnie Duman DNQ
Gary Congdon 14
#96 Ford engine - black flagged
#93 Chev engine - too slow
(R10) Langhorne 150
30 Jul 1967
Gary Congdon 10
Ford engine.
(R11) Mont-Tremblant Indy 200 (1) (Road)
6 Aug 1967
Gary Congdon 16
Ford engine.
(R12) Mont-Tremblant Indy 200 (2) (Road)
6 Aug 1967
Gary Congdon 19
Ford engine. Retired - spun out
(R21) Riverside 300 (Road)
26 Nov 1967
Lothar Motschenbacher 28
Chev engine. Retired - clutch. A picture on TNF appears to show that the 1966 car was in use this weekend.
Early 1968 races
Date
1966 car?
1967 car?
Notes
(R1) California 200
17 Mar 1968
Johnny Rutherford 20
Retired - "wrecked". Picture on p429 of Dick Wallen's Roar From The Sixties shows it with a roll hoop. The accident is mentioned in Wallen and it sounds a big one. Car co-entered by "Alan Green, a Chev dealer from Seattle".
(R2) Las Vegas 150 (Road)
31 Mar 1968
Johnny Rutherford 28
Retired - clutch
(R3) Phoenix 150
7 Apr 1968
Johnny Rutherford 17
Retired - "wrecked, fire"
Later 1968 races
Date
1966 car?
1967 car?
Notes
(R11) Rocky Mountain 150 (Road)
7 Jul 1968
Johnny Rutherford 20
Retired - broken rear end. Could this have been a 1968 car? Eiteljorg appeared at the same race in his 1968 FA car.
(R28) Riverside 300 (Road)
1 Dec 1968

Peter Revson (#96)
Ludwig Heimrath (#93)
Could Revson have been in a 1968 car? Picture of Heimrath car on p505 shows no roll hoop. Appears more like 1966 car on p341.
In 1968, Harrison and Eisert went their separate ways. Eisert Racing Enterprises took the #96 Chev car, presumably the 1967 car, to the three pre-Indy races for Johnny Rutherford but crashed at the California 200, retired at Las Vegas and then crashed again at at the Phoenix 150, with the Eisert catching fire. Despite an entry, the #96 did not appear during Indy month and was next seen at Castle Rock on 7 July where Rutherford again drove the #96 ERE car alongside Jack Eiteljorg's #7 car, presumably his 1968 Formula A car.
The next, and last, works participation in USAC in 1968 was at the Riverside Rex Mays '300' event on 1 Dec where Peter Revson drove the #96 Chev car and Ludwig Heimrath drove the #93 car but was too slow to start. It is interesting that the entry list for that race shows four Eisert-Chevs: the gold #93 car for Heimrath, the yellow #96 car for Revson, McMillen's red and white Formula A car at #121 and one Otto Becker, of Montebello, CA, in a red #107 car. Note that Otto Becker also entered a #46 "Lotus Chevrolet Special" at Indy in 1968.
At Riverside 1968, the #93 car was sold to Heimrath and he raced it in USAC in 1969, 1970 and 1971. In that latter season, after his last USAC appearance in July, he appeared alongside the F5000 cars at Seattle before the car was retired. It is believed to have ended up in a wax museum in Toronto until the early eighties and then stored in a barn till the early 90's. A racer found the car and hoped to restore it, performing a lot of research before selling it to someone in Seattle. Al Murray (Seattle, WA) purchased it in 2002 and, in 2005, was in the middle of restoration with the intention of bringing the car back out to the track in 2006. Still with Murray in October 2014.
Mystery Eiserts
An ex-Unser/Rutherford "1966 Eisert Harrison Spl" was entered by Tony Perera for the Historic Champ Cars "Showcase" At CART Marlboro 500 at California Speedway, October 27-30, 2000. In another place it is described as ex-Revson, Weld, Grant as well.
Two Indy Eiserts are reportedly owned by brothers Bob and Bill Tjerrild. One is near David Pozzi and the other near Bakersfield CA.
This page is dedicated to the memory of Jerome Arthur 'Jerry' Eisert, born 5 May 1931 in Crookston, Minn, who died 23 Feb 2006 at San Marcos, CA. My thanks to his daughter Sherry Schaeffer, his former partner at ERE Paul Ebeling, AL Murray, Milan Fistonic, Shayne Windelburn, Bill Freeman, David Pozzi and to F5000 author and historian Wolfgang Klopfer.
All and any help would be gratefully received. Please e-mail Allen at allen@oldracingcars.com if you can add anything.
These histories last updated on 15 January, 2019 .