Eisert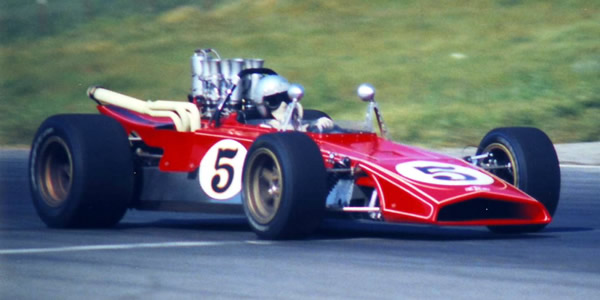 Jerry Eisert was one of the top USAC mechanics during the 1960s, working with J Frank Harrison for much of the decade and building his Chevrolet-powered "Harrison Special" USAC cars for three seasons from 1965. Harrison and Eisert parted company at the end of 1967 and, with the 5-litre Formula A just getting started, Eisert quickly saw the opportunity to build a car for the series. As well as this new 68 car for Jack Eiteljorg, one of his older Harrison Specials was converted to be used by Stew McMillen.
In 1969, Eisert Racing Enterprises produced a new wedge-shaped car for Formula A and USAC and sold four or five in 1969 and 1970. As well as a new car for McMillen, Dennis Ott also drove a car in Formula A and Webster, Arciero and Bohannon entered such cars in USAC. An older Eisert from the "Harrison Special" era appeared in Ludwig Heimrath's hands.
Although no new Eiserts appear to have been built for 1971, Marv Webster continued with Eisert and a 1972 Eisert went to Webster for USAC, only to appear in Formula 5000 in 1972 and 1973. Jerry Eisert moved into Formula 5000, teaming up with Chuck Jones to run Kevin Bartlett in 1972 and Bob Muir in 1973. After running BJ Swanson's Lola T332 and later Danny Ongais' Interscope T332 in 1975, he moved to AAR to become chief crew on their USAC team.
All and any further help would be gratefully received. Please e-mail Allen at allen@oldracingcars.com if you can add anything.
| Type | Years | Number built | Notes |
| --- | --- | --- | --- |
| "Harrison Special" USAC | 1965-1967 | Probably 3, maybe more | A rear-engined monocoque car built from J Frank Harrison in 1965 and fitted with Chevrolet stock block engines and, occasioanlly, Fords. Driven by Al Unser for much of 1965, Ronnie Duman and Greg Weld in 1966, and Gary Congton and Lother Motschenbacher in 1967. One car later in Formula A for Stew McMillen and also one car used in New Zealand in 1969/70. Car-by-car history now available |
| 68 FA | 1968 | Probably only 1 | Built new for 1968 for Jack Eiteljorg and used in Formula A until 1971. Also ran occasionally in USAC. |
| 69/70 | 1969-1970 | Probably 4 or 5 | One new car in Formula A in 1969 for Stew McMillen but disappeared almost immediately. One of these wedge-shaped car run in Formula A in 1970 by Dennis Ott. In USAC, cars were entered by Webster Racing for Jim Malloy once in 1969, by Arciero Brothers for Nick Dioguardi early in 1970, by Webster for Kevin Bartlett and Ron Grable during 1970, and finally by Bohannan Racing for Scooter Patrick alongside the Webster car at IRP that July. |
| 72 | 1972 | Probably only 1 | A much squarer car presumably built for 1972 and advertised by Webster before it found its way into Formula 5000 in 1972 and 1973. A bit of a puzzle. |
These histories last updated on 6 November, 2018 .
Total number built: only 3 or 4 specifically for Formula A/5000.