Ensign N180 car-by-car histories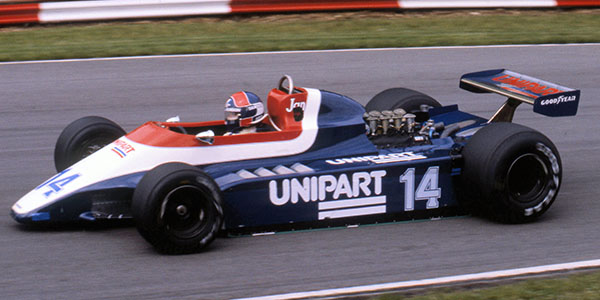 The Ensign N180 started a return to competitiveness for the Ensign team. In an updated version, the N180B, Marc Surer gave Ensign its best ever result with fourth place and fastest lap in the rain in Brazil in 1981.
Despite the abject failure of the Ensign N179, Mo Nunn regrouped and put together a good team for 1980. Designer Nigel Bennett was lured from Lotus to take charge of the aerodynamics of the new car, and Ralph Bellamy arrived from a spell at Fittipaldi to design the chassis. Graham Humphrys joined the team to do detailing work on Bellamy's design. The monocoque was fairly conventional, using sheet aluminium and steel bulkheads, but the aerodynamics took advantage of Bennett's experience as development engineer on the Lotus 79 and Lotus 80. Clay Regazzoni rejoined as driver after a successful season at Williams, and Nunn convinced British car parts company Unipart to provide sponsorship.
Despite teething problems, Regazzoni qualified 15th in Argentina and 12th in Brazil. A second car was almost ready in time for the South African GP, but Regazzoni raced the original car, finishing ninth. The Swiss was then horribly injured in an accident at Long Beach, after a brake pedal broke, and was replaced by Tiff Needell, then by Patrick Gaillard for one race, and then Jan Lammers. Geoff Lees drove a second car at two races. Marc Surer took over the drive for 1981 and a new N180B was produced for that season. Surer took a fine fourth place at the Brazilian GP, and also scored a point at Monaco. Surer then moved to Theodore and was replaced by Eliseo Salazar for the rest of the season.
All three N180s were sold to Bobby Howlings in early 1982. He ran the N180B for Jim Crawford in the British F1 series and later ran an N180 for Joe Castellano. Crawford's car was converted to Can-Am specification for the 1982 and 1983 seasons, and Castellano's car was also converted to sports car form and sold to Ruedi Jauslin for Interserie in Europe. The ex-Can-Am MN15 remained in North America for many years until returning to England in 2019; the ex-Jauslin MN14 was converted back to F1 specification and has moved to France; and the third survivor, MN12, has been rebuilt for historic racing. Two of the cars are wearing the wrong chassis plates.
These histories last updated on .