Matich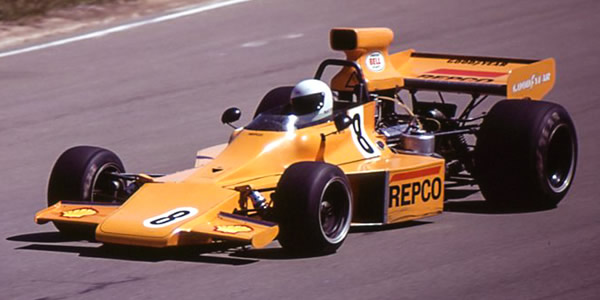 For much of the history of F5000, one car held sway. First the Eagle, then the McLaren M10A/B and later the Lola T330/332. But in between the McLaren and Lola eras, a number of marques had their moment in the sun: Chevron, McRae, Trojan, Surtees and, from Australia, Matich.
Australian engineer Frank Matich was a highly successful competitor through the 1960's and early 1970s and, from the mid-1960s, built his own range of sports cars and single-seaters. As well as a string of Australian sports racing titles, he won five Tasman Cup races and two Australian Grands Prix, as well as the 1972 Australian Gold Star title in his own F5000 Matich A50.
The Matich A series of F5000 cars started extremely well but were unable to retain their edge as the formula became increasingly competitive during 1972 and 1973.
The exact number of Matich cars built has been the subject of very heated debate. Despite claims that chassis 002 was a new car, it is now agreed by all involved that it was a renaming of chassis 001. This deceit was maintained for a very long time, and led to unnecessary unpleasantness.
If you have anything constructive to add on this subject, please email Allen at allen@oldracingcars.com. If you wish to rake over old disputes, please do it somewhere else.
| Type | Years | Number built | Notes |
| --- | --- | --- | --- |
| Matich A50 | 1971-1972 | 3 | Four cars appeared to have been built: one late in 1971 for Frank Matich, a second for Matich in February 1972 and two later customer cars in 1972 for Roy Woods Racing (US) and Johnny Walker (Aus). However, 002 was just 001 renumbered. FULL CAR-BY-CAR HISTORY |
| Matich A51 | 1973 | 2 | Two cars built for Frank Matich to use in the 1973 US series. One was then converted to A52 specification and later destroyed; the other went to John Goss and was converted to A53 spec. FULL HISTORY |
| Matich A52 | 1973 | 0 | A converted A51 built for the 1973 Australian Gold Star but crashed in testing by Bobby Muir and destroyed. FULL HISTORY |
| Matich A53 | 1974 | 1 | Side-radiator version of the A50/51/52 with revised front and rear suspension. Monocoque chassis. Repco-Holden V8 engine, "said to be developing 490 bhp at 7200 and 515 at 8300". Wheelbase 100.5"; front and rear track 57.5"; weight 1361lbs. FULL HISTORY |