McRae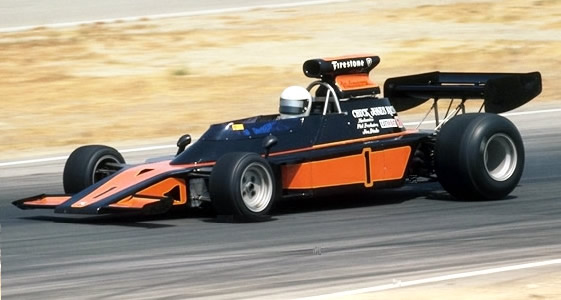 The McRae marque was a short but highly successful affair. Graham McRae had built successful small cars in his native New Zealand and had also seen success modifying his McLaren M10B in 1971. For 1972, he teamed up with Leda Cars and designer Len Terry to create his own car, named at first the Leda LT27. In a mid-season coup, McRae took over the operation, the cars becoming McRae GM1s. The GM1 was the best car of its era, winning the Tasman and US championships in 1972 and the Tasman championship again in 1973. It was followed by the GM2 design which McRae soon sold to Jack McCormack who built them as Talons. A one-off GM3 followed belatedly in 1976 and slowly evolved into the GM9 Can-Am car.
All and any help would be gratefully received. Please e-mail Allen at allen@oldracingcars.com if you can add anything.

| Type | Years | Number built | Notes |
| --- | --- | --- | --- |
| McRae GM1 | 1972 - 1973 | 14 | Started life as the Leda LT27. FULL CAR-BY-CAR LIST AVAILABLE |
| McRae GM2 | 1973 | 1 | Design sold to Jack McCormack who built five more as Talons. The McRae version debuted at Brands Hatch in October 1973, raced in the Tasman and US series in 1974 and then in Tasman again in 1975. Won at Wigram in 1975 but the car was damaged in a private test on the Thursday before the Surfers Paradise race a month later. It was later sold to Mike Brayton, who still owned it in 2008. |
| McRae GM3 | 1976 | 1 | One-off car built with distinctive transparent cockpit cover. Very slow in its only US F5000 race and no quicker as a Single-Seater Can-Am in 1977 but competitive in the Australian Rothmans Series in 1978 and won the Australian GP and the Gold Star title later that year. Raced in the 1979 Rothmans series and then became the basis of the 1980 GM9. |
| McRae GM9 | 1980 | 1 | Very advanced one-off Can-Am, first appeared Riverside (R10 - 26 Oct 1980). A further seven appearances in 1981 (two DNS, three retirements; best finish of seventh). Suffered from a lack of funding to develop its ground-effects body. Reappaeared when purchased from the US by Roger Williams (Runciman, NZ) in 2008. Entered for the Tasman Revival Formula 5000 meeting at Pukekohe Park in January 2009. It was then bought by Terry Rush for the Rush Collection, and was driven carefully in historic racing by his son Tim. |
Total number built: 17.