EDP Special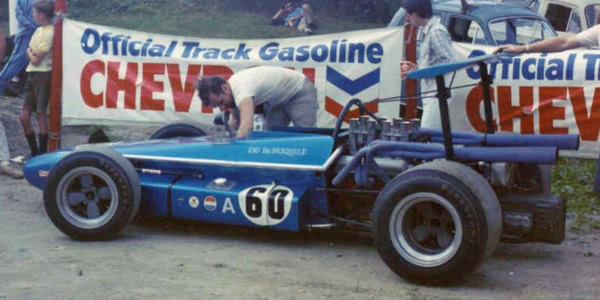 Eno dePasquale of Scarsdale, NY started racing in 1961 and raced a variety of big-bore sports cars in the mid-1960s including a Lister and a Genie Mk 8 which he'd raced from 1964 to 1966. After crashing the Genie, dePasquale using the surviving componentry to build a car for SCCA Formula A in 1969. The car was built around a tube frame chassis and powered by the then-standard 302ci Chevrolet V8 engine running on Weber carburetors. Transmission was from a Huffaker transaxle and it had a Gordon Schroeder steering box. Following the fashion of the day, it was fitted with a high rear wing.
DePasquale raced the car predominately at Lime Rock in 1969, winning the FA class in a Regional event on 26 Apr 1969 and also appearing in the two Pro races at the track, on 2 August and 1 September, finishing tenth both times. He also finished the Thompson Pro race three weeks later, one place lower in 11th. Finishing all three races is a credit to the constructor, especially as he twice finished ahead of another New York State Special, the KayTee-Ford of Art Kijek and twice outqualified another NEDiv Formula A car, the Vulcan of Steve Durst.
In 1970, the car was sold to a man named Ron Kelly in 1970 who is believed to have been a pilot for Eastern Airlines. Nothing more has been seen of it.
I am grateful to Greg Rickes, the long-time Lime Rock commentator, for both the photograph used here and for the information on the car's origins. The details of its construction came from Eno himself via photographer Sean Smith in May 2009. Please e-mail Allen at allen@oldracingcars.com if you can add anything.
These histories last updated on 24 November, 2018 .