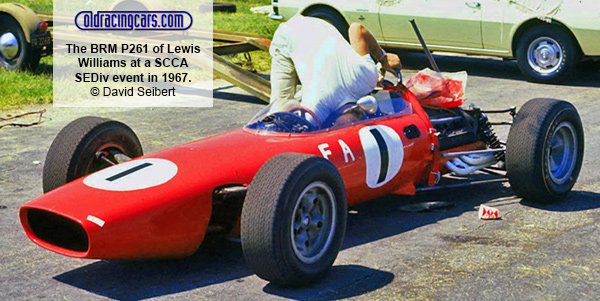 Formula A (1965-1967)
Formula 5000 is one of the mostly fondly-remembered forms of motor racing but it evolved out of one of the least remembered, and deservedly so: the 3-litre Formula A.
In 1964, the Sports Car Club of America (SCCA) were aware of a rapid growth of interest in single-seater racing and spent some time deciding how to reorganise their existing 'formula' classes. Until the birth of Formula Vee in 1963, the only formula cars in the US had been some antique 500cc Formula 3 cars, a small but healthy group of Formula Juniors and a sprinkling of 'Intercontinental' cars that were mainly left over from the 1954-1960 2.5-litre Formula 1 class. All these classes had now been scrapped in Europe so the leftover cars were being modified into Formule Libre specials with a variety of imaginative engine adaptations.
For 1964, the SCCA had restructured the previous ad-hoc class for "Unlimited" single-seaters into a more formalised Formule Libre class but now decided on a further reorganisation. The cars that were appearing in Formule Libre that season could be divided into three broad groups: big "specials" using a variety of large American engines in generally unsuitable European chassis; modified Formula Juniors using 1500cc or 1600cc Ford push-rod or twin-cam engines; and finally largely unmodified 1000cc or 1100cc Formula Juniors. To reflect this, but also taking account of the new FIA classes due to start in Europe, three new 'Formula SCCA' classes were created for 1965: Formula A for the big specials but with the same 3-litre limit as the forthcoming Formula 1 and allowing full race engines; Formula B for the 1600cc production ("stock-block") engines and Formula C for 1100cc racing engines to mop up the old Junior cars. Whilst Formula B and Formula C were pragmatic responses to the cars and engines that were already available, Formula A was devised more in hope than expectation and it proved to be a complete flop.
A professional Continental Championship began for Formula SCCA in 1967 but the Formula B cars were always quicker than the Formula As, heaping yet more ignominy on the 'top' class. After three seasons of embarrassingly thin racing, the SCCA took the decision it had been urged to make originally, and allowed stock block engines up to 5000cc. This allowed in the small block Chevrolet V8 that had already been developed as a racing engine for the SCCA's Trans-Am series, and the Formula A series then boomed.
The name "Formula 5000" was a British invention in 1969 but was adopted in the US in 1971 at the behest of race promoters. The amateur SCCA class kept the name 'Formula A' until 1978 but on these pages 'Formula A' will refer to the 1965-67 3-litre period and - although not technically always correct - the name Formula 5000 will be used for the 5-litre period from 1968 onwards.