Ferrari 312/67 car-by-car histories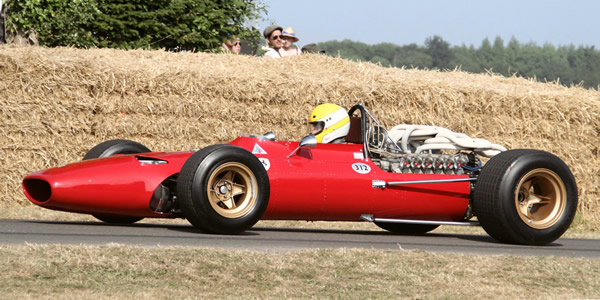 The 1967 Ferrari 312 was a slim 'Aero' pseudo-monocoque, with low front area and taller engine bay horns to house more fuel. The engine was revised, with exhausts now in the vee, to tidy up airflow around the car.
Lorenzo Bandini drove the first 312/67 at the Race of Champions, but crashed fatally at the next race, the Monaco Grand Prix. Ludovico Scarfiotti rejoined the team alongside Chris Amon in the 312/67s, but the Italian withdrew from racing after Mike Parkes' accident at the Belgian GP, and with most of Ferrari's attention being dedicated to sports car racing, Amon continued alone for much of the year. The car started with a 3-valve centre-exhaust engine, replacing the side-exhaust engine from the 312/66, and at the Italian Grand Prix, a new 48-valve engine was introduced, said to give 380-390 bhp. Third place finishes in Belgium, Britain and Germany represented the season's highlights. Of the four cars built, 0001 and 0005 were destroyed in accidents, leaving 0003 and 0007 which were updated to 1968 specification and continued in use to the end of the 1968 season.
Both surviving cars were sold to collectors. Chassis 0003 went to Jacky Ickx for his personal collection, but was sold to Paul Michaels, the Hexagon of Highgate boss, in January 1973, and then passed through a host of owners before being acquired by Jean-Pierre Clément some time around 2010, at which time it was still in original, unrestored condition. The other car, 0007, joined Pierre Bardinon's collection but was sold on in the 1980s, and also passed through several well-known collections until it was acquired by Jean-François Decaux in 2006 or 2007. Decaux has raced 0007 twice at Monaco, and it is also a regular at the Goodwood Festival of Speed. In April 2017, chassis 0007 was on display in the Museo Enzo Ferrari, in Modena, Italy.
As with many Ferraris, news of changes of ownership can take some time to filter through. If you can help, please email Allen at allen@oldracingcars.com.
Please contact Allen Brown (allen@oldracingcars.com) if you can add anything to our understanding of these cars.
These histories last updated on .