Gerhardt 1970 Indy car-by-car histories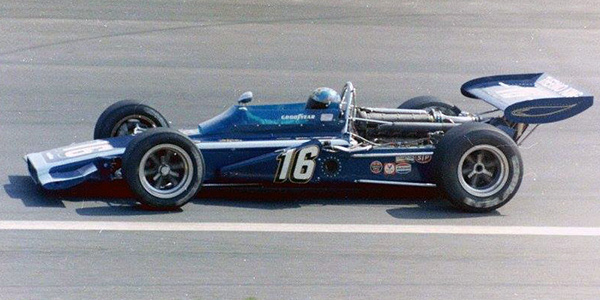 A refinement of the team's 1969 wedge design, the 1970 Gerhardt was used until 1972 but did not achieve the success of earlier Gerhardts and no customer sales were made.
The 1969 wedge Gerhardt had won two races in 1969 but both were achieved by the STP-backed team of Art Pollard and Grant King, and Gerhardt's other customers had melted away. Long-time Gerhardt enthusiast Gordy Johncock returned his 1969 car unraced and Myron Caves' team was absent from racing due to its owner's health problems. Fred Gerhardt built two new wedge Gerhardts for his Thermo-King-sponsored team in 1970 and continuing driver Gary Bettenhausen also had the two remaining 1969 cars available, one set up for ovals and one for road courses. After the 1969 cars were used at the opening races of the season, the two new 1970 cars appeared at the Indy 500 where they differed from the earlier cars in their blunter noses and higher cockpit bodywork. After qualifying mid-grid and retiring early in one of his new 1970 cars, Bettenhausen used the new car again at Milwaukee a week later but then went back to his 1969 car for the next two races. At Langhorne Bettenhausen qualified second, the best he had ever achieved in a Gerhardt, and finished fifth. At Michigan three weeks later he went even better, setting the fastest qualifying time and winning, and he admitted in interviews that he just felt more comfortable in this 1969 car than others in the stable. The only other races for the 1970 car that season were at Ontario, Trenton and Phoenix, but it failed to qualify for one and retired from the other two.
Both cars were revamped for 1971 with a large sheet-metal top surface added in an attempt to create downforce, the body angling up towards the rear to act as a spoiler. The Halibrand 2-speed transmission was also replaced with a Weismann 4-speed. In this form the car was more successful in 1971, Bettenhausen qualifying fourth at Phoenix and fifth at Trenton. The Gerhardt team at this stage comprised founder Fred Gerhardt, his son and racing director Don Gerhardt, chief mechanic Phil Casey, and mechanics Lynn Reid, Oliver Clow, Paul Leffler and Bob Hatch. After the Indy 500, USAC relaxed the rules for wings, and the primary 1970 Gerhardt was rebuilt with the wide spoiler removed and McLaren M16-style front and rear wings added. The other car was still in its early 1971 form at the end of the season.
The cars were again retained for 1972 but only until the team's new Eagles were ready for new driver Jim Malloy. After the first Eagle was destroyed in Malloy's fatal accident at the Speedway, replacement driver Johnny Rutherford crashed the primary 1970 Gerhardt when he hit the wall at Milwaukee in June and the car was consumed by fire. The surviving 1970 car was used until more Eagles were delivered.
If you can add to our understanding of these cars, or have photographs that we can use, please email Allen at allen@oldracingcars.com.
Chassis
History
Current owner
New for Gary Bettenhausen for the 1970 Indy 500 as the Gerhardt team's #16 Thermo-King entry, where he qualified 20th and retired early. He used this car at Milwaukee eight days later, but then used one of his 1969 cars for much of the summer before racing his Indy 500 car again at Ontario in September, Trenton in October and Phoenix in November. He raced it again at Rafaela in February but then used the heavily modified sister car at Phoenix and Trenton. This car was modified along the same lines for Bettenhausen to use at the 1971 500. It was then modified again, this time along McLaren M16 lines, for Bettenhausen to race at Pocono in July, Michigan in August, Ontario in September, and Phoenix in October. It was then Jim Malloy's #16 entry at the start of the 1972 season, then the #46 car at the 1972 Indy 500 that was changed to run as #16 for Jerry Karl after Malloy's crash in the team's new Eagle. Johnny Rutherford then took over the car at Milwaukee in June but consumed in a "fiery and spectacular crash".
Driven by: Gary Bettenhausen, Jim Malloy, Jerry Karl and Johnny Rutherford. First race: Indianapolis Motor Speedway (R4), 30 May 1970. Total of 14 recorded races.
Burnt out 1972
As well as his #16 primary car, Gary Bettenhausen also had a second brand new car entered as the Gerhardt team's #78 Thermo-King entry at the 1970 Indy 500. This car was driven in practice by Larry Dickson, whose qualifying run had to be aborted, and Tony Adamowicz, who brushed the wall just before the start of final qualifying. As far as can be determined (so far), this car was not used again in 1970 as Bettenhausen had his primary 1970 car and also one of the 1969 cars to use. It is presumably the modified car that he drove at Phoenix and Trenton in early 1971, and was then his #46 backup car at the 1971 Indy 500, which was qualified by Jimmy McElreath but bumped. Later on in the season it was Bettenhausen's regular short-track car, being used at both Milwaukee races. It was then used by Jimmy Caruthers as the team's #46 entry at Ontario, by Bettenhausen as the #16 at Trenton in October, and by Caruthers as the #46 again at Phoenix.
After Johnny Rutherford destroyed the sister car at Milwaukee in June 1972, this is likely to be the car he raced at Michigan in July and Milwaukee in August. Subsequent history unknown, but possibly the car that Bruce Crower used for his Dodge Hemi project in 1973 (see the Bruce Crower car), although it remains more likely that Crower had a 1969 car.
Driven by: Larry Dickson, Tony Adamowicz, Gary Bettenhausen, Jim McElreath, Jimmy Caruthers and Johnny Rutherford. First race: Phoenix International Raceway (R3), 27 Mar 1971. Total of 8 recorded races.
Unknown
Acknowledgements
The research into the 1970 Gerhardts has been intertwined with research into the 1969 Gerhardts, as both designs were very similar and it has only been through the close study of photographs from each race that the cars have been differentiated. My thanks to Michael Ferner, Simmo Iskül and 'gbl' for sharing the results of their research into these cars, and to Ellen Bireley for supplying a wealth of documentation from USAC's records on these cars.
If you can add to our understanding of these cars, or have photographs that we can use, please email Allen at allen@oldracingcars.com.
These histories last updated on .