Hesketh 308C car-by-car histories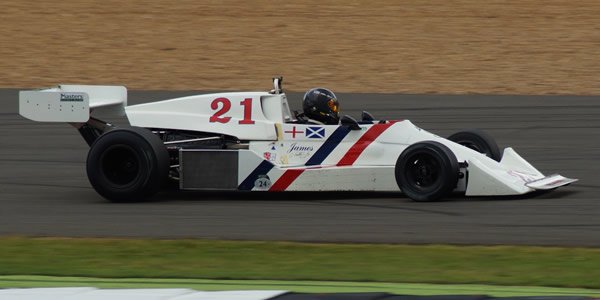 The Hesketh 308C with its distinctive low monocoque was produced in the autumn of 1975. James Hunt did not like it, and it suffered from rigidity problems. It was sold to Williams for 1976 and became the Williams FW05.
The new car was a development of Harvey Postlethwaite's original 308 concept, but was designed to be lighter, with a lower centre of gravity and lower frontal area. It was again very narrow at the front, tapering out to wide but very low sidepods, with the main radiators in front of the rear wheels as on the 308B. The rubber front suspension was retained, but was now inboard, actuated by rocker arms. Rubber was also now used at the rear. Testing started in mid-July and it was taken to the German GP for a single exploratory lap. Because of cooling problems, the car did not go to the Austrian GP - where James Hunt finished second in a 308B - but was taken to the non-championship Swiss GP where it was understeering badly, and Hunt finished down in eighth. He improved to fifth place at Monza, and fourth at Watkins Glen, both times after great drives from poor grid positions.
Lord Hesketh had now run out of money, and had also discovered that he did not even own the team; Bubbles Horsley did! He pulled out and sold the 308C project to Frank Williams. Hunt moved to McLaren and the World Championship, and Horsley soldiered on with the original 308s. Williams acquired Postlethwaite with the 308C, plus an unfinished second car, and built up a third car during 1976. They were all entered as Williams FW05s, and their story will be continued under that heading. In later years, the original 308C was rebuilt back to Hesketh form, and is a regular in historic events.
For the history of '308C/3' see Williams FW05/3.
Car
Total
Race
Starts
Grand
Prix
Starts
Grand
Prix
Wins
First Race
Present Location
11
7
Grosser Preis der Schweiz
(24 Aug 1975)
Germany 2023
7
6
South African Grand Prix
(6 Mar 1976)
Written off, Canadian GP (P) 1976
Please contact Allen Brown (allen@oldracingcars.com) if you can add anything to our understanding of these cars.
These histories last updated on .