Williams FW05 car-by-car histories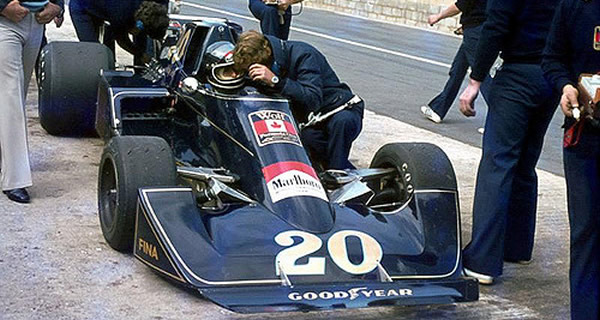 Walter Wolf bought into Frank Williams' F1 team at the end of 1975, and financed the purchase of the Hesketh 308C design. Jacky Ickx was brought in to drive this Wolf-Williams FW05, but the whole project proved to be an abject failure.
Frank Williams had soldiered on in F1 with inadequate budgets and minimal success for six seasons before Jacques Laffite took his Williams FW04 to a wonderful and utterly surprising second place at the 1975 German Grand Prix. This success encouraged Austro-Canadian oil man Walter Wolf to buy into Williams' team, taking a 60% stake in return for taking care of about £140,000 of Williams' debts, and also paying a reputed £450,000 to buy up the Hesketh F1 team's new 308C project. James Hunt had driven the 308C for Hesketh in the latter races of 1975, but the car had serious handling problems. Designer Harvey Postlethwaite moved with the 308C to Williams' base at Bennett Road, Reading, and worked throughout 1976 to improve his design. The two existing 308Cs were renamed Wolf-Williams FW05s, and a third car was built at Reading, chassis FW05/3. Frank Williams remained in place as team manager, Jacky Ickx was brought in as lead driver, the Belgian having been dropped by Lotus half way through 1975, and Michel Leclère, one of the quickest men in F2 in 1975, drove the second car.
The first 308C was rebuilt to narrower specification and had new rear suspension, but the FW05s were very slow at the first few races, even if Ickx' third place at the Race of Champions did provide some temporary encouragement. Ickx scored a point for sixth place at the Spanish GP, but that was later lost again when race winner James Hunt's disqualification was reversed. Otherwise, the first half of the season was unremittingly dreadful. Leclère was dropped after the French GP, so the team could focus on one car, but when Ickx failed to qualify for the British GP, he was sacked too. Arturo Merzario, a favourite of team sponsor Marlboro, was brought in the replace him, but it was the FW05's handling that was really the problem, and nothing improved. For the Canadian GP, Chris Amon joined the team and extensively tested FW05/2, only to crash heavily in practice and write it off. The season ended as it had begun: hopelessly off the pace.
For the history of FW05/1 see Hesketh 308C/1; and for FW05/2 see Hesketh 308C/2.
Car
Total
Race
Starts
Grand
Prix
Starts
Grand
Prix
Wins
First Race
Present Location
19
7
French Grand Prix
(4 Jul 1976)
United Kingdom 2018
Derek Cook acquired the two surviving cars and campaigned them as Hesketh 308Cs in the 1977 Shellsport series, with minimal success. For 1978 they were sold to John Cooper who used FW05/3 in eight races before getting a newer Hesketh 308E. This Williams-built FW05/3 was sold into the historic racing community, and was run by owner John Foulston for HSCC chairman Brian Cocks in the Brands Hatch Historic F1 race in June 1984. It remained in Hesketh 308C guise for much of its long historic racing career until being returned to its original Williams FW05 colours by Steve Hartley in 2008. It was massively damaged in Mike Cantillon's accident at Barcelona at the start of 2015, but has since been extensively rebuilt.
Please contact Allen Brown (allen@oldracingcars.com) if you can add anything to our understanding of these cars.
These histories last updated on .