Leda LT20 car-by-car histories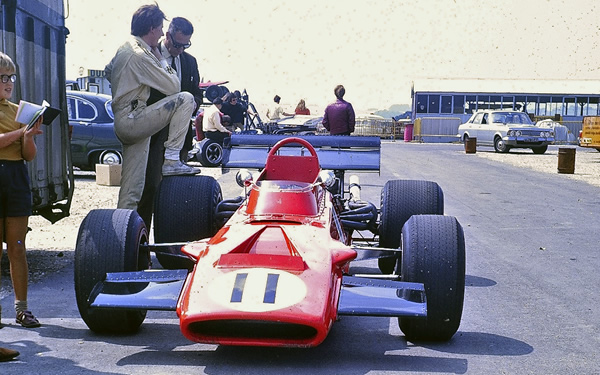 Former Lotus, Eagle, BRM and Mirage designer Len Terry produced his own Formula 5000 car, the Leda LT20, for the 1970 season. Mac Daghorn, driver of Malaya Garage's Ford GT40 in 1969, was given the drive, but the car was very difficult to sort and prone to inexplicable accidents.
The first Leda to appear in F5000 was the LT17, a design Len Terry had started in late 1968 with the intention that it would be used by Roger Nathan, but was taken over by James Garner and John Surtees. The first four cars were built at Terry's Design Auto operation in Poole, Dorset, before moving to Surtees' workshops in Edenbridge. It was initially known as the TS5 and later as the Surtees TS5. As this car was one of the most successful F5000 designs of 1969, Terry decided to build his own cars for 1970. The first of these, the Leda LT20, was a lower, lighter, version of the Surtees TS5, comprising a full monocoque but with totally interchangeable front and rear suspension, an idea dropped quickly for the LT22. Toward the end of 1969, Leda Cars Ltd had been taken over by Malcolm Bridgeland's Malaya Cars Group. As well as the Malaya Garage Racing Division car, driven by Mac Daghorn and later by Roy Pike, a second car was bought by Broadspeed for the Ford Boss engine and one car went to Dan Gurney's AAR in the US, which was due to market them for Formula A as Leda-Eagles. The LT20 had appalling handling, at least until Roy Pike got the car sorted out during the summer, and all three UK-based LT20s were written off. The only known US car was also badly damaged in a crash.
Len Terry would later say "On paper it looked absolutely right ... but the moment of truth comes on the race track, and it certainly wasn't right then".
These histories are derived largely from race reports and news stories in Autosport and Motoring News, but an article in Autosport ("Four years of Leda progress" by Mike Kettlewell 16 Dec 1971 pp28-30) provided a lot of extra information. All and any further help would be gratefully received. Please email Allen at allen@oldracingcars.com if you can add anything.
Chassis
History
Current owner
New as a Malaya Garage Racing Division entry for Mac Daghorn at Oulton Park in March 1970, the first race of the season. The first session was bitterly cold, and Daghorn's tyres may have been unable to achieve any heat, as he went off at Clay Hill and "bent every part of its chassis against the Armco". Daghorn was unhurt, but would require a new car.
Driven by: Mac Daghorn. First appearance: Oulton Park (UK R1), 27 Mar 1970.
Wrecked 1970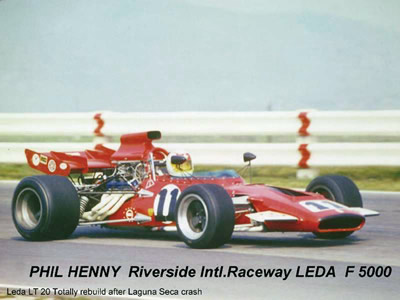 Although the British weekly magazines Autosport and Motoring News both give the distinct impression that all four LT20s were used in the UK and wrecked, at least one escaped. On 26 Feb 1971, Phil Henny (Van Nuys, CA), bought Leda LT20 chassis 102 from All American Racers Inc. Phil recalls that AAR had bought the car for Swede Savage to run in US Formula A but it had remained unused.
Towards the end of 1971, Henny crashed the LT20 at Laguna Seca and sought Len Terry's advice on how to get it back in one piece. Terry was full of helpful information but ultimately suggested buying a LT22 instead. The car was fully rebuilt and raced again, as evidenced by the picture to the right. Phil later sold the car to motorcycle racer and journalist Bob Braverman (Northridge, CA), who raced it in SCCA Regionals at Riverside in 1976. Braverman died in 1982 aged just 52, and the Leda disappeared.
Some time before 1990, Peter Boyd of PVB MotorSports (Los Angeles, CA) bought a Leda LT20 from Iverson Movie Ranch where it had been used as a movie prop. In late 1990 or early 1991, he sold it to Chuck Haines. Haines later advertised the car as Leda LT20 102, and sold it to Tom Fredericks who thought it might be useful for rebuilding a McLaren M10B. In the late 1990s, about 1998, Danny Gallant (Oakland, CA) saw the car at Fredericks' workshop and bought it for his customer Dr Bruce Jacobs. Gallant rebuilt the car but on Jacobs' first test, it overheated, and on his second test a rose joint broke and Jacobs' wiped the front left corner off it. Just like old times!
Jacobs lost interest in the car, and in 2004, it was bought by Dean A. Beaupre (Occidental, CA) and restored the car for vintage racing. Raced by Dupre at HMSA Thunderhill Raceway Park in March 2010, the CSRG Charity Challenge at Infineon Raceway October 2011, and HMSA Laguna Seca in June 2012.
Driven by: Bob Braverman. First race: Riverside, 29 Aug 1976. Total of 6 recorded races.
Dean A. Beaupre (USA) 2012
New to Broadspeed and fitted with a Broadspeed-prepared Ford Boss Mustang V8 engine for Chris Craft to drive in the British series, but "destroyed" in testing at Silverstone in mid-April 1970, when Craft was testing it without its rear wing, and went off at Maggotts. (It was initially incorrectly reported that Broadspeed's team manager Keith Greene was driving.) Craft was not injured, but the team was expected to need a new car.
A "new car" was ready in time for the International Trophy on 26 April. The car was "screwed together" on the Friday, but when the second practice session was wet throughout, the team decided to scratch the unsorted car from the race. The team reappeared at Castle Combe two weeks later, but Craft was unhappy with the handlign and with the brakes. His car wouldn't start the first heat, but he managed sixth place in the second. After this, the team bought a McLaren M10B, and the Leda was returned to its makers.
After Roy Pike's accident in the Malaya Garages LT20 at Mondello Park, the ex-Broadspeed monocoque was used to build up another car using their usual Bartz Chevrolet engine. After fourth place at Silverstone, Pike followed this up with encouraging third-placed finishes at each of the next three races. However, at the next race, at Thruxton, he "completely wrote off" the LT20 in Saturday testing.
Driven by: Chris Craft and Roy Pike. First race: Castle Combe (UK R7), 9 May 1970. Total of 5 recorded races.
Wrecked 1970
New as a Malaya Garages entry for Mac Daghorn to replace the car wrecked at Oulton Park. First appeared at Brands Hatch in early May but was withdrawn after Saturday testing with brake problems. Raced at Castle Comble a week later, but suffered handling and braking problems. Roy Pike was then brought in to test the car, and when Daghorn was still off the pace two weeks later at Mallory, Pike took over the drive.
Pike's first race was at Mondello Park, in "a brand new and mostly unpainted" LT20. Pike's testing had made the car much more competitive, and he was running fourth when he crashed heavily at Duckham's on lap 32. The car was not repairable.
Driven by: Mac Daghorn and Roy Pike. First race: Castle Combe (UK R7), 9 May 1970. Total of 3 recorded races.
Wrecked 1970
These histories last updated on .