Leda LT20 car-by-car histories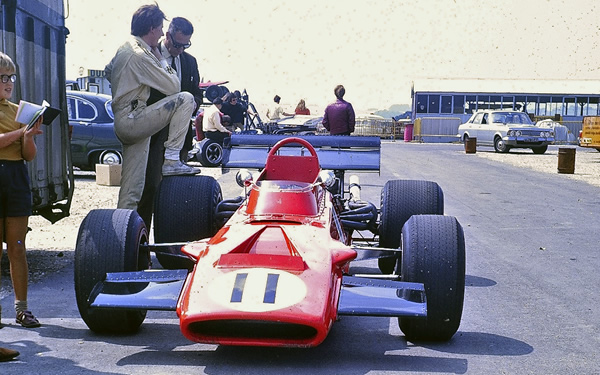 Former Lotus, Eagle, BRM and Mirage designer Len Terry produced his own Formula 5000 car, the Leda LT20, for the 1970 season. Mac Daghorn, driver of Malaya Garage's Ford GT40 in 1969, was given the drive, but the car was very difficult to sort and prone to inexplicable accidents.
The first Leda to appear in F5000 was the LT17, a design Len Terry had started in late 1968 with the intention that it would be used by Roger Nathan, but was taken over by James Garner and John Surtees. The first four cars were built at Terry's Design Auto operation in Poole, Dorset, before moving to Surtees' workshops in Edenbridge. It was initially known as the TS5 and later as the Surtees TS5. As this car was one of the most successful F5000 designs of 1969, Terry decided to build his own cars for 1970. The first of these, the Leda LT20, was a lower, lighter, version of the Surtees TS5, comprising a full monocoque but with totally interchangeable front and rear suspension, an idea dropped quickly for the LT22. Toward the end of 1969, Leda Cars Ltd had been taken over by Malcolm Bridgeland's Malaya Cars Group. As well as the Malaya Garage Racing Division car, driven by Mac Daghorn and later by Roy Pike, a second car was bought by Broadspeed for the Ford Boss engine and one car went to Dan Gurney's AAR in the US, which was due to market them for Formula A as Leda-Eagles. The LT20 had appalling handling, at least until Roy Pike got the car sorted out during the summer, and all three UK-based LT20s were written off. The only known US car was also badly damaged in a crash.
Len Terry would later say "On paper it looked absolutely right ... but the moment of truth comes on the race track, and it certainly wasn't right then".
These histories are derived largely from race reports and news stories in Autosport and Motoring News, but an article in Autosport ("Four years of Leda progress" by Mike Kettlewell 16 Dec 1971 pp28-30) provided a lot of extra information. All and any further help would be gratefully received. Please email Allen at allen@oldracingcars.com if you can add anything.
Chassis
History
Current owner
These histories last updated on .