Ligier JS7 car-by-car histories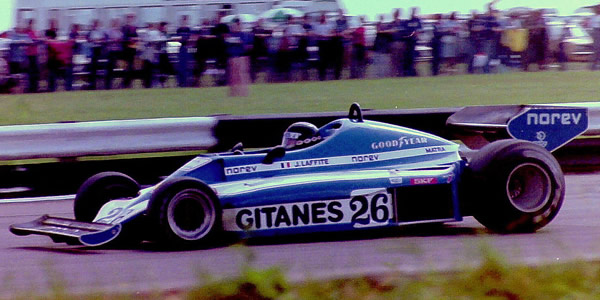 After a poor start to the 1977 season due to problems with Matra's latest V12 engine, Jacques Laffite gave Ligier their first F1 victory in the Ligier JS7 at the Swedish GP.
Ligier started the new season with a new Ligier JS7, a development of the 1976 JS5 which we now know used the same monocoque. Matra had also produced a new engine, the MS76, which sat three inches lower in the chassis. Problems with the new six-stud head fixing caused valve problems, resulting in Laffite missing much of practice in Argentina. After another engine broke a valve in Brazil, Ligier returned to the earlier MS73 engine, and qualified fifth at Long Beach, losing out on a solid fourth place due to an electrical fault just two laps from the finish. In Spain, Ligier were on top form, with Laffite qualifying second and setting fastest lap of the race before a pit stop for a loose wheel dropped him out of contention. He was of the pace at the next two races, but a fully reliable MS76 engine was ready for the Swedish GP, and Laffite had a great drive to win the race, benefited from Mario Andretti's retirement in the Lotus 77 just three laps from the finish. It was the first all-French win - chassis, engine and driver - in the history of the World Championship.
Laffite continued to qualify in the top-ten and regularly raced in the points-scoring positions, but did not feature again until the Dutch GP, where he qualified second, led for 14 laps, and finished the race in second place. He finished the season with fifth place in Japan, to leave Ligier eighth in the points table.
Three JS7s were built during 1976, two using the existing JS5 monocoques and one new. One of these cars was used as a JS7/JS9 development car during 1977, and this car still exists, on display at the Conservatoire de la Monoplace Française at the Magny-Cours circuit in France. The other two JS7s were rebuilt as full JS9s, and are covered under that heading.
Please contact Allen Brown (allen@oldracingcars.com) if you can add anything to our understanding of these cars.
These histories last updated on .