Ligier JS9 car-by-car histories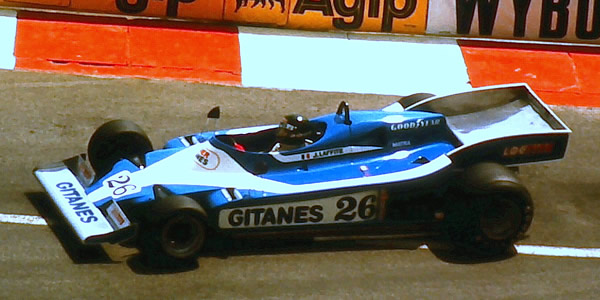 The Ligier JS9 was a further development of the JS5-JS7 theme for 1978, but the team's Matra V12 engines were no longer the potent force they had been, and Jacques Laffite was now only a mid-grid qualifier.
With SEITA undecided about continuing the Gitanes sponsorship, and Matra uncertain about developing the V12 engines, Ligier started 1978 with their 1977 equipment. Matra did continue to supply engines, but development had effectively ceased, and the V12 would be withdrawn at the end of 1978. The new Ligier JS9 first appeared at a test session at Jarama in mid-April, and set the fastest time, quicker even than Ronnie Peterson's Lotus 78. The new car had significantly updated aerodynamics, including a giant rear wing, but made no attempt to follow the ground-effect idea of Lotus and other teams. The new car used the Hewland FGA six-speed gearbox instead of the stronger but heavier TL200 that had been used on the JS5 and JS7. Laffite was full of praise for the JS9's handling, and also loyally talked up developments to the Matra engine.
However, when the car ran at the Monaco GP, it was a huge disappointment, proving to be little quicker than the JS7. It was left at base for further tests instead of going to the Belgian GP, but reappeared at the Spanish GP, now with the rear wing from the JS7, and Laffite was happier with it. He qualified inside the top ten, and had a good run to finish in third place. As had happened in 1977, Laffite could generally qualify inside the top ten, and race amongst the point-scoring places, but was no longer a contender for victory. He finished third in Germany, qualified fifth and finished fifth in Austria, and was fourth in Italy, to end the season eighth in the Drivers' Championship. Ligier were sixth in the Constructors' Cup.
Car
Total
Race
Starts
Grand
Prix
Starts
Grand
Prix
Wins
First Race
Present Location
7
7
Monaco Grand Prix
(7 May 1978)
Conservatoire de la Monoplace Française (France) 2017
3
3
Austrian Grand Prix
(13 Aug 1978)
Musée Matra (France) 2020
Gerard Ducarouge and Michel Beaujon designed an all-new ground-effect car for 1979, and the Ligier-Matra JS9s were retired. One of the JS9s was loaned to the Musée Matra at Romorantin, where it remains on display. The other was retained in Ligier's rarely opened museum at the Magny-Cours circuit. That has now been redesigned and reopened under a new name of the Conservatoire de la Monoplace Française, and the JS9 is on display alongside the interim JS7/JS9 and a mock-up of a JS5.
Please contact Allen Brown (allen@oldracingcars.com) if you can add anything to our understanding of these cars.
These histories last updated on .