Lola T370 car-by-car histories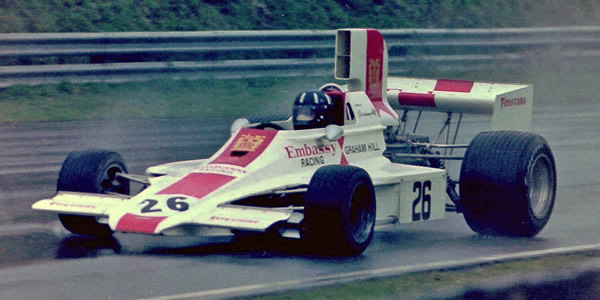 A customer F1 car built by Lola for Graham Hill's Embassy Racing team, the Lola T370 had poor results until the team's fortunes were rejuvenated by new driver Rolf Stommelen.
After leaving MRD at the end of 1972, Graham Hill set up his own F1 team with backing from the Embassy cigarette brand. A Shadow DN1 was bought for 1973, but this proved a poor choice, so Hill turned to Lola Cars to design and build cars for his team in 1974. Eric Broadley's design was very conventional, with a broad flat-topped monocoque, high cockpit surround, and wedge nose. Suspension was outboard, with conventional wishbones at the front, and twin bottom parallel links and radius arm at the rear. The main radiators were just behind the front wheels. Hill's team started the year based in a workshop at Maurice Gomm's workshop in Surrey, before moving to premises in Feltham in Essex later in the year. Ray Brimble was team manager, and Guy Edwards joined the team to drive a second car.
Early results were disappointing, with the car proving to be significantly overweight as well as being handicapped by recurrent deflations of their Firestone tyres. Both Hill and Edwards struggled at first, but results started to pick up at the Belgian Grand Prix in May. Good reliability then helped the Lolas to a number of strong finishes, and Hill finished seventh at Monaco and sixth in Sweden, the team's first World Championship point. Edwards, whose place in the team was reportedly at risk, then upped his game and started to outqualify his veteran teammate, but his performances were cut short by a testing accident in his F5000 Lola. Rolf Stommelen was brought in the replace him, and was immediately significantly faster, qualifying 13th in Austria, 14th in Italy and 11th in Canada, and had been on track for a fourth-placed finish at Monza before his suspension broke.
Revised cars were built by Embassy Racing for 1975. The first of these was initially called a Lola T371, but the team cut their links with Lola and the cars were then called Hill GH1s. Two of the T370s were retained for the opening races of 1975, while chassis HU1 was rebuilt for an Alfa Romeo engine, although that deal fell through. Chassis HU2 was written off in South Africa, and HU3 was retained as a spare car for much of the 1975 season.
The two surviving T370s remained with the Hill family until being sold in the mid-1980s. The intended Alfa car became quite neglected and changed hands at the Beaulieu Autojumble on one occasion, but was later rescued by Hall & Hall, and then rebuilt in Italy for historic racing. It is now racing in the UK. The other survivor has remained in original condition throughout and has been on display at the Haynes museum at Sparkford in Somerset for over 30 years.
Please contact Allen Brown (allen@oldracingcars.com) if you can add anything to our understanding of these cars.
These histories last updated on .