Shadow DN1 car-by-car histories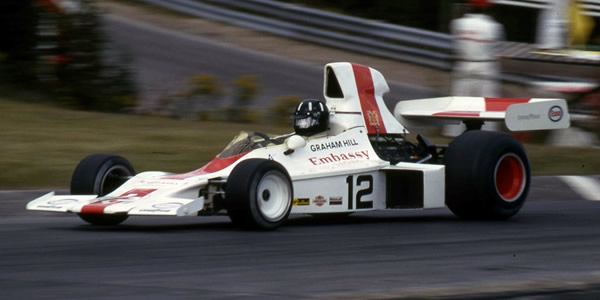 Shadow's first Formula 1 car, the Shadow DN1, was designed by Tony Southgate. The car suffered major reliability problems and drivers Jackie Oliver and George Follmer struggled all season.
The UOP Shadow Racing Team first appeared at the South African GP, but the DN1 was Southgate's first Cosworth DFV design, and was caught out by vibration issues. Graham Hill bought a customer car, but all three DN1s spent most of the season at the back of the grid. The car's only moment of glory was in the wet race in Canada, where Oliver briefly led and was classified third.
Four of the six cars built survived the season. Of the three works cars, one raced in the Shellsport G8 series, another went to a driver in lieu of salary, and a third was retained by Don Nichols for many years.
Click on a car below to see its full race history. The present location is shown where recorded; full details of ownership are held on file but not all of this information can presently be disclosed.
Car
Total
Race
Starts
Grand
Prix
Starts
Grand
Prix
Wins
First Race
Present Location
4
3
South African Grand Prix
(3 Mar 1973)
Written off 1973
4
3
South African Grand Prix
(3 Mar 1973)
Written off 1973
12
12
Spanish Grand Prix
(29 Apr 1973)
Switzerland 2023
8
8
Monaco Grand Prix
(3 Jun 1973)
Switzerland 2023
9
9
Swedish Grand Prix
(17 Jun 1973)
United States 2016
8
5
German Grand Prix
(5 Aug 1973)
United Kingdom 2019
Shadow DN1/1A-R
(no races recorded)
United Kingdom 2021
Embassy Hill
Graham Hill had been team leader for the Brabham F1 team in 1971 and 1972, but a lack of success led to his departure. He had also been racing in F2, in 1971 with Rondel and then in 1972 with Kaydon Racing, sponsored by Jägermeister, in 1972. This led him to create his own F1 team for 1973, so KayDon Racing was dissolved and morphed into Graham Hill Racing, with backing from the W.D. & H.O. Wills tobacco company through its brand of Embassy cigarettes. The new team bought a Shadow DN1 for its first season, but the car was built at John Thompson's workshop in Northampton, not at the nearby Shadow factory. It was maintained at Maurice Gomm's premises at Old Woking, as KayDon Racing had been in 1972. Hill struggled with the DN1 even more than the works drivers, so commissioned Lola to build a new F1 car for 1974, the Lola T370.
Please contact Allen Brown (allen@oldracingcars.com) if you can add anything to our understanding of these cars.
These histories last updated on .