Lola T430 car-by-car histories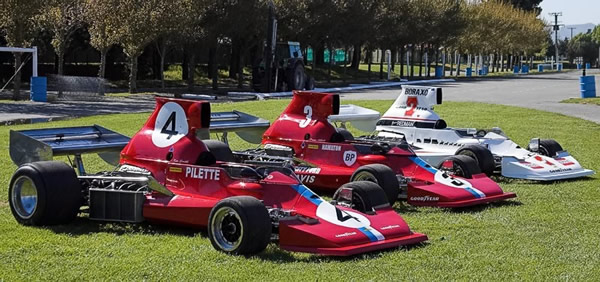 After the flop of the T400, Lola's customers only wanted an updated version of the T332 for 1976 and Lola only managed to sell two of their new T430 design, with a third car being kept as a spare by Carl Haas in the US.
Formula 5000 stumbled into 1976 with the European series moving to a libre format and the US series, even with addition of VDS and Theodore, well down on numbers. Orders for Lola were also well down, excerbated by the problems with the T400, and only VDS were shopping around. VDS tested Broadley's development Lola T450 fitted with a Chevrolet Morand engine at Ricard and ordered two. The production T430 was based directly on the T360 Atlantic chassis, featuring a very narrow tub, twin side radiators and T332-style suspension geometry. Essentially, Lola had built a smaller version of the successful T300/330/332 design. Carl Haas, meanwhile, ordered new T332Cs for his team and customers. The T332C would easily outsell the T430.
VDS raced their pair through the US season but were not really competitive and Redman's Haas Racing car spent much of its season in the transporter, testing often but not racing. Lola would produce F5000-style cars for three more seasons in Can-Am but would base them on the Haas T332C design. The VDS T430s went to Australia where Warwick Brown dominated the 1977 Australian Internationals in one and its sister would also dominate the 1979 Rothmans series in Alfredo Costanzo's hands. One car was wrecked in 1978 but later reconstructed and all three are now racing together in New Zealand.
Thanks to Shayne Windelburn, Wolfgang Klopfer, Chuck Haines and David Abbott for the material used in these histories and to Tom Schultz and Alex Mitchell of Warbirds Photography for the outstanding images used on this page.
All and any help would be gratefully received. Please email Allen if you can add anything.
Chassis
History
Current owner
VDS for Teddy Pilette US 1976 (6 races; best result 3rd at R3 Mosport Park 20 Jun); used as spare car to Brown's HU2 in Australian Internationals 1977 - Alan Hamilton (Australia): used as spare car; maybe Jon Davison's car Australian Gold Star 1977 (R1 Surfers Paradise 28 Aug 1977 only). Built up after Hamilton's crash at the 1978 Australian GP and raced by Alfredo Costanzo: Australian Gold Star 1978; Australian Internationals 1979 (won at Sandown Park and Adelaide); Australian Gold Star 1979 (won at Sandown 9 Sep); Australian Gold Star 1980 (won at Sandown 14 Sep and Winton 26 Oct); Australian GP 1980 (4th) - Bob Minogue: Australian Gold Star 1981, Arco Graphic 1981/82. Minogue still holds several lap records in Australia, including the Sandown International circuit record for F5000, set on 2 Mar 1986 and the Historic F5000 record at Winton on 30 May 1993. Subsequently sold to Gavin Bain, then to Graham Cameron, who raced it at Historic Sandown in 2000. To David Abbott (Christchurch, NZ) by 2002, and raced in the F5000 Tasman Revival regularly from 2003 to 2008, when Abbott moved over to his newly rebuilt HU2. Then raced by Ken Smith in the series from 2008 to 2010. Entered for Ken Smith at Hampton Downs Jan 2012 after his Lola T332 'HU54' had been heavily damaged at Manfeild in Nov 2011. Raced again by Smith in the opening two rounds of the 2012/13 Tasman Revival series before his T332 was rebuilt. Returned to Abbott and still with him in Sep 2013. Raced by Phil Mauger at the Monterey Pre-Reunion in August 2015.
Driven by: Teddy Pilette, Alfredo Costanzo and Bob Minogue. First race: Pocono (road course) (US R1), 9 May 1976. Total of 28 recorded races.
David Abbott (New Zealand) 2015
VDS spare car US 1976 (raced by Peter Gethin: 3 races; Warwick Brown: 2 races); VDS for Warwick Brown Australian Internationals 1977 (won at Oran Park and Surfers Paradise, crashed in practice at Sandown Park, second at Adelaide) - Alan Hamilton (Australia): Australian Gold Star 1977 (debut R1 Surfers Paradise 28 Aug 1977); Australian Internationals 1978 (driven by Derek Bell at Oran Park); crashed at Australian GP 1978 and broken in half. All the surviving running gear from the wreck stayed with HU1 through various owners until reaching David Abbott in New Zealand in 2005. Over the next two years David, with Alan Hamilton's agreement, recreated this car and it first ran, with Hamilton driving, at Christchurch in October 2007. Raced by Abbott in the Formula 5000 Tasman Cup Revival at the Australian GP meeting 28 Mar 2009. Raced by Abbott at Hampton Downs Jan 2012 and at the Phillip Island Classic Mar 2012. Raced again by Abbott in the 2012/13 Tasman Revival series, at the Skope Classic in 2014, the Gulf Oil Howden Ganley F5000 Festival in 2015, and the Skope Classic in 2015.
Driven by: Peter Gethin, Warwick Brown, Alan Hamilton and Derek Bell. First race: Watkins Glen (US R3), 11 Jul 1976. Total of 17 recorded races.
David Abbott (New Zealand) 2015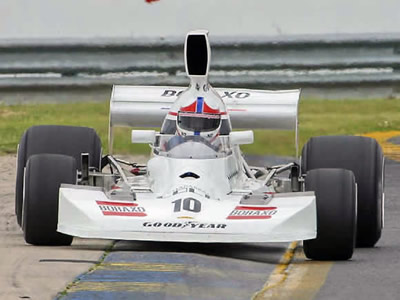 Haas Racing spare car for Brian Redman US 1976 (qualified 4th at Road America but not raced during the season). Duane Smith (Milwaukee, WI) and used in SCCA Formula A in 1978. Converted to Can-Am specification and raced in a handful of Can-Am races in 1979 and 1980 by James Woodruff (Ravenna, OH), better known as guitar maker "Woody James", who died in 2015. The car evidently returned to Duane Smith, as it was sold by him to Chuck Haines (St Louis, MO) in 1988. To Todd Stewart (Christchurch, NZ) late 2002 and won on its historic racng debut in the 2003/04 F5000 Tasman Cup Revival series race at Sandown Park Nov 2003. Raced by Michael Schryver in the Skope Classic at Ruapuna Park Feb 2006. David Abbott reports that Stewart still has the car in Sep 2013 but does not race it.
Driven by: Brian Redman, Duane Smith and James Woodruff. First race: Blackhawk Farms, 21 May 1978. Total of 4 recorded races.
Todd Stewart (New Zealand) 2013
A note on chassis number identification
Chassis
Source
Lola T430
HU2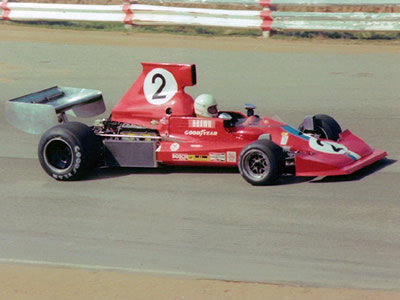 Lola invoice records show this car going to VDS. Tom Erwin's notebooks identify HU2 as the VDS T-car at Watkins Glen carrying both 3T and 4T but racing as 3T. The 1978 Surfers Paradise program has detailed notes on the cars and states that HU2 was Brown's 1977 car and Hamilton's 1977 Gold Star and 1978 Sandown Park car, mentioning also that HU1 is "still in bits". The F1 Register also identify HU2 as the car used by Hamilton in 1977 and 1978 but also as the Costanzo car after Hamilton's accident. The March 1979 edition of Chequered Flag Magazine says the car wrecked in Hamilton's crash was HU2 and the spare car then built up was HU1. The 1980/81 Australian Motor Racing Year confirms that Hamilton had a "fearful crash in one of his two Lola T430s..., but the spare car was being rebuilt...".
Lola T430
HU3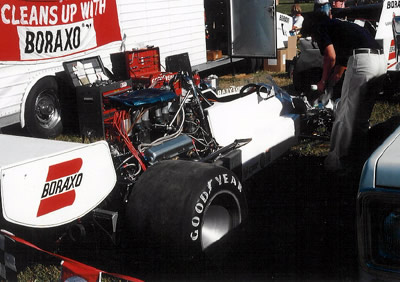 Tom Erwin's notebooks identify HU3 as car 1A for Redman at Watkins Glen.
These histories last updated on .