Lola T90 and T92 car-by-car histories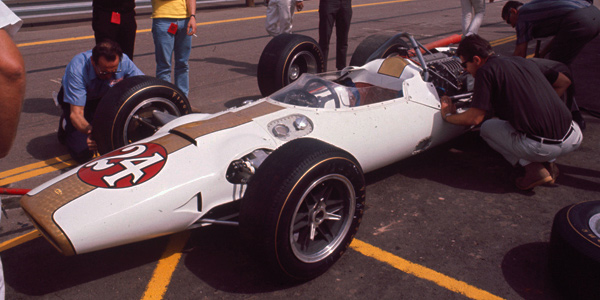 The 1966 Lola T90 Indy car was an immediate success, with Jackie Stewart leading the 1966 Indy 500 for much of its distance and Graham Hill winning after the Scot retired. A further development followed in 1967, called the T92 in Lola's numbering system but called the Lola T90 Mk II to satisfy USAC.
After the disappointment of the 1965 Lola T80, Eric Broadley improved the suspension geometry on the new T90 but in most regards the car followed the newly-emerging orthodoxy of an aluminium monocoque reinforced by fabricated steel bulkheads. The suspension was inboard at the front, using rocker arms to actuate inboard coil spring/damper units. Wide-spaced lower wishbones were used front and rear, with a single top link and single top radius rod at the rear. The fuel tanks were located within pontoons reaching the full length of the monocoque, which left no suitable mounting point for a lower radius rod.
Lola's customer for the Lola T90 in 1966 and 1967 was John W. Mecom Jr, a wealthy 26-year-old from Houston, Texas, whose family owned extensive oil rights in Louisiana. After the success of his Mecom Racing sports car team, in mid-1965 Mecom had recruited two-time Indy 500 winner Rodger Ward, reigning World Drivers Champion John Surtees and AJ Foyt's chief mechanic George Bignotti to form a new "all-star" team to attack the Indy 500. Mecom, Ward and Bignotti acquired a Lola T80 from J.C. Agajanian to use for the rest of 1965 while ordering three new T90s from Lola for 1966. Surtees was injured in a Can-Am race late in 1965, so Mecom recruited two 'rookies' to replace him, 1962 World Champion Graham Hill and his young BRM teammate Jackie Stewart. Ward, Stewart and Hill all qualified their T90s in the middle of the grid at the 1966 Indy 500, and Stewart led the race by over a lap until a fuel pump failed late in the race. Teammate Hill was perfectly positioned to win the race, although Lotus maintained Jim Clark was actually ahead. Hill's was the first rookie winner since George Souders in 1927, while the the unfortunate Stewart had the consolation of the "Rookie of the Year" title.
Mecom ordered three more cars for 1967, officially Lola T92s in factory records but called T90 Mk IIs at the Speedway as USAC felt they were insufficiently different to the T90s. As Ward had retired, Mecom ran a two-car team for Stewart and Al Unser. Although Unser finished second in the Indy 500, Mecom fell out with Bignotti and withdrew his Indy team, choosing to focus his attention on his new NFL franchise, the New Orleans Saints. Bignotti took over two of the T92s and joined forces with Unser's sponsor Al Retzloff to run the rest of the 1967 season. Bignotti and Retzloff then bought Lola T150s for 1968.
If you can add to our understanding of these cars, or have photographs that we can use, please email Allen at allen@oldracingcars.com.
Chassis
History
Current owner
The fates of the 1966 Lola T90s
In mid-April 1967, A.L. Castle bought a Lola T90 directly from Mecom which was widely reported in the press to be Graham Hill's 1966 Indy 500 winner. It was entered by Castle's Interstate Racing for veteran Chuck Hulse to drive in the 1967 Indy 500. The team's chief mechanic was Louis 'Bif' Caruso, a veteran who had first come to the Speedway with Mel Hansen in 1946, and had been a member of the STP Novi team in 1965. Castle's operation ran into money problems during the month of practice and qualifying, so Lindsey Hopkins stepped in to buy the car, retaining Hulse as driver and Caruso as mechanic. Hulse qualified but the car was wrecked when he crashed on the final lap. According to restorer Walter Goodwin, Jim Dilamarter, who had crewed on the car when it won in 1966, went down to ask Caruso what he was going to do with the heavily damaged car. Caruso said he planned to crush it, so Dilamarter requested the chassis tag, which Dilamarter retained until the Parnelli Collection was sold to the Indianapolis Museum many decades later. The tag read '90/3. It would be Caruso's last time at the Speedway but his links with the racing community were maintained when he opened a very popular Italian restaurant in San Pedro, California. He died on 29 December 2011.
So that should have been the end of the story of SL90/3 but in the early 1970s Caruso visited Phil Henny and convinced him that the ex-Stewart SL90/2 that he had just bought from Red LeGrand was actually the ex-Hill Indy 500 winner. During the restoration, Henny found Red Ball livery, which appeared to confirm Caruso's story. After fruitless correspondence with Bignotti (then at Patrick Racing Team), Indy 500 historian Donald Davidson, Lola Cars Ltd, and even Jackie Stewart in 1975 and 1976 trying to identify the winning car's chassis number, Henny restored his car to Hill's livery. It was not until 2017 that a more detailed examination of the car convinced its later owner that it was the ex-Stewart car. The rivet patterns on the engine bay sidepods can be seen clearly in pictures from 1966 and 1967, and comparison with the car today clearly proves its identity.
The unexplained Lola T90/T92s
After John Mecom closed his team following the 1967 Indy 500, George Bignotti independently ran the pale blue #5 Retzloff Chemical Lola T92 for Al Unser at Milwaukee in June and then borrowed the red #24 Bowes Seal Lola T92 for Unser to drive while the #5 car was being repaired. Bignotti then ran a #24 T92 for John Surtees at Riverside in November but photographs suggest that car was the former #43, the car in which Stewart had been bumped. Bignotti's was running a very impressive operation in Can-Am as well as USAC, his crew at this time consisting of two British mechanics who had come to Indy with BRP, Jim Chapman and George Woodward, engine builder Charlie Tabucchi, future Parnelli team manager Jim Dilamarter and experienced mechanic Norm "Hokie" Holtkamp. Bignotti retained the blue #5 as a backup car in 1968, but also sold a T92 to Jack Adams in April 1968. Press reports at the time described it as a car used by Stewart at Indy but not raced and then used at Riverside, which is entirely consistent with it being Stewart's #43 car raced by Surtees at Riverside. The Adams team used this car in 1968 and 1969, and it was last seen when crashed during practice at the Speedway in May 1970.
After running his remaining T92 regularly during 1968 as his #24 entry, Bignotti advertised a T92 in March 1969 which he said was "driven by Al Unser, second place in Indianapolis 1967" and "recently finished 4th place Riverside". This advert firmly established that it was the original blue #5 Retzloff Chemical Lola T92 that Bignotti had retained to early 1969. It seems very likely that this is the car that was sold to the Fejer brothers and entered for Ruys de Perez in 1969.
Chassis
History
Current owner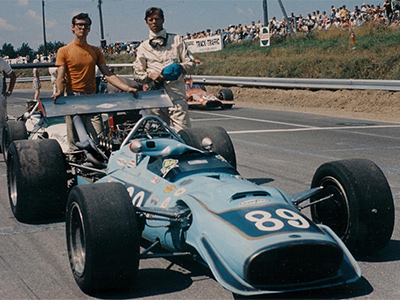 George Fejer (Toronto, Ontario, Canada) acquired an ex-Mecom Indy Lola T90 or T92 and entered it at the Phoenix USAC race in March 1969 as a Chinook. After that race, it was converted to Formula A specification for Alfred Ruys de Perez to run - with a remarkable lack of success - in SCCA and Canadian Formula A races later that season. Ed Butt, who worked for the Fejers at this time, recalls this car as "the Lola T90 that Jackie Stewart drove in the 1966 Indy 500". However, the shape of the fuel fillers suggests it was a T92, not a T90, so there is a greater similarity to the T92 that Stewart drove in the 1967 Indy 500. Subsequent history unknown.
Driven by: George Fejer and Alfred Ruys de Perez. First race: Phoenix International Raceway (R1), 30 Mar 1969. Total of 6 recorded races.
Unknown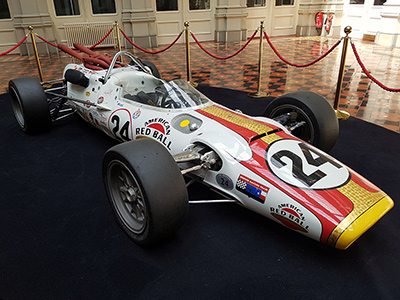 Built as a recreation of the Graham Hill Indy 500-winning T90 by ex-Lola fabricator Billy Wooldridge in Mark Scott's workshop in Florida in 2007 for customer Martin Birrane. The car was shipped to the UK in late 2007 or early 2008, and was painted in Graham Hill's 1966 American Red Ball livery. It first appeared in 2008, in time for Lola's 50th anniversary, and was driven by Graham Hill's son Damon Hill at the Goodwood Festival of Speed in 2008, and by Graham's grandson Josh Hill at the Festival of Speed in 2011. After Birrane died in June 2018, the car was on display in the Hop Exchange in London in May 2019.
Martin Birrane (UK) 2011
When Martin Birrane acquired the ex-Jackie Stewart Lola T92 from John Mecom in 2007, he also acquired from him a significantly modified Lola T92 monocoque which was missing its front bulkhead and also missing the engine bay pontoons. The origins of the tub are not yet known, but Mecom had kept it at his pool house and filled it with ice to act as an ice bucket at social functions. Birrane commissioned ex-Lola fabricator Billy Wooldridge to repair this monocoque alongside the new T90 monocoque that he was building for Birrane at Mark Scott's workshop in Florida and to build it up as a complete car. The car was shipped to the UK in late 2007 or early 2008 but has remained in plain white livery at the Mondello Museum. The car was on still display in the Mondello Museum in September 2022.
The Martin Birrane Collection (Mondello Park) (Ireland) 2022
Acknowledgements
Pat Ryan documented his research into his ex-Phil Henny car in some detail, and I am grateful to him for making all those details available. Thanks also to Billy Wooldridge for details of his restorations, and to Simmo Iskül, 'gbl', Michael Ferner, Luis Mateus, Simon Hadfield, Ed Butt, Michael Oliver and Gary Runyon for their help compiling these histories.
If you can add to our understanding of these cars, or have photographs that we can use, please email Allen at allen@oldracingcars.com.
These histories last updated on .