Lotus 69 (Formula 2 1970) car-by-car histories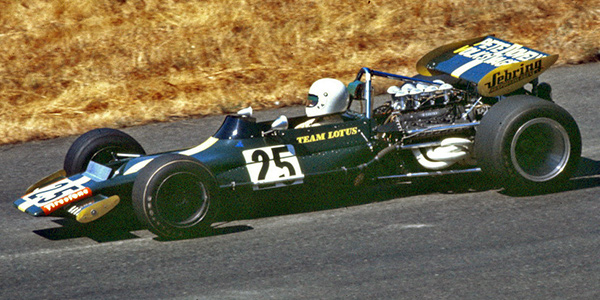 The first car to be called a Lotus 69 was a monocoque Formula 2 car built for 1970. Jochen Rindt won four of his first five races in his example.
New rules for 1970 requiring the use of bag tanks caused difficulties for both Lotus and Brabham, who had to substantially modify their existing designs. Dave Baldwin's solution for the Lotus 59B was to "metaphorically" - as Autosport described it - cut the spaceframe centre section out of the 59Bs and replace it with a monocoque section, incorporating bulbous sides containing the bag tanks. The "twin-nostril" nose of 1969 was replaced with a chisel nose, and the resulting Lotus 69 also had strengthened front suspension. New 69s were sold to Emerson Fittipaldi, Tetsu Ikusawa, and Adam Potocki, and then the two Roy Winkelmann Racing Lotus 59Bs from 1969, 59B/19 and 59B/20, were also converted to the new specification and given the next two Lotus 69 chassis numbers. These two cars were handed to Jochen Rindt Racing, managed by Bernie Ecclestone, which replaced Winkelmann's operation as the works supported F2 team. The third 59B, Max Mosley's 59B/21, had been sold to Johnny Blades and raced in 59B specification at the start of the season, but it was also converted during the summer and was allocated a 69 chassis number. Despite the conversion, Blades' car was referred to by its Lotus 59 chassis number as well as by its new Lotus 69 chassis number, so its Lotus 59B identity survived in some form, the only one that did.
Nomenclature was a problem for Mike Warner's Lotus Components Ltd, despite its successes in 1969 with the Formula 3 Lotus 59, Formula Ford Lotus 61 and the continuing Lotus Seven road cars. In North America, it was mistaken for a spare parts business, so for 1971 the name would be changed to Lotus Racing.
The Lotus 69 was competitive with the Tecnos and Brabham BT30s, but all its race wins were delivered by Rindt, arguably the greatest F2 driver of all time. His win at Zolder in May was his 24th victory in 40 European F2 races since October 1966. Ikuzawa came very close to winning at Hockenheim, where Rindt had been knocked out by Carlos Reutemann, and Emerson Fittipaldi had a series of strong results which lifted him into third place in the drivers' championship.
If you can add to our understanding of these cars, or have photographs that we can use, please email Allen at allen@oldracingcars.com.
Chassis
History
Current owner
Lotus 69
69.F2.1
New for Emerson Fittipaldi to race in F2 in 1970. The F3 star was initially entered by Jim Russell, and the car was prepared by Russell mechanic Ralph Firman, but by the third race of the season it was entered by Team Bardahl and had changed to Bardahl yellow, with Russell having vanished from the operation. The Lotus 69 was sold to the new works-backed LIRA tea, for 1971, and raced by Reine Wisell in F2, winning at Pau in April. To Stephen Choularton (Hale Barns, Cheshire) for British Formula Atlantic in 1972, and also driven by his young mechanic Jim Crawford in libre at Croft. Unknown in 1973 and 1974, but to Warren Booth (Blackburn, Lancashire) for libre in 1975. Retained for 1976 and 1977, when it was fitted with a 2-litre Richardson BDA. Believed to be the 2-litre Lotus 69 then raced by Clive Astley in north-western sprints in 1977 and 1978. Subsequent history unknown, but according to historian David McKinney, the car was found in a north of England pigsty in the late 1980s, and acquired by Fredy Kumschick (Lucerne/Luzern, Switzerland), who restored it for historic racing. Raced regularly by Kumschick through the 1990s. Raced by Kumschick at the Grand Prix de Pau Historique in May 2005. Still in Kumschick's collection in November 2021.
Driven by: Emerson Fittipaldi, Reine Wisell, Stephen Choularton, Jim Crawford, Warren Booth and Clive Astley. First race: Hockenheim (R2), 12 Apr 1970. Total of 50 recorded races.
Fredy Kumschick (Switzerland) 2021
Lotus 69
69.F2.2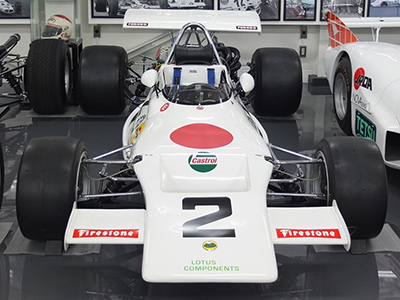 New to Tetsu Ikuzawa and raced in F2 in 1970. What happened to this car in 1971 is something of a puzzle. In January, it was advertised by Jim Gleave's MRE (Bourne End, Bucks) and in March 1971, Ikuzawa was said by Autosport to have "sold his 69 of last year to an Irishman and replaced it with a new one". The first F2 report said his 1970 car had gone to John Pollock, and he did race a Lotus 69 in 1971, but it was said to be a 1971 car, and a later advert revealed that it was the ex-Rollinson 1971 car. Ikuzawa actually sold his 1970 Lotus 69 to Norimitsu Urushihara, who raced an "ex-Ikuzawa" Lotus 69 in Japan in 1971 and 1972. The car was later found in storage by Ikuzawa, who had the car immaculately restored. It is on display in his magnificent collection of racing cars in Japan. The car was still in Tetsu's collection in 2020.
Driven by: Tetsu Ikuzawa and Norimitsu Urushihara. First race: Thruxton (R1), 30 Mar 1970. Total of 16 recorded races.
Tetsu Ikuzawa (Japan) 2020
Lotus 69
69.F2.3
New to Adam Potocki and raced very slowly in F2 in 1970. Retained for 1971, when he was no faster. Sold to Alain Saïdi and raced in French hillclimbs from 1972 to 1975, retaining its 1600cc Cosworth FVA throughout. Saïdi returned to the Lotus for a few events in 1978. According to Gérard Gamand, the car was later bought at auction by Guy Audibert in the mid-1980s, and restored at Gamand's workshops in Lyon. It was sold to Gérard Cerny, who raced it in historic events from the mid 1990s to early 2000s. Then sold it to Michel Ghio, who raced it in Historic F2 2010-2013. The car was sold a few years later, and in 2020 was advertised by Boutsen Classic Cars in Monaco.
Driven by: Adam Potocki, Jean-Pierre Beltoise and Alain Saïdi. First race: Nürburgring, 3 May 1970. Total of 45 recorded races.
Boutsen Classic Cars (Monaco) 2020
Lotus 69
69.F2.4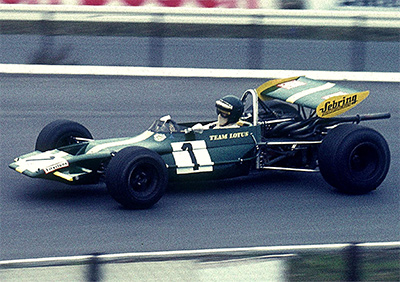 New to Jochen Rindt Racing Ltd, managed by Bernie Ecclestone, for Jochen Rindt to race in F2 in 1970. According to Richard Spelberg's research, this car was Rindt's previous Lotus 59B chassis 59-F2-19 converted to Lotus 69 specification for 1970. Sold for 1971 to Wilson Fittipaldi's new Team Bardahl, managed by mechanic Richard Divila, but Fittipaldi could not get on with it, and it was soon replaced with a new March 712M. The Lotus ended up with dealer Bobby Howlings and was evaluated briefly by Peter Hanson, who was considering a return to single-seaters, but was instead sold to Brian Classick, who raced in in libre in October. In early 1972 Classick entered it in libre for Willie Green then it was sold to John Coulter for libre later in the season, and then sold to Johnny Blades, who raced it once at the end of 1972. Blades advertised the car as "ex-Rindt, ex-Coulter" in November 1972, and as "ex-Rindt" in March 1973. As Rindt's Lotus 59B had been rebuilt into his Lotus 69, this is the only car that can have been. The car was acquired soon after this, possibly directly from Blades, by a major but very private collector of Lotuses, and remained in his collection, unseen, for over 20 years. According to historian David McKinney, the car was being stored by Peter Spooner in the mid-1990s, but when Spooner later died, the Lotus 69 was sold by his son David Spooner in lieu of storage charges to Joe Willenpart (Austria) around 2003. Still in the Willenpart Collection in April 2014.
Driven by: Jochen Rindt, Alex Soler-Roig, Enzo Corti, Wilson Fittipaldi, Brian Classick, Willie Green, John Coulter and Johnny Blades. First race: Thruxton (R1), 30 Mar 1970. Total of 24 recorded races.
Joe Willenpart (Austria) 2014
Lotus 69
69.F2.5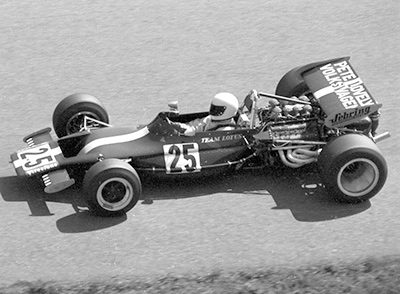 New to Jochen Rindt Racing Ltd, managed by Bernie Ecclestone, for John Mikes and Graham Hill to race in F2 in 1970. According to Richard Spelberg's research, this car was Hill's previous Lotus 59B chassis 59-F2-20 converted to Lotus 69 specification for 1970. Also driven by Eugenio Baturone at Montjuich Park. Retained by Ecclestone for Hill to race in the first few F2 races of 1971, then sold to Pete Lovely and fitted with the rear end of his Lotus 49B for suitable races at his home track in Seattle, and for the 1971 US GP. After Lovely died in 2011, the car was sold by his daughter to Peter Gleeson (Seattle, WA), a BMW collector originally from England. Still with Gleason in November 2020.
Driven by: John Miles, Eugenio Baturone, Graham Hill and Pete Lovely. First race: Pau, 5 Apr 1970. Total of 17 recorded races.
Peter Gleeson (USA) 2020
Chassis
History
Current owner
Lotus 69
the Rainer Brammer car
(2005-2019)
Rainer Brammer (Mettmann, North Rhine-Westphalia, Germany) raced a 1971 Lotus 69 in the Historic Grand Prix Zandvoort in 2013 and 2014, having previously raced a Lotus 69 in a Grand Prix Masters race at Spa in 2005. At the ADAC Salzburgring Classic in August 2007, the car was red and white and described as a 1971 F2 car. At Hockenheim in April 2010 and in April 2013, it was described as being ex-Reine Wisell. The car is reported to be a monocoque, which would indicate it was the 1970 Lotus 69 F2.1 that Wisell drove at the start of 1971, rather than the converted Formula B chassis 71/69.8.FB that he raced later that season. It was again red and white when raced at Brands Hatch May 2018, Silverstone in June 2018, and Brands Hatch May 2019. Entered by Brammer at Magny Cours in June 2019.
Rainer Brammer (Germany) 2019
Acknowledgements
My thanks to Chris Townsend, David McKinney, Simon Hadfield, Chris Witty, Andrew Fellowes, Michael Oliver, Tom Schultz and Fredy Kumschick for their help on this subject.
If you can add to our understanding of these cars, or have photographs that we can use, please email Allen at allen@oldracingcars.com.
These histories last updated on .