March 702 car-by-car histories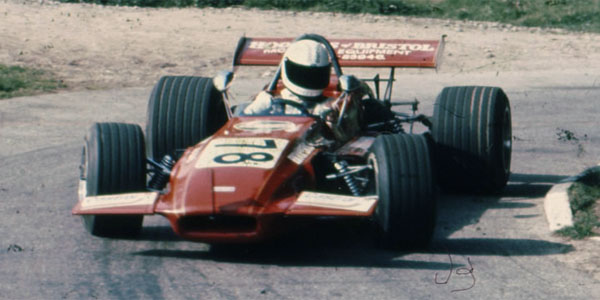 The March 702 was March's first design for Formula 2, but the spaceframe design managed to be both too heavy and not stiff enough for F2. The team finally gave them some attention when the build season was over, and performances improved a little.
The ambitious new March operation had been able to put five March 701s on the grid for the opening F1 race of the season, and almost matched that by having four March 702s on the grid for the opening Formula 2 race at Thruxton at the end of March. The design did not impress onlookers, being described as bulky, functional and blunt, and its square-tubed spaceframe design did not compare well with the new Dave Baldwin-designed monocoque Lotus 69 that Jochen Rindt used to win the race, nor the Len Terry-designed monocoque BMW 270. Malcolm Guthrie and Chris Amon drove the two works cars, qualifying and finishing in midfield, and there were customer cars present for the Eifelland team, with Rolf Stommelen as driver, and privateer Xavier Perrot. An expected John Coombs-owned car for Jackie Stewart did not transpire, and Coombs bought a Brabham instead. BMW had bought a car, but it was only seen once as they focused on their own cars. The works team skipped Pau, but had not done much more testing before Hockenheim, where Ronnie Peterson took over Amon's car and was down in 11th place after qualifying. Stommelen's fifth place in Heat 1 was March's best result, but Eifelland bought Stommelen a new Brabham BT30, and the unimpressive March was handed over to Helmut Gall, and then to talented female Formula Vee driver Hannelore Werner.
The highlight of March's F2 season came at the Nürburgring at the start of August where the AvD had replaced their lost Grand Prix with a F2 event. The graded drivers were at Hockenheim for the real GP, and the BMW team stayed away, so it was a very second-rate event, but March scored their first F2 victory after Derek Bell's Brabham BT30 blew its engine on the final straight, and Perrot led Werner home in a 1-2. Bell had been two minutes ahead, so Perrot's victory was highly fortuitous, but the performance of Werner on a track she knew well was undoubtedly impressive.
Peterson gradually improved his 702 as the season wore on, and he was fourth at Imola at the end of September before helping March's sales prospects for 1971 by taking pole position and a third place finish in the final round of the European Trophy at Hockenheim two weeks later. March sold large numbers of the all-new monocoque 712M for 1971, so second-hand 702s were not in demand. The two Guthrie cars were eventually sold off for sprints and hillclimbs, where they competed in minor events for many years, but the three 702s sold to European owners were not seen in significant competition again.
If you can add anything to these histories, please contact Allen Brown (allen@oldracingcars.com).
Chassis
History
Current owner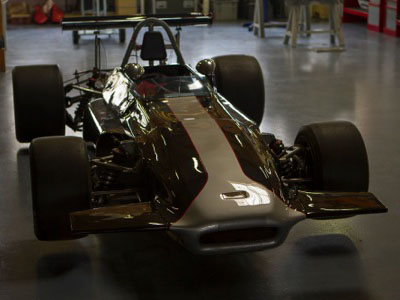 The first production March 702 was used by Chris Amon in the opening race as part of Malcolm Guthrie's team and then by Ronnie Peterson for the rest of the season. Unseen in 1971 but presumably the "ex-Peterson" car that Geoff Inglis (Yatton, Somerset) used for sprinting in 1972. Advertised by Inglis in February 1973 when it still had its FVA engine. To Spencer Elton (Westbury, Wiltshire) and sold by him to Dave Harris for sprints in 1973. Then back to Elton and next to Philip Anstruther (Bristol) who ran it in sprints in 1974. Anstruther sold it back to Elton yet again and it was advertised by him in March 1975. Next seen when advertised from Birmingham in 1981 as an "abandoned sprint and hillclimb project" and then from Devon in 1983. Reappeared in 1985 when raced by Ian Giles in HSCC events when its papers said it had previously been used by Dave Harris in hillclimbs. Then to Simon Brien in Ireland in 1986, to Lew Wright by 1989, then to Tony Birchenough 1991, and driven by Martin Birrane. It was sold to Steve Hitchins in 1992, and it is reported that this car was the one raced by Frenchman Jean-Pierre Grave in historic racing in the 1990s, was still with him in 2004, and still in France in 2010. In April 2013, Eric Charles (Dubai, UAE) reported that he had acquired 702/1. The car was being stored in France.
Driven by: Chris Amon, Ronnie Peterson, Geoff Inglis, Dave Harris and Philip Anstruther. First race: Thruxton (R1), 30 Mar 1970. Total of 21 recorded races.
Eric Charles (France) 2014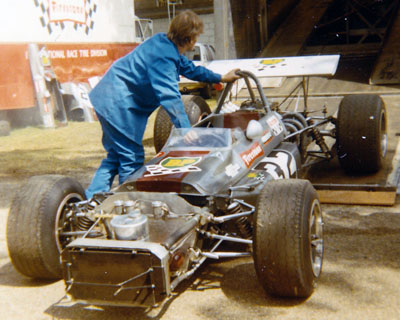 New to Malcolm Guthrie Racing for F2 in 1970 and raced by Malcolm Guthrie himself, but without any real success. From Guthrie via Frank Williams to Derrick Robinson (Radstock, Somerset) and advertised in May 1972. Then to fellow dealer Spencer Elton (Westbury, Wiltshire) who also owned 702/1 around this time. Sold by Elton to Dave Edwards (Bath, Somerset) and advertised by him in February 1973 as "March 712/702S/2" when it had a Ford twin cam engine, and again in July 1973 as a rolling chassis. Advertised by Mike Sullivan Racing (Salisbury) as an "ex-Peterson" rolling chassis November 1973 when it was described as "March 702/2 ex-Peterson". Sold in late 1973 or early 1974 to Richard Cumming (Leamington Spa or Harbury, Warwickshire) who recalls that it had March 722 bodywork and was fitted with a 1600cc Vegantune all-steel Ford twin cam engine. Cumming raced it in sprints and hillclimbs in late 1974, sharing at least once with Tony Street (Warwick). The car was then sold to Robin Darlington, who entered it in at least one libre/MCD Open race in 1976. Autosport announced in May 1976 that Robin Darlington would be racing "the ex-Peterson March 722", backed by Ken Gibson, boss of Measham Car Auctions in Birmingham. Darlington sold the car to Steve Miller, in exchange for the Kincraft which Darlington was keen to have back, so this would then be the 702 raced by Miller (Manchester) at Oulton Park in October 1976. Subsequent history unknown, but apparently used in Autocross before being acquired by Peter Denty (Thetford, Norfolk) c1987, and raced for him by John Beasley and James Denty 1995. Sold to Dieter Münch (Germany) 1996. By 2010 it was reported that Münch had sold it to another German owner.
Driven by: Malcolm Guthrie, Richard Cumming, Tony Street and Steve Miller. First race: Thruxton (R1), 30 Mar 1970. Total of 14 recorded races.
Unknown owner (Germany) 2010
New to Eifelland for F2 in 1970, and raced by Rolf Stommelen, then Helmut Gall and then Hannelore Werner. It was retained for the start of the 1971 season and was raced by Werner at Bogotá and later by Hermann Unold at Hockenheim and Willi Deutsch at Nürburgring where it was badly damaged. According to Marcel Spiess's research, Eifelland sold the 702 to Günther Kox in 1971, who took it to the Sauber team to make into a sports car, retaining the 702's Cosworth FVA engine and Hewland FT200 gearbox. This would be the Sauber C2B that was raced by Dieter Kox (Freiburg, Baden-Württemberg, Germany) in 1972 in the 1600cc class of German hillclimbs. He continued with the car in 1973 and 1974. It was then raced by Pierre Zoia (Basel, Switzerland) from 1975 to 1977. How much of the 702 was consumed into the Sauber is unknown; the original C2 built for Hans Kühnis was said to use the suspension from a F2 March, but a chassis built by Sauber. When the car was retired, it was acquired by Walter Grell for his museum at Rheinfelden, where it sat for over 25 years. It was sold to a new owner in February 2007. The Sauber was seen at the Ollon-Villars Historic Hillclimb in September 2013.
Driven by: Rolf Stommelen, Helmut Gall, Hannelore Werner, Hermann Unold and Wilhelm "Willi" Deutsch. First race: Thruxton (R1), 30 Mar 1970. Total of 11 recorded races.
Used to built Sauber C2B
New to BMW for comparison with their own Len Terry-designed 269 and 270 F2 cars in 1970. The March appeared only once all season, when chassis engineer Dieter Basche tried it in practice at Paul Ricard in July. The car was acquired by Mr Moorkens, the Belgian BMW importer, for his son Dominique Moorkens (Antwerp, Belgium) to use in hillclimbs in 1971 using a BMW 2002 engine. The car was raced for a few years in Castrol livery and then went missing until about 1988 when it was acquired by a Belgian second hand car dealer, He dismantled the car to store it, but it was complete, bar an engine and gearbox, and still had its Castrol-liveried bodywork. The car did not have a chassis plate but had "702-04" stamped on the frame near the dash. It was advertised on race-cars.com in 1998 and sold. Subsequent history unknown. In 2019, the car was reported to be in the collection of Adriaan De Maegt in Belgium.
Driven by: Dieter Basche. First appearance: Paul Ricard, 26 Jul 1970.
Adriaan De Maegt (Belgium) 2019
New to Xavier Perrot (Zürich, Switzerland) for F2 and Swiss championship events in 1970, entered by Squadra Tartaruga. Rebuilt by March on a new frame after an accident at Hockenheim in June. Not known after the end of 1970.
In the mid-1990s, David Irwin, then of Lime Rock Motors, bought a March 702 from John Sorbello (Lawrence, Mass), which was said to be 702/5. At that time it was wearing an Osella body, and would have been used in BSR or CSR. Irwin sold it to Joe Griffin, who offered it for sale in 2000 on race-cars.com, saying that it ran in the Canadian Formula B series, became a CSR car in 1987 with a Cosworth BDD engine, and raced on in that form until 1994. Griffin sold it to John Bladon, who brought it back to the UK and it was sold to Bob Saunders, who sold it on to Peter Denty (Thetford, Norfolk). Still with Peter in May 2018.
Driven by: Xavier Perrot. First race: Thruxton (R1), 30 Mar 1970. Total of 16 recorded races.
Peter Denty (UK) 2018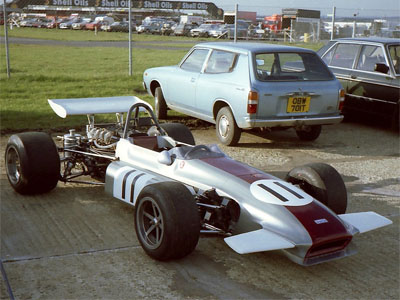 Although given the number 702/6 by March, this was the development F2 car built using the very first Arch Motors frame. It raced just once in 1970 when Howden Ganley appeared in it at Mantorp Park in August. At the start of 1971, it was fitted with a Vegantune twin cam for Formula Atlantic, and was driven by David Morgan at the Mallory Park round in March, taking pole position and winning. He was second in the next race at Castle Combe, but then the car was advertised by March, and bought by John Nicholson, who used it for the rest of that season. Advertised by Nicholson (Ashford, Middlesex) in August 1972. Next seen when used by Martin Steele (Faringdon, Oxfordshire) in sprints in 1973 and 1974. Then sold on and becomes confused with the similar adventures of 702/1. Bought back by Steele in 1981, restored and used in UK historic racing in 1985 and 1986. History then unknown until Mike Scott (Exeter, Devon) was reportedly driving 702/6 in FORCE events in 2003, and he later appeared in Masters events in 2006. Sold in 2009 to Satoshi Onishi (Miharuno, Japan) and used by him in Japanese historic events. Still in Japan in May 2019.
Driven by: Howden Ganley, David Morgan, John Nicholson and Martin Steele. First race: Mantorp Park, 30 Aug 1970. Total of 28 recorded races.
Satoshi Onishi (Japan) 2019
March 702s up to end of 1972
Malcolm Guthrie's two March 702s, chassis 702/1 and 702/2, were not used in 1971 and were next seen when they were sold by Guthrie via Frank Williams to Derrick Robinson in late 1971 or early 1972. Ronnie Peterson had only driven one of these, 702/1, so this is likely to be the "ex-Peterson" 702 used by Robin Darlington in May 1972 and then by Geoff Inglis in sprints from September 1972 onwards. Both these cars were in the southwest of England, with 702/2 apparently being used by Dave Edwards.
The Eifelland March 702 was retained by the team for 1971 but was damaged in Willi Deutsch's accident at the Nürburgring in May 1971, after which it was sold off and used as the basis of a sports car. BMW's test car was retained until it was sold to the Belgian BMW importer for hillclimbing. Xavier Perrot's 702/5 was not seen after 1970, and it has been reported that this car was sold to the US, but when this happened is unclear, and no results have yet been found to support that history.
The other 702 was the prototype, listed in March records as 702/6 but sometimes referred to as "702/S", which was used by Dave Morgan and John Nicholson during 1971 before disappearing for part of 1972, and then re-emerging in the hands of Martin Steele in sprints in 1973 and 1974. As Darlington's car was called "702S" by Motoring News, it could be this car that he used at Llandow.
Also in 1972, Frank and Tim Simpson raced a March in Formula B in the US which was probably a March 705, but was identified as a March 702 on one occasion. It is possible that it was 702-5, as that car was found in the US 20 years later.
Chassis
History
Current owner
March 702
'the Robin Darlington car'
On Whit Monday 27 May 1972, Robin Darlington (Ruabon, Wales) arrived at the Llandow meeting with a March of some description. Autosport said it was a March 712S but Motoring News described it more fully, as a March 702S, "reputedly ex-Peterson" with a series 11 FVA.
Driven by: Robin Darlington. First appearance: Llandow, 29 May 1972.
Unknown
March 702s in 1973
The ex-Peterson 702/1 that Geoff Inglis of Yatton, Somerset, used in sprints at the end of the 1972 season returned to Spencer Elton in Westbury, WIltshire, and was sold on to Dave Harris in Fishponds, Avon for the 1973 season. Its sister car, 702/2, spent most of 1973 being advertised by Dave Edwards in Bath, Somerset, but by the end of the year had moved 40 miles down the A36 to Mike Sullivan Racing in Salisbury, Wiltshire. The other UK-based car was 702/6, which reappeared in the hands of Martin Steele, of Faringdon, Oxfordshire, in May 1973 and would remain with him until the middle of 1974.
Of the three 702s last seen "on the continent", the ex-Eifelland 702/3 was by now a Sauber sports car; but of BMW's 702/4 and Perrot's 702/5, there are no known sightnings in 1973.
March 702s in 1974
At the beginning of 1974, the former Peterson/Inglis/Harris 702/1 had again gone back to Spencer Elton in WIltshire and was sold to him by Philip Anstruther in Bristol. He would sell it back to Elton yet again at the end of that year. Its sister car, 702/2, was with Mike Sullivan Racing in Salisbury, Wiltshire towards the end of 1973, and then went to Richard Cumming in Warwickshire for 1974. The third England-based 702, 702/6, remained with Martin Steele in Faringdon, Oxfordshire until June 1974.
There is just one remaining mystery 702 in 1974, with Peter Fisk in Cambridge. As 702/1 and 702/2 are known in 1974, this must logically have been Steele's 702/6.
Chassis
History
Current owner
March 702
'the Peter Fisk car'
Peter Fisk (Cambridge) raced a March 702 in speed events from 1974 to 1979. The car was fitted with a BDA engine, and Fisk sometimes shared with Robert Glass, also of Cambridge. Fisk advertised the car in October 1980. Subsequent history unknown.
Driven by: Peter Fisk and Robert Glass. First race: Curborough, 8 Sep 1974. Total of 21 recorded races.
Unknown
March 702s from 1975 onwards
Philip Anstruther sold 702/1 back to Spencer Elton in early 1975, and he advertised it in March 1975, after which it disappears from view. Geography would suggest this is the car that was raced by Allan Humphries, who was from the Bristol area, in 1976 and 1977, then by Vivian Carter in 1978. Meanwhile, 702/2 moved from Richard Cumming to Robin Darlington in 1975, but that car goes missing after 1976.
The third of the 702s to have stayed in England, 702/6, is not known between Martin Steele racing it in June 1974, and Steele restoring it for historic racing in the 1980s. Steele is believed to have sold the car between these dates, and it seems likely that it was the car raced by Peter Fisk from 1974 to 1979.
Chassis
History
Current owner
March 702
'the Allan Humphries car'
Allan Humphries (Bath) of Allwood Cars Ltd ran a 1600cc March 702 in hillclimbs at Wroughton and Wiscombe Park in 1976 and 1977. He later acquired a March 762, which he hillclimbed in 1978 and 1979, and then the ex-Ronnie Peterson March 761, which he used in 1980. Vivian Carter raced a March 702 in Sprints in 1978, and according to an Autosport feature, he was running as part of the Allwood Cars Ltd of Bristol team. This would indicate that he had the same car that Allan Humphries had raced in 1976 and 1977. Subsequent history unknown.
Driven by: Allan Humphries and Vivian Carter. First race: Wroughton (R6), 1 Aug 1976. Total of 4 recorded races.
Unknown
Acknowledgements
Research into the March 702s has been a long-term project that started on the 10 Tenths Forum's Chassis Archive around 2005/2006, and became more structured around 2009 as a collaborative effort involving Allen Brown, David McKinney, Steve Wilkinson, Chris Townsend, Ted Walker, Philippe Demeyer and Dan Rear. My thanks to former owners Spencer Elton, Robin Darlington and Richard Cumming for their additional information, and to Dave Fisk, son of Peter Fisk.
Please contact Allen Brown (allen@oldracingcars.com) if you can add anything to our understanding of these cars.
These histories last updated on .