March 705 car-by-car histories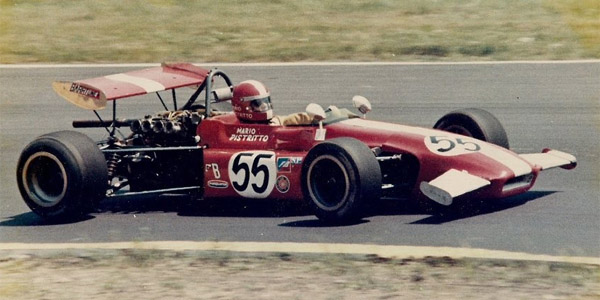 The March 705 was built for Formula B in 1970, and was very closely related to the Formula 3 March 703 and Formula Ford March 708. The car was well off the pace, but did lay a foundation of dealers and customers for the much more successful 1971 car.
While Max Mosley, Robin Herd and Alan Rees focused on putting a Formula 1 team together and supplying cars to the team of the reigning World Champion, Graham Coacker, the 'C' of March, had the less glamorous job of creating a factory at Bicester to produce customer cars for Formula 2, Formula 3, Formula B, Formula Ford and Can-Am. Bill Stone had built the 693, and he was joined as the factory was set up by Ray Wardell, who would run March's F2 team. Alan Rees brought chief mechanic Pete Kerr with him from the Winkelmann F2 team, together with half the team, and the other key element was master fabricator John Thompson, who Herd knew from McLaren where he had been able to turn Bruce McLaren's outline sketch of the McLaren M3A into a profitable production car. March's new F2, F3, FB and FF cars for 1970 were all simply spaceframes based on the original 'Gremshek' March 693. The main difference was a new body, but designer Robin Herd hardly had time to do anything more. After the first two frames had been built by Stone, fabrication of production frames was outsourced to Arch Motors. March aimed to standardise the production of these spaceframe cars, allowing chassis to be built on the same jigs regardless of the engine, wheels, suspension pick-up points and fuel tanks required for the different formulae. The Formula B March 705 was therefore very similar to the F3 car, but fitted with one of Vegantune's Ford twin cam engines.
The company's agent for the Formula B cars was Springdel Racing Corp, based in Elmsford, New York, and led by Joe Grimaldi with partners Chuck Schroedel and Don Springmeyer. Grimaldi had a long record of racing car sales and service in the US north-east, having previously been with Fred Opert's operation in New Jersey. March records show chassis 705-1 to have been a black car shipped 11 May 1970; 705-2 was an orange car for Bill Prout shipped the same day; 705-3 was a white car delivered to Springel Racing for Bill Gubelmann on 15 June 1970; 705-4 was an orange car, also delivered to Springel Racing on 15 June 1970; and 705-5 was white and also for Springel Racing but its delivery date was not recorded.
If you can add anything to these histories, please contact Allen Brown (allen@oldracingcars.com).
Chassis
History
Current owner
March 705s in 1970
Two of the five 705s have first owners mentioned in March records: 705-2 for Bill Prout and 705-3 for Bill Gubelmann. That leaves three to identify, with the colours recorded in March records being the best clue. The first car seen competing in SCCA racing was Charlie Gibson's black 705 which was described as "new" when Gibson raced it in a SCCA National at Lime Rock on 4 July. A fortnight later Mike Hayman raced an orange-and-blue 705 at Road America, and later that year Ronald Stanwicks took delivery of a white March 705 but did not race it. It seems highly likely that Gibson's was the black 705-1, Hayman's was the orange 705-4, and Stanwicks' was the white 705-5.
Chassis
History
Current owner
Charles T. Gibson raced a black #57 March 705 in Formula B in 1970, entered by Gibson Racing Company of Poughkeepsie, NY. Later in the season, the team was said to be based in Denver, CO, but this appears to have been a short-lived change. Gibson entered the car at Road America in July 1971. He bought a second-hand 71BM in February 1973, so it is possible he kept the 705 longer than 1971. History then unknown until 1983, when, according to later owner Ben Auto in Japan, it was owned by Ed Forbes on Long Island, New York, who intended to use it for autocross. It was then sold to "Thomas Gaffney of Classic Advantage" in 1992, and fully restored. Exactly what happened next is unclear, but by 2019, the 705 was owned by Ben Auto (Yamada, Japan) and was being raced in historic events in Japan.
Driven by: Charles T. Gibson. First race: Lime Rock, 4 Jul 1970. Total of 4 recorded races.
Ben Auto (Japan) 2019
Mike Hayman (Washington, DC) raced an orange-and-blue #0 March 705 in SCCA Formula B in 1970 and 1971. Surely then the orange-and-blue or orange-and-black #0 March entered by Bob-Kat Racing (Washington, DC) for Frank Simpson to drive in the Pro FB race at Watkins Glen in August 1972, and then for Tim Simpson at Road America two weeks later and also at Bridgehampton in October. It was entered at #0 at first, Hayman's regular number, and later as #10. It was called a March 705 when Frank drove it, but then a 702 at Road America, and simply as a March at Bridgehampton. Subsequent history unknown.
Driven by: Mike Hayman, Frank Simpson and Tim Simpson. First race: Road America (R7), 18 Jul 1970. Total of 6 recorded races.
Unknown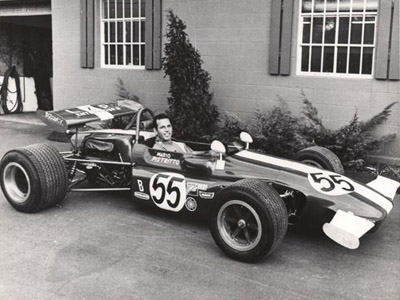 Ronald Stanwicks (Newington, CT) acquired a brand new March 705 but within a day or so of taking delivery, he was taken unwell with a heart condition, and he decided not to race again. The unused March was sold over the winter to Seb Barone (Portland, CT) who used it in SCCA Northeast Division Formula B in 1971, scoring four points. Sold at the end of 1971 to Mario Pistritto (Hartford, CT), who raced a red #55 March 705 in Northeast Division SCCA Formula B in 1972 and 1973. In July 1974 he advertised the car in the New England Region 'Pit Talk' newsletter as a "F/B March" with new engine and fuel injection. Nothing more is known of this car. Pistritto died in Syracuse, Sicily, in 2012.
Driven by: Seb Barone and Mario Pistritto. First race: Thompson Speedway, 13 Jun 1971. Total of 5 recorded races.
Unknown
March 705s in 1971
Bill Prout retained 705-2 for 1971, Charlie Gibson retained his black car (705-1?), Mike Hayman retained his orange car (705-4?), and Ronald Stanwicks' car (705-5?) was sold to Seb Barone. Gubelmann's 705-3 was not seen in 1971 but would reappear in 1972 owned by Gerald Lieberg.
March 705s in 1972
Bill Prout again retained 705-2 for 1972, Gerald Lieberg of Milford, CT acquired the ex-Gubelmann 705-3, Mike Hayman's orange car (705-4?) went to Bob-Kat Racing, and Seb Barone's ex-Stanwicks car (705-5?) went to Mario Pistritto in Hartford, CT, but Charlie Gibson's black car (705-1?) is unknown after 1971.
March 705s in 1973
The 705s continued to race regularly in New England in 1973. Bill Prout continued to race 705-2, and Mario Pistritto still had the ex-Stanwicks/Barone car (705-5?), but Gerald Lieberg's ex-Bill Gubelmann 705-3 went missing after 1972, as did BobKat Racing's ex-Mike Hayman car (705-4?). Charlie Gibson's car (705-1?) had already gone missing by this stage. The three cars that we cannot trace align neatly with three newcomers: the cars of David Malloy (Huntington on Long Island), James Rowley (Shelter Island at the eastern tip of Long Island) and Thomas Clark (Danbury, Connecticut). Rowley's was twice said to be orange, so the ex-Bob-Kat Racing/ex-Mike Hayman car (705-4?) from Washington would be favourite. Malloy and Clark may have had the other two - either Gerald Lieberg's ex-Bill Gubelmann 705-3 from Milford, CT, or Charlie Gibson's car (705-1?) last seen at the end of 1971 in Poughkeepsie, NY. Malloy's car has only been spotted in early-season results, so it is possible his car went to Rowley or Clark.
One complication is that Xavier Perrot's Formula 2 March 702 is said to have gone to North America and been used in the Canadian Formula B series, which means it may be part of the 705 puzzle.
Chassis
History
Current owner
David Malloy (Huntington, NY) raced a March 705 at least twice in SCCA Formula B in 1973, racing in two New England Region rounds of the North Atlantic Road Racing Championship in April and June. Nothing more known.
Driven by: David Malloy. First race: Lime Rock, 28 Apr 1973. Total of 2 recorded races.
Unknown
James Rowley (Shelter Island, NY) raced a March 705 at a handful of events in the northeast of the US from 1973 to 1975. His car was identified as an orange 705 at Bridgehampton in August 1973, and as a 705 again at Bryar Motorsports Park in 1974.
Driven by: James Rowley. First race: Bridgehampton, 12 Aug 1973. Total of 3 recorded races.
Unknown
Thomas Clark (Danbury, CT) raced a Formula B March in a New York Region SCCA Regional at Bridgehampton in October 1973. He later advertised a March 705 in January 1975. Nothing more known.
Driven by: Tom Clark. First race: Bridgehampton, 28 Oct 1973. Only one recorded race.
Unknown
March 705s from 1974 onwards
Only two 705s remained active in 1974: Prout having one last season in 705-2, and Rowley continuing to race his car (705-4?); but we also know that Thomas Clark still had his car, and Pistritto advertised his car (705-5?) mid-season. Steven Woods of Farmington, CT appeared in a mystery March 705 during 1974, and we can speculate that Mario Pistritto's ex-Stanwicks/Barone car had moved a few more miles from Hartford to Farmington.
Rowley and Woods both continued to appear in local races in 1975, with Woods now running in Formula A. Also appearing in late 1975 and early 1976 was Jack Marsella in the ex-Bill Prout 705.
Chassis
History
Current owner
Steven Woods (Farmington, CT) had a March for New England SCCA Formula B events in 1974. He advertised the car from Hartford, CT in Autoweek in August 1975, and the local Pit Talk SCCA newsletter in September 1975. He continued to race the car, but in late 1975 it had a 2-litre Lotus twin-cam engine and was running in Formula A. Steven Woods drove his 2-litre car again in 1976, and advertised it in March 1977 and in May 1978, when it was described as a FB and had a fresh twin cam and Hewland FT200 gearbox.
Driven by: Steven Woods. First race: Lime Rock, 1 Sep 1975. Only one recorded race.
Unknown
Acknowledgements
My thanks to Chris Townsend for his diligent recording of March 705s in adverts and race reports; to Ted Walker and Adam Ferrington for their assistance; to Simon Hadfield for providing technical details of the early March production cars; to Bill Prout for telling the story of his car; to Peter Stanwicks for the story of his father's sadly brief interaction with his brand new 705; to Natale Barone for the story of brother Seb's car; to Paul Nemy and Arny Spahn for permission to use their photographs; to Satoshi Onishi for providing information on the ex-Charlie Gibson car that now resides in Japan, and to Jeremy Ghent for information about his ex-Bill Prout car. Race results have been a significant factor in this research, so thanks to Donna Stevens for providing many scans from New England Region's excellent archive and to the staff at the International Motor Racing Research Center at Watkins Glen for their enthusiastic assistance.
If you can add anything to these histories, please contact Allen Brown (allen@oldracingcars.com).
These histories last updated on .