March 73A car-by-car histories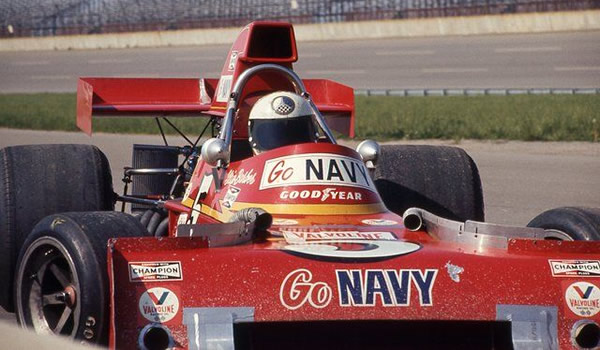 The March 73A was March's first production F5000 car, following the relative success of the 1972 F2-based car, but it was not competitive with the Lola T330.
Given March's success in other categories, much was expected of the March 73A, and the car exhibited at the Racing Car Show was snapped up by experienced American F5000 driver John Gunn. He had a terrible time with it in the first few races of the British series before taking it to the US for the start of the US series, where other 73As were raced by ex-Lola T300 customer Gus Hutchison, Formula B front-runner Bob Lazier, and by Skip Barber, who had previously raced a F1 March 711 in F1 and F5000. In the highly-competitive L&M-backed series, the Marchs were off the pace of the leading Lola T330, Trojan T101 and Chevron B24 runners, and both Lazier and Barber soon gave up on their cars, Lazier buying a Lola. Hutchison and Gunn carried on, their cars being progressively modified during the season. Gunn persevered with his car at the start of 1974, before buying a Lola as well, while Hutchison rebuilt his car using a 1974 March monocoque. John Cannon then took over the former Skip Barber car for 1975, which had been reworked along the lines of the 1974 works March 742s, and later that season appeared with a completely reworked '75AM' engineered by former March F1 and F2 team manager Ray Wardell. This car turned out to be a great success, notably in the Australian Internationals at the start of 1976.
March records say six were built and five of these can be seen in contemporary race results: the US-based cars of Gunn, Barber, Lazier and Hutchison and the UK-based car of Clive Baker. March records say the sixth car was supplied as a kit.
The 73As have not had straightforward careers. The Skip Barber car multiplied and exists at least twice over; and the Gus Hutchison car also split, leaving one F5000 car and F1 car. At least one other 73A found its way to Jock Topin's Ecurie Santos and he later sold a total of around five cars to Ray Gibbs, including two that may be 73As and two that may be 72As.
Chassis
History
Current owner
Also, Ray Allen was said to have ordered a 73A to run in the British GP (at a time when their were fanciful rumours that the GP may be held to libre rules). Just after the GP, such a car was advertised by Ecurie Santos (Jock Topin) and remained in his adverts into 1974.
By mid-1974, Ecurie Santos was advertising a "1973/74 Santos March F5000" with "95% brand new parts", an "ex-Cannon 73A" (the 72A rebuilt to 73 spec?) and a 721 "modified to accept Chev".
Early in 1975, Ashtune Race Hire (Ashton, Essex) advertised that they had a March 73A for the 1975 season. A month later, a "March F5000 built from all new parts, never raced" was advertised by Peter Vernon-Kell (London)
Other "73A" adverts include Lynx Engineering's "F1/F5000 car" in June 1977. Also possibly relevant to the story is the '1974 March F1/F5000/Libre Brand new and unused' advertised in February 1976 by Ron Beaty (Hampton in Arden) with bodywork that looks more like a 73A than a 74A.
Larry McNeil's car, listed on previous versions of this page, is now known to have been Bob Lazier's 73A/4. Also the car owned by Walter Hagstrom in the mid-1980s is now known to be March 73A/2(C). As of May 2015, Richard Taylor has the earlier March 725.
Ray Gibbs says he bought two 73As from Jock Topin in the late 1970s. However, that number seems to have increased to four if the 725 that stayed in England is included. These are covered below.
The Ray Gibbs cars
Sandy Topin, also known as Jock Topin, ran Ecurie Santos in Watford in the mid-1970s and regularly advertised in Autosport a large number of March F1, F2, F5000 and sports cars. It is not clear whether Topin actually had all these in stock, or whether they were cars that were at March that he'd had some agreement to sell. Few cars left the adverts, and most of those that did have known histories. Ray Gibbs in Australia clearly had dealings with Topin as at least two of the cars Gibbs later owned have Ecurie Santos livery. Unfortunately, Gibbs was extremely secretive and nobody knows exactly what he bought. The four cars below have emerged from his ownership since 1996.
Chassis
History
Current owner
Other relevant cars
This section has grown and shrunk again as we have come to understand these cars better. The only car left on the list is a "73A" that was bought as a tub and parts by John Mackinlay in New Zealand from Kenny Smith in 2001. The tub now appears to be a March 723 monocoque that spent part of its life as a Formula Pacific car in Malaysia.
Chassis
History
Current owner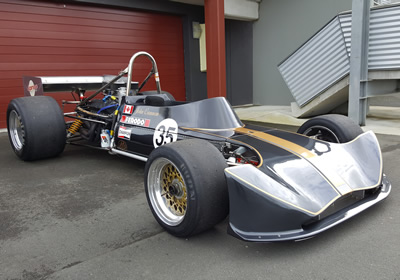 Bought as "a basic unrestored tub and some running gear" from Kenny Smith (NZ) by John Mackinlay (Auckland, New Zealand) in 2001. Like so many March F5000s of this period, it is said to be ex-Cannon but this car also has a chassis plate stamped '73A/2', despite having a 1972 March monocoque. John originally had the car restored by Bob Needham of Diversified Engineering into the spec of Cannon's 1972 March 72A-Oldsmobile. It was fitted with a 4.4-litre Aluminium Oldsmobile V8 and 721 bodywork.
The car was entered by Mackinlay in the 2005/06 New Zealand F5000 Revival Series, starting at Fielding 12-13 Nov 2005, but first raced in the series at Sandown Park Nov 2006. Mackinlay appeared in selected rounds of the 2007/08 and 2008/09 Tasman Cup Revival series including the the Australian GP meeting 28 Mar 2009, was a regular competitor in the 2009/10 series, then missed 2010/11 and returned for the 2011/12 series. Last seen at Hampton Downs Jan 2012. Taken to Shayne Windelburn in 2014, to fit a 1973 March body with front-mounted radiator. Restoration completed by July 2016.
When investigated in 2021, this car was found to be marked 'Marlo 801-1', indicating that it was the March-based Marlo Formula Pacific car raced by Kookie Ramirez in Malaysia in 1981. Its tub is numbered 'AM72/23', which is consistent with it being built from the ex-Chris Cramer March 723-12, which was reported to have been the basis of the Marlo. Kenny Smith is unable to recall where he acquired the monocoque.
John Mackinlay (New Zealand) 2021
A note on chassis number identification
The chassis numbers used here are taken from March factory records and provided by Adam Ferrington.
| Chassis | Customer | Colour | Comment |
| --- | --- | --- | --- |
| March 73A/1 | John Gunn | White | |
| March 73A/2 | Skip Barber | Red | |
| March 73A/3 | Gus Hutchison | Yellow | |
| March 73A/4 | Bob Lazier | Black/Alum | |
| March 73A/5 | Clive Baker | Black | |
| March 73A/6 | Skip Barber | Red | Kit of spares |
My thanks to Wolfgang Klopfer, Mike Engstrand, Chuck Haines, Greg Wold, Roger Cowman, Mike Duncan, Terry Healy, Marcus Pye, Paul Wilson, Steve Bay, Russ Neice, Pete Klain, Kevin Drew, Nick Smith, John Henderson, Deane Tank, Graham Collins, Peter Dunn, Murray Sinclair, Bill Wiswedel, Eric Haga, Peter Brennan, Harry Read, Anthony Corin, Steve Tillack, Alan Degasis, John Mackinlay and others for getting these histories so far. Especial thanks to Adam Ferrington for supplying March's factory records for the 73A.
Please contact Allen Brown (allen@oldracingcars.com) if you can add anything to our understanding of these cars.
These histories last updated on .