Matra MS84 history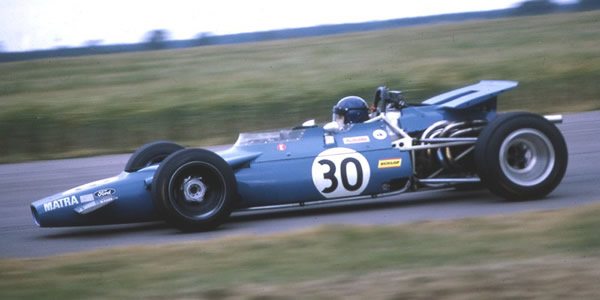 Matra built a four-wheel-drive car for 1969, the Matra MS84, as lead driver Jackie Stewart believed that such a car could offer significant advantages in wet races, of which there had been many in 1968. The car was regularly used in practice by Stewart, but only raced four times.
Of the various projects to build four-wheel drive cars in 1969, such as the Lotus 63 and McLaren M9A, the Matra MS84 was the simplest and probably the least ambitious. The MS84 chassis followed the dimensions of the two-wheel-drive Matra MS80 but was a spaceframe chassis, fitted with a Ferguson 4WD transmission. The car first appeared at the Dutch GP, where Stewart was fourth fastest in the wet Saturday afternoon session, but the car proved slow in the dry. Stewart tried it again in France, but the weekend was dry, and there was no advantage to be found. At the British GP, Stewart crashed his usual MS80 during practice, so took over Beltoise's sister car, leaving the Frenchman to drive the MS84 in the race. He started from the back of the grid, having only had four flying laps in practice, and ran at the back throughout the race, eventually finishing six laps adrift in ninth place. The car was aired again by Stewart at the Nürburgring and at Monza, but both events were hot and sunny, and the car was not needed. It was taken to the North American races for Johnny Servoz-Gavin to drive, and he scored a point for a very distant sixth place in Canada. He was also seventh at Watkins Glen and eighth in Mexico, the latter probably being the car's most competitive outing as he was only two laps behind at the end. Although this would give the impression that maybe 4WD could be successful if further developed, the Matra engineers had split the torque for the Mexican race to be 100% to the rear, meaning the car was effectively just an overweight MS80.
Ken Tyrrell and Jackie Stewart split from Matra after that 1969 season and as the car was of no further interest to Matra, the frame was cut up and discarded. In 2015, Matra specialists EPAF in Romorantin were commissioned to recreate the car, using the original plans and much of the original transmission. The car was completed in 2019 and was displayed at the Chantilly Arts & Elegance Richard Mille in June that year before taking up residence at the Musée Matra in Romorantin.
Car
Total
Race
Starts
Grand
Prix
Starts
Grand
Prix
Wins
First Race
Present Location
4
4
British Grand Prix
(19 Jul 1969)
Scrapped
Please contact Allen Brown (allen@oldracingcars.com) if you can add anything to our understanding of this car.
These histories last updated on .