Modus M5 history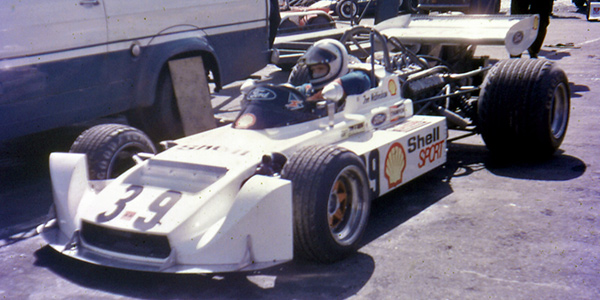 Modus built a Formula 5000 car for Tom Walkinshaw in 1974, and then a second one in 1975, but neither achieved notable results and both Modus M5s were destroyed in accidents.
The first F5000 Modus was almost certainly built from Tom Walkinshaw's Formula 3 Modus M3 which is believed to have been chassis 003-F3. Walkinshaw had used this car in Formula Atlantic in 1974 until destroying it in a huge accident at the British GP meeting when Tom's steering wheel was said to have broken.
Autosport gives the best clue to what happened next. A Modus factory visit article (Autosport 14 Nov 1974 pp28-30) mentions Walkinshaw's "semi works" car and that he "crashed the car badly" at the GP meeting. It then goes on to say that:
"remembering that Marquart had designed the car to accept any form of engine, Tom was anxious to move into F5000, especially as Ford had provided him with the new Cosworth developed Ford 3.4-litre V6 engine out of the Cologne Capri. Marquart agreed to carry out the transformation ... "
The F5000 Modus M5 appeared at Snetterton in October 1974 but it only completed two laps of the race before the oil pump failed. Tom then crashed the car in practice for the next race, at Mallory Park, and then had another major crash at Brands Hatch a week later, this time on the opening lap. The 1974 car appears to have been laid to rest at this point although a story in February 1975 suggested Walkinshaw might use it until his 1975 car was ready.
Walkinshaw wasn't ready to give up and a new car appears in Modus production records for 1975, chassis M5-021-F5. Now backed by ShellSPORT and entered by Team Modus, the car continued to struggle, qualifying well off the pace and with a best result in the early races of fourth at Brands Hatch, a lap down. At the start of the first heat at Zolder, Walkinshaw crashed heavily and Autosport commented that "he was lucky to walk away". The M5 was not seen again.
Tom then bought a lightly used March 752 and fitted his Ford GA to that for the remainder of the 1975 season but results continued to elude him. The following year he formed Tom Walkinshaw Racing and focused on sports car and touring car racing thereafter, with great success, before a well-documented period as a team boss in F1.
Chassis
History
Current owner
Built for Tom Walkinshaw out of his crashed Formula 3 Modus. Raced in UK F5000 1974 (2 starts plus 1 DNS). Crashed in practice at Mallory Park in October, and reported to have been rebuilt on a new monocoque before its next race. Crashed again at Brands Hatch a week later, and not seen again. Surviving components would presumably have been used in the 1975 car.
Driven by: Tom Walkinshaw. First race: Snetterton (UK R16), 6 Oct 1974. Total of 2 recorded races.
Wrecked 1974
New for Tom Walkinshaw in 1975, and raced in UK F5000 that season (4 starts). Best result of fourth place at Brands Hatch 31 March; best qualifying positions eighth at Silverstone 12 April and again at Zolder two weeks later. Crashed heavily at Zolder and not seen again.
Driven by: Tom Walkinshaw. First race: Oulton Park (UK R2), 28 Mar 1975. Total of 4 recorded races.
Wrecked 1975
Please contact Allen Brown (allen@oldracingcars.com) if you can add anything to our understanding of these cars.
These histories last updated on .