Mongoose 1969 Indy history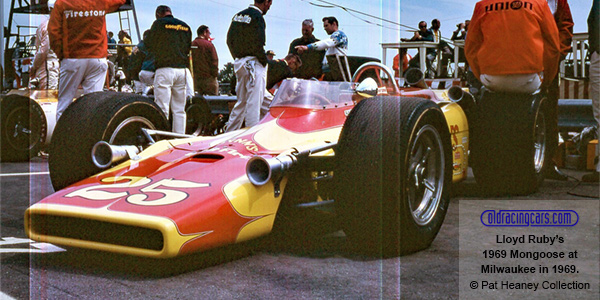 Dave Laycock built a completely new car for 1969, his first monocoque chassis and using wedge-shaped bodywork inspired by the Lotus 56. The car was not a success, and driver Lloyd Ruby preferred his 1968 car.
1969 was Lloyd Ruby's third season with the Firestone-financed Gene White Indy team, managed by John Laux and using cars built by chief mechanic Dave Laycock. Most of the team's finance came from Firestone, but additional sponsorship for 1969 came from Wynn's, yet another brand of fuel additive, and the car was named the Wynn's Spitfire Special. Ruby had finished the 1968 season strongly, with second and third in the last two races in the Brabham-based 1968 Mongoose, and had his new wedge-shaped car ready for the opening race of 1969, at Phoenix in March. He qualified and finished third, a promising debut for the new car.
At the Indy 500, Ruby had the choice of his new 1969 wedge, wearing #25, and the older Mongoose wearing #4. Despite the advantage of having both cars on track early, Ruby could not get the new 1969 car running over 164 mph, whereas the older car was going very well, Ruby setting the fourth fastest time at over 168 mph at one stage. The handling of the new car was not good, one commentator saying that he had been experiencing problems "keeping all four wheels on the race track". The first weekend of qualifying was rained off, giving Ruby an extra week to sort the new car, but it was still 3½ mpg slower than the old car, so he qualified and raced the 1968 car, leading the race until a refuelling incident put him out of the race.
After Indy, Ruby raced the new car at Milwaukee in June, qualifying fourth but retiring, but then used the older cars in the Gene White stable at the next few races. Joe Leonard joined the team to race the new car at Trenton, but retired. He then crashed heavily at Dover Downs, destroying his favoured 1968 car, and when he returned to racing in November, used the wedge car at Phoenix to finish second. That was the last that was seen of the car, and Layock went back to spaceframe construction for his 1970 cars.
If you can add to our understanding of these cars, or have photographs that we can use, please email Allen at allen@oldracingcars.com.
Chassis
History
Current owner
New for Lloyd Ruby as the Gene White team's #25 entry at Phoenix in March 1969. Used in practice by Ruby at the Indy 500, but the team's 1968 Mongoose proved significantly quicker, so Ruby qualified and raced the older car. Raced by Ruby at Milwaukee in June and by Joe Leonard at Trenton in July. Ruby crashed heavily in practice at Dover Downs in August in the 1968 car and was badly burnt,. He drove the 1969 car when he returned to driving at Phoenix in November, qualifying fifth, leading at one stage and ultimately finishing second behind Al Unser. Two new spaceframe cars were built for the 1970 season and the 1969 car was not raced again, but was repainted in the latest livery presumably for use as a show car. Like the two 1971 cars and one of the 1970 cars, this 1969 car was later in the collection of Bob McConnell (Urbana, OH). Still in McConnell's collection in May 2015. Sold by McConnell to Tony O'Neill (Piltdown, East Sussex) in May 2022.
Driven by: Lloyd Ruby and Joe Leonard. First race: Phoenix International Raceway (R1), 30 Mar 1969. Total of 4 recorded races.
Tony O'Neill (UK) 2023
Acknowledgements
My thanks to Luis Mateus, Michael Ferner, Gerry Measures, Butch Gilbert, Bob McConnell, 'gbl' and Simmo Iskül for their help untangling the different Laycock-built cars between 1967 and 1971, allowing them to be divided into models and for this rarely-seen wedge car to be identified and its race history to be determined. Thanks also to new owner Tony O'Neill, and to Scott Krueger for the use of photographs from the Pat Heaney Collection.
If you can add to our understanding of these cars, or have photographs that we can use, please email Allen at allen@oldracingcars.com.
These histories last updated on .