Osella FA1 car-by-car histories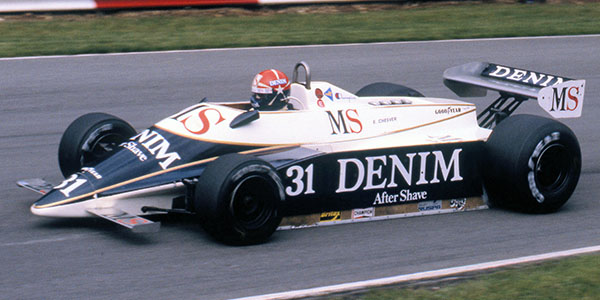 Osella's first F1 car, the 1980 FA1, used Ferrari-style 'Aero' construction and was bulky, overweight, and unreliable. Eddie Cheever moved up with the team from F2, and achieved some promising grid positions.
Osella had been a surprise success in Formula 2 in 1979, with 21-year-old lead driver Eddie Cheever winning the team's first race at Silverstone in March, and also at Pau and Zandvoort later in the year. The new F1 car was designed by Giorgio Stirano, the team's technical director who had also designed the 1979 F2 car, and would carry sponsorship from Denim After Shave and Monopolio Tabacchi, the state-owned tobacco company. Team Manager was Franco Palazzoli, who used to race as "Pal Joe".
A lack of testing plus overheating issues left Eddie Cheever at the bottom of the time sheets and failing to qualify for the two South American GPs at the start of 1980, slower even than the Shadow DN11s. The car was 100 kg overweight, but a program of weight saving and modified suspension enabled Cheever to get on the grid for the South African GP. He crashed there, but in the repaired car he improved to 20th place on the grid at Long Beach, only to retire early again. He was unable to qualify for the next two races, but qualified the FA1 in a very impressive 10th position at the boycott-effected Spanish GP, and was a regular qualifier thereafter. Although speed had marginally improved, reliability remained a problem, and Cheever did not finish a race in the car. A narrower version, the FA1B, was produced for the Italian GP, and the older FA1s were retired at the end of the year.
The fate of the two 1980 FA1s is currently unknown. At least two cars have left the factory that look like these cars, but as the FA1 and the late-1980 FA1B were similar in construction, it has not yet been possible to identify them with confidence. There were more differences between the 1980 FA1B and the two 1981 FA1Bs than there were between the 1980 FA1B and the earlier FA1s. Osella chassis plates do not help, as indicated by the team using the designation FA1B/81 on the chassis plate of the FA1C when it first appeared.
Car
Total
Race
Starts
Grand
Prix
Starts
Grand
Prix
Wins
First Race
Present Location
7
7
South African Grand Prix
(1 Mar 1980)
Unknown
1
Spanish Grand Prix
(1 Jun 1980)
Unknown
Please contact Allen Brown (allen@oldracingcars.com) if you can add anything to our understanding of these cars.
These histories last updated on .