Osella FA1B car-by-car histories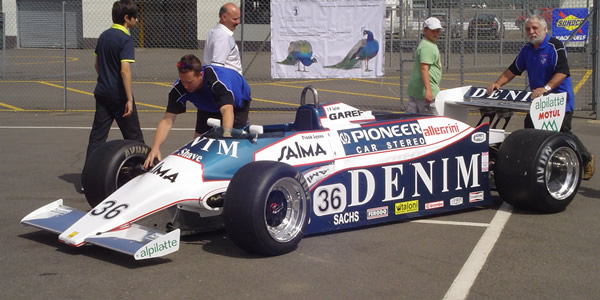 An interim Osella FA1B was introduced at the 1980 Italian GP, and this was followed by another pair of FA1Bs, with quite different bodywork, in 1981. A difficult season in 1981 was transformed by the arrival of new driver Jean-Pierre Jarier.
After a season of steady improvement near the back of the grid, Osella introduced an improved car prior to the 1980 Italian GP. Although the design and construction were much the same as the original FA1, the new "interim" FA1B was both narrower and lighter. As before, the car was constructed from a frame of square steel tubing, with sheet aluminium riveted over it for stiffness. It appeared hopelessly inadequate for ground effects, but Enzo Osella and his team were excellent engineers, and Eddie Cheever was a fine driver, qualifying the new car 17th in Italy, 14th in Canada and 16th at Watkins Glen. Reliability was also improved, and Cheever finished for the first time at Monza, although 12th and last, and ran as high as ninth in Canada before retirement.
Cheever was poached by Tyrrell for 1981, as Osella expanded to a two-car team with the very wealthy Beppe Gabbiani in the lead car and a second car pedalled by Miguel Ángel Guerra. Denim remained as main sponsor but Monopolio Tabacchi, the Italian state-owned tobacco company, withdrew their MS funding. Two restyled FA1Bs were produced, the cars having a highly-modified chassis with the driver sitting further forward, and with the structure stiffened by carbon fibre panels, but season did not go well, with both cars regularly failing to qualify. Gabbiani fell out with Enzo Osella over his performances, and Ángel Guerra's season was curtailed when he was badly injured in an accident at San Marino. Piercarlo Ghinzani and Giorgio Francia took over Ángel Guerra's repaired car for the next few races, then new sponsor Saima S.p.A funded the employment of Jean-Pierre Jarier, unexpectedly unemployed since his Talbot-Ligier drive fell through. Jarier joined the team at the British GP, immediately giving Osella its best ever results with two eight places. Jarier then moved into the new FA1C at the Italian GP, while Gabbiani continued to post DNQs in the old FA1Bs.
Car
Total
Race
Starts
Grand
Prix
Starts
Grand
Prix
Wins
First Race
Present Location
3
3
Italian Grand Prix
(14 Sep 1980)
Unknown
Osella FA1B/2
(no races recorded)
Unknown
4
3
United States Grand Prix West
(15 Mar 1981)
United Kingdom 2016
6
6
San Marino Grand Prix
(3 May 1981)
Unknown - last seen in Italy in early 1990s
More new FA1Cs were built over the 1981/82 winter, and the FA1Bs were retired. One was sold to Italian-American Tony LaRosa, who attempted to use it in Can-Am racing in the US. At least three FA1Bs now exist in private hands, but one of these may be an older 1980 FA1 with updated bodywork. Work continues to identify these cars.
The 1981 "stop-gap" version of the FA1B was announced in Autosport 22 Jan 1981 p6.
Please contact Allen Brown (allen@oldracingcars.com) if you can add anything to our understanding of these cars.
These histories last updated on .